The PS5's state-of-the-art hardware is really put to the test in graphic-intensive games.
Action and sports games, for instance, typically have a lot going on in-game, and the graphics and performance upgrades on the new-gen console really come to the fore when you're playing these types of games.
It is for this reason that I find it a bit disappointing that more game developers are not investing their time and resources into creating more varied sports games.
Boxing, for instance, is a category that I think has much more potential than developers have managed to tap into.
You can argue that the things a developer can do with the gameplay in boxing are limited, but I would disagree and say they just can't be bothered.
Just so you know, this mini-rant was triggered by my attempt to put together a list of the best boxing games for PS5. The scarcity of options left me very disappointed, but I did the research, so here are my top picks.
Big Rumble Boxing: Creed Champions
Genre: Fighting, Sports, Simulation
Developers: Survios
PlayStation Release Date: September 3, 2021
Buy from: PlayStation, Amazon
Multiplayer: No
Average Playtime (Main Story/Objectives): N/A
As you can guess from the title, the premise is based on the Rocky and Creed films. If you have played the PS4 version of the game, then you must have experienced action-packed, pound-for-pound boxing at its finest.
The PS5 edition of Big Rumble Boxing displays the finesse of character lacking in the PS4 version. Game-play and controls are pretty straightforward with a double controller button for strikes and a single button for special punches and also another to block punches with counter punches when executed accurately.
The game characters number up to a total of 20, with popular names like Rocky Balboa, Apollo Creed, and Club Lang. Of these 20 characters, you start up with 10 and progressively unlock the remaining 10.
The game features 3 gaming modes: Arcade, Versus, and training. In the arcade mode, you get to pick a character that will take on the others. Fight matches are segmented into training bouts that develop your character's skill.
In the versus mode, you can play against a friend or the AI.
During fight matches in the boxing ring, you get a chance to perform a special move on your opponent, all you need to do is to time it precisely. When you get the timing right, knock-out punches are a true sight for sore eyes.
Summarily, Creed Champions is entertaining and immersive, and those are two key traits that you want from any boxing game that is worth its salt.
Knockout League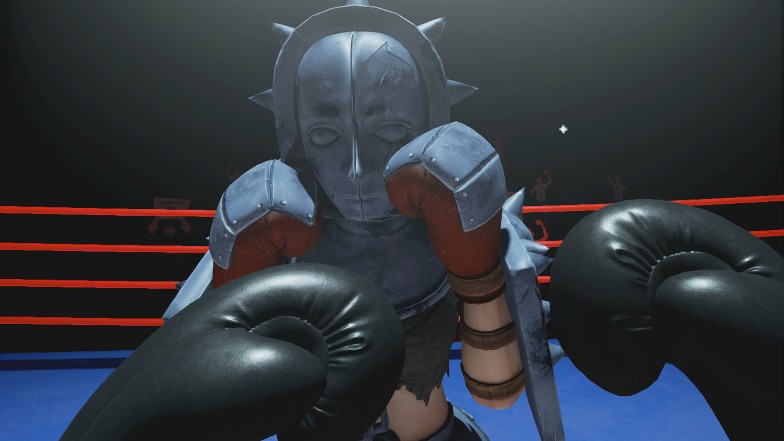 Genre: Fighting, Sports, Simulation
Developers: Grab Games
PlayStation Release Date: January 24, 2017
Buy from: PlayStation
Multiplayer: No
Average Playtime (Main Story/Objectives): 3 hours, 30 minutes
Knockout League is an intense arcade-style boxing game. The punches just keep coming, and you have to keep giving them back. Those punches aren't just your regular pound-for-pound punches either, they're fire-fisted punches.
Knockout League showcases a range of game-play characters with unique abilities and special fighting skills.
The game is played in VR mode, with cartoonish characters to select from and play against. You even get to pick an octopus character with a mustache and a hat, looking like the iconic Belgian detective, Hercule Poirot.
Knockout League's gameplay is simple. Your job is simple. Repeatedly deliver intense punches to knock your opponent out, while trying to dodge counterattacks. Opponent difficulty varies, as expected. Some opponents will be easy to beat down, and others not so much.
Ever imagined your hands involuntarily throwing rapid punches? Well, this game will bring that dream to reality. It's even a good option for those times when you feel like you need to let off steam by throwing hands.
Olympic Games Tokyo 2020- The Official Video Game
Genre: Sports
Developers: SEGA
PlayStation Release Date: July 24, 2019 (Japan), June 22, 2021 (Worldwide)
Buy from: PlayStation, Amazon
Multiplayer: Local Co-op, Online Multiplayer
Average Playtime (Main Story/Objectives): 7 hours
Published by the popular video game company "SEGA", Olympic Games Tokyo 2020 features several national teams (over 80 countries) and events. As the name goes, Olympic Games generally refer to a series of sporting activities such as track and field events, aquatics, boxing, etc.
The game is pretty entertaining as a whole. At the start, before entering into the competition and tournaments, you have to create an avatar for your athlete. The avatar editor allows you to customize your own unique character with custom facial features and outfits.
The boxing aspect of the game is pretty solid. Even though it does not really offer anything new or innovative, it does the basics well.
The characters are unique and the gameplay is basic. It doesn't require a lot to figure out the controls, so you should get accustomed to the moves and special combos fairly quickly.
The series of events in the game offer a bit of excitement and variety with fun, engaging challenges. If you're a fan of sports, or you participate in sporting activities generally, then this one is for you.
The fact that you also have the option of playing other sports games within the same game adds a bit of extra appeal to the idea of using this as your go-to title for blowing off steam and giving yourself a fun little distraction for a while.
Box VR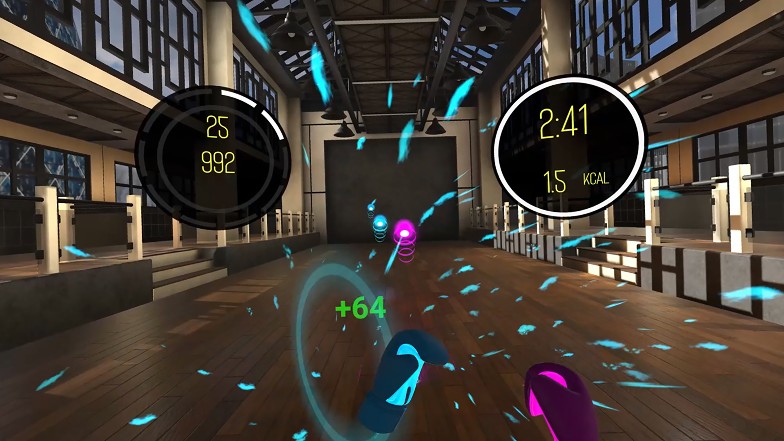 Genre: Action, Casual, Sports, Fitness
Developers: FitXR
PlayStation Release Date: April 30, 2019
Buy from: PlayStation
Multiplayer: No
Average Playtime (Main Story/Objectives): N/A
Here's another PlayStation VR game with a lot of replay value.
Box VR is an intense action boxing game with loads of effects and a variety of game-play scenes.
Since it was published, the game has consistently been up there when it comes to the best boxing games for PS5. Not that it's competing against many alternatives.
Box VR is an energetic game that is sure to keep you on your feet, literally.
Recommended for fitness and mental stimulation, the game is meant to be played in an open space indoors. You don't want to end up throwing a punch at a solid wall (I mean unless you want to, for some reason?)
Some basic moves in Box VR include the triple-block move, jabs, uppercuts, and reflex punches.
A complete Box VR workout helps to develop your balance and composure, and the game's audio selection also comprises tracks that you can actually vibe to. You can even make a playlist that you can just come back to every time you fire it up.
Box VR gives you a solid combo of enjoyment and physical fitness, all packed into a nice VR experience. You won't find that anywhere else – probably.
Final Words
Do you see what I meant when I mentioned the dearth of boxing options? A grand total of four games.
I've had a similar experience before with bowling games, but one would think boxing is at least a bit more popular. Oh well.