Mech games, also known as mecha games, belong to a sub-genre that cuts across many other major video game genres, focusing on the use of human-like pilot-driven vehicles to blow the crap out of opponents.
They are fun, fast-paced, and usually come in stompy or high-speed flavors, mirroring the real robot versus super-robot divide.
Whether you're into simulators, story-driven titles, or action games, there's a mech game for every fan. If you're looking for a fun mech game to play on the next-gen console, I've got you covered. Here's a list of the best mech games on PS5.
The Riftbreaker
The Riftbreaker is a new real-time strategy video game released by EXOR Studios in 2022.
The gameplay involves tower defense, twin-stick shooting, and elements of survival, with players gathering resources while defending and establishing a network of base structures across the planet.
It requires players to assume the role of a commando/scientist known as Ashley. Together with Mr. Riggs, her mech, Ashley explores Galatea 37, an alien planet, to find resources for constructing crucial base buildings.
The structures provide essential functions such as ammunition, energy, and research.
While trying to build a new settlement for humanity, they'll experience frequent invasions by hostile alien creatures. Mr. Riggs steps into action and blasts them away using a rocket launcher, sword, machine gun, etc.
The Riftbreaker combines elements from various genres. Players will need to build a fortress, secure it in a tower defense manner, and pick their mech suit to battle.
The way that EXOR Studios managed to mix elements of tower defense gameplay with action and real-time strategy games makes this title one of the best mech games on PS5.
You'll still pilot a mech suit and use it to battle against enemies. While the protection systems and towers are there as a strategy element, The Riftbreaker is an action video game at its core and is undoubtedly one of the best mech games on PS5.
MechWarrior 5: Mercenaries
This installment of the MechWarrior franchise is worth playing for anyone who loves the idea of moving metal hunks across sprawling terrains filled with enemy fodder.
The series is well-known for loaded combat, and MechWarrior 5: Mercenaries doubles down on that while adding tactical elements for more focused (though slow-paced) mech combat gameplay.
The entire campaign tasks you with building an army to fight invading forces and destroy as much as you can. Although several mech games focus on methodical maneuvers or stylish attacks, MechWarrior 5: Mercenaries delivers refreshing improvements for the genre.
You can turn the mech around without having to change your direction — something only possible because Piranha Games put in extra effort to make the mechs in this game feel like true mechs.
MechWarrior 5: Mercenaries includes more than 50 mechs, each with unique weapons and qualities. In addition, they feature a couple of different load-outs and several customizable aspects, making it easy for you to find a suitable mech for your play style.
While mastering MechWarrior is not a stroll in the park, once you get it, the struggle will be worth it.
Stonefly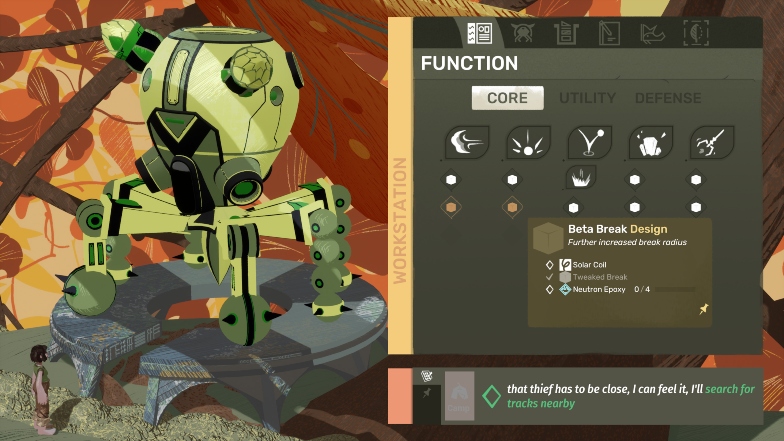 Stonefly is a tranquil action-adventure video game about legacy, belonging, and self-discovery.
You'll assume the role of a young mechanic, Annika Stonefly, who embarks on a quest to get back her father's lost priceless rig.
Pilot your mech strategically around dangerous fauna and beautiful flora, confronting hungry bugs, memorable characters, and adventures.
The combat is inventive. The bucolic world contains small and large bugs that you can defeat by flipping and pushing them into the depths.
This two-stage maneuver is important before factoring in the various bugs' abilities — nasty pincers, toxic goop, weird spiky inflatable stuff, ram attacks — and the different techniques available to you as you upgrade.
Flipping a bug does no good if you're not close to a drop to push them over. While prioritizing targets, you also want to consider the surrounding landscape.
You'll get more options as your mech's arsenal of abilities grows. You can pound the ground, dance around the bugs, slow them, drop little wire bombs, or gust while dashing.
Stonefly is a beautifully odd game and is deservedly a firm choice in my list of the best PS5 mech games.
Super Robot Wars 30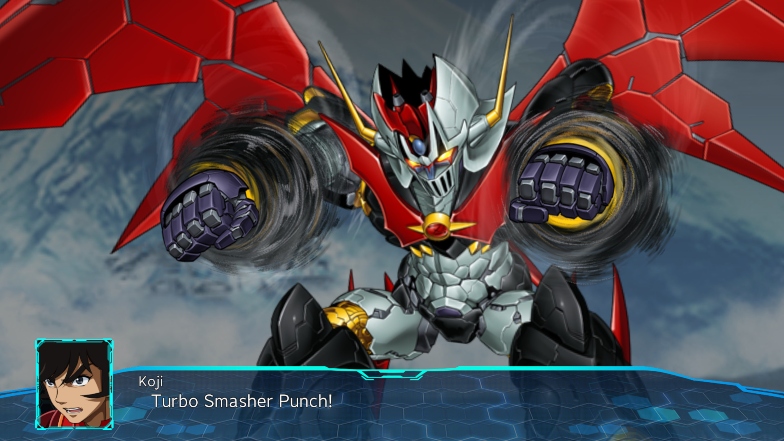 The Super Robot Wars series has been around for quite a long time, and Bandai Namco Entertainment published Super Robot Wars 30 to celebrate its 30th anniversary in 2021.
Each player gets to select the protagonist — either an original female or male character. You'll also choose the location where they first begin.
The initial battles are pretty easy, so players can be casual with them. You can go through the tutorial for more guidance about the gameplay.
Main elements like Attack Power and HP are essential and self-explanatory, just like every standard RPG. Other actions like Spirit, Support, and Action are a bit more technical.
While Super Robot Wars has an original story, you'll encounter several cameo appearances from other series like Kabuto Koji from Mazinger Z who'll join you as allies in this game.
Even if you're not sure who they are or which game they're from, just enjoy the game.
Super Robots Wars 30 has three types of currencies — one for boosting your pilot's skills, another for upgrading mecha, and for the Dreisstrager.
While the mission setup might be a bit challenging at first, it works well with the new DLC and on multiple playthroughs. Summarily, it is a fantastic tribute to the series' anniversary.
13 Sentinels: Aegis Rim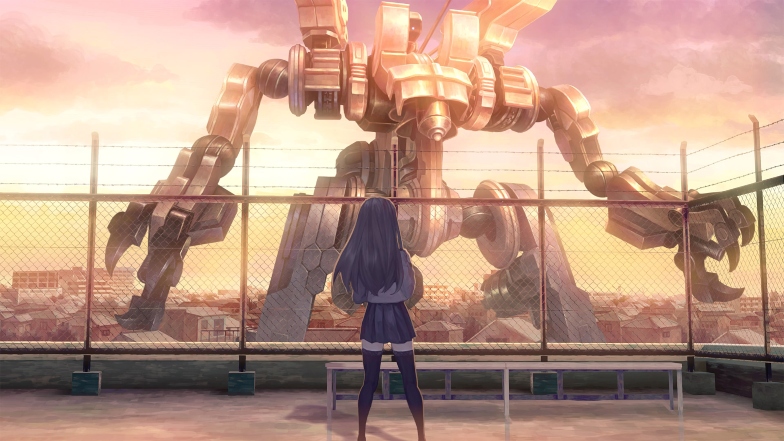 13 Sentinels: Aegis Rim combines vibrant characters and a rich story with visual novel elements and challenging, fun mech RTS gameplay.
There's a good story here too, which is not a common situation with games that exist with a similar blend of genres/styles.
The story is about a group of heroes trying to prevent an alien attack using mech suits, but what really makes it stand out is the way the narrative unfolds.
Instead of meeting all the characters at once, you'll hop through different scenarios and periods to experience their stories individually. The game is intriguing, and there are lots of surprising links and plot twists.
The game is divided into three parts. The first is the "Remembrance" mode where you'll uncover the story bit by bit. Next is the Destruction mode where you'll defend the city using giant Sentinel mechs.
Lastly, the Analysis mode collects every story scene and information you've discovered through gameplay.
The real-time strategy element is also interesting, with intuitive, satisfying combat and great visuals. You can customize your mech in several ways, and each RTS section/mission feels unique.
It blends genres perfectly and delivers an engaging experience with high-quality performance and wonderful visuals.
The game is available on the PS5 console, thanks to the console's backward compatibility features.
War Tech Fighters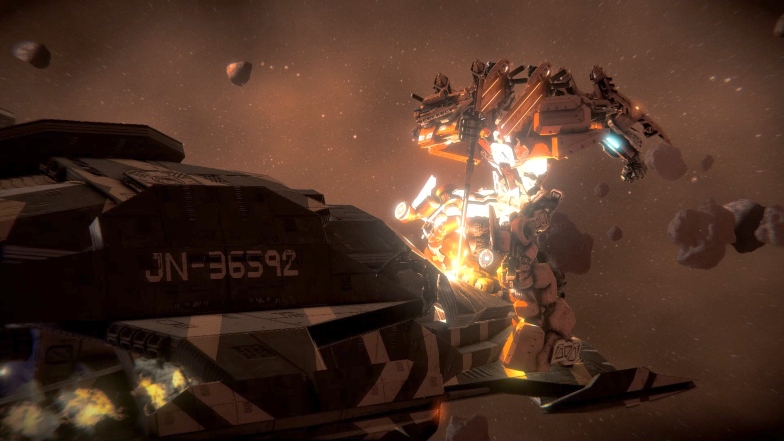 War Tech Fighters is an excellent addition to the mech gaming world, offering lots of space-based mech challenges and fights.
The main story is about Zatros Empire, an evil alien, and your mission is to protect the galaxy from them.
The game has a simple story, but the main focus is the combat, with giant mechs and interstellar vehicles to contend with.
War Tech Fighters has a mission-based structure with most of them focusing on using your mechs to defeat the baddies. Some missions are based on hacking and stealth though.
The first-person mode includes additional control options for the chaos and the 3D space shooting world seems to be perfect for carrying out tough battles.
The game looks fantastic on the PS5 console, with detailed environments and interesting mech/character designs. The soundtrack is also decently enjoyable, especially if you're into heavy metal and hard rock.
War Tech Fighters has both close-quarters and long-range combat, allowing players to engage in gun duels or even slash enemies away using their swords.
With several mechs to customize and unlock, War Tech Fighters feels and looks like the Pacific Rim game, and that's not a bad rep when you're vying for a place among the best mech games on PS5.
Override: Mech City Brawl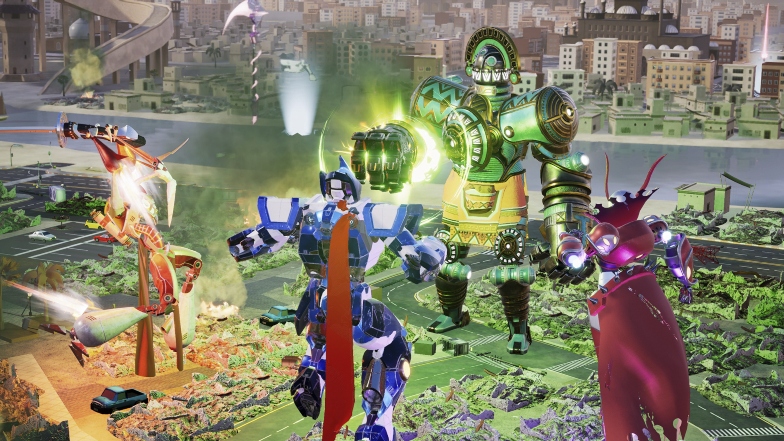 Override: Mech City Brawl brings back childhood memories of the popular toy known as Rock 'em Sock. This 3D arena fighter features robots using supercharged weapons and abilities to fight on city-scale battlefields.
You'll control one of 12 mechs and battle in a versus mode, against your friends in an online multiplayer or local multiplayer mode, or the AI. However, the concept remains the same in every mode.
The controls are very simple, so you won't have to memorize complex button sequences or combos to play. You can control each limb using a dedicated button.
Swing the right arm with one button and kick the left leg with another. You can also hold down any attack button to enforce a stronger attack.
The blocking and basic attacks for each mech are the same, with four special attacks, a distinct left kick, and a finisher.
You and your opponent can also pick up random weapons falling from the sky. These weapons range from shields and swords to grenades and Gatling guns.
In between the story, players get to select which mission to take, with each listing the reward and difficulty.
Whether local or online multiplayer, human opponents are the most fun to fight in Override: Mech City Brawl.
Relayer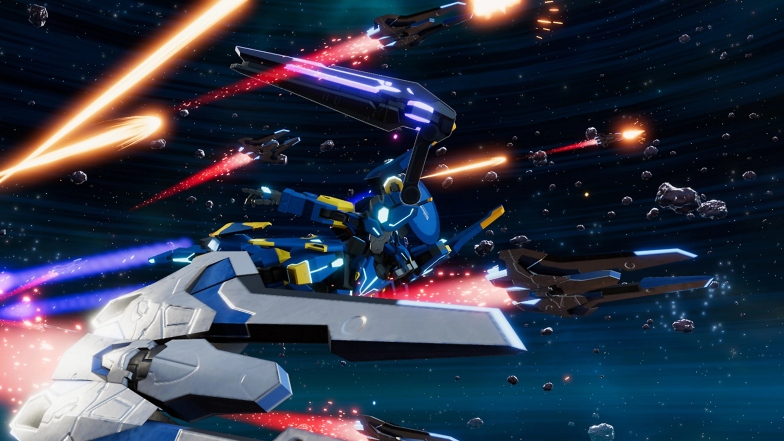 Relayer is one of the most ambitious games developed by Kadokawa Games. Just like Super Robot Wars, Relayer is a turn-based strategy role-playing game.
The game focuses on storytelling and occasionally delves into character interactions and building.
Relayer has very solid tactical gameplay, with positional attacks accessible to specific classes, tons of abilities, spectacular finishers, and missions ranging from simple to challenging.
It has an extensive customization system that allows you to mold each character and mecha to your preference. That means you can earn most of your victories in the preparation menu before you engage.
Each mecha/character combination starts as one of four different classes (shooter, wizard, fighter, and tank), but each can evolve into four advanced classes with different roles.
Each class features a skill tree that allows players to unlock lots of passive and active skills. You can also purchase, loot, and upgrade different weapons and gear pieces for your Mecha.
Attacks are determined by the player's equipped weapon. Bits are ranked fourth, rifles are ranked third, machine guns are second, and swords are ranked first.
These weapons can only be used to attack at specific ranges, and enemies can't counterattack if you're using a different weapon. Fans of turn-based strategy will easily fall in love with Relayer.
Iron Harvest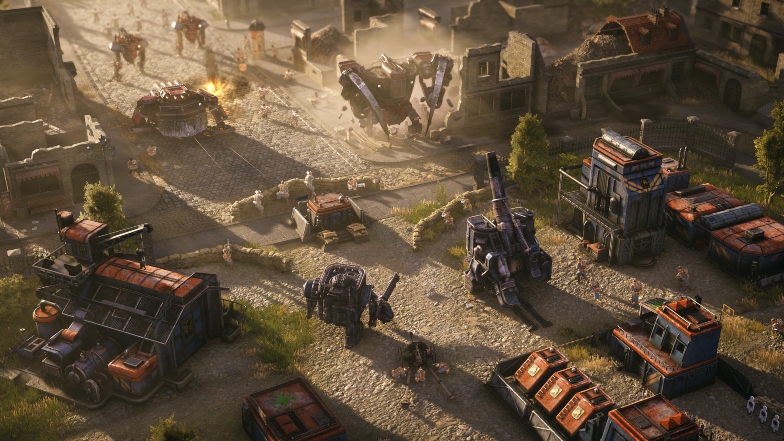 Deep Silver first released Iron Harvest on PC in 2020 before bringing it to the next-gen console in 2021.
The PS5 version is loaded with tons of content, with every campaign and expansion previously released over the last year.
The story is about a girl, Anna Kos, who leads a group of fighters while trying to rescue her father from the evil in the Rusivet army. The game puts you in control of forces from the fictional nations: Rusviet, Polonia Republic, and Saxony Empire.
Iron Harvest is set in an alternate history around 1920. The setting alone positions Iron Harvest as one of the best mech games available on PS5. Each European country has its own campaign for you to play through with various missions.
Iron Harvest has a similar RTS unit gameplay and mission structure as other RTS games.
The campaign gradually fleshes out beautifully as you watch the story unfold via the characters' eyes and learn about their loved ones and where they're from.
Iron Harvest is an excellent game with a fascinating setting, and impressive unit and map design. It's an awesome title to enjoy mechs on your PS5 console.
Hardcore Mecha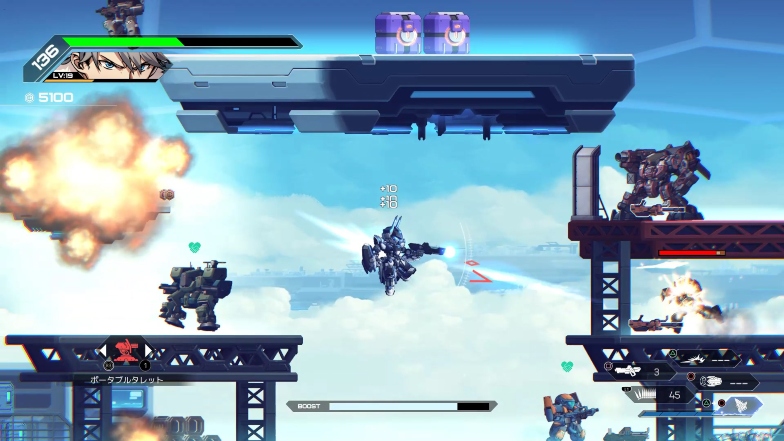 Hardcore Mecha is an excellent side-scrolling action platformer that tells an amazingly engaging story.
Taking inspiration from Gundam and several other mecha anime games, the story features some genuinely awesome moments, punctuated by cool character design and slick animation.
The campaign features eight chapters and a total of 18 levels with well-made cutscenes. After playing the side missions, the Simulation Mode is unlocked, pitting you against an unending horde of enemies.
In addition, there are online and local multiplayer modes to slug it out with your friends and other gamers.
Although playing through the single-player campaign will only take a few hours, the levels are nicely varied and brilliantly designed.
Your mech can smack, boost, and blast, and the ability to use various weapons and angle your aim gives the video game a gratifying difficulty curve.
Getting victory is quite satisfying, particularly against the more troubling bosses. Although playing through can be tough at times, an easy mode offers a great way to enjoy the story or learn the ropes.
You'll earn in-game currency (which can be used to purchase new mechs and upgrades) for shooting them down. Hardcore Mecha is a stylish and smooth game, with the right amount of fun to keep you immersed.
For all the excitement that they offer, mech games are often very fast-paced and frantic.
If you're at the point where you need a break from all that, it might be worth checking out some of the best casual games on PS5 for a more relaxing experience.