Detective games will always be a thing, and there will always be people that enjoy spending their screen time with them more than any other game.
Thankfully, there is an increasingly high level of variety in the way that developers are approaching such titles nowadays.
In the past, most of these games were heavily focused on the story and the adventure alone, but there are different additional elements to enjoy in titles that have been released more recently.
If you're looking to scratch an itch for solving puzzles, gathering clues, and bringing criminals to book, then you're in the right place.
I have put together this guide that runs through thirteen of the best detective games for PS5 on the PlayStation Store. If you read to the end, you should have a good number of options to choose from. Let's dive right in!
Paradise Killer
At the time of its first release in 2020, Paradise Killer was only available for PC and the Nintendo Switch.
In March 2022, a new version of the game was launched for the PS4, PS5, and other similar-gen consoles. This version came with better performance and visuals, as was expected since the developers had more time to work on the game.
The story in Paradise Killer and the way the sequence of events plays out is heavily influenced by the choices that you make.
The game is set on a fantasy island where your character, Lady Love Dies, is brought back from exile to solve a mass murder. To do that, there is a lot of exploration involved as you search for clues and evidence that will lead to the suspects and eventually, the killer.
Be warned, the story can be a bit of an information overload in the beginning, but as you progress in the story, everything gradually clears up and you're able to build your case.
If at any point, you feel like you've gathered enough evidence, you can immediately trigger the final trial and go to court.
There's more to Paradise Killer than the story though. The art style is very colorful, and the environment is vibrant albeit a bit strange.
It's a great-looking game, and those vivid colors really come to life on the PS5. You get 4K resolution with 60fps AND ray-tracing, which is a pretty delightful combination even for a new-gen console.
Finally, the choice of music is so good that it also deserves special mention. It covers a variety of genres, including city pop and funk, but they've really made it all blend extremely well here.
With all these points, it's easy to see why Paradise Killer is one of the best detective games for PS5 at the moment.
Judgment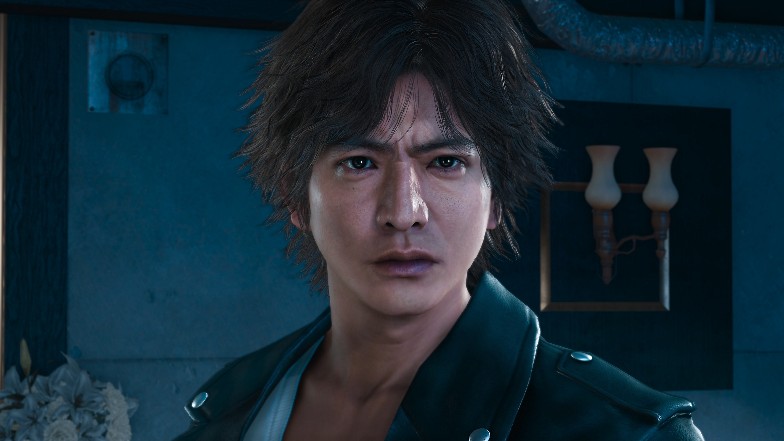 For a game that was originally released in 2018 (PS5 upgrade in 2021), Judgment's appearance in a few of my "best of, for PS5" reviews is impressive.
I mean, I've previously discussed the game in my review of the best remastered games, as well as the best games from Japan with English support, and even my favorite adventure titles, which should say all you need to know.
If you want more details about how the game fits into each one of those categories, head over to the attached links.
The detective story here follows a private detective named Takayuki Yagami who's investigating a serial murder that happened in the city of Kamurocho.
If you're familiar with Yakuza games, then you must know of this fictional district because it has been referenced in other Yakuza-themed titles.
Anyway, apparently, Yakuza mobsters have been turning up dead with their eyes gouged out, and Takayuki has to try and find the perpetrator.
In the process of your investigation, you will have to chase down suspects, beat up people, and try to piece together clues from all over the place. You know, typical detective stuff (I think?)
It's a fairly straightforward game that even the most casual of casuals can get into, and it looks even better on the PS5 than it did originally. The upgrade to 60fps brings a noticeable change to the smoothness of the playback, and the 4K resolution is the icing on the cake.
Sherlock Holmes: Chapter One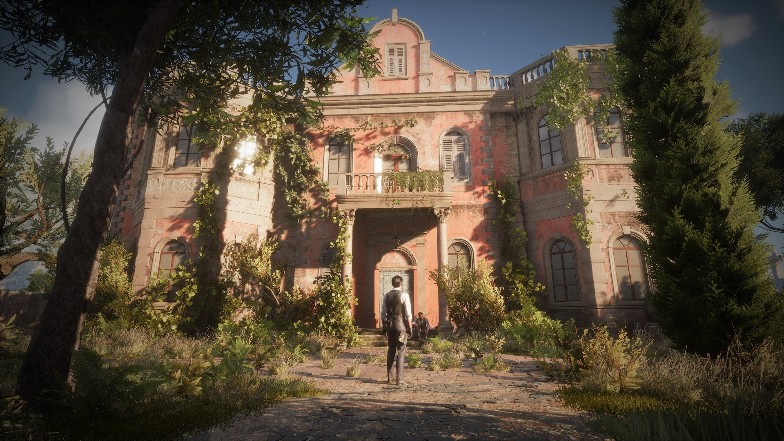 This wouldn't be a reliable source for the best detective games for PS5 if it doesn't include a Sherlock Holmes title now, would it?
To be fair, If you asked me what the best Sherlock Holmes game was, I would most likely refer to the 2014 title, Crimes and Punishments.
Even though that is still a decent game to pick up and play, the absence of a remastered edition to bring the visuals up to grade at least makes me uncomfortable with putting it on the list.
That said, the next best thing is Sherlock Holmes: Chapter One. This one was published by Frogwares in 2021, so it's a much more recent release for eight and ninth-generation consoles.
The plot here follows Sherlock Holmes when he was in his 20s, ten years after the death of his mother.
Sherlock returns home with a companion named Jon, and there he encounters someone that suggests that there was more to his mother's death than the tuberculosis diagnosis that he believed to be the cause.
Sherlock being Sherlock, picks up the scent of a potential case and begins to investigate all the loose ends. This is where your own thought process plays a crucial role as your choices determine how events will unfold.
Visually, this is up there with the best-looking Sherlock Holmes games. 4K resolution with a framerate of 60fps is always a solid combo, and it adds some extra eye candy to the game.
Murdered: Soul Suspect
Yeah, I'm a confused human being. I know that I said Crimes and Punishments was overlooked because of its age, and it's a strange thing to bring up a game released the same year as the next option, but I can explain.
Firstly, I had an alternative from the same series as Crimes and Punishments and there's none here. Secondly, the appeal of Murdered: Soul Suspect goes far beyond aesthetics or extra features.
I mean, from the screenshot attached above, I'm pretty sure you're already hooked. It's a unique take on the detective angle because your character is, well, dead.
A serial killer is on the loose in Salem, Massachusetts, and your character, Ronan O'Connor, is one of the victims.
Not one to be deterred by a mere inconvenience such as death, Ronan is unable to move on until he finds the killer.
It helps that he was a criminal-turned-cop before his death, but his death also comes with some pretty neat powers that turn out to be pretty useful in his investigation.
He may not be able to speak to the living anymore, but he can do something much cooler – read their thoughts. Conversations are overrated anyway.
There is a lot of potential here, and the premise is a nice change of pace from the repetitive detective stories and gameplay. For me, that's enough to make Murdered: Soul Suspect a worthy member of the list of the best detective games for PS5.
Detroit: Become Human
We have another Connor detective here, although this one is an android, not a human.
Detroit: Become Human follows a story set in a world where androids have become a staple of society and are taking up jobs that regular humans normally would.
The plot panders to the common opinion that a robot "infested" world will eventually lead to an uprising, as we see many of these androids become defective and begin to form a sort of "coalition" that demands better treatment from society.
The plot is diverse and Detroit really is more than just a detective story. In fact, there are three playable characters and Connor is only one of them.
However, his own job is to hunt down and destroy defective androids (called Deviants) riding alongside a human that absolutely hates them (there's another story in there).
You don't get a lot of cyberpunk detective "blade-running" robot stories every day, and that unique premise is a major reason why this is one of the best detective games for PS5 out there.
Another reason is that Detroit: Become Human is overall just a really well-put-together game. There is a solid amount of content to play through, the visuals are really good, and there is depth to the story.
The Wolf Among Us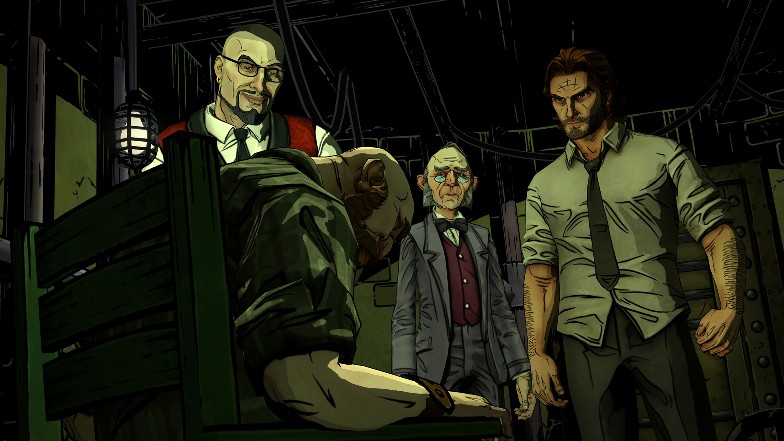 I know this is a 2013 game, but it's a great way to prepare for The Wolf Among Us 2 which is launching anytime now.
The Wolf Among Us was first released by the publishers of The Walking Dead series, Telltale Games, about a month before the PS4 hit the shelves. It was a rousing success among fans at the time.
In fact, The Wolf Among Us was such a success that the sequel was initially announced in 2017, but those were eventually put on the back burner due to financial reasons.
The game is centered around a community of fairytale characters living in Fabletown in 1980s New York. The sheriff of the town is Bigby Wolf, and he is forced to swing into action when a woman under his care is decapitated.
The murders don't stop there, and soon enough, it is Snow White's head that is laying in the dirt.
Based on the fact that she was working closely with Bigby around the period of her death, the police bring him in for questioning before it is eventually discovered that the head they'd discovered was not really Snow White.
Bigby then has to follow a trail of clues, starting with a black-market witch, to find the killer behind the decapitations and bring sanity back to Fabletown.
The whole concept of a "big bad wolf" with a dark past, embroiled in controversy surrounding the death of characters under his care, brings a sense of attachment to Bigby as a misunderstood character.
That is one of the key selling points of The Wolf Among Us as an immersive gaming experience, and that experience is what we hope is retained when The Wolf Among Us 2 is published for the PS5.
Lacuna
Let's get away from the past for a moment. Lacuna is a good-looking 2D adventure game that was published in 2021 for the PS4 and the PS5, alongside other eighth and ninth-generation consoles.
The game is set on planet Drovia where a character, Mira, has just moved with her family. In the Prologue, the game familiarizes you with all the necessary controls in Mira's house before you're thrown head-first into the main story.
There, you start to play as the main character, a CDI agent named Neil Conrad. Conrad is living on another planet named Ghara, but the agency that he works for is heavily involved in interplanetary communications and relations.
Conrad's story arc revolves around a homicide that causes him to inspect crime scenes, interview people, and gather clues. Piece by piece, you're expected to put together the details to make sense of the crime and solve it before you run out of time.
Every choice you make is important, not only because there are multiple possible endings, but also because the game only uses an autosave system so you cannot simply quit and redo a scene if you make a mistake.
Visually, the pixel art and parallax backgrounds put zero strain on the PS5, so the game performs smoothly and you can focus completely on the tasks at hand with no distractions.
Based on the overall experience, Lacuna is a solid effort from DigiTales Interactive and fully deserves to be mentioned as one of the best detective games for PS5.
Disco Elysium: The Final Cut
Disco Elysium is a cult classic among hardcore gamers. It's a role-playing title that was developed by ZA/UM and initially published by the same studio in 2019 for the PlayStation 4 and other eighth-generation consoles.
Since then, a PS5 update has been launched in 2021 and it serves as an enhanced edition of the original, including new updates such as extra content, voice acting, and visual upgrades.
On the PS5, you can play Disco Elysium at 4K resolution with a framerate of 60fps, so you're getting top quality when it comes to those specs.
There's a lot more to this game than the core element of problem-solving and murders, but it has that part completely on lockdown.
You play the role of a disgraced lieutenant in a town called Revachol West, and your job is to rein in the growing crime rate, chasing down leads to bring down corrupt, rich sons of unprintable words and murderers.
Despite the moral rot of the people inhabiting the town, Revachol is actually a masterfully designed place, and there's a lot to explore on the side while you're trying to do your job. Just don't get too distracted.
Lost Judgment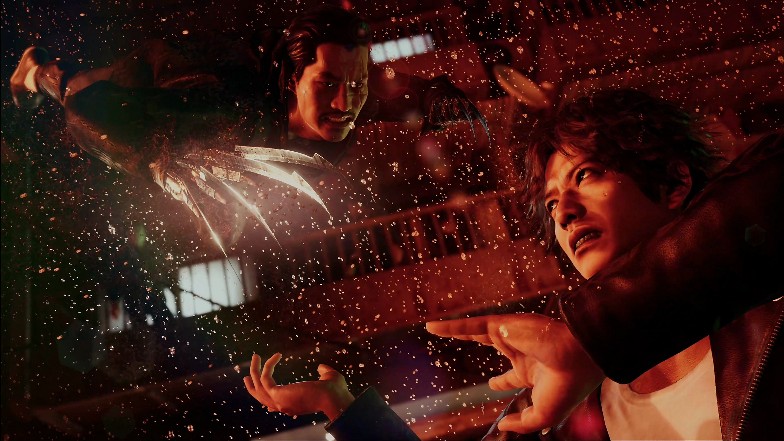 Lost Judgment is Ryu Ga Gotoku Studio's sequel to Judgment.
There are differing opinions about which one of the games is the better version, but I think almost everyone agrees that they're both fantastic games and are two of the best detective games for PS5.
In this sequel, you once again step into the body of the detective, Takayuki Yagami. This time, he is investigating a criminal that has been accused of sexual harassment and murder.
Takayuki is initially only called to investigate a case of bullying at a high school in Yokohama, but you know, murder is a worthy distraction.
There are many similarities in the gameplay mechanics of Judgment and Lost Judgment, but if you enjoyed the first one, then you should appreciate the sequel's new story.
On the PS5, you get solid 60fps at 1440p in the standard mode which is decent, and the bright lights and colorful district of the city look as stunning as ever in native 4K at 30fps if you choose resolution mode instead.
Backbone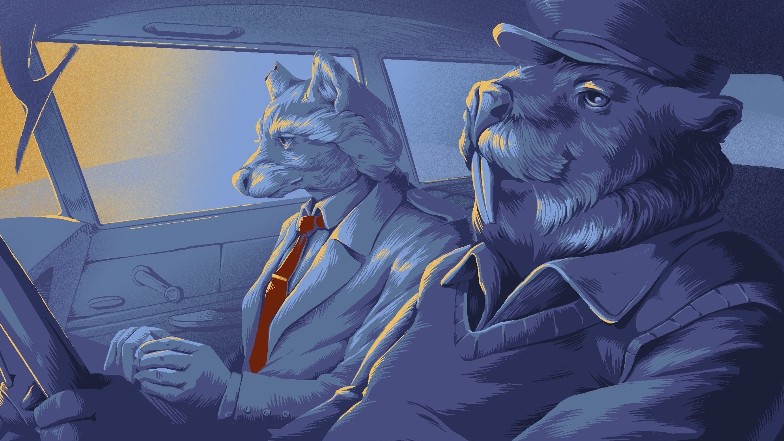 As you may know by now if you've been keeping up with my reviews, I have a thing for games that step out of the production line and try to do something different.
In many cases, doing something different does not equal doing something great, but the effort is often worth applauding at least.
Backbone is not the absolute best detective game for PS5 out there, but it is a solid interpretation of a unique take on the "noir adventure/detective" category. Oh, and it's an indie title too, so bonus points for that.
In Backbone's dystopian city of Vancouver, everyone is an animal. That includes your character, Howard, who is a raccoon with a knack for sniffing out mischief.
Howard's character is a drunk that feels useless in life until he stumbles across the corpse of an otter in a whorehouse's basement. With his beaver best friend driving him around town, Howard sets off to find as many clues as he can get to make sense of the whole situation.
There is a social ladder in the city and the apes are pretty much in charge, while you're a lot closer to the bottom. This dynamic can make it a bit difficult for Howard to get all the resources that he needs, but you have to make it work regardless.
The anthropomorphic world of Backbone might be pixel art, but it is still beautifully rendered and you can really see the attention to detail that the illustrator has put in.
A fantastically written story and a killer soundtrack provide enough in this game to overlook the minor negatives. I'm not even going to talk about those negatives so you don't go looking for them and ruin the experience before you even properly get into it.
What you should know is that Backbone is one of the best detective games for PS5 for the neophiliac gamer, even if it is not the outright best.
Kona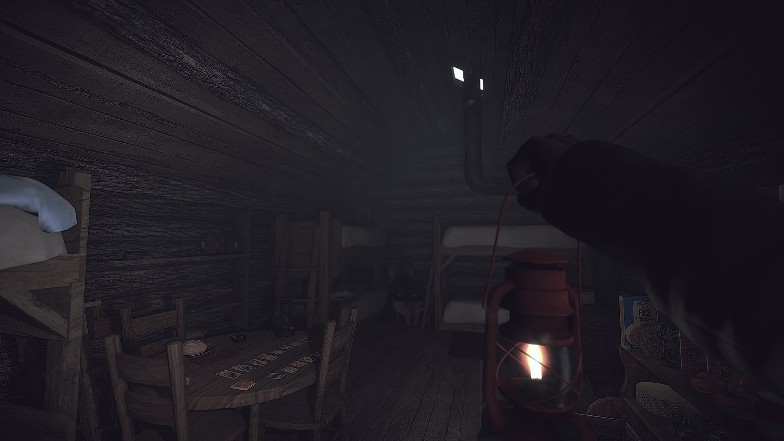 Kona was published by Ravenscourt in early 2017, and at the time, the game did not get a lot of publicity, so it was a bit of a surprise when a PS5 upgrade arrived in late 2021.
The story is set in 1970 and centered around a private detective named Carl Faubert. Carl takes on a job that sends him into the deep wilds of Northern Quebec to investigate a handful of vandalism cases in a mining community.
However, he does not arrive at his destination before a car accident in the middle of a snowstorm leaves him stranded in the deserted wilderness with nothing but a few supplies and plenty to worry about.
Kona is a detective game with elements of survival, adventure, and the supernatural. In the wilderness, you're exposed to extreme cold and wolves that want to grab a bite from the stressed-looking human that has stumbled into their territory.
There are three main things that you have to actively worry about – your health, stress levels, and warmth. If any of these go low, then you'll notice your character become slower and your vision become progressively worse.
The game is played in first-person mode which gives you a decent enough view of the environment rendered in 4K resolution on the PS5. Generally, it's a bit of a strange one, but well worth giving a go nonetheless.
Return of the Obra Dinn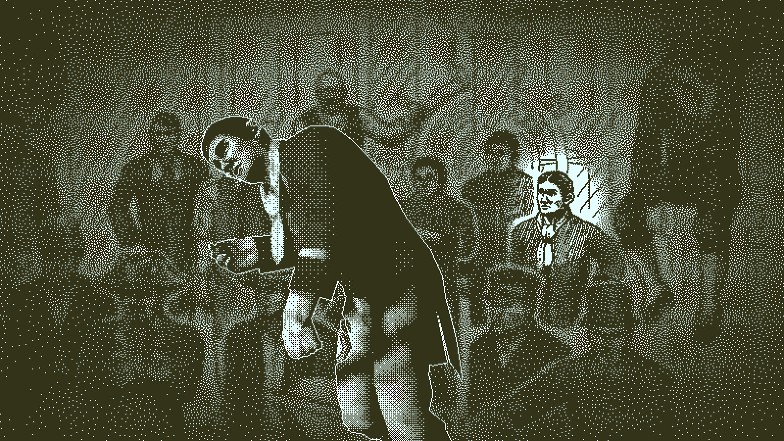 Return of the Obra Dinn is a detective game that should be experienced on any console that supports it.
It is one of, if not the, best "whodunnit" mysteries out there, and it absolutely does not matter that the game has not gotten a PS5 upgrade or remastered edition.
Although it was originally developed for the PC in 2018, Obra Dinn arrived on eighth-generation consoles such as the PlayStation 4 and the Xbox One a year later, and it really took off from there.
The story follows a character who is a 19th-century insurance adjuster for the East India Company. The job can get really tricky at times, but surely not in the proportions of the task you're faced with in Return of the Obra Dinn.
A ship called the Obra Dinn suddenly returns to shore after being lost at sea for five years. Expectedly, everybody on board is assumed to be dead – all sixty of them.
Your company has to figure out what happened to each one of those sixty people because that's the only way they can accurately judge the payout that goes to their families. As the insurance adjustor, that bit of investigation is left to you.
Your secret weapon is a pocket watch called the "Memento Mortum". Whenever you get near a corpse, the watch can turn back time to a picture showing the last few seconds of the person's death.
It's your best shot at figuring out how each person died, but that process of deduction is more convoluted than it sounds.
The story is incredibly imaginative and the execution is brilliant. I should mention that the art style is not for everyone (see screenshot for sample), but somehow it actually adds to the mystery of the whole experience.
Observer: System Redux
Speaking of introducing the supernatural and some creepy, disturbing imagery into a standard detective game, Observer: System Redux treads the same path.
The game was initially released in 2017 but was remastered for the PS5 in late 2020.
Considering the fact that this is also a horror game in its own right, the developers rightly added DualSense controller support to provide an even more immersive experience for the gamer.
The story itself follows a character named Daniel Lazarski who is a cybernetic cop on a futuristic Earth. The year is 2084, and the world has gone to crap due to a plague that wiped out most of the population years earlier.
Lazarski is an Observer, which means that he has special powers that allow him to "hack" into the minds of people and read their thoughts. It's a pretty useful skill to do detective work, but it is also a major part of the madness that eventually unfolds in this game.
Don't be fooled by the seemingly straightforward mission of investigating a series of murders in an apartment complex. It is a ruse to draw you into the mind-numbing and very disturbing mess of looking into the heads of people that are not all there upstairs and dealing with the craziness that repeatedly haunts you as a result.
The remastered edition adds some new content with 4K resolution, and that comes with new models, effects, deeper shadows, animations, HDR lighting, and ray tracing. So, at least, if you're getting haunted, you're getting haunted in fantastic HD. Worth it.
Final Words
I'm going to give myself a pat on the back and say I've done okay here – I think there's something for everyone on the list.
Do you want a detective story that's purely just that? Try Sherlock Holmes. Do you want a story with elements of engaging combat in it? Try Judgment. Do you want to be a detective, but on another planet? Try Lacuna. You want to be a detective, but not a human one? Play Detroit: Become Human.
On a different note, if you enjoy detective games, then you're probably a fan of solving mysteries. We have a guide to the best mystery games as well, so check that out next!