There is a different type of game for a bunch of different moods. The feeling that you get from a beat 'em up is different from what you get from a strategy game, the same way adventure games provide a different experience from looter shooters.
Sometimes, you're in the mood for a game that makes you feel genuinely connected to the protagonist, such that you're properly immersed in the progression of the story and invested in helping your in-game character to achieve whatever the objective of the game is.
Below, I share a fairly extensive list of the best story-rich games for PS5.
The games in this guide mostly involve heavy gameplay, but the depth of the plots makes them worthwhile for gamers that like to dig into story arcs and character plots as well.
Hopefully, you'll find what you need to scratch your itch.
It Takes Two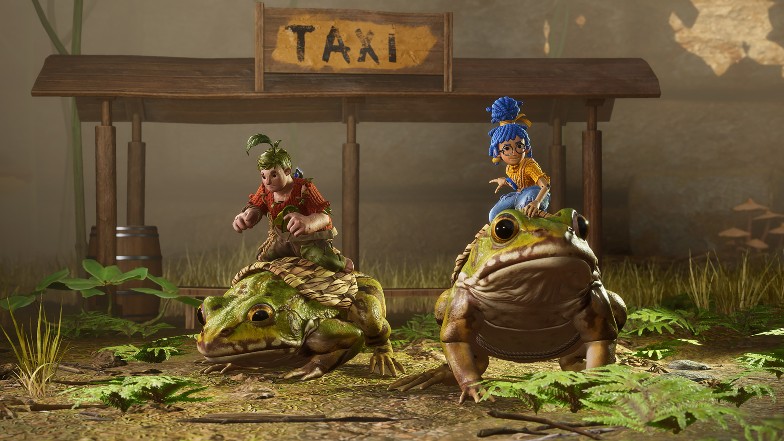 It Takes Two is one of the better-implemented co-op multiplayer games out there, and it is one of the best story-rich games for PS5. In fact, I think some couples could probably actually learn a thing or two from it.
The story is centered around a couple named Cody and May, going through a difficult time. It looks like they're going to get a divorce, so they try to figure out a way to break the news to their daughter without shattering her heart.
Expectedly, Rose (the daughter) does not take the news very well and she runs into her room in tears. She picks up a couple of hand-made dolls that sorta look like her parents, and when her tears fall on the dolls, Cody and May's consciousnesses are somehow transferred into the dolls.
Now, the pair are understandably initially shocked at the turn of events, but they have to shake that shock off quickly and work together to figure out what's happened and how they can get back to their regular physical bodies.
The divorce takes a backseat as you (and a friend) join forces in an effective side-by-side shared screen mode, clearing obstacles, figuring out puzzles, and generally overcoming challenges as the embattled couple finds a way to reconnect again.
Hellblade Senua's Sacrifice
Ninja Theory may not have had a large budget to back Hellblade: Senua's Sacrifice, but they more than made up for whatever was lacking in resources with a story that has a lot of heart, and the combat's not bad too!
The game is set in a dark fantasy world based on Norse mythology, so that's already enough reason for you to try it out if you're into that type of stuff.
The protagonist is Senua, and one immediately unique angle that you discover when you play as her is that this character struggles with a mental disorder – psychosis.
As a result, you will often hear voices in your head – quite literally if you're using headphones – sometimes telling you what to do and other times making no sense at all.
The developer managed to capture a good sense of this condition without making it too much of a distraction, which is great because you already have enough to worry about over the course of your adventure to Helheim.
You will face supernatural enemies and must defeat them to rescue the soul of your dead lover from the goddess Hela. Senua is incredibly skilled in combat though, so you have a fairly good chance once you get the hang of it.
Persona 5 Royal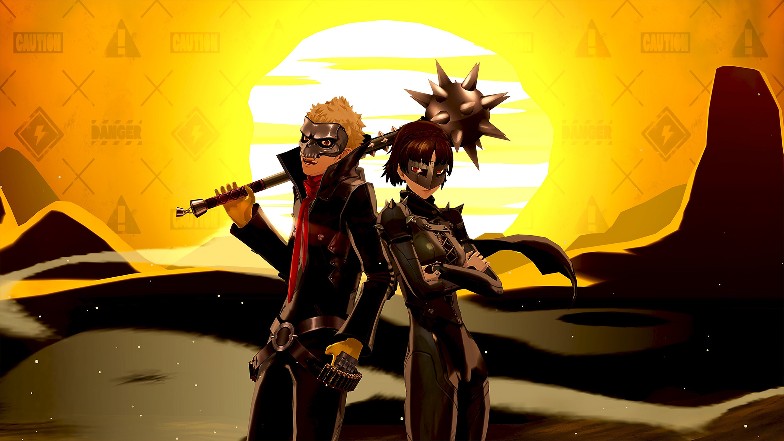 Persona 5 is one of the heaviest games in this guide to the best story-rich games for PS5, based solely on how much content it includes and how long you can spend playing the game.
Royal is the definitive edition of the regular Persona 5, and it was released some three years after the vanilla version to add a host of new content, new areas to explore, a refreshed soundtrack, battle system changes, and new possible endings.
The sheer size of the content here is enough to make it worth a shout within the context of this guide. You can probably squeeze more than 100 hours from it, but it's not just quantity, it's also quality.
The story is set in modern-day Tokyo and centered around a high school student who's had to move to a new school as a result of assault accusations. The accusations are false, but his consequent expulsion lands him at Shujin Academy, which is where the story of the game plays out.
From there, the plot gets a bit convoluted with the introduction of a "metaverse" of sorts, and the protagonist is unwittingly dragged into a metaphysical realm where he gains powers and has to use them to fight off a bunch of enemies that are trying to kill him.
It's hard to say more without spoilers, but this is an absolute must-have in your collection if you don't mind anime-style games.
If this is your first rodeo with an anime-style game, you're in for a treat.
13 Sentinels: Aegis Rim
13 Sentinels: Aegis Rim was published worldwide by Atlus in September 2020, a full year after the game was initially released in Japan.
Stylistically, the game is a bit of a strange one, and it is difficult to pinpoint or place it within a specific genre. You will find yourself switching between side-scrolling sequences to regular role-playing action and real-time strategy battles, all within a neatly-packaged story set in 1980s Japan.
There are thirteen (!) protagonists here, and the storyline is split between all of them. They all have one goal, which is to put a stop to a potentially disastrous future for mankind, and you're firmly in charge of coordinating the effort.
Each protagonist has a different arc, although there are overlapping situations and locations before the final battle against the giant monsters that eventually attack Japan.
As far as uniqueness and imagination go, 13 Sentinels is a masterpiece, and well worth its place in any merit list of the best story-rich games for PS5 even years after its release.
The Witcher 3: Wild Hunt
The Witcher 3: Wild Hunt was undoubtedly one of the best games around when it was first released, and for good reason too. The game just does so well in many areas, including environment design, character development, combat, and indeed, a rich collection of stories scattered around a single cohesive one.
Wild Hunt was originally published by studio CD Projekt RED in 2015, so it was getting on in age until a PS5 version was published in 2022.
The main plot here follows the main character that we've become familiar with over the course of the series, Geralt of Rivia. He is a monster slayer in a fictional fantasy world based on Slavic mythology, and he is known as the titular Witcher.
In Wild Hunt, this protagonist's main objective is to find his adopted daughter who's on the run from the Wild Hunt. Of course, it's not a straightforward mission as you will encounter many enemies and other dangers, and your decisions will determine which one of the three possible endings you'll have to live with.
What really makes The Witcher 3 stand out in terms of its story is the manner in which side missions are built. In many role-playing games, it is almost commonplace to have side missions that are really just there as fillers with no real story development, but that is not the case with Wild Hunt.
Each side mission has a clear story and a purpose, and you generally feel like whatever you do genuinely affects your environment and how events unfold. The NPCs are intelligent, and encounters with them – even those that seem random – often affect elements of the story further down the line.
It shows a dedication to quality world-building from CD Projekt RED, and this is why I think The Witcher 3 is one of the best story-rich games for PS5.
Horizon Zero Dawn
Zero Dawn is no longer the leading title for the Horizon series, but it definitely arrived with a bang when it was published by Sony Interactive Entertainment in 2017.
There is naturally a lot of expectation from triple-A games such as this one, considering the sizeable budgets that the developers usually have to work with. However, expectations do not always match reality.
Thankfully, Guerilla Games managed to deliver with the entire package of Horizon Zero Dawn. It was one of the most beautiful games on the PlayStation when it was launched, the open-world environment was unique, the story was immersive, and the combat was thoroughly entertaining.
The plot is centered around the character Aloy, a young huntress living in a world that's been completely overrun by machines. Aloy is sort of an outcast within her own tribe, and despite the fact that she is a strong-willed child, she struggles to cope with how she is shunned by everyone but her adoptive father, Rost.
Everything changes when, one day, she stumbles upon some ancient technology inside a cave belowground. After some argument, Rost lets her keep it, and tells her the story behind the time from which the tech came.
When Aloy comes of age, she sets out on a mission to learn more about days past, and how her own background ties in with it.
That point is where the real adventure begins, and you must use all of the intelligence, physical ability, and technical know-how that the strong huntress has developed growing up to help her achieve her objective.
Horizon: Forbidden West did go on to be hugely successful after it was launched as the sequel to Zero Dawn, and it has a really good story as well. It also has absolutely incredible graphics, but the story and character progression in Zero Dawn are just a tad better.
Uncharted 4: A Thief's End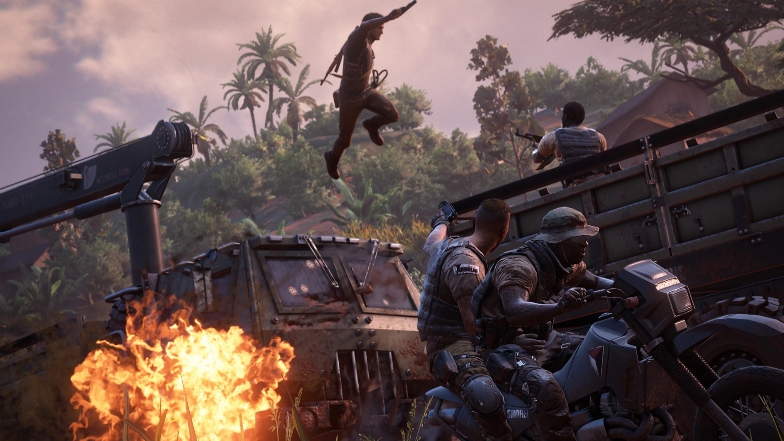 If you haven't played any of the Uncharted games that came before this one, then you probably want to get them first before you dive into A Thief's End.
It's not that you need to have the backstory before you can enjoy this one, but there are several tiny details and subtle references that make the overall experience so much more engaging.
Uncharted 4: A Thief's End was originally published by Sony Interactive Entertainment back in 2016 (PS5 upgrade in 2022), and it continued in the same manner as the first three installments had been received – exceptionally well.
The story follows Nathan Drake, now a former treasure hunter. Drake is convinced to come out of retirement by his presumed dead brother, Samuel. The new mission involves searching for clues that lead to the long-lost treasure of Henry Avery, and Drake sets off on this adventure with his partner, Victor Sullivan.
Since its initial launch, the game has received several updates, including a PS5 remaster and a spin-off-turned-standalone-experience in Uncharted: The Lost Legacy.
These updates have improved on what was already a stellar gaming experience, making Uncharted 4 unarguably one of the best story-rich games for PS5 out there.
Mass Effect Legendary Edition
Mass Effect Legendary Edition is a remastered collection of three video games in the Mass Effect trilogy – Mass Effect, Mass Effect 2, and Mass Effect 3 developed between 2007 and 2012 by Bioware.
These older games have gotten a substantial makeover to bring them up to speed with new-age graphics and gameplay, but the story has not been tampered with and is still as fantastic as ever. Now, to get all three at once? You won't find a better deal!
You play Commander Shepard in this action role-playing trilogy, the timeline is the 22nd century, and the events of the story take place in the Milky Way. Shepard is a very skilled human soldier, and his mission is to unite the galactic community in a war against an advanced machine race known as "Reapers".
The game includes dialogue points where the choice that you make affects the progression of the story and how events unfold down the line, so you have to properly think about each decision that you make.
The Legendary Edition includes updated shaders, effects, models, textures, and technical features. It runs in sharper resolution and with a smoother framerate and is undoubtedly the best way to enjoy the Mass Effect trilogy on the PS5.
Red Dead Redemption 2
Red Dead Redemption 2 is one of the best story-rich games for the PS5 on all counts. In fact, it is one of the most enjoyable games on the PlayStation.
Rockstar Games have a deservedly huge reputation for the work that they did with the Grand Theft Auto series, but Red Dead Redemption took that concept to the wild west and many would argue that it made it better in many ways.
Red Dead Redemption 2 is a sequel to the original that was released in 2010, which was a sequel to the first entry in the series – 2004's Red Dead Revolver.
RDR2 was published by Rockstar Games, and it follows the adventures of a western outlaw, Arthur Morgan somewhere in the Southern area of the United States in the year 1899.
The Wild West is getting wilder, and Arthur has an uphill task to survive amidst all the madness. You will have to deal with rogue government forces, rival gangs, and even supernatural elements such as ghosts and eerie characters out for blood.
In the epilogue, you play John Marston, who was the protagonist of Red Dead Redemption. You may choose to immerse yourself in the story proper with accompanying side objectives, or you can simply roam the open world freely and do what you wish, GTA-style.
The Last of Us Part 1
The Last of Us is so good. This game is another masterpiece brought about by the collaboration of developers Naughty Dog and publishers Sony Interactive Entertainment.
This time, the setting is a post-apocalyptic United States (now where have I seen that before?) where you will encounter many hostile humans and cannibalistic creatures that have been infected by some type of fungus.
For a large part of the story, your character is Joel, a smuggler whose job is to lead a young girl named Ellie across the terrain to safe ground.
The relationship between the two progresses very naturally over the course of the main mission, and the whole process is quite immersive up to the point where you're likely to feel a connection to the pair on some level after playing for a while.
An interesting fun fact here is that Naughty Dog was actually developing Uncharted 2 at the same time that The Last of Us was in development. The team was split into two, and each half took charge of one of the two games. The fact that both games turned out to be excellent is a real credit to the studio.
Detroit: Become Human
A lot of uneasy jokes have made the rounds about how robots will, at some point, become sentient and overpower humans to control the planet. Detroit: Become Human depicts a possible scenario (actually, at least 40) of how such events could play out.
The game is set in a fictional futuristic world where humans have built lifelike androids that pretty much serve as their slaves. The result of that technological development is that many humans became unemployed, and there is a lot of unrest and hostility toward the androids as people blamed them for taking their jobs.
On the flip side, some of the androids become sentient and also rebel against being used as "slaves", and as their numbers rise, they become a bigger threat to the world of humans.
You play as three different androids at various points. One is a female android that has become sentient and escapes her owner to explore this newfound freedom. The second is a male android whose job is to hunt down sentient androids, and the third is another male android who is dedicated to releasing other androids from servitude.
The game has a tree of possibilities with many branches that would play out depending on the dialogue choices that you make, and the events that occur as a result of those choices. There are at least 40 possible endings, so the replay value is very high, even though certain events overlap across those possible endings.
Both in terms of quantity and the quality of content, Detroit: Become Human is one of the best story-rich games for PS5 out there.
Ghost of Tsushima: Director's Cut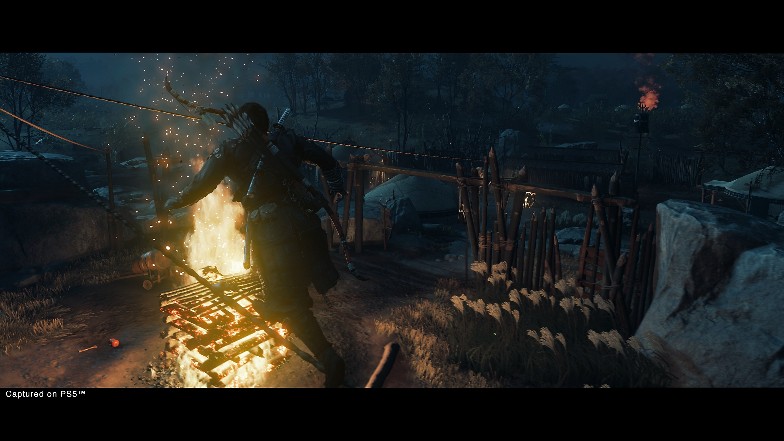 Ghost of Tsushima was one of the games that heralded the end of the PlayStation 4 era. It was released right before the PS5 was launched in late 2020, but the game looks so beautiful it might as well have been a PS5 exclusive.
However, an update has actually since been released in 2021 to bring PS5-specific features to the game, along with slightly enhanced visuals and new content in the form of a new island to explore. That update is the "Director's Cut".
The story here is centered around a samurai named Jin Sakai whose island home of Tsushima become the unfortunate customer of the Mongol invasion of Japan. Jin, alongside his uncle Lord Shimura, set out with an army to stop the Mongols at their shores, but they fail and Lord Shimura is captured while Jin is left for dead.
Jin is rescued by a woman, albeit for her own selfish reasons, and he finds out from her that his uncle, Lord Shimura was captured by the Mongols.
With a promise to help his savior out with her mission to find her brother when his own quest is complete, he sets out to rescue Lord Shimura, the man who taught him how to fight from an early age.
Ghost of Tsushima is one of the triple-A offerings from publishers Sony Interactive Entertainment, brought to life by the work of developers Sucker Punch Productions. It is a visually stunning game with nice combat sequences, but the story is what really brings everything together and makes it a genuinely complete package.
Death Stranding: Director's Cut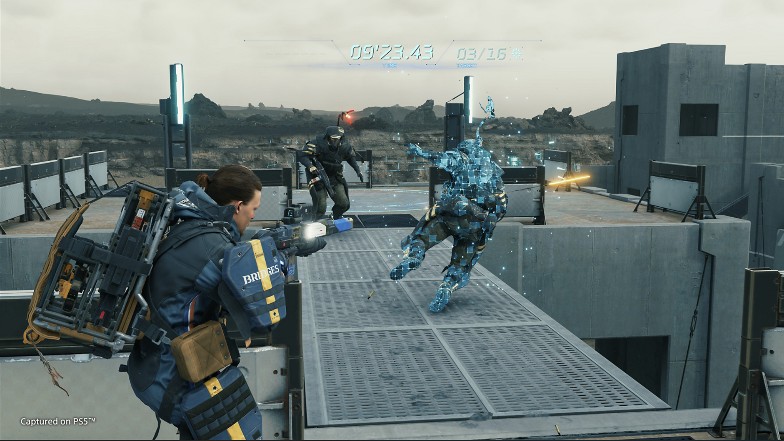 Another game, another post-apocalyptic U.S.A. setting. Death Stranding is a product of the beautiful mind of popular writer and director, Hideo Kojima.
The game was initially published by Sony Interactive Entertainment for the PlayStation 4 in late 2019 and subsequently followed by a PS5 version that was released in September 2021.
The PS5 version is known as Death Stranding: Director's Cut, and it comes with new features, smoother framerate, DualSense controller support, 4K resolution, and previously PC-exclusive content.
The events of the game are based on the aftermath of a cataclysmic event that causes all sorts of creatures to begin to roam the earth, making it unsafe for anyone to be outdoors.
As a result, your character, Sam Porter, is charged with the unenviable task of serving as a courier, delivering supplies to isolated colonies across the vast open-world environment of the post-apocalyptic U.S.A.
You will spend a significant amount of time alone with your thoughts as you traverse from one point to another, but there are occasional encounters with the aforementioned creatures scattered in between those times.
Death Stranding starts off very slow, but if you're patient with it, the payoff is rewarding enough to make this one of the best story-rich games for PS5 out there.
A Plague Tale: Innocence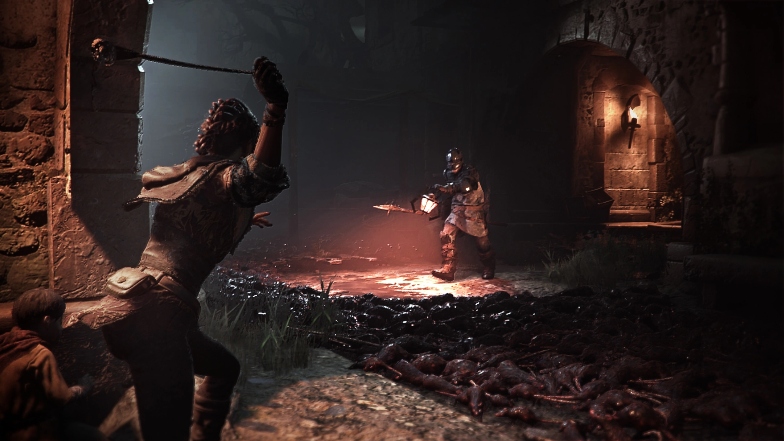 On some level, A Plague Tale: Innocence feels like a triple-A game that went a little bit under the radar when it was released in 2019.
The game was published by Focus Entertainment, and it looks and feels very much more of a substantial introduction to the action-adventure genre than the attention that it has received.
The game is set in 14th-century France, during the Hundred Years' War. The plot is centered around two siblings, Amicia and her young sick brother, Hugo, as they attempt to escape the attention of the soldiers of the Inquisition.
Humans are not the only ones you have to worry about though. This period also marked one of the worst pandemics in history, so you will also be faced with a horde of plagued rodents roaming the streets, potentially making matters significantly worse for Hugo.
You control Amicia, so it is up to you to take care of your younger sibling, solve puzzles, and use a combination of stealth and tools fashioned into weapons to complete your journey.
The next-gen patch for this game introduced a 60fps framerate, faster load times, DualSense controller support with adaptive triggers and haptic feedback, 4K resolution, and 3D audio. If you want to enjoy the game at its best, it is worth making sure that this is the version that you have.
Hades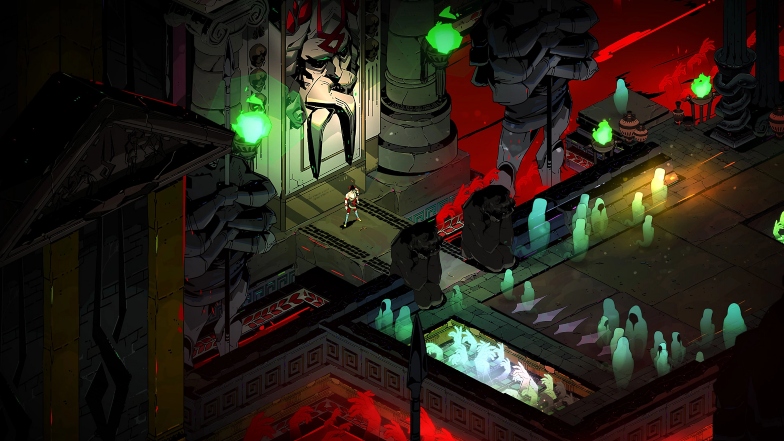 Hades is one of the best rogue-likes on PS5, and in that sense, it is already a unique feature in this conversation about story-rich games.
The game was published by Supergiant Games for the PS4 and the PS5 three years after its early access release for other platforms.
The story is centered around the son of Hades, Zagreus, as he tries to escape the underworld to get to Mount Olympus. His journey is made easier by the fact that he possesses some special gifts branded onto him by Olympians, but it is still a very challenging one with many enemies to conquer and treasures to find.
On the PS5, the game runs with an output of 4K resolution and a 60fps framerate that manages to stay that way more often than not. In story mode, you can squeeze over 15 hours of gameplay out of it, and there is the potential for many more playthroughs due to the endgame loop situation.
Disco Elysium – The Final Cut
Disco Elysium is one of the more unique offerings in this guide to the best story-rich games for PS5. The game was initially released in the latter months of 2019, following the seal of approval from developers and publishers ZA/UM.
The "Final Cut" is an enhanced edition of the original published a couple of years after that. It introduced voice acting, new quests, a new streamer mode, 4K resolution, and 60fps performance – all the standard "next-gen" stuff.
The distinctive art style used in the design of the game is one major reason why I think it's so unique, but there is a lot to unpack in the plot and story progression as well.
The game is set in a large city recovering from a war that happened decades earlier, and your character in the midst of all that mess is an amnesiac detective who has been put in charge of solving a murder case.
His investigation blows your adventure wide open, and although the game does not feature combat, it is still very engaging and entertaining.
If you're looking for a role-playing title that achieves immersion without the active, fast-paced nature of combat-intensive games, you should have a look at Disco Elysium: The Final Cut.
Final Fantasy 7 Remake Intergrade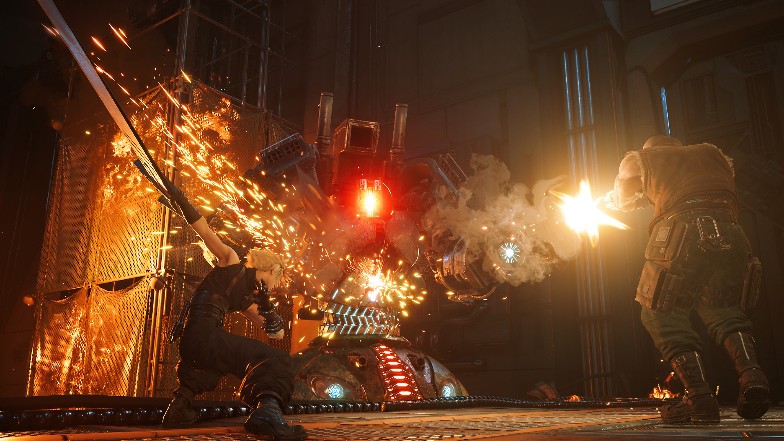 Most fans of the Final Fantasy series were absolutely chuffed with the release of the Final Fantasy VII Remake in 2020. The game was a complete visual overhaul of the original classic from 1997, and the revitalized gameplay and extended narrative only added to the fun of the new and improved experience.
A year later, Final Fantasy VII Remake Intergrade was released for the PS5, and it serves as an enhanced edition of the previously released Remake. Think of it as a middle-ground DLC that links Final Fantasy VII: Remake to the next sequel.
Intergrade introduces the adventures of Yuffie and Sono Kusakabe in a brand-new episode, along with various performance improvements and new bosses to fight. It also adds a new photo mode and PS5-specific features.
Yuffie is the main playable character here, and her adventure is dubbed "Episode Intermission". She is on a mission to infiltrate Midgar, working with Avalanche HQ to steal the ultimate material from Shinra Electric Power Company with hopes of reclaiming the past glory of her home.
FF7 Remake Intergrade is the best way to enjoy FF7, and if you have a PS5, it is definitely worth checking out – even away from the attachment of the rest of the series.
Yakuza: Like a Dragon
Yakuza: Like A Dragon is another game from a series with a cult following of die-hard fans. The Yakuza series has a fairly extensive list of games, including spin-offs such as Judgment and Lost Judgment which borrow many concepts and gameplay mechanics from Yakuza.
Yakuza: Like A Dragon was originally published by Sega in Japan in early 2020. Fans of the franchise worldwide had to wait until much later in the year for the global edition to be released, and even later for the PS5 version to be launched in 2021. But, it was well worth the wait.
This is a turn-based role-playing game that follows the story of a new protagonist named Ichiban Kasuga. Ichiban's backstory reveals that he had been imprisoned for 18 years only to be betrayed by the people whom he went to prison for.
Upon his release, he sets out to find out why he was betrayed and to rebuild his tattered reputation. Although Ichiban's story is the main attraction, there are other playable characters in this game. Their involvement, alongside other side attractions sufficiently adds more perspectives to the key narrative.
For existing fans of the Yakuza series and potential new ones, Like A Dragon is one of the best story-rich games for PS5 in the JPRG sub-genre.
Control: Ultimate Edition
Remedy Entertainment's Control is a top game for many reasons.
It was originally published by 505 Games in 2019, and there was a popular opinion back then that it was ahead of its time, especially in terms of the power that the game required from the eight-gen consoles at the time.
With the release of the PS5, the experience of playing this already-excellent game has been enhanced further with Control: The Ultimate Edition. The update was released in early 2021, and it includes DLCs, expansion content, a higher resolution, improved framerates, and ray tracing.
The game follows the story of Jesse Faden, the newly appointed Director of the Federal Bureau of Control (FBC). The FBC is presented to be a secret government agency in the United States whose duty is to contain and study events that break the laws of reality. Basically, paranormal stuff.
Jesse's first day at the Oldest House (the FBC headquarters) goes very strangely indeed.
I don't want to give away too much to avoid spoilers, but let's just say she found out very quickly that when you're the Director of an agency that studies paranormal activities, you should be ready for anything – including dead bodies and floating people.
Life is Strange: True Colors
If you want a game that is purely in it for the story, leaving everything else as secondary or non-existent, then Life is Strange: True Colors is a solid bet.
This edition is the fifth installment of the Life is Strange series, and it was published by Square Enix in September 2021. But not to worry, you can still enjoy the game without prior knowledge of the characters or events that occurred in the previous installments.
The plot in True Colors is centered around Alex Chen, a young girl with some…special abilities. She can feel the emotions of people around her and read their thoughts, to some extent. Pretty cool, eh? Not so much.
The problem is that she does not have complete control over these abilities. So, if someone gets really angry around her, she gets really angry too and lashes out even when she really does not need or want to.
Alex attempts to get away from her past and reconnect with her long-lost brother, Gabe Chen, who offered her the opportunity to start all over in a small town somewhere nobody knows anything about her, her powers, or her past.
As the player, it is your job to help her navigate this new life, with the uncomfortable knowledge that every decision you make, and everything you say, has an impact on the success or failure of Alex's attempt at a new life.
If you like the immersion that story-rich games like these ones offer, then you'll also enjoy the titles in our guide to the best interactive story games as well. Go on and check it out!