Apart from being a really good way to pass time or escape boredom, video games offer the opportunity to live vicariously through the characters that you control.
Many of these games are spun off real-life settings, locations, events, and sometimes people. However, a large number also completely build their premises from the ground up, creating a "fantasy" world with places, creatures, things, and people that don't or can't really exist.
These fantasy games offer an extra layer of escape from reality as far as video gaming is concerned. They actively engage your mind, leaving you to imagine situations where these fantasies could become reality.
Since time immemorial, "escaping from reality" has been a huge selling point for video gamers. Fantasy games fly off the shelves fairly quickly, especially the ones that are actually well-made.
There are many options in the category nowadays, especially on the PlayStation console. However, it's my job to separate the real ones from the posers, so I have compiled this guide to the very best fantasy games on PS5 – Sony's ninth-gen console.
Elden Ring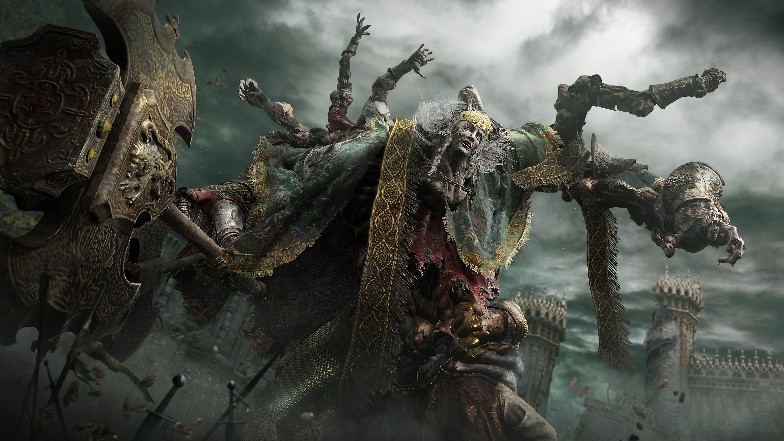 You won't find too many games that got better reception upon launch from critics than Elden Ring did when it was published.
FromSoftware has developed a reputation for its contribution to the soulslike gaming genre, and we have them to thank once again for this masterpiece.
When you build an excellent game backed by a big-hitting publisher in Bandai Namco Entertainment, you can expect sales to go through the roof pretty easily, and that was the case with Elden Ring.
The fantasy world in Elden Ring is called the "Lands Between". It was ideated by the famous Game of Thrones writer, George R. R. Martin, so you can imagine the sort of depth and quality there is to the lore and story behind the setting.
The Lands Between is a ridiculously large open world that is ruled by Queen Marika, The Eternal. It is across these lands that you travel as The Tarnished, the main character of the game, as he attempts to become Elden Lord by retrieving and repairing the Elden Ring.
Elden Ring has all the classic tropes of a fantasy game: magic spells, spirits, demons, horseback riding, weapon crafting – all the good stuff. However, the gameplay, combined with how the story unfolds is far from regular.
Genshin Impact
One of the most legendary games of all time has to be Zelda. The long-running series has an incredibly loyal fanbase, organically grown from years of consistently delivering some of the best fantasy gaming experiences ever seen on the Nintendo Switch.
Before you go back up to confirm which game you're currently reading about, there's a reason I started off talking about Zelda.
One of the things that "almost" holds Genshin Impact back is the popular opinion that it's a clone of The Legend of Zelda: Breath of the Wild. To be candid, the similarities are fairly obvious, and Genshin Impact really is one of the top alternatives to Zelda if you're looking for more in that style.
However, this game is far more than just a clone, and that fact has become truer with each update that the devs have released since it was initially published by miHoYo in 2020.
The most similar aspect of Genshin Impact's gameplay to Zelda is in the exploration and navigation techniques. However, one would argue that it makes perfect sense to draw inspiration from such a well-done system without necessarily getting dubbed a clone.
Genshin Impact's fantasy world, Teyvat, is also just as expansive as BOTW's Hyrule is, but one could argue that it is livelier and more interesting to explore.
When you look into other gameplay mechanics such as combat, differences begin to reveal themselves in a more obvious manner.
If you're still not convinced, 17 million downloads within four days post-release is more than enough proof that miHoYo did something right. Those numbers even outdid BOTW's launch figures. That's not bad for a "clone" now, is it?
Elder Scrolls V: Skyrim Anniversary Edition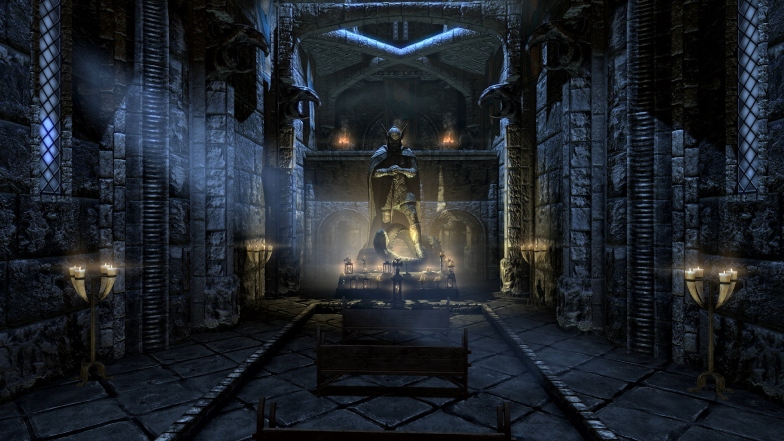 Elder Scrolls really needs no introduction if you have even the slightest hint about fantasy games on the PlayStation platform. The game is so highly rated that we've seen mods that were spun off the main title and go on to be really successful on their own.
One of such mods that ended up becoming a standalone title, The Forgotten City, is widely considered to be one of the best interactive story games on PS5, so you can imagine how good the world-building in the game which the inspiration for it was drawn is.
But I digress.
Elder Scrolls V: Skyrim was originally published by Bethesda Softworks as far back as 2011.
However, if you can lay your hands on the Anniversary Edition that was launched to commemorate the game's ten-year anniversary in 2021, then that's the one you want for your PS5.
Compared to the base edition, Elder Scrolls V: Skyrim Anniversary Edition includes all the game's DLCs with a new Survival mod, and it also features significant upgrades in terms of graphics, performance, loading times, and gameplay.
The story from the base game is set in the fantasy world of Skyrim, the northernmost province of Tamriel. Your character, Dragonborn, has a mission to a dragon that has been prophesied to destroy the world.
As far as the best fantasy games on PS5 go, Elder Scrolls V: Skyrim is one of the safest bets out there. You can't go wrong with it.
Kena: Bridge of Spirits
Kena: Bridge of Spirits is an action-adventure game developed and published by the American studio, Ember Lab.
Perhaps the most impressive thing about how well done this game turned out to be is the fact that it is the first official release from the studio. Imagine getting it so right on your first try!
The premise of Kena is a unique and interesting one. It follows the main character, Kena, who is a young spirit guide that has some magical powers. She uses these powers in her duty of helping dead people transition from the physical to the spiritual world.
Things can get complicated because not all of these spirits want to transition, and some of them are outright evil.
That's where combat comes in, and the combat system here is a steep learning curve that belies the otherwise calm outward representation of the game's setting.
Kena's "side gig" is really a means to an end, though. Helping spirit guides is a way for her to be granted passage to the sacred Mountain Shrine, which is what she starts out in search of.
The fantasy world that Kena is set in draws inspiration from places such as Bali and Japan, but it is a unique creation in itself, and the creatures in it are definitely products of the developers' imaginations.
Fantastic visuals, story, combat, puzzles, and overall exciting gameplay – this game has it all.
Spellforced 3: Reforced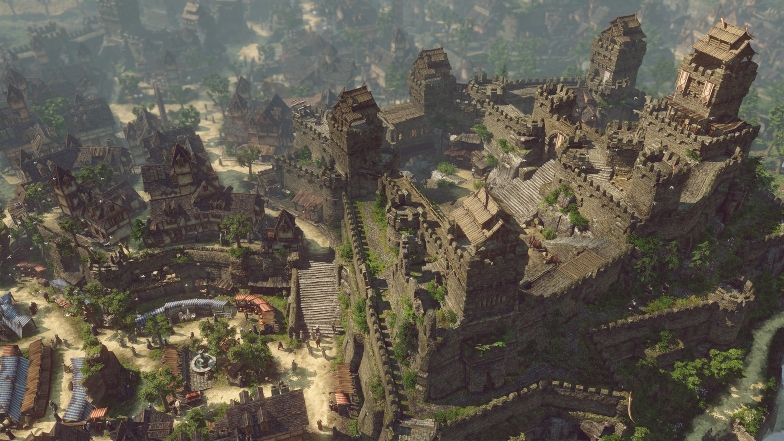 Spellforce 3 was originally only developed by Grimlore Games for Windows PCs in 2017, but the console version – Spellforce 3: Reforced – was later released in 2022.
It is the first game in this guide with elements of real-time strategy, so it provides a nice change of pace from the regular action adventures that we've discussed so far.
The game is set in a fantasy world called Eo, where creatures from different races such as elves, humans, dwarves, and orcs co-exist.
Obviously, this fictional world has quite a bit of magic going on, and the character that you control, Tahar, is in fact the child of a powerful mage.
Alongside other mages in an unlikely group, Tahar journeys across Eo to complete a handful of quests years after the death of his father in the Mage Wars.
There's a good reason why you'll find significantly more RTS games on PCs than you will on consoles.
The gameplay mechanics usually just translate better with the keyboard and mouse combo rather than a controller, so developers often struggle to port the games over.
However, Spellforce 3: Reforced is evidence of the fact that mainstream RTS franchises can succeed on consoles too, and it is quite impressive how Grimlore Games have managed to make the game as simple as possible without losing the key elements that make it so good.
Final Fantasy XIV: A Realm Reborn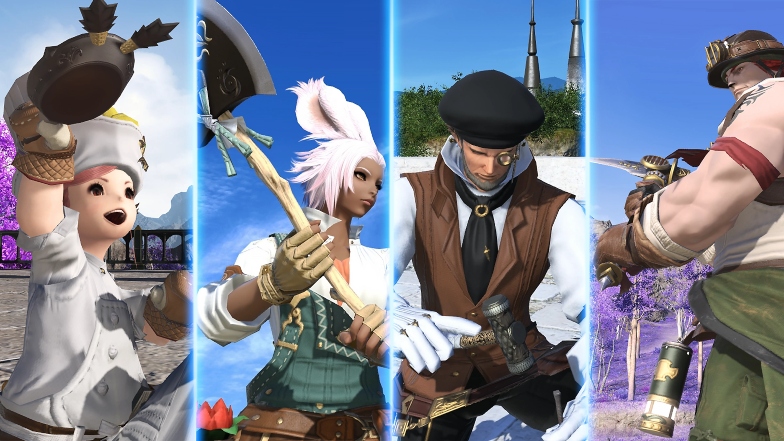 This game literally has "fantasy" in its name. If that's not an indicator of what kind of game it is, then I don't know what else could be.
Final Fantasy is a massive franchise that has been running for decades, and there are so many installments of the series to choose from depending on which platform you're playing on.
However, for the purpose of this guide, I decided to choose one that is best known for its massive online multiplayer system.
It's a great option if you're looking for a fantasy game that affords you the opportunity to play with fellow fantasy game lovers via an online connection.
Final Fantasy XIV is the brainchild of Square Enix, who also published the game for Windows PCs and the PS3 in 2013. Support for the PS4 arrived a year later, and in 2021 for the PS5.
The success of A Realm Reborn was particularly critical for Square Enix due to the commercial failure of the original Final Fantasy XIV which was released in 2010. The new game was developed by a new team, and the results were truly spectacular.
Final Fantasy XIV's fantasy world is called Hydaelyn, a planet with three large continents. The specific region that the game is set in is Eorzea, and the region also includes four major city-states.
It's a pretty massive world to explore, but that's exactly what you'll be doing as the main character in this game. Said character, the Warrior of Light, must find a way to deal with the threat of the Garlean Empire, years after the Battle of Carteneau.
Tales of Arise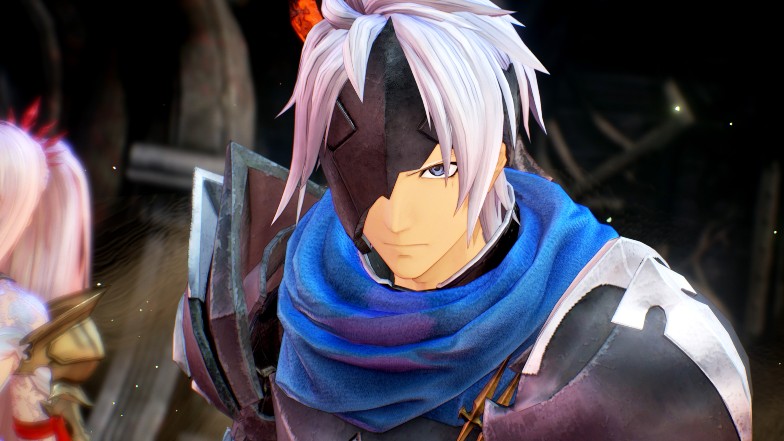 Tales of Arise is another title from Bandai Namco Studios. It is the seventeenth main entry of the Tales series, and arguably one of the best.
The game is set in two fairly contrasting worlds. One is the medieval world of Dahna, and the other is the more advanced world of Rena.
At the time of its release, Tales of Arise was one of the few games from the series that did not feature a multiplayer mode.
This made it doubly important for the world-building to be solid enough to engage a single player and connect them to the story on a deep enough level to achieve immersion. It suffices to say, the game manages to do so.
Although it is single-player and there's the main protagonist called Alphen, you can actually control up to six playable characters at various points throughout the game.
Each character has its own characteristics, including unique battle styles and other perks, which makes the option to switch particularly useful during fights. However, you may also go through the entire game playing as Alphen alone if you want to.
Tales of Arise has received deservedly high ratings from critics and gamers alike, notably winning the award for Best RPG at The Game Awards 2021. Considering all of this, it is a worthy contender for the best fantasy game on PS5.
Lost In Random
If you've seen some of Tim Burton's work, then you'll be familiar with the art style that is presented in Lost in Random. This game was published by Electronic Arts and it is one of the top games on PS5 in the action-adventure genre.
Lost in Random is set in a fictional world called the Kingdom of Random, where the main protagonist lives with her sister. The kingdom is divided into six realms all under the jurisdiction of a wicked Queen.
There's a dark twist to the Kingdom of Random too, which is the fact that everyone's future is decided with the roll of a dice.
It is amidst this "randomness" that the main protagonist's sister, Odd, is abducted by the wicked Queen. The protagonist, Even, then has to travel across the six realms on a rescue mission.
The journey brings her to Dicey, a sentient dice who proves to be important tot eh story and your mission.
Lost is Random is played from a third-person perspective, and the game deploys a unique combat system that resembles playing on a game board and rolling the dice, so to speak (you'll get it when you play).
Ruined King: A League of Legends Story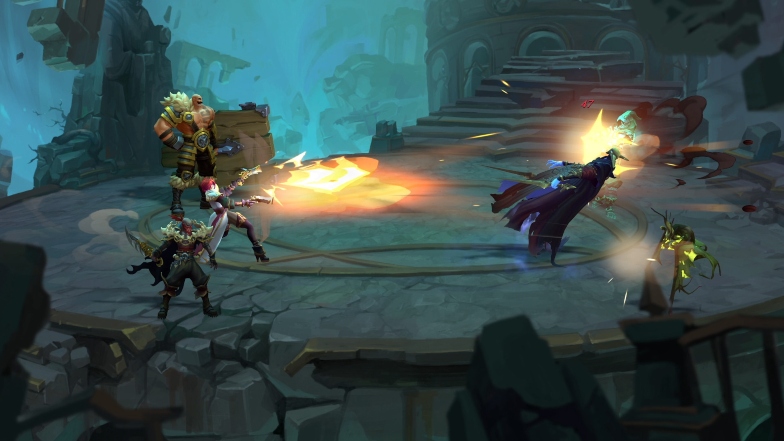 Pirates, gangs, and cutthroats. If that sounds like your idea of a fun time, then you'll agree that Ruined King: A League of Legends Story is one of the best fantasy games on PS5.
The game is a turn-based RPG that was published by Riot Forge two years after it was first revealed.
Ruined King is set in the port of Bilgewater, which is a city brimming with pirates and other characters of questionable character.
The city is run by a certain Miss Fortune, which is suggestive of the fate that you'll eventually come to if you don't pay your cards right.
Your character is one of a party of six from the larger League of Legends universe, and the mission is to find the source of the Black Mist.
You can play as any one of this party of six, which gives you an opportunity to experience the game from different perspectives.
Regarding the turn-based combat system, it is very neatly executed here. There is a three-lane system that allows you to orchestrate your moves based on speed, balance, and power.
If, for instance, you choose to speed up an attack, you will generate less power behind it. If you decide instead to generate more power, it will take more time to execute the move. It's a fairly basic system, but it works.
Fans of League of Legends will need no extra motivation to try this game out. However, if you knew nothing of the universe before now, then this is the sign you need to get into it.
The Witcher 3: Wild Hunt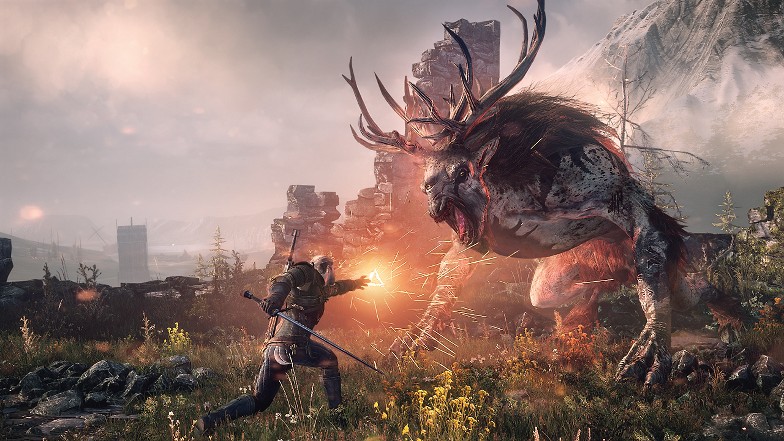 The Witcher series is not only one of the best fantasy games on PS5, it is one of the best of all time. As a result, it is arguably the most popular title on this list and one of the best-selling ones too.
If you're looking for a fantasy game with rich lore, an open world, a strong-willed hero, and mythical elements all set in a medieval-ish backdrop, then look no further because The Witcher 3: Wild Hunt has all of that and more.
Publishing of the game was handled by different studios based on location. Warner Bros, Entertainment published it in North America in 2015, while Namco Bandai handled the EU and Australia the same year.
7 years later, a PS5 version was released with upgraded visuals and performance.
The fantasy world in this game is based on Slavic mythology, and there is more than enough magic, monster slaying, and medieval exploring to when the appetite of any fantasy lover.
The main character is Geralt of Rivia, a monster slayer known as the titular Witcher. Geralt's main mission in Wild Hunt revolves around the disappearance of his adopted daughter/former Witcher apprentice, Cirilla
Cirilla had been missing for years and upon her return to Temeria, had to make herself scarce again to escape the Wild Hunt. Geralt, who was initially on a different mission in search of his lover, finds out about this and sets out to get to Cirilla before the Wild Hunt does.
As far as epic, fantastical adventures go, The Witcher 3: Wild Hunt offers some of the best gaming experiences the industry has seen.
Greedfall: Gold Edition
Greedfall was originally published by Focus Home Interactive in 2019, with a PS5 update coming two years later.
The game did not get as many rave reviews as most of the other options discussed so far, but it really is one of the best fantasy games on PS5.
Although Greedfall is clearly set in a 17th/18th-century style setting, the game is almost completely imaginative in terms of world-building.
There are many fantasy tropes in there, including monsters, magic, and the types of characters you'll encounter. All of this takes place on a lush island called Teer Fradee, a place with many secrets just waiting to be discovered.
Greedfall is a role-playing game, so you will be stepping into the shoes of a specific character to explore the good and bad things that the island has to offer.
You, alongside some other inhabitants, must set out to explore a remote part of the island that is protected by supernatural powers.
The name of your character is De Sardet, and he is a human that arrived on the island from another foreign nation in search of the cure to a mysterious plague that invaded his homeland.
While De Sardet has his own personal motives, he must decide whether to ally with the natives of his new "home", or with enemies looking to conquer them in order to achieve his personal objectives.
The PS5 upgrade of Greedfall is called Greedfall: Gold Edition, and it runs like a dream on the PS5 with improved visuals, resolution, and performance. There's new content too in the form of an expansion called The De Vespe Conspiracy.
The Falconeer: Warrior Edition
Bored with RPGs that only let you run across land on your feet or via horseback? You can switch things up a bit with The Falconeer.
The Falconeer is an aerial combat game that was published by Wired Productions in 2020.
At the time, the game was only available for Windows PCs and Xbox consoles, but an enhanced edition for the PS4 and PS5 was launched in 2021 titled The Falconeer: Warrior Edition.
The fantasy world in The Falconeer is an open world, and you can freely explore this on the back of your giant warbird.
Your main objective is to shoot down rival enemies from the skies, a task that seems straightforward enough until you realize how skilled you have to be to maneuver your ride thousands of feet in the air.
The fact that you also have to be mindful of the bird's stamina does not make things any easier. However, it is as fun as an aerial combat game can be.
The Falconeer is divided into different chapters, and in each one, you control a different pilot from a different faction with a different warbird. It's not the most effective way to diversify content, but the game does not get repetitive too quickly.
Overall, this is fine work from solo developer Tomas Sala. He got to launch his debut game with decent to good reviews, and we got a thoroughly enjoyable fantasy aerial combat game with a unique enough premise. It's a win-win.
Airborne Kingdom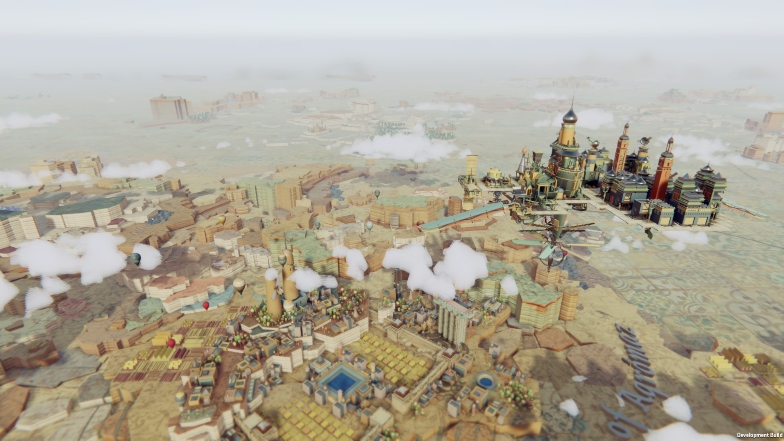 I'm not done with games played from the skies. Next on the list is Airborne Kingdom, and this one is a city-builder like no other. A sky city-builder, if you will.
If building a city in the sky is not enough of a unique fantasy experience for you, then I'd love to see what is.
In this game, you're in control of a village prophesied to unite the various kingdoms in its world. On your way to fulfill the prophecy, you will journey through various biomes, growing the population of your citizenry as you do so.
Resources are crucial in any city builder, and this one is no different. Each biome that you pass through presents unique challenges in terms of the resources that you need and how available they are.
This fuels the need for you to complete quests for foreign kingdoms and get rewarded with some of the things you need for doing so.
As you gather more resources to build more structures, you must also be wary of maintaining what you have already built and most importantly, keeping your people fed.
If you've ever wondered what it would be like to create your own perfect utopia in the sky, away from the problems of the "ground people", Airborne Kingdom helps you to live out that fantasy from the comfort of your couch.
Shantae: ½ Genie Hero Ultimate Edition
In case you've just had it with RPGs in general, how about a platformer?
Shantae: ½ Genie Hero is a platformer slash Metroidvania game that was published by WayForward Technologies.
Seeing as the PS5 only launched in 2020, owners of the new-gen console had to wait until a year after the console's release of the Ultimate Edition for the PS5.
This version includes all the previously-released DLCs, Modes, and Costumes, so it's the best way to enjoy the game.
The Shantae series is set in the fictional world of Sequin Land, and Shantae herself is a half-genie (as the title implies) that protects her hometown, Scuttle Town from existential threats.
½ Genie Hero is the fourth game in the series, and its development was funded with $900,000 raised from a Kickstarter campaign between 2013 and 2014.
Per the story, it is revealed that Shantae wakes up from a deep sleep and immediately goes to investigate what roused her.
This takes her to her uncle's home in Scuttle Town, where she finds a trapdoor and decides to follow it. In there, she stumbles on a fountain and a voice calls out to her.
When she tries to find the source of the voice by touching the fountain's water, she is transported to the Genie Realm where she discovers an evil presence trying to escape.
This sequence of events climaxes with Shantae waking up in her bed, unsure if she has just had a bad dream or seen a vision of the future. Then, your adventure really begins.
The game has two possible endings, one good and one bad, and the ending that you get depends on your actions while the story lasts.
Monster Boy and the Cursed Kingdom
Monster Boy and the Cursed Kingdom is directly inspired by Sega's Wonder Boy series, so it is no surprise that both games were created by Ryuichi Nishizawa.
Monster Boy was published by FDG Entertainment in 2018, although the release dates vary quite a bit depending on which continent/country you live in. The PS5 version also only launched in 2021.
The game is a 2D side-scrolling action platformer just like the Wonder Boy games, and it follows the adventure of Jin, a young man in the Monster World Kingdom.
Playing with Jin is like having six playable characters available to you because he can unlock up to six different forms as the game progresses.
Each one of these forms gives Jin a different set of abilities that are useful in specific situations for traversing the world or attacking enemies, so you'll need to get familiar with all forms.
Jin's adventure is not a joyride though. He is a man on a mission, and the mission involves family.
His drunk uncle, Nabu, was discovered using magic to cause chaos in the kingdom, turning people into monsters including Jin's brother Zeke.
Jin himself is turned into a pig, but this does not deter him from trying to stop his uncle.
Along the way, following a series of events that involve a major plot twist, it is discovered that Nabu was being controlled by a certain Lord Xaros of the Dark Realm. Consequently, Jin has no choice but to go directly to the source to restore the kingdom to normalcy and stop the chaos for good.
Monster Boy and the Cursed Kingdom may never be able to shake off the title of "spiritual successor" to Wonder Boy, but maybe that's not such a bad thing. If there is a good way to build something fresh and of great quality from an existing idea, then this is it.