Card games have provided group and solitary entertainment since when they first appeared around 868 in 9th century China. Today, they are a popular means of indoor recreation, sport (or gambling), and engagement globally.
Card games made the transition from tabletops to electronic media around the 80s and early 90s, right when the rest of the RPG industry was also exploding.
And that's when the fun began, leading to the inclusion of card mechanics in regular RPG games, and slowly transforming the genre. Since then, CCG themselves have also morphed into the standalone CCG, or Collectible Card Game sub-genre popular today.
The cutting-edge world of PS5 gaming is not left out of this mania for card games. In no particular order, here are the eight best card games on PS5 that you can always wager on.
Gwent: The Witcher Card Game
Genre: Cards
Developers: CD Projekt Red
Release Date: December 4, 2018
Platforms: PC, iOS, Android, Xbox, PlayStation
Multiplayer: Local multiplayer, Online multiplayer
Average Playtime: N/A
Let's put our cards on the table with a bit of bad news, first. Unfortunately, the folks at CD Projekt Red Studio, the game's publishers, have discontinued consoles-support for this free-to-play game since 2019, choosing instead to remain on mobile, PC, and Mac.
That means you won't find a dedicated Gwent: The Witcher card game version for PS5; however, the PS4 version of the game is totally backward compatible and benefits from the latest console's superior technology.
Far from being a sideshow of the popular Witcher game, Gwent: The Witcher card game currently stands as an exciting gaming experience all its own. The beauty of this game remains that it is totally immersed in the lore of the parent game.
You square against an opponent one-on-one, choosing between factions and characters, and the monetization in-game system allows you to buy cards.
The best approach would be tactics complemented by a sound knowledge of The Witcher Game Universe itself. Gameplay-wise, this is a 'best-of-3 games' situation. So, you need to win two games at least to come out top dog.
The most important skill sets are a mix of deck construction, the ability to bluff, and, of course, strategic thinking in the choices you make. This becomes more important the higher you rank.
The best cards include Mysterious Elf, Cerys, and Menno Coehoorn. Also, though approved for teen players, some cards depict blood, partial nudity, violence, and a bit of language.
In the final event, this is a well-received game loved and played by many and is definitely worthy of being among the best card games on PS5.
Thronebreaker: The Witcher Tales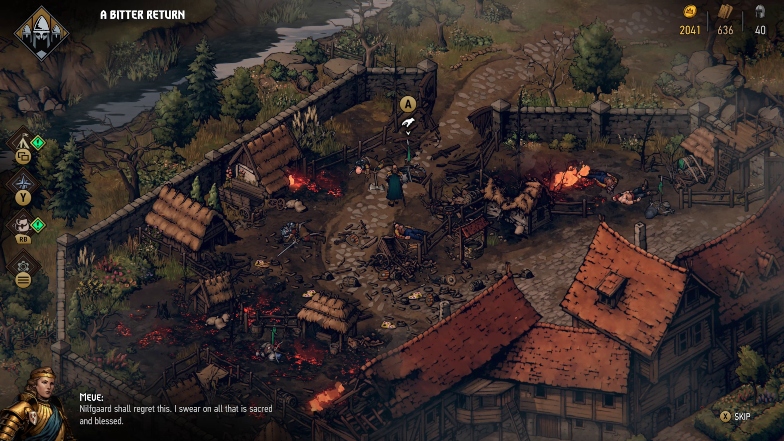 Genre: RPG, Cards, Adventure
Developers: CD Projekt Red
Release Date: December 4, 2018
Platforms: iOS, Android, PlayStation, Xbox, Windows
Multiplayer: No
Average Playtime: 28 hours
Thronebreaker is, in its purest essence, a lean, mean reworking of the well-loved collectible card game that preceded it.
Also published by CD Projekt Red Studio, this CCG makes the whole reliving of the first game a simpler but certainly no less pleasurable experience.
Like the previous Witcher CCG, PS5 gets its Thronebreaker: The Witcher Tales opportunity via backward compatibility with the PS4 version. Also like before, the latest console's next-gen capabilities are certainly the Joker in this pack of cards.
What makes Thronebreaker: The Witcher Tales good enough to be part of the best card games one can find on PS5?
Well, the 30 potential endings and absolutely stunning art, to start with. Also, it reads as a sort of in-game prequel. In that sense, you can indulge in the fantasy that everything that happens in the previous games, you made happen.
If you made the mistake of thinking that this is exactly like Gwent, well you're off the beaten path there. The cards here possess far different capabilities than in the first game. In this iteration, any player can upgrade camps to train new cards or units, or change effects.
In Thronebreaker you get 20 exclusive cards comprising 7 legendary cards, 11 epics, and 2 rare cards. Options to obtain new cards include story quests, side quests, and cards hidden in Golden chests around the universe.
This is definitely one to try – it's an improvement on the already-good first option.
Slay The Spire
Genre: Roguelike, Cards
Developers: MegaCrit
Release Date: May 21, 2019
Platforms: PC, PlayStation, Xbox, iOS, Android, Nintendo Switch
Multiplayer: No
Average Playtime: 11 hours, 30 minutes
Mix roguelike and CCG genres and the result you get is a blended, single-player deck builder game called Slay The Spire. Originally an initially unsuccessful PC game, this odd hybrid began to garner attention when it hit a million buys.
Now, it's on PS4 as well as PS5.
Published by Humble Bundle, Slay the Spire is widely acknowledged to be one of the PS5's biggest indie hits.
The chief ingredient in this game is undoubtedly its replayability. This translates into hours of near-endless fun playing as one of three possible starting characters. Some would say, though, that the trade-off is less than stellar graphics.
Part of the intrigue in this game also lies in the fact that everything is constantly changing. A new layout, miniboss, and relic each turn as you are randomly dealt 3 new battle cards by the system.
These wonderfully balanced cards are dependent on your energy level to power through. The excitement comes from deciding, spur of the moment, which strategies to employ based on the new cards and relics you have.
You also cannot take away from the humor in both the text as well as the voice-over dialogue.
Considering this is also of the roguelike genre, you get weird enemy characters (mini-bosses) inspired by old classics like Dungeons and Dragons and the newer Lovecraft.
If you win, you get quite a lot of relics that give you special abilities.
Some will chafe at its extreme randomness, but there's no doubt that the turn-based Slay The Spire certainly has a place in any list of the best PS5 card games.
The Lord of the Rings: Adventure Card Game
Genre: Adventure, Strategy, Cards
Developers: Fantasy Flight Games
Release Date: November 5, 2019
Platforms: PC, PlayStation
Multiplayer: Online co-op
Average Playtime: 9 hours
Engineer a Card Collectible Game based on a movie franchise with "zillions" of fussy fans and you're certainly going to pay more than lip service to the movies. That's why the Lord of the Rings: Adventure Card Game is really big on the story, heroes, and, erm…Sauron.
Why is this Asmodee Digital-published CCG on this list of card games best for PS5? Well, because you are challenging the armies of the dark lord while building a cool deck of some pretty cool heroes, and visiting exotic locations made famous by the film.
Add to that the fact that you are also essentially rewriting history, (well, movie history, well, Lord of the Rings trilogy movie history). And you do this by crafting your own very legendary epic story with your quests in Middle Earth.
Some spoilers include that this is PVE not PVP, so even in multiplayer mode, you're still fighting Sauron- and he's enough. Then there's the perpetually online requirement, and some fans have said that the storyline- beautiful as it is- sometimes has even Frodo scratching his head.
But, is it entertaining? Absolutely so. The top-notch card mechanics revolve around three hero cards that you get at the start, accompanied by other smaller cards or Allies, and spells, which are called Events.
Watch out for the Threat Meter and, oh, of course, the evil eye of Sauron.
Yu-Gi-Oh! Master Duel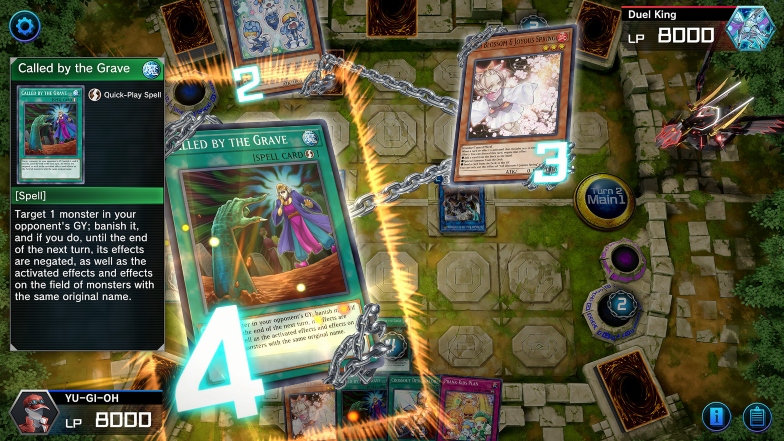 Genre: Strategy, Cards
Developers: Konami
Release Date: January 19, 2022
Platforms: Android, iOS, PlayStation, Windows, Nintendo Switch, Xbox
Multiplayer: Online multiplayer
Average Playtime: N/A
This one-match-only, winner-takes-all electronic version of an over two-decades-old physical card game can be confusing for new duelists. But it more than makes up for this with its thrilling manga art and cool card mechanics.
Published by Konami Digital Entertainment, this trading card game allows you to grab spell/trap cards from a 10,000-card inventory deck, draw monsters, and position them on the battlefield.
Monsters you draw can directly damage life points as well as monsters on the other side. Monsters have an attack as well as defense status.
Duels are divided into three: Free duels which you can play anytime, Event duels that are basically like tournaments, and which the publishers are yet to start, and finally Ranked duels which are traditional battles that take place online.
Of the three, for now, Ranked duels make this TCG exciting enough to be named among PS5's greatest card games today. They can, however, be a bit challenging to newbies who have had no contact with the Yu-Gi-Oh! Master Duel! game universe before now.
With a dedicated version for PS5, this free-to-play TCG is every bit as pedigreed as Pokemon and packs the punch of the best of modern CCGs.
Black Book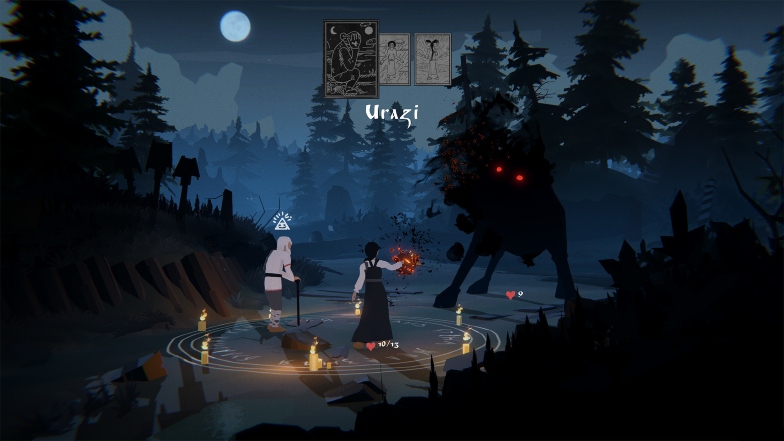 Genre: RPG, Adventure, Cards
Developers: Morteshka
Release Date: August 10, 2021
Platforms: PC, Nintendo Switch, PlayStation, Xbox
Multiplayer: No
Average Playtime: 31 hours, 30 minutes
Northern Slavic mythology dredges its past labyrinths to give you Black Book, an RPG Adventure further enabled by thrilling card mechanics battles. It is a single-player game published by HypeTrain Digital.
As Vasilisa, a reformed witch, you build a powerful deck of cards that allows you to cast spells (zargovar), control spirits of the underworld as well as battle them, and help the good folk in the countryside.
And while you are at it, you might as well break the seven seals of the black book that allow you to bring your beloved back from the dead.
There is much going for Black Book, including its unique story drawn from Slovak folklore. However, a few fans have opined that there are a few things going against it too. For instance, the card-based battle puzzles seem unnecessarily chunky.
Why is it on this list of top card games for PS5? That's because right now, there is no other CCG RPG game out there like Black Book for originality. Let's not forget that this whole thing was about immersive storytelling in the first place.
The turn-based gameplay is divided into units of days. Each day is equipped with a map that you must navigate according to a pattern of nodes. Nodes can signify new information, scenes, backstories, vendors to contact, or battles to fight.
All in all, if you're up for a good old bust-up against the forces of darkness, using, well, some darkness yourself, then the Black Book on PS5 is certainly your magic brew.
The Solitaire Conspiracy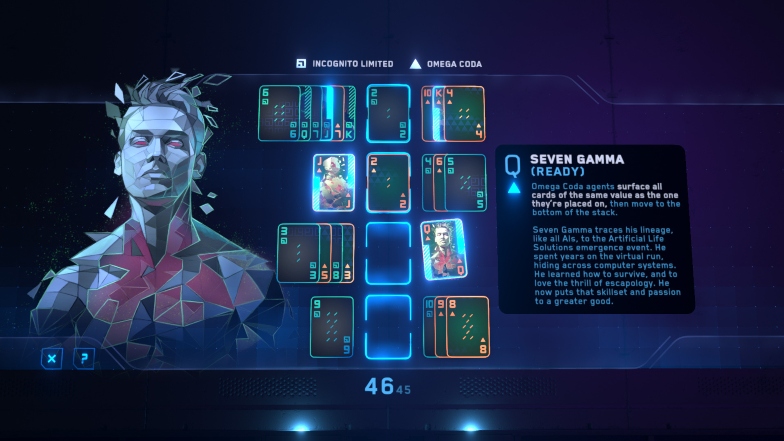 Genre: Cards
Developers: Bithell Games
Release Date: November 3, 2021
Platforms: Windows, PlayStation, Xbox, Nintendo Switch
Multiplayer: No
Average Playtime: N/A
Publishers Bithell Games and Ant Workshop went the classic game route to bring us The Solitaire Conspiracy, an FMV Solitaire game disguised as an RPG espionage adventure with card-based battle features.
This game is set after the untimely demise of Protego, the biggest spy organization on Earth.
It's up to you, as a player, to build new crews of agents via new decks of cards, reorganize, re-strategize, and bring the organization back to life.
You also get to nab Solitaire, the vilest evil Mastermind in the world.
The Solitaire Conspiracy is a novel addition to the coolest card games on PS5 since it differs so much from the sorcery, sword, and magic generic content that we get usually on CCGs.
Two bonus play modes, apart from the basic Campaign, shuffle up the cards and up the ante nicely. Skirmish mode allows you to pick the cards or crews you want to play as, while Countdown mode gives you an urgent time factor to complete boards and waves on a timer.
Familiarity with the traditional solitaire gameplay will give you an edge. This is because your gameplay is arranged as sets of solitaire games. You start with just one stack of cards and can always rely on the king or queen to get you out of a jam.
The game's arresting visual style and surprisingly successful adaptation from physical game to CCG make it absolutely deserving of a place on top CCGs on PS5.
Roguebook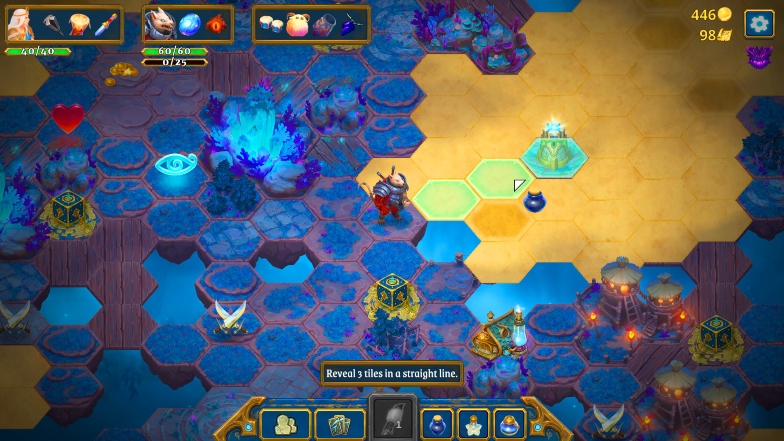 Genre: RPG, Adventure, Cards, Strategy
Developers: Abrakam Entertainment S.A.
Release Date: February 24, 2022
Platforms: PlayStation, Nintendo Switch, Xbox, PC
Multiplayer: No
Average Playtime: 8 hours, 30 minutes
Comparisons to Slay the Spire aside, Roguebook is a formidable stand-alone deck-building roguelike with great card-based battle formations.
This February 2022 release was published by NACON SA and checks quite a lot of the boxes towards its solid placement on PS5's most popular card games.
The game looks great too, with simple but effective 2D graphics.
To start with you build not one but two teams of hero characters. As you build your formation of cards, you are also decking up on allies and relics. One interesting part of this is the use of precious ink to help you define hex-based maps that tell you where to go.
Mana, which are battle-specific volumes of energy, help you to counter the attacks of enemies as well as negate their abilities while pairing down their health. You are also required to play cards from your hand.
Essential skill sets include knowing how to use cards effectively. Using your cards, you can move a character's position, predict an enemy's actions and powers, as well as even make other cards cheaper to buy.
Different enemies require different strategies to bring them down and not all battles are won by force of arms. For some enemies, you will be better served by employing blocking skills, patience, or diplomacy.
In Roguebook, the randomness of each turn only makes for a more exciting play. Further, the gem and the socketing system allow you to adapt your play style to situations by crafting or amending cards as you play along.
There is no doubt that this CCG is a solid part of the genre family and definitely is worth trying.
Winning card games is often down to planning and successfully implementing a strategy. If you're a fan of such real-time strategy games, we've got a guide to the best ones sitting and waiting for you. Go check it out!