Tower defense games are pretty popular with tons of classics that have contributed to the establishment of the game genre. If you've never heard of them, they are games that require the player to defend a territory or an object from enemies by building defensive structures.
They are usually simple and strategic due to their straightforward goal of defending certain areas from enemy attackers. Regardless, they challenge you to explore various tactical options and strategies to find the best survival solutions.
If you're searching for some good tower defense game recommendations worth trying on your PlayStation console, you're in luck!
In this guide, I have highlighted the 8 best tower defense games for PS5, mixing in new releases, classics, and remastered versions. Stay tuned!
The Riftbreaker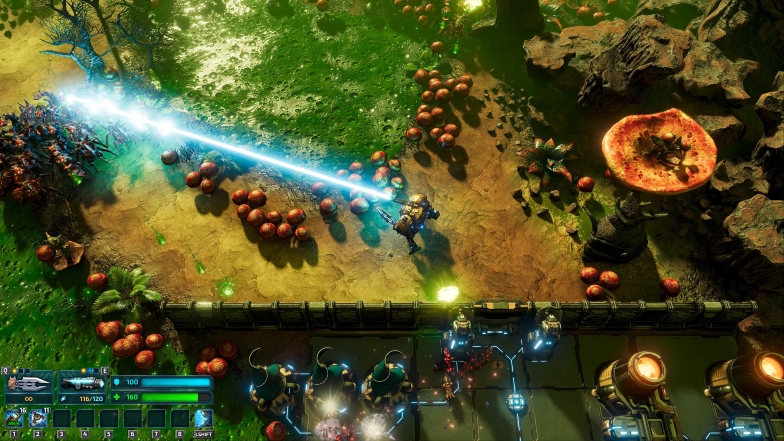 Genre: Real-time Strategy, Action
Developers: EXOR Studios
PlayStation Release Date: October 14, 2021
Buy from: PlayStation, Amazon
Multiplayer: No
Average Playtime (Main Story/Objectives): 23 hours
The Riftbreaker is a sleek mashup of genres. It combines elements from base-building, real-time strategy, role-playing, twin-stick shooters, and survival genres. This unique blend of various game types is the reason why it's on this list of best tower defense games for PS5.
The task is simple – further colonization by securing a new world for humans. Your character is Ashley S. Nowak, a brilliant scientist with a sick mech combat suit she calls "Mr. Riggs."
In an attempt to find a home for humanity, Ashley travels to planet Galatea 37 through a one-way portal. Arriving on this planet, she must extract resources, gather specimens, and construct a base that will serve as a bridge connecting Galatea 37 to Earth.
However, building this base is no easy feat, as she soon discovers that she is not alone in this new world. While carrying out her research, Ashley must survive hordes of enemies if she ever wants to find a way back home.
One might think that mixing these many genres together will result in complexity, but EXOR Studios has succeeded in proving naysayers wrong. This combo of various game types, together with the game's lush visuals, make for a singularly engaging experience.
The Riftbreaker is arguably the most fun game on this list.
Farm For Your Life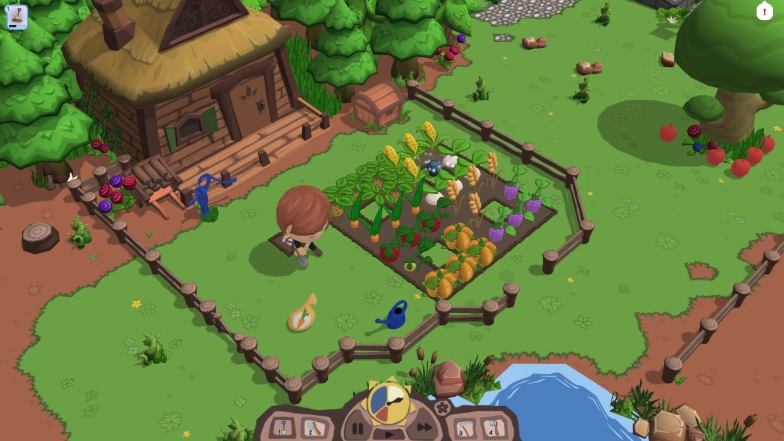 Genre: Adventure, Casual, Simulation
Developers: Hammer Labs
PlayStation Release Date: June 23rd, 2021
Buy from: PlayStation
Multiplayer: No
Average Playtime (Main Story/Objectives): 7 hours
Farm For Your Life is a simulation and tower defense video game that was initially released for PCs in 2013 before Secret Item Games published it for the PS4 and PS5 in 2021.
Your game character is the owner of a farm and the leader of a community of people who managed to survive a cataclysmic storm that raised the dead. The game offers two modes – campaign mode and endless mode.
In campaign mode, you focus on cultivating your farm, repairing damage, managing your restaurant, acquiring raw materials, and trading resources during the day. At night, you defend yourself and your farm from hordes of zombies. Meanwhile, you challenge yourself in endless mode and see how long you can survive the zombie invasion.
Since you don't have weapons to fight, your only way of attacking is by throwing food at the undead creatures. So, it's kinda like a food fight but with zombies.
Overall, Farm For Your Life is an amazing and appealing video game. With its undead sound effects, calm and upbeat soundtrack, and cartoonish graphics that portray vivid colors, you're sure to remain on your toes.
Orcs Must Die! 3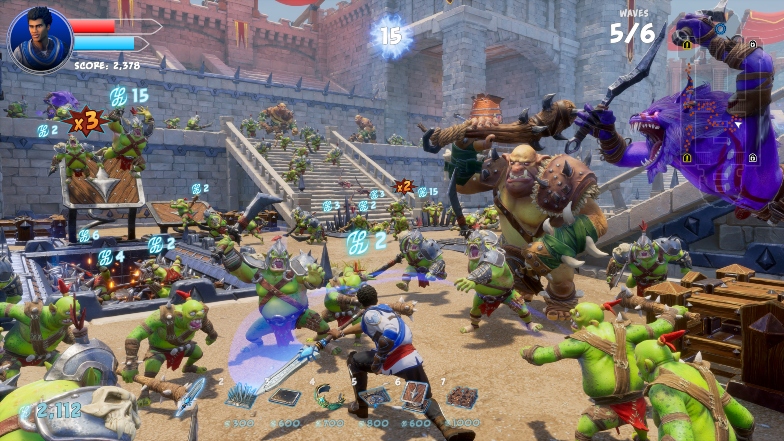 Genre: Tower defense, Action
Developers: Robot Entertainment
PlayStation Release Date: June 9, 2022
Buy from: PlayStation
Multiplayer: Online co-op
Average Playtime (Main Story/Objectives): 9 hours, 30 minutes
Orcs Must Die! 3 is an action game with tower defense elements. It is the fourth segment of the Orcs Must Die! franchise and the sequel to the popular action game Orcs Must Die! 2.
The game features similar gameplay to the previous installments but with a few new and improved ideas. You assume the role of one of two apprentice heroes who must defend their rift and repel attacks from an onslaught of orcs, using an assortment of merciless traps or an arsenal of multiple weapons, or both.
There are 18 different levels to explore and various game modes. The War Scenarios game mode is new to the Orc Must Die series. In this mode, you face a large number of orcs at once, using big traps called War Machines, which are suitable for delivering large-scale damage and destroying several orcs simultaneously.
There is also a two-player co-op multiplayer mode, so if you want to slay some green-skinned monstrosities with a friend, have at it!
Orcs Must Die! 3 is a step up from its previous versions, and it still maintains the entertaining and unique premise the series is known for. This game's comical graphics and fantastic combat will leave you playing it for hours. It truly deserves to be on this list of best PS5 tower defense games.
13 Sentinels: Aegis Rim
Genre: Adventure, Real-time strategy
Developers: Vanillaware
PlayStation Release Date: September 22, 2020
Buy from: PlayStation, Amazon
Multiplayer: No
Average Playtime (Main Story/Objectives): 30 hours, 30 minutes
Developer Vanillaware showcases its hallmark of stunning art, once again, with this sci-fi combination of robots and teen drama. 13 Sentinels: Aegis Rim is a 2D science-fiction RPG published by Atlus.
As a player, you control a group of thirteen teenagers who own huge mechs called Sentinels and are engaged in a futuristic battle against alien monsters. Each protagonist has their own story divided into sections, and you can switch between them as you like.
There's a girl that befriends a robot and another that is fascinated by U.F.O.s, and then there's a boy that can't get enough of kaiju movies and so many other characters for you to play with. Progressing through the game, you battle enemies using lasers, missiles, and other weapons at your disposal.
There are three segments of 13 Sentinels: Aegis Rim. Analysis, an archive of information on items, characters, and concepts; Destruction, where the protagonist engages in battles against foes; and Remembrance, where exploration and interaction of the game's 2D environments take priority.
Vanillaware could have effortlessly built on ideas from their previous successful games; instead, they boldly ventured in a new direction for which they deserve credit.
The Japanese developer studio used stylish animations and gorgeous aesthetics to bring Aegis Rim's characters to life, and the gameplay itself is excellent enough to make it a worthy contender for this list of best PS5 tower defense games.
Dungeon of the Endless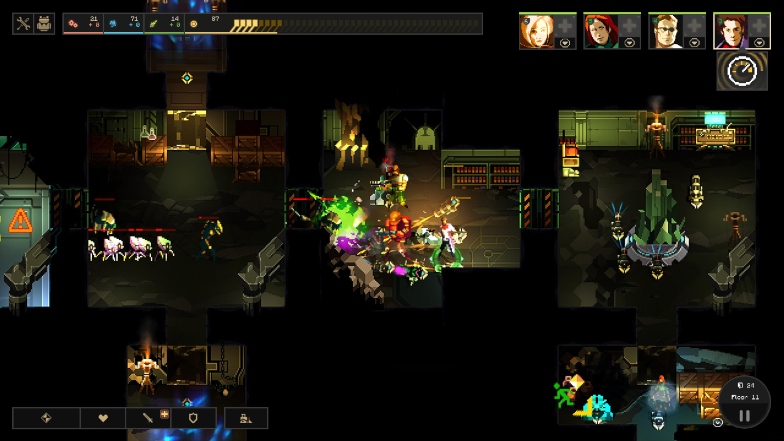 Genre: Roguelike, Tower defense
Developers: Amplitude Studios
PlayStation Release Date: May 15, 2020
Buy from: PlayStation, Amazon
Multiplayer: Online co-op
Average Playtime (Main Story/Objectives): 7 hours, 30 minutes
Dungeon of the Endless is an award-winning tower defense game initially released for PC in 2014 before Amplitude Studios published it for the PS4 in 2020. It is the third game in its Endless series, made available on the PS5 via backward compatibility.
After a prison spaceship shipping criminals to the planet Auriga crashes, a group of survivors must explore procedurally generated levels to find a way off this desolate world.
You can control two survivors, although, along the way, you will unlock more characters. For each level, the protagonists are seen guarding an energy crystal in a room while looking for a way out. Once an exit is found, one of them picks up the crystal and carries it out slowly.
Resources are available for creating defenses that can be upgraded in the future. If gathering resources ever feels like a hassle, you can construct modifier units that will speed up your resource-gathering process. Apart from resources, you also have access to weapons to fight off enemies.
It's obvious a lot of work was put into making this game. Its pixel art style is a nice touch, and overall, the gameplay is excellent. You should give it a try if you're looking for a roguelike game with tower defense elements to enjoy on a slow day.
Kingdom Two Crowns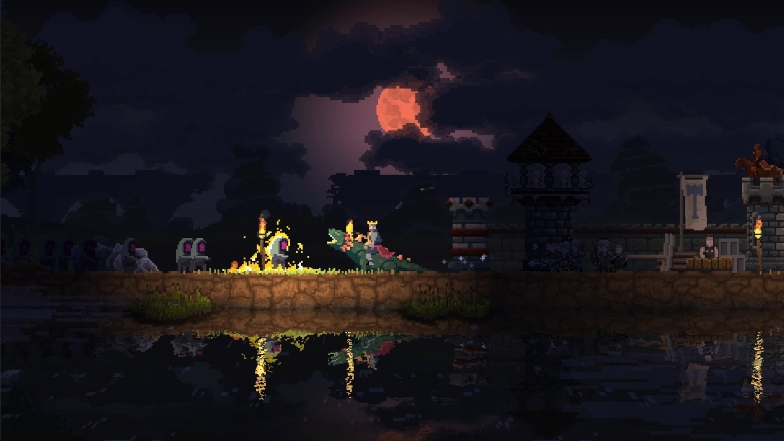 Genre: Strategy
Developers: Noio, Coatsink, Stumpy Squid
PlayStation Release Date: December 11, 2018
Buy from: PlayStation
Multiplayer: Local/Online co-op
Average Playtime (Main Story/Objectives): 26 hours, 30 minutes
Ever wanted to be a king or a queen of your own kingdom? Yes? Well, here's your chance!
Kingdom Two Crowns is a kingdom-building side-scrolling strategy game published by Raw Fury as the third installment of the Kingdom series.
You assume the role of a king or queen in a medieval setting. As a monarch, your only desire is to see to the prosperity and safety of your kingdom, and so each day, you ride back and forth in your domain, collecting coins that you will use for construction and maintenance.
You also recruit workers for different jobs – soldiers to protect the land, farmers that bring in extra coins, etc. At night, enemies known as "Greed" steal valuables from anyone outside your kingdom's walls – including you. So, if you're caught on the wrong side, and they steal your crown, it's game over.
This new installment comes with new features. For example, when your crown is taken, and the game ends, you can simply continue from where you stopped. There's also a co-op mode where you can split screens and play with an ally.
Kingdom Two Crowns retains the feeling of strategy, exploration, and discovery from the previous entries. Its new additions make it an even more brilliant and well-focused game.
Tribes of Midgard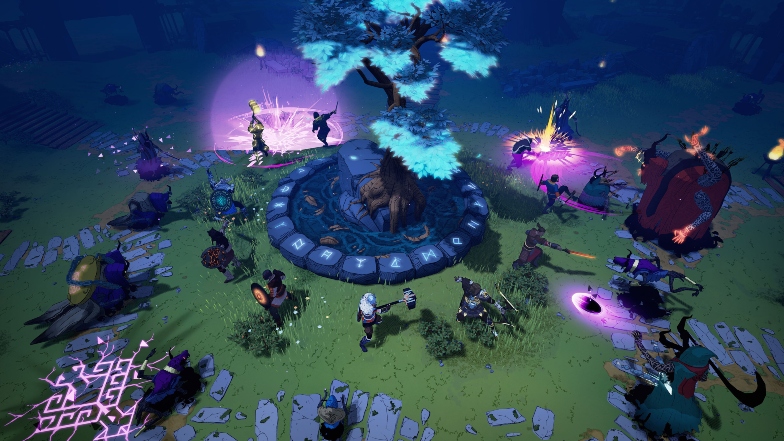 Genre: Action, RPG, Survival
Developers: Norsfell Games
PlayStation Release Date: July 27, 2021
Buy from: PlayStation, Amazon
Multiplayer: Online co-op
Average Playtime (Main Story/Objectives): 15 hours, 30 minutes
Tribes of Midgard is a co-op action survival game with RPG elements. It was published by Gearbox Publishing in 2021.
This isn't wholly a tower defense game, but there are enough elements of the genre included to make it worth a look if that's what you need.
You must have heard of Ragnarok, the term from Norse mythology used to reference the world's destruction. Well, in Tribes of Midgard, this is what you, as a player, will be fighting to prevent – the end of the world.
Einherjar is a Viking hero whose only purpose is to prevent enemies like giants, trolls, and evil elves from destroying the seed of Yggdrasil. If the seed gets destroyed, Ragnarok arrives, bringing a close to the game session.
Enemies attack at night, so you're tasked with exploring locations and gathering resources to craft weapons and build fortifications and defenses during the day. You'll also need to sustain the seed's life by supplying it with the souls of your foes.
There's a co-op multiplayer mode that allows the participation of up to 10 players, so get your basketball teammates ready to enjoy this game's sleek 3D graphics and colorful cartoon-like characters.
If you're an admirer of Norse mythology or you've binge-watched the popular HBO Vikings series a million times, you should definitely check this game out.
BeeFense BeeMastered
Genre: Strategy
Developers: ByteRockers' Games
PlayStation Release Date: June 24, 2021
Buy from: PlayStation
Multiplayer: No
Average Playtime (Main Story/Objectives): 5 hours
The ultimate defense (beefense) is needed! It's up to you to assist Queen Bee Nectarina in building an effective defense to protect her colony from the ruthless and genetically modified hornet Queen Bee Hornette, whose ultimate goal is to invade the bee kingdom.
There are three essential resources to look out for in the game – pollen, nectar, and honeydew. Pollen is used for bee breeding, and you're going to need a lot of bees to bee-man the built defense towers. Nectar is basically the bees' food – I mean, a bee's got to eat, right?
Honeydew is used for obtaining bee technology upgrades. Such upgrades include an increase in bees' flight speed, huge nectar tanks for storing large amounts of nectar, an increase in pollen harvesting, ammunition upgrades, etc. So, you'll need to always be on the lookout for honeydews.
BeeFense BeeMastered uses colorful and vibrant graphics to display highly detailed towers and bee characters. Each level has a new environment and new enemies to defend your towers against. All that, topped with its great buzzing sound effects, makes it one of the best tower defense games for PS5.
A good chunk of tower defense involves critical thinking, and if you're a fan of that, I strongly recommend checking out our guide to the best real-time strategy games out there as well.