Every genre has benefited from the PS5's performance upgrades, but some even more than others.
For instance, the gaming experience of playing a game such as Horizon Zero Dawn has improved significantly. Where the PS4 Pro capped performance for the game at 30 frames per second, it plays at 60 frames per second on the PS5 – a huge, noticeable jump.
Horizon Zero Dawn is one of the best hunting games for PS5, and that whole genre is one of the biggest winners from the console upgrade.
If you're looking for more games of a similar mould, I've compiled this list.
I've done my best to make sure that this isn't just a list of games where you hunt the same type of game in the same type of setting.
Instead, the premise of each game on this list of the 13 best PS5 hunting games has enough variety to keep you busy for a while.
Euro Fishing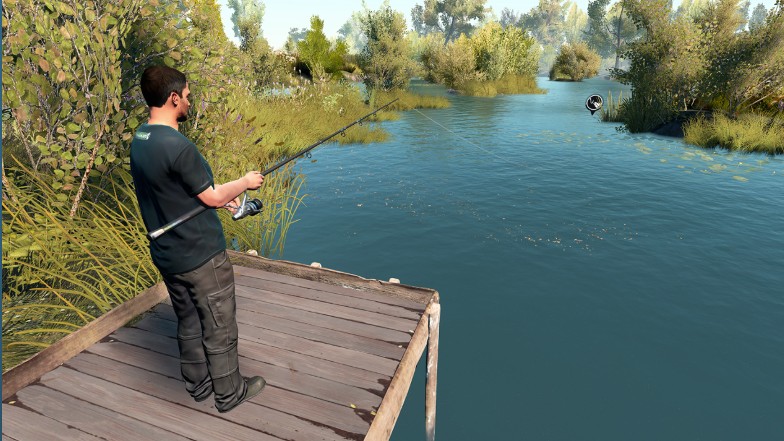 Euro Fishing was published by Dovetail Games in 2017, and it remains one of the most realistic fishing games that you'll play on the PlayStation.
Now, I should point out that this is a simulation game. If you're familiar with Dovetail, then you may know of the work they've done on other simulators such as Flight Simulator and Train Simulator.
The implication of that bit of information is that, while the realistic nature of the game is mostly positive, it can be a little less so if you're a casual gamer that does not care much for such an immersive experience.
From the get-go, you realize just how much attention the game wants you to invest in it by providing an Academy Mode where you can learn all the important basics about fishing. You can then proceed to the next mode, "Freedom Fishing" where you choose your location and try to master the fine art of fishing – just you and nature.
There are various game modes such as a single-player mode where you can compete against AI with various scenarios and objectives, or you can play alone and try to beat challenges set up for you to test your angling skills.
The more you play, the more you gain experience points that can be used to upgrade your equipment. Better equipment typically translates into catching better game, so you need those points to get the larger fish.
Without a doubt, this title will "reel you in" (I'm so sorry) if you give it a chance.
Pro Deer Hunting 2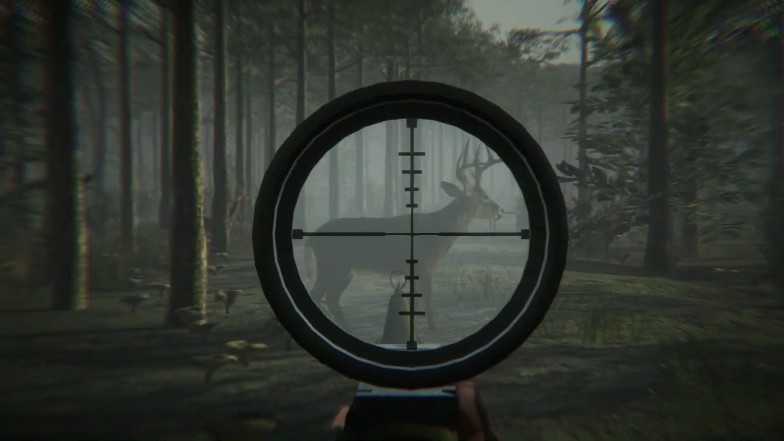 Deer hunting is perhaps the most common option when it comes to hunting games. However, Pro Deer Hunting 2 is different from your typical "aim and shoot" deer hunting gaming experience.
The game was published by Party Spa Rentals, Inc. (Yes, that's a real company name), as a sequel to the original Pro Deer Hunting title published in the previous year.
As is the case with Euro Fishing, Pro Deer Hunting 2 is a realistic deer hunting simulator. It retains the charm and overall concept of the first edition, but the improved visuals and extra weapon options make it a worthy younger brother.
Once again, this is an immersive experience with particularly interesting environments. Sometimes, it's hard to tell if you're just hunting regular deer or deer with chameleonic characteristics – they blend so well into the background!
It's also a slower-paced deer hunting game than what you may be used to, but that contributes to the realism as hunting is not always a case of running after game while you furiously reload and re-fire your muzzled rifle multiple times.
If you played the original Pro Deer Hunting, you'll like the new muzzleloading rifle available in this sequel.
Hunting Simulator 2
One way to know if a game was successful is when it gets a sequel. This fact doesn't always apply, but it does more often than not, and it is the case with Hunting Simulator 2.
The original Hunting Simulator was published by NACON SA in 2017, and this sequel was released by the same company three years later. It has more weapons, more species to hunt down, and much better graphics, partly thanks to the PS5's 4K resolution.
It's a fairly straightforward title, but it does the simple things well. There are no side missions or other distractions, this is simply a hunting simulation game with a realistic feel in the same mould as Pro Deer Hunting. However, you're not limited to deer. here are ducks, foxes, sheep, and other species for you to point your rifle at.
Perhaps NACON could have made better use of the PS5's upgraded features to make this a much more improved experience compared to Hunting Simulator 2 on the PS4, but it's still one of the best PS5 hunting games.
Open Country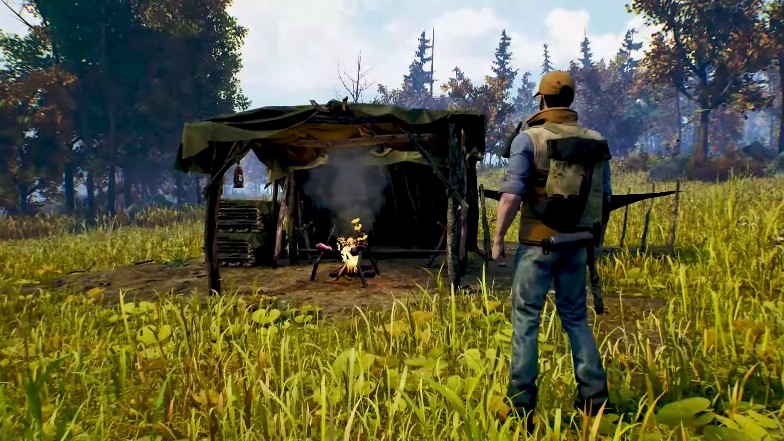 Open Country was published by 505 GAMES S.R.L. The game still needs some work, but the potential of its premise is high enough to earn it a place on this list of best hunting games for PS5. Hear me out.
The plot is that your character is a man that's tired of city life and tries to find his way to the countryside to start a new, stressless life. Once he makes his way there, he meets Gary who owns a bar in the middle of nowhere. For some reason that has absolutely nothing to do with the location of the bar, Gary does not appear to have any customers.
Anyway, Gary is pretty much the "taskmaster" in this game, and he soon sends you off into the wild to complete certain tasks – kill small critters, gather materials, skin animals, all the fun stuff.
The game tries to incorporate as much realism as it can. For instance, you need to cook food to keep your hunger meter up. You also need to drink water, but if you fill your flask with water from a pond, you must boil it first.
Also, gathering wood for a campfire is not so straightforward. You need to look for individual logs and other stuff you can burn and put it all together in one place, just like you would at a real campout.
When it comes to the actual hunting of animals, Open Country has a ridiculously accurate assisted aiming system. Just point vaguely in the direction of the thing you want to shoot and press aim, and the target will lock right on.
The graphics are decent, as well as the sound effects. The sound of water rushing, your footsteps, gunfire – it all sounds okay. It's overall a relaxing experience, and if the camera controls can be improved, it'll get even better.
The Witcher 3: Wild Hunt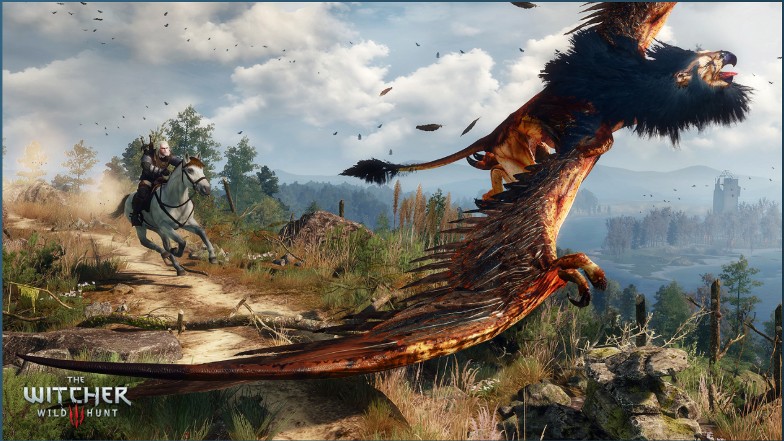 When I mentioned the potential for much-improved graphics on PS5 games, The Witcher 3: Wild Hunt was certainly in the back of my mind.
The game was originally published by CD PROJEKT SA in 2016, and it's garnered a well-deserved reputation since then as one of the best PS5 hunting games. Things got even better when a PS5 upgrade was published in 2022.
The Witcher is more than just a hunting game. It is an entire fantasy world of characters with story arches, monsters with really strange abilities, and a lead character that we've all watched grow across the series.
In Wild Hunt, Geralt has to face monsters ranging from Leshen to Shriekers, and you must prepare ahead of time for these battles. In previous iterations, these battles were extra difficult because you often had to cycle through a number of weapons before picking out the one that you need, but a crucial update has been made such that he draws the needed sword automatically.
Wild Hunt does not leave Geralt to his devices though. You're joined by other Witcher characters such as Sorceress Ciri and Temeria Bluebeard in your journey across space and time to hunt these monsters down and make sure that the world is safe from the apocalypse.
From knives to potions and guns, The Witcher 3: Wild Hunt presents you with various ways to prove your skills as a professional hunter. Combined with some of the best graphics you'll see in any RPG, Wild Hunt fully deserves its spot on any list of best PS5 hunting games.
Catch and Release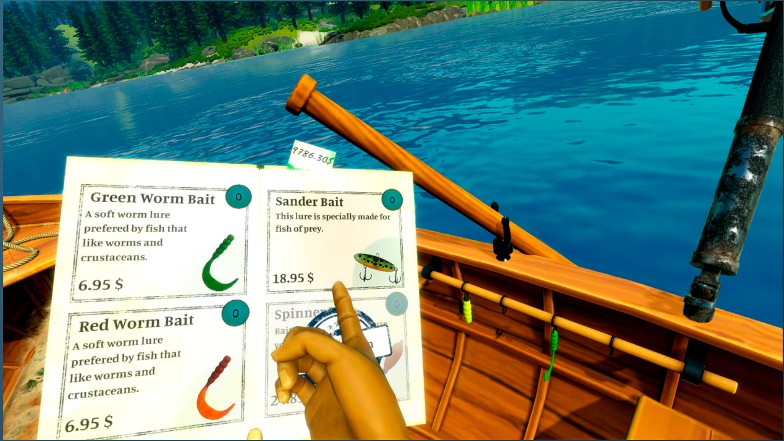 Do you remember everything I said about Euro Fishing? Just take that, roll it up, make it two-fold and you've got Catch and Release.
Catch and Release is another fishing simulator but with a twist – it's a VR game! It was published by metricminds GmbH & Co. KG (honestly, how do they come up with these names?!) in 2018, and it takes realism to another level with VR support.
The controls are simpler and more straightforward than Euro Fishing, but that's where the simplicity ends. There is so much depth and substance to this game that you may find yourself still sitting in a boat on a lake, taking in the cool afternoon breeze while your alarm clock reads 3:00 am on your gaming desk.
After learning the basics of the game, you're pretty much left by yourself with a to-do list. As you tick the items on the list off, they're replaced with new ones. Completing your tasks unlocks better fishing rods, and in turn, better bait.
Catching the fish is the main point of a fishing game, but Catch and Release offers much more. As you wait for your bait to snag a target, you can look around the woods surrounding you and just vibe to music from your radio.
You can tune the radio to several stations, depending on what type of music you want to listen to. They're all unlicensed music but they create a perfect mood regardless.
If you've earned enough to buy a camera, you can even take pictures of wildlife roaming the woods while you fish. There really is so much to do and it's very addictive.
If you're looking for an escape as well as a relaxing gaming experience, then Catch and Release is a great place to start.
Hunt: Showdown
I promised that I would mix it up, so here's something different. Hunt: Showdown is less of a solo hunting title and more of a co-op alternative that takes cues from popular battle royale games. The game was published by Deep Silver.
Hunt: Showdown starts as a PvE (player versus environment) but seamlessly progresses into a PvP (player versus player) if you hit your target. I'll explain.
Your character is a bounty hunter summoned to a wasteland swamped with unnatural forces. Your task is to gather clues, hunt down and kill the horrors that you encounter in the wasteland and collect the trophies that serve as your reward for each kill. You can go into this mission alone, with a partner, or with two partners.
Now, here's the twist. Multiple other players/teams are given the exact same mission as you, in the same location. So, while you're trying to win your bounty, you must also be careful to avoid the attention of these other players. Realistically, you will encounter and have to battle some of them since you're all headed for the same bounty – hence the PvP.
The hunter is also the hunted – I love it.
Far Cry 6
You know a Far Cry title HAD to be on this list, right? I was going to go with Primal, which was a fantastic game, but Far Cry 6 just pips it because of the extra perks on the PS5. The world of Yara, which is where the title is set in, looks stunning.
Far Cry 6 was published by Ubisoft Entertainment, the makers of Assassin's Creed and Tom Clancy's series.
As you probably already know, hunting is only a part of Far Cry, the game goes way beyond that, but the experience of hunting within the world of Yara still brings a strong enough feeling of fulfillment that earns it a spot on this list of best hunting games on PS5.
On Far Cry, you need to hunt wild animals for meat or their skin, and on Far Cry 6, you can even get a fishing rod and head to a fishing spot to catch fish.
Fishing is not available from the get-go, but you can unlock it early on in the game. You have a better chance of catching fish when you look in actual fishing spots, but the whole process is pretty standard. Lure them with bait, wait for one to bite, and try to reel it in.
Hunting is also as straightforward as encountering an animal anywhere within the game world and attacking it.
However, a more intentional approach again would be to do some recon and track hunting spots on your map. With that, you can hunt specific animals to get specific types of meat.
The gameplay is familiar if you've been consistent with the Far Cry series, but it's not necessarily a bad thing. It's smoother on the PS5 though, thanks to 60fps, so there's still enough novelty to admire.
Horizon Zero Dawn
Horizon Zero Dawn was published by Sony Interactive Entertainment. It is an RPG that leads you across a virtual world in the future where you have to hunt animals and – wait for it – machines. Or, you know, robots.
The fantasy open world where Zero Dawn is set in is an exciting bed for animals of different species to roam. From foxes, boars, and raccoons to rats, turkeys, and geese, you're spoilt for choice for which animal to maim or kill. Some of these animals are more common and easy to find than others.
If you prefer to fish, I'm sure the salmon and trout swimming in the waters won't mind too much either.
About the robots, they're large, chrome-ish creatures that could pass for metallic dinosaurs or some other large animal. They bring a futuristic twist to the game in sharp contrast to the prehistoric plot of humans wielding only bows and spears.
Speaking of humans, your character is Aloy, and she has to fight and override these mechanical animals. The non-mechanical ones can be hunted too, as they are useful for upgrades, trading with merchants, and crafting materials.
The blend of the large machines with humans and the smaller animals make for a unique gaming experience. It gives the feeling that this game is a mashup of ideas and elements from different games. However, it all feels very cohesive, and that's credit to the developers.
Predator: Hunting Grounds
Predator: Hunting Grounds is one of the games that has benefited from the framerate on the PS5.
The game has been available on the PS4 since it was first published by Sony Interactive Entertainment, but there were mixed reactions from the PlayStation fanbase as it sometimes felt janky and unpolished.
Thankfully, the 60fps framerate on the PS5 goes some way into smoothening those problems over – literally. The experience is more satisfying and has boosted the rating of the game enough to earn it a place on this list of best PS5 hunting games.
The premise of Hunting Grounds presents you with the options of being the hunter or the hunted. It follows the story of the Predator movies and comics where there are soldiers on one side and a predator on the other.
If you choose to be one of the soldiers, your task will be to complete missions in the wilds of South America with a target on your back as the Predator hunts you. If you choose to play as the Predator, things get a lot more interesting as you become the one with superior skills and weapons.
The Predator is a well-thought-out alien villain with enough tricks in the bag to keep you entertained as you hunt for your next human target. With all the weapon upgrades, side missions, and interesting locations, Hunting Grounds is set to give you a pretty fun ride.
Horizon Forbidden West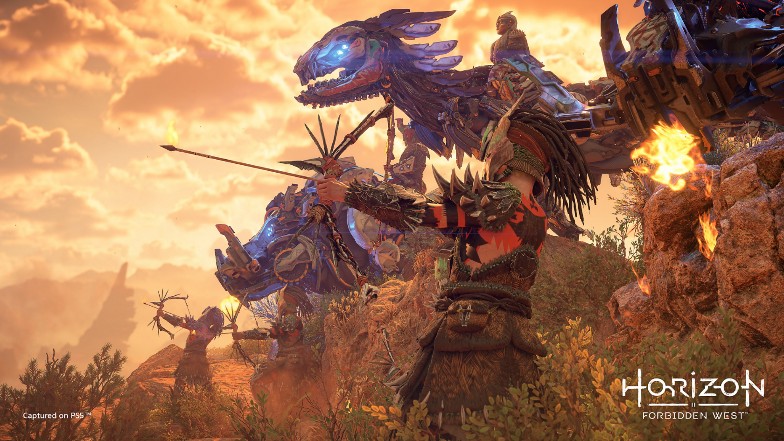 Aloy returns in this sequel to Zero Dawn. Horizon Forbidden West is the more recent title of the two from Sony Entertainment, published in 2022.
Straight off the bat, I should point out that playing the game on the PS5 is a significantly improved experience compared to the PS4.
Loading times are faster as a result of the PS5's ultra-high-speed SSD, visuals are stunning in that 4K HDR with 60fps, and the haptic feedback triggered from certain battle actions or movements is much better. It doesn't end there, but much of it is best experienced than read about.
The machines remain a key part of the game in Forbidden West, from the furiously fast Clamberjaw to the combat-class Tremortusk. Aloy will have to face the latter in the Heavy Weapons Trial and the Shock and Remove Trial of the Raintrace Hunting Grounds.
Horizon has always been a gorgeous game, and that is more apparent in the PS5 version of Forbidden West. The whole premise of an apocalyptic world, with ruined buildings, old satellite dishes, mechanical animals, and grassy cities is executed to near perfection.
Hunting the robots remains one of the best parts of the series, but you have even more tools to do so in Forbidden West. Combined with the improved abilities of the protagonist – your character, Aloy – you can fully expect this game to deliver an improved gaming experience ahead of the already-solid Zero Dawn.
Monster Hunter World
Monster Hunter World is yet another game that has capitalized on its success on the PS4 to bring an even better experience to the PS5. It was one of the best on the older consoles, and it remains one of the best hunting games on PS5.
The name already suggests pretty much what the game is about. Your character is in the wilds of the fantasy world, Astera, and has to hunt down a bunch of monsters with really peculiar abilities.
For instance, there is a mutant squirrel that can stun you with a spark in its tail, and a fire-breathing "Anjanath" that is just a little bit too eager to turn you and other hunters to toast. Tracking and killing these monsters can be pretty challenging, but also incredibly satisfying when you complete a kill.
You can use the monsters' teeth, skin, claws, and other body parts to fashion new weapons for yourself, and you'll need them especially when you have to face the larger beasts such as the Lunastra or the Extreme Behemoth.
If you've played this game on the PS4, then you may be familiar with the extremely long and annoying loading times. Give it a whirl on the PS5 and you'll see much-needed differences.
theHunter: Call of the Wild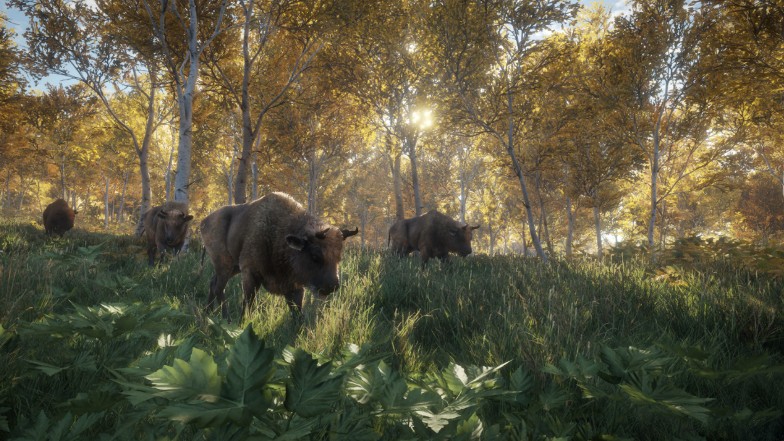 It'll be hard to find any merit list of the best PS5 hunting games without theHunter: Call of the Wild in it. The game was published as far back as 2017 by Expansive Worlds AB, but it remains one of the best options in this niche.
It finds the right blend between realism and excitement as you traverse the massive, realistic environments that it is set in while learning about hunting and animal behavior. If you like exploring just as much as hunting itself, this will be right up your alley.
One thing that sets Call of the Wild apart from similar games is the uniqueness of each animal. Animals that belong to the same gender and species still have features that can help you to differentiate between them and decide which one will offer up the best trophy for your kill.
While you explore, be careful with snapping twigs beneath your feet as it will alert the animals to your presence and possibly have them scampering away before you can get a shot in.
A key reason for the longevity of Call of the Wild is that free and paid extra content is constantly made available. Once you think you may be getting a bit bored of the same thing, new locations, species, weapons, vehicles, and animals are added to freshen up the experience.
Expansive Worlds has earned its name with this title.
Speaking of expansive worlds, we've also got a guide to the best open-world games on PS5, so if you're looking to expand your wishlist even further, check that out!