Before consoles and PCs came into the picture, playing tabletop games required an actual table and a group of physical players to get the dice rolling.
Things have changed a lot since then, and Sony's PS5 console is one of many options that allow you to play some of the most exciting and action-packed board games without having to round up your friends for game night.
Most of the board games here are originally PS4 releases, but you can enjoy them on the PS5 via backward compatibility.
Considering the fact that board games have been around for quite a while, it's not unusual if you already have a favorite, whether it's a family classic or a new title.
Regardless, this guide covers some of the hottest, newest, and most exciting board games on the PS5. It's not the most exhaustive of lists, but give it a chance and maybe you'll find something fresh.
Monopoly Family Fun Pack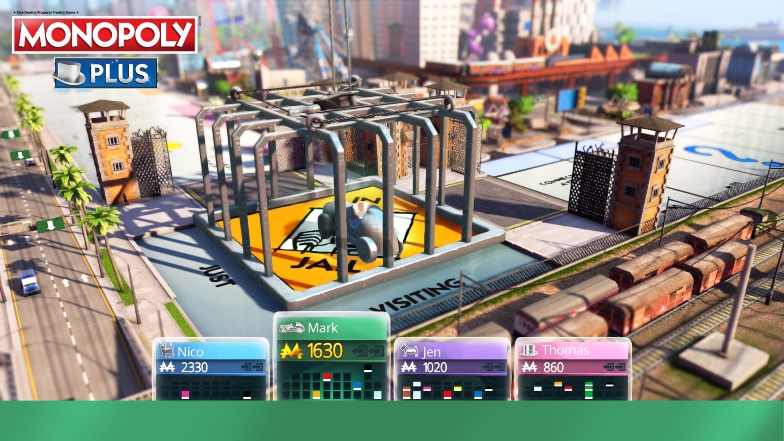 Genre: Casual, Family, Board
Developers: Ubisoft
Release Date: November 18, 2014
Buy from: PlayStation, Amazon
Multiplayer: Local multiplayer, Online multiplayer
Average Playtime: N/A
Monopoly Family Fun Pack constantly stands out as a regular pick when you talk about the best board games on PS5. It's a fairly old game now, but it remains one of the most popular board games on consoles.
The game combines three monopoly titles; My Monopoly, Monopoly Plus, and Monopoly Deal. Ubisoft lumped these games together to provide players with classic, fun, and fast-paced game to play with their family and friends.
The classic Monopoly board has been around for over eighty years and has been present as an option in virtually every console release. The game utilizes some of the basic elements of the traditional board game and transforms them in a 3D environment into a trading card system.
The main objective of Monopoly games is to own as many businesses and properties as possible until your opponents go bankrupt.
It's a fairly straightforward task, but as you advance through the game and stack up bonus cards, the game gets more intense as you only get three turns per round forcing you to plan how and when you trade your cards meticulously.
You can play solo against your friends and family or play against the AI at your preferred difficulty level. Players can also choose to play the game using the classic monopoly game board or a 3D city.
You can choose to customize your game board further and also change the names of your properties and pictures.
These visual customizations are pretty flexible, but changing the rules of the game is more rigid as you can only make/change one rule per game.
Hasbro Family Fun Pack
Genre: Casual, Family, Board
Developers: Ubisoft
Release Date: October 20, 2015
Buy from: PlayStation, Amazon
Multiplayer: Local multiplayer, Online multiplayer
Average Playtime: N/A
Hasbro Family Fun Pack is another excellent board game that was released by Ubisoft. The game bundles four exciting family favorites into a single game at a relatively affordable price.
These four games include Monopoly, Risk, Boggle, and Trivial Pursuit.
Hasbro Family Fun Pack isn't just entertainment, it also offers a bit of education. If you play Trivial Pursuit, you'll get a chance to improve your general knowledge as you're asked questions on topics like history, geography, etc.
In Risk, players have the opportunity to achieve global domination by conquering surrounding territories. You can choose to draft, attack or fortify your conquered empire.
Another popular title in a different category, Battleships, is a bit similar to Risk, but you don't attack countries in that game. Instead, you battle in the ocean and try to destroy enemy ships.
Monopoly in Hasbro Family Fun Pack is similar to any other Monopoly title you've played. You trade in your cards and buy a property – pretty standard stuff already discussed in the Monopoly Family Fun Pack section.
You can play all four titles in Hasbro Family Fun Pack locally with your friends or online when you create or join a room.
Chess Ultra
Genre: Strategy, Simulation, Casual, Sports, Board
Developers: Ripstone Ltd.
Release Date: June 20, 2017
Buy from: PlayStation
Multiplayer: Local multiplayer, Online multiplayer
Average Playtime: N/A
No reputable list of the best PS5 board games would be complete without a worthy chess inclusion, and that is why we have Chess Ultra.
The game was published by Ripstone Ltd. and is one of the most compact and visually appealing chess games that you can enjoy on the PS5.
Chess Ultra features Single Player versus Computer, Online Multiplayer, Hot Seat Play, and Tournaments. The game brings players a beautiful 4K display that makes good use of your PS5 visual capabilities.
Players can go full-on immersion as Chess Ultra also provides a VR mode that works seamlessly with Sony's PlayStation VR headset.
Chess Ultra also provides mini-tutorials for newbie players to help them level up their chess-playing skills.
The game provides you with practice scenarios to help you see the outcome of a move before you make it during the game.
Players can customize non-game features like the board's background, colors, types of pieces on the boards, etc.
For players who enjoy the thrill of being on a leaderboard, Chess Ultra has an online ranked multiplayer scoreboard that lets you prove your skills to the entire Chess Ultra community.
If you're a fan of chess, Chess Ultra would be an excellent board game to try on your PS5.
Armello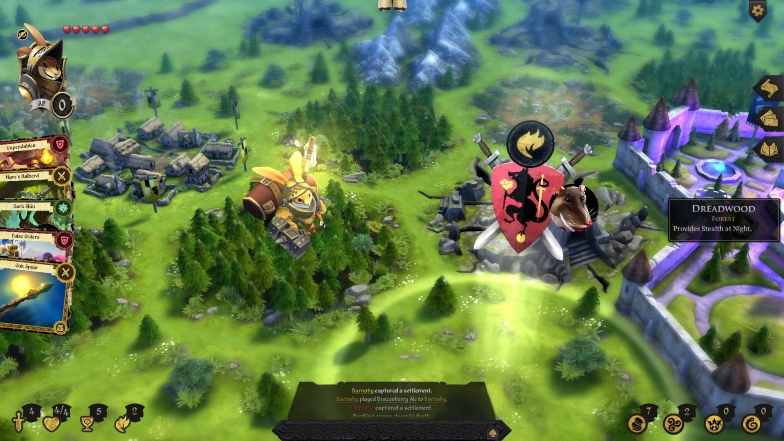 Genre: RPG, Board
Developers: League of Geeks
Release Date: September 1, 2015
Buy from: Amazon, PlayStation
Multiplayer: Online multiplayer
Average Playtime: 1 hour, 30 minutes
Armello is closer to a regular video game than a board game as it adopts a storyline pretty similar to Game of Thrones, but with cute animal characters instead of warriors and fighters.
The game is filled with so many moving parts and characters, but it manages to still be simple to follow. Simplicity is key.
The story starts when the king is corrupted by the evil force – rot. The king is slowly dying, and the entire kingdom is falling into chaos.
To prevent the kingdom from going into utter destruction, eight characters are selected from the clans. Each hero must embark on a near-impossible journey to claim the throne from the crazed Armello king.
The game is filled with different weapons and character attributes that affect how you approach each turn. During the hero's quest to take the throne, they'll run into several spaces that can be harmful or healing to the hero.
There are different ways to win in Armello. You can choose the outright violence route and fight your way to the throne (this is rarely successful), or go for the alternative of spending your time building up your prestige. This more patient approach is more likely to be successful because when the king dies, the player with the highest prestige wins.
The game's main objective is to become the ruler of Armello, but do you have what it takes to be the king? Worth finding out, I think!
Fury of Dracula
Genre: Strategy, Board
Developers: Nomad Games
Release Date: September 15, 2020
Buy from: PlayStation
Multiplayer: Local multiplayer, Online multiplayer
Average Playtime: N/A
The first and classic Fury of Dracula was released in 1987. On consoles, Fury of Dracula: Digital Edition was published in 2020. The main aim of the game for the main character (Dracula) is to create an army of vampires.
In the game, Dracula progresses through the counter using three main ways – killing a hunter, creating a vampire, and surviving each day/night. About one to five hunters go after Dracula to gain control of Europe and ultimately the world.
The hunters tracking Dracula are pretty smart, but occasionally, Dracula spoofs his location by using a trail of face-down cards, each representing a fictitious location on the board, to confuse the hunters.
You can choose to play as a single-player on your local console or play competitively in the multiplayer rooms. If you've played any of the editions of Fury of Dracula, you'd be familiar with the rules as they are extensively recreated in this Digital Edition.
However, if this is your first time playing Fury of Dracula, whether as a classic board game or on a console, there are a bunch of in-game tutorials that help you navigate throughout the game.
The game isn't quite as fast-paced as titles like Monopoly but still provides players with very compelling gameplay.
Rento Fortune
Genre: Strategy, Board, Party
Developers: LAN Games Ltd.
Release Date: July 7, 2016
Buy from: PlayStation
Multiplayer: Local multiplayer, Online multiplayer
Average Playtime: –
Rento Fortune is a multiplayer board game that adopts the gameplay of classic Monopoly titles featuring dice rolls, land trading, rewards, and more.
Rento Fortune requires a minimum of two players to start a match and a maximum of six in an online match.
You can choose to play online, offline with your friends, or versus the computer. Similar to Monopoly, players can trade lands, win auctions, build houses, and much more.
To win in Rento Fortune, you have to try to bankrupt all the other players. You have to be the last man standing with the most cash in hand.
The game has a lot of rules similar to Monopoly, like the $200 reward you get each time you pass "Go" or getting another turn if a player rolls doubles.
Also, in Rento Fortune, if a player rolls doubles three consecutive times, they are considered to be 'speeding' and are instantly sent to jail.
This is something else we've seen in Monopoly, where you also have a limit on double rolls. To be fair, some players prefer to play without that rule though, so it's not always the case.
However, your main aim is still to bankrupt your competitors each time you roll the dice and make a decision. That shouldn't be too hard, should it?
Backgammon Blitz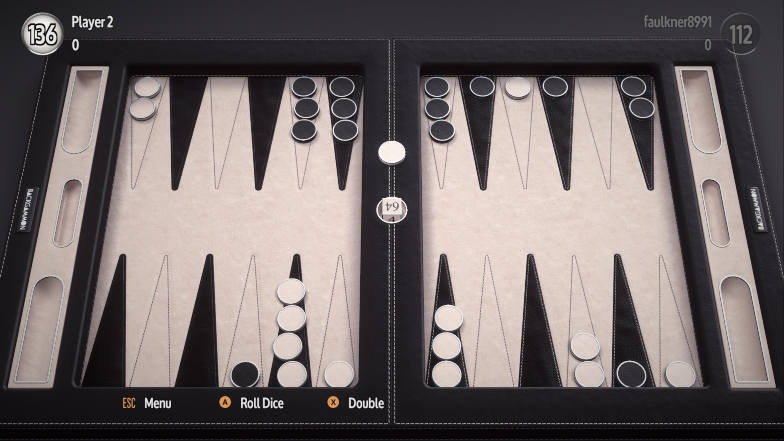 Genre: Casual, Family, Strategy
Developers: VooFoo Studios
Release Date: April 15, 2014
Buy from: PlayStation
Multiplayer: Local multiplayer, Online multiplayer
Average Playtime: N/A
Backgammon has been around for quite a while – thousands of years, in fact. However, the team at VooFoo Studios decided to give us a taste of such classic action with their work on Backgammon Blitz, a game that was published by Nomad Games.
Backgammon Blitz is designed to cater to newbies and veterans alike. Whether you're playing locally or online single or multiplayer, Backgammon Blitz can get pretty immersive.
The game is recreated in the image of the traditional Backgammon game, but this time, with the finesse of the aesthetically pleasing graphics and visuals on your console.
The rankings of players start from Pupil, all the way to Veteran. Clearly, you don't want to be stuck in the lower ranks for too long!
For folks who love playing with online friends, this game provides an in-game chat feature allowing you to communicate seamlessly with teammates.
Additional features include Blitz Mode, power-ups, tutorials for beginners, exclusive board design from Alexandra Llewellyn, and many more.
Ticket to Ride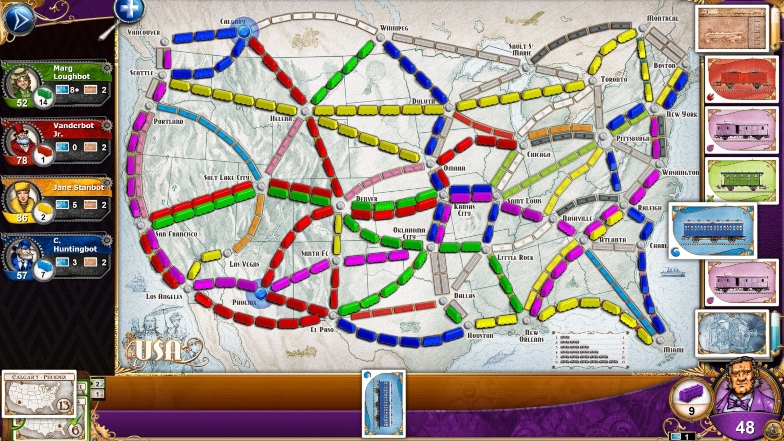 Genre: Turn-based strategy
Developers: Next Level Games, Days of Wonder
Release Date: November 14, 2018
Buy from: PlayStation
Multiplayer: Local multiplayer, Online multiplayer
Average Playtime: N/A
Ticket to Ride isn't the newest board game out there but still ranks among the best board games for PS5.
The game was originally released in 2008 but was available only on PC and Xbox Consoles. Luckily, the Next Level Games team joined Days of Wonder to bring the game to PlayStation consoles.
In 2018, Days of Wonder published the PS4 version, but it didn't take until after the 2020 pandemic for the sales to really start coming in.
You can choose to play solo, offline against the computer, or play online with your friends using the Playlink feature.
Many players have complained that the multiplayer feature is buggy, with occasional freezing which is something to note. However, you'll still find many players in the multiplayer lounges who are prepped and ready to play.
The game doesn't allow extensive customization, especially to the rules, which could be a problem for folks who love to play with a bit of flexibility to the rules.
Ticket to Ride isn't likely to blow your mind, but it's still one of the best board games on PS5 due to the relative dearth of options.
A key component of these board games is that they're turn-based, but board games are not the only options in that genre. We have a guide to the best turn-based games as well, so you can check that out next.