It's hard to keep track of these genres and subgenres sometimes! There's so much variety nowadays, and video games rarely even belong only to a single category anymore.
Take, for instance, the bullet hell subgenre. We already have an overarching genre called "shoot 'em ups", but that is further broken down into subgenres that better distinguish the approaches that developers take to their shoot 'em up games.
Bullet hell gameplay typically involves a staggering number of bullets or other similar projectiles coming at you really quickly (usually in an organized fashion). You have to dodge these seemingly endless waves of bullets and find your way around the environment shooting up enemies and killing bosses.
Shoot 'em ups can also be classified as a subgenre of action games, so having the bullet hell genre under them just enhances my point about the variety in video gaming nowadays.
Anyway, if you like the sound of that description, then you'll love the content of this review. These are seventeen of the best bullet hell games on PS5, so sit tight and enjoy the ride!
Gunborg: Dark Matters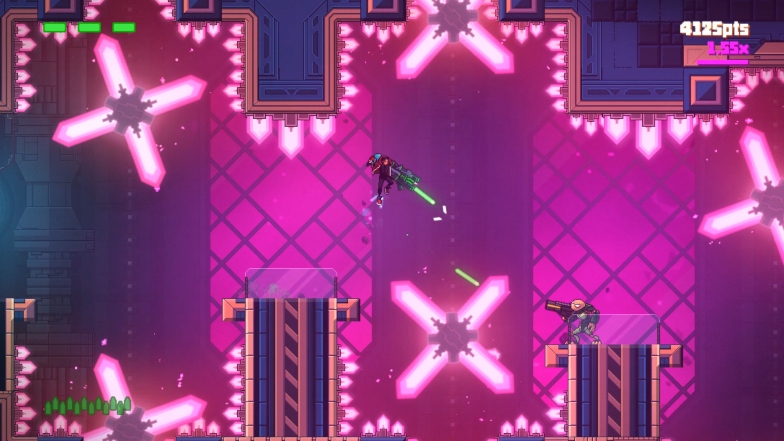 Genre: Platformer, Action, Shooter
Developers: Ricpau Studios
Release Date: December 4, 2021
Platforms: Xbox, PlayStation, Windows, Nintendo Switch
Multiplayer: No
Average Playtime: 2 hours, 30 minutes
Gunborg: Dark Matters is a platform shooting bullet hell game that was developed by Rickard Paulsson of Ricpau Studios (very original, Rick) and published by ORBMIT Productions in 2021.
If you're looking for the best bullet hell games on PS5, then you're most likely all up for frantic action, and Gunborg does not disappoint in that department.
The game features 2D run and gun gameplay, packaged in a story that's really inconsequential in the grand scheme of things. I'll give you a brief overview regardless.
Your character is a bounty hunter in space, and you have to make your way across a giant spaceship filled with alien soldiers and killer robots.
As I said, there's not much in the way of a story, but games like this are more about the gameplay anyway. In that aspect, Gunborg handles as smoothly as you like, and its 80s soundtrack provides the perfect backdrop for the chaos within.
As you must have seen from the sample picture, the visual direction for this one is a retro style which, in my opinion, suits a bullet hell game very well. The neon lighting in places also provides an extra dimension and mood switch that contributes to adding a bit of variety that ensures the game does not become monotonous too quickly.
Returnal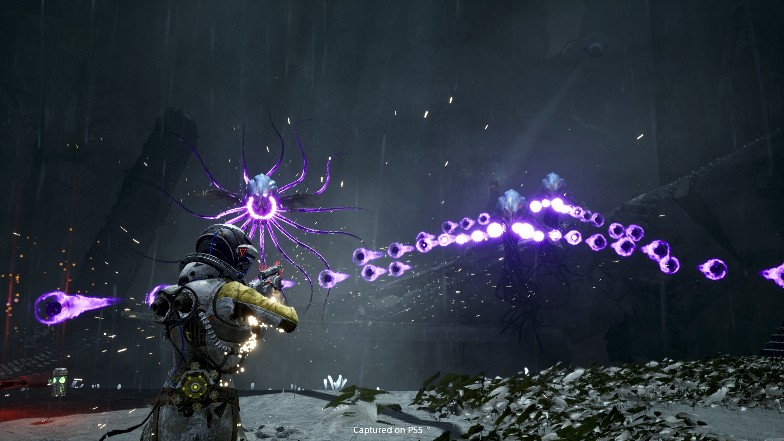 Genre: Roguelike, Shooter
Developers: Housemarque
Release Date: April 30, 2021
Platforms: PlayStation, Windows
Multiplayer: Online co-op
Average Playtime: 19 hours
Returnal qualifies to be in the same sub-genre as Gunborg: Dark Matters, but the approach of the developers to this one could not be any more different from the relative simplicity that Gunborg offers.
For starters, there is a more developed story here. Your character, Selene Vassos, is an astronaut that finds herself stranded on the planet Atropos where she searches for the "White Shadow" signal.
As the game progresses and unfolds to the end, the backstory of how Selene got to where she was becomes a lot clearer, but there are no spoilers here.
The twist that you do need to know is that Selene is stuck in a time loop that ensures that she relives each day endlessly, simply coming back to life at a previous checkpoint whenever she dies.
Visually, Returnal is quite stunning too. This was a PS5 exclusive title at launch, and it shows that brilliantly in the way the details are rendered and in the smoothness of gameplay.
The bullet hell mechanics are as colorful and sleek as they come, so much so that you may have to consciously try not to take a minute and just admire them.
The sci-fi setting suits the gameplay perfectly, and you will encounter a range of advanced high-tech weaponry that makes blasting your way through the planet super satisfying.
Returnal was developed by Housemarque and published by Sony Interactive Entertainment in 2021. Since launch, the game has received an Ascension update that introduced online co-op multiplayer, allowing you to enjoy the campaign with a fellow gamer and bullet hell lover.
Nier Automata
Genre: Action, RPG
Developers: PlatinumGames
Release Date: 2017
Platforms: PlayStation, Xbox, Nintendo Switch, Windows
Multiplayer: No
Average Playtime: 21 hours
Nier Automata is a perfect example of the point that I made about video games cutting across various categories nowadays. This game can lay rightful claim to genres and subgenres such as action, RPG, JRPG, bullet-hell, open-world, etc.
Even the visual execution is quite varied. At times, the camera is behind you from a third-person perspective. Other times, you're looking down at your character in a top-down bird's eye view, and there are also occasions where the camera pans to make the game look like a side-scrolling platformer.
These camera transitions are pretty smooth too, so they really add a unique feel and variety to the gameplay mechanics of Nier Automata.
However, the wide variety also means that the game is not always a bullet hell. There are specific points where the bullet-hell gameplay is prominent, but these occur in short bursts rather than as a mainstay throughout the story.
However, when they do occur, it is as frantic and exciting as any other bullet-hell game out there. The creativity behind the selection of weapons available to you and the enemy really shines through to make it a thoroughly enjoyable experience.
Like Returnal, Nier also has a well-developed story. This time, your character, in the beginning, is 2B, a combat android in the post-apocalyptic universe of Nier where human-made androids and machine armies are at war.
Later on, another playable character, A2, is introduced. This one is an obsolete attack android that also gets involved in the proxy war, supported by a couple of robots.
Platinum Games can be proud of Nier Automata. It may be getting on in age, but it remains one of the most unique gaming experiences on the PlayStation Store and is also a solid inclusion in the catalog of the renowned publisher, Square Enix.
Nier: Replicant ver 1.22
Genre: Action, RPG, Hack and slash
Developers: Cavia
Release Date: April 2021
Platforms: Xbox, PlayStation, Windows
Multiplayer: No
Average Playtime: 19 hours, 30 minutes
Technically, Nier Replicant was released years before Automata. The game was initially published by Square Enix for the PS3 in 2010.
However, it has since received a major upgrade – version 1.22. This version was developed with a collaborative effort from Cavia and Toylogic, and it was published by Square Enix in April 2021. Thus, it remains relevant for this review in terms of playability on the PS5.
Like Nier Automata, Replicant is not just about the bullet-hell gameplay, but the aspects of the game where the gameplay features just as much excitement as any other game in the category does.
The sections with bullet-hell elements are mostly flight sequences, and they're not the most difficult encounters – you can even hack down the bullets with your sword. After all, the game features a lot of hack-and-slash elements, so it's only "natural".
However, I actually think this is a point in Replicant's favor in the context of this review because it's a good place to familiarize yourself with bullet-hell gameplay if you just want to ease into it.
Do well here and you can go for more advanced and difficult bullet hell games.
Cotton Reboot!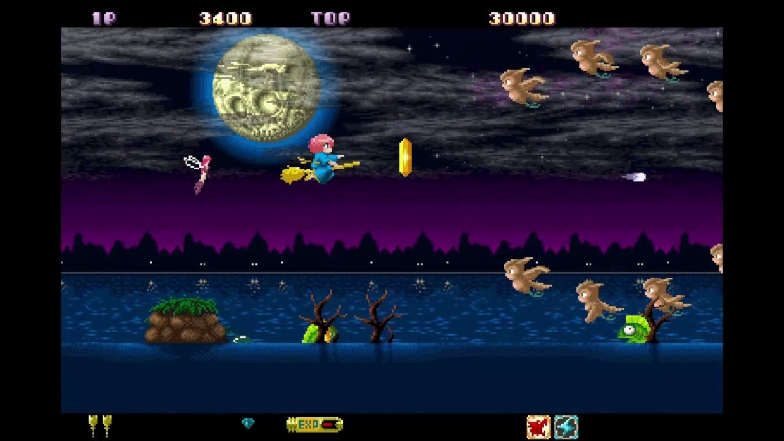 Genre: Shoot 'em up, Side scroller
Developers: Rocket-Engine Co., Ltd.
Release Date: February 25, 2021
Platforms: Nintendo Switch, Windows, PlayStation
Multiplayer: No
Average Playtime: 45 minutes
Cotton Reboot! is a remastered edition of Cotton – the ancient shooting game published in the early 90s. It was an important game because of its twist on the "shoot 'em up" genre.
Cotton was sometimes referred to as a "cute 'em up" instead because your character was a witch on a broomstick instead of the regular warships, battlefields, and advanced weaponry typically found in shoot 'em ups.
Yeah, I know, I think it's ridiculous too. But this is actually a pretty fun game.
Cotton Reboot!, the remaster was published a few months after the launch of the PlayStation 5.
As I said, your character is a witch riding on a broom, and her objective is to fight through magical haunted kingdoms. The remaster still employs a retro visual style in 2D, but it does look much better than the original.
Don't be fooled by the almost childish premise, this is one of the more difficult bullets hell games in this review. Enemies will fly into your screen from all angles, shooting bullets that can end you with one hit while you fly around and try to avoid these bullets.
You do have your own abilities too, although they are more magical than physical. Each time you defeat an enemy, they drop crystals that you can pick up and use for a range of special attacks.
The more you defeat enemies and progress through levels, the more advanced your attacks get, so much that you will end up creating your own bullet hell.
If you're looking for a PS5 bullet hell game that is a bit quirky but a lot of fun, Cotton Reboot! is a great choice any day.
Andro Dunos 2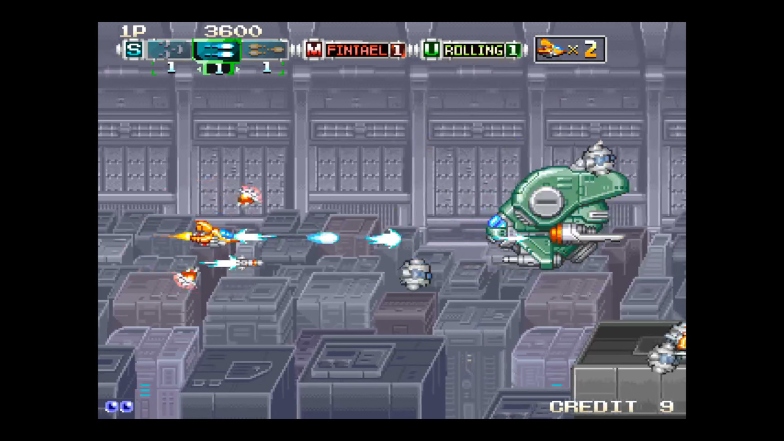 Genre:
Developers: PixelHeart, PICORINNE SOFT
Release Date: 2021
Platforms: Nintendo Switch, PlayStation, Xbox
Multiplayer: No
Average Playtime: 1 hour
Speaking of games based on originals from the 90s, Andro Dunos 2 is another one of those.
The first iteration of the game was published as far back as 1992, and this sequel only arrived three decades later.
Andro Dunos 2 was published by PixelHeart with some collaborative efforts involving VGNYsoft and Just For Games.
It is a horizontal-scrolling bullet hell in the same fashion as the original but is an overall tidier game in comparison.
While Andro Dunos was decent when it was released all those years ago, it never really felt remarkable or unique in any way. Andros Dunos 2 features a similar visual style to its predecessor, but you begin to see the differences when you properly get into it.
Apart from a handful of welcome changes to the way that the controls work, the overall gameplay has also seen some improvement to make the game more authentic, immersive, and engaging than it was in the past.
Andros Dunos 2 features three difficulty levels, so you can adjust this if things get too laid back or too frantic for you. Each stage throws rows of enemies at you and ends with a boss battle, each one more taxing than the last as you progress through the levels.
If you are a fan of the original Andros Dunos (I would recommend playing that first), then you'll love this one even more. However, even with no prior knowledge of the series, this is still one of the best bullet hell games on PS5 for lovers of the subgenre.
Cuphead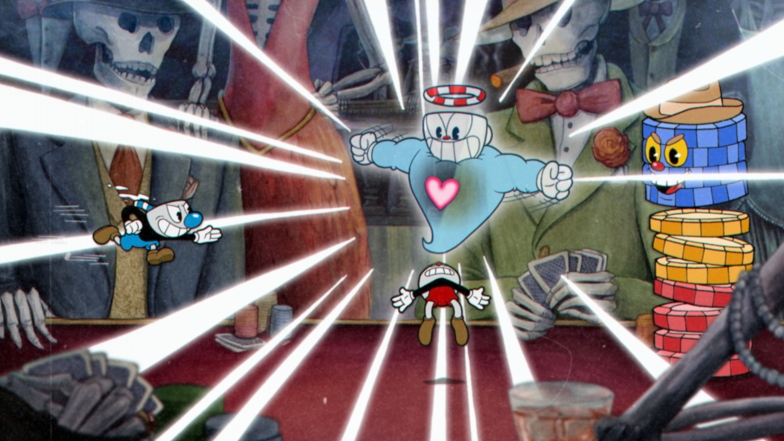 Genre: Run and gun, Action
Developers: Studio MDHR
Release Date: July 28, 2020
Platforms: PC, Xbox, Nintendo Switch, PlayStation
Multiplayer: Local co-op
Average Playtime: 10 hours, 30 minutes
Cuphead is a run-and-gun shooter that is hugely popular among fans of the bullet-hell subgenre, and for good reason too.
The main character is the titular Cuphead. Cuphead's adventure begins when a game with the Devil at the Devil's casino goes wrong, and the character is forced to do some dirty work for the Devil to repay the resulting debt.
This "dirty work" involves going after runaway debtors and repossessing their souls for the Devil. Basically, a part-time job as a Reaper of some sort.
This is a multiplayer game, so you and a friend can control two characters – Cuphead and his brother Mugman (what is up with these names?) as they go through levels together, fighting hordes of enemies and pesky bosses.
As you progress through these levels, your abilities increase in number and efficiency, but you can only equip a specific number of these abilities at any one given time.
Cuphead has a bit of a reputation as one of the more difficult bullet hell games on PS5, but the learning curve is an interesting one. There is a solid balance between the punishing nature of the game and the amount of fun that you're guaranteed when playing it.
Besides, a large number of people love soulslike games, so what's a bit of bullet hell terror in comparison?
Huntdown
Genre: Run and gun
Developers: Easy Trigger
Release Date: May 12, 2020
Platforms: PC, Android, iOS, PlayStation, Nintendo Switch, Xbox
Multiplayer: Local co-op
Average Playtime: 6 hours
Huntdown is another run-and-gun video game, this time from the indie studio Easy Trigger Games. The game was initially published by Coffee Stain Publishing in 2020, before getting ported to Android and iOS platforms in 2021.
Huntdown has received a lot of praise from critics for a number of reasons. The game feels like a throwback with its spectacular old-school visuals, and the way that these match the equally retro soundtrack and fascinating gameplay is something to admire.
Bullet hell games have a strong background in arcade gaming, so it can be hard to pull them off with enough of a modern touch to interest people that cannot relate to that period of video gaming.
However, Huntdown has managed (with only a small team, I should add) to port that arcade bullet-hell feel into a futuristic-feeling world that is reminiscent of cyberpunk games from a much more recent era.
As the player, you have three options when it comes to choosing your character. One is Anna Conda (hisssssssssss), a blade weapon specialist that used to be a military commander.
Second is John Sawyer, a part-cyborg part-human special ops policeman with a powerful pistol and a boomerang.
Third is Mow Man, the only non-human of the three. He's a quick shot and also has daggers that you can throw at enemies.
This is also a multiplayer game, so you can choose all three characters if you're playing with friends. If fast-paced co-op action is what you're looking for, Huntdown is one of the best bullet hell games on PS5 to offer just that.
Nex Machina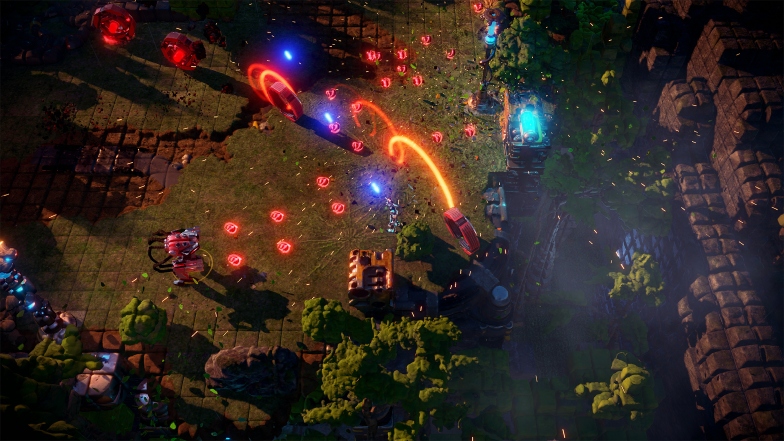 Genre: Shooter
Developers: Housemarque
Release Date: June 20, 2017
Platforms: Windows, PlayStation
Multiplayer: Local co-op
Average Playtime: 1 hour, 30 minutes
Another result of a collaboration between Housemarque and Sony Interactive Entertainment on this list of the best bullet hell games on PS5 is Nex Machina. The game was actually released for the PS4 and Windows-based PCs back in 2017 but runs with improved visuals and performance on the new-gen console.
If you've played the game on the PS4 Pro, then you may not notice the difference as easily, but the regular PS4 only ran the game at 900p resolution.
Nex Machina is a twin-stick bullet hell shooter that is played from a top-down perspective and comes with a multiplayer mode.
Like many other heavily bullet hell games, you have to move through levels shooting at waves of enemies while upgrading your weapons and using power-ups as you go.
Also like many other bullet hell games, there is more than enough chaos in Nex Machina to keep you entertained for as long as the game lasts.
Your objective is to protect humans from the mechanized and alien enemies that you're focusing your assaults on, and you'll be happy to know that things can get pretty bloody in the process.
There is no properly developed story here to speak of, but that's not a bad thing at all because it allows you to focus on the gameplay which is the best part of bullet hell games anyway.
If you're looking for a no-frills PS5 bullet hell game that does exactly what you expect from it with minimal distraction or a forced narrative, Nex Machina is one of the best options out there.
Mothergunship
Genre: First-person shooter
Developers: Grip Digital, Terrible Posture Games
Release Date: July 17, 2018
Platforms: Windows, PlayStation, Xbox
Multiplayer: Online co-op
Average Playtime: 4 hours, 30 minutes
Mothergunship is a brilliant merger of FPS mechanics with roguelike elements and bullet-hell gameplay.
Unlike Nier games where you have to wait to experience the bullet-hell bits, Mothergunship is not shy at all to throw you into the furious gameplay as soon as you hit play.
As is the fashion with many roguelike games, levels are randomly generated to ensure that each playthrough is unique. This not only gives you a relatively fresh experience each time, but it also ensures that there is a chance to discover something new each time. And, of course, the replay value.
Something else that makes Mothergunship unique in comparison to most of the games in this review is the fact that it has a gun crafting mechanism.
Sure, several bullet-hell games offer an exciting assortment of pre-made weapons to choose from, but here is something about combining mods together to create your own unique arsenal.
The story is centered on a space soldier in a power suit. The soldier fights alongside a crew of rebels led by The Colonel, and the objective of the group is to stop an alien invasion of earth. It's not crucial to the gameplay, but it's there nonetheless.
If you're looking for a unique take on bullet-hell gaming on your PS5, Mothergunship can give you what you're looking for. This is 3D bullet-hell at its very best!
Ikaruga
Genre: Shoot 'em up
Developers: Treasure
Release Date: June 29, 2018
Platforms: Windows, Xbox, Nintendo Switch, PlayStation
Multiplayer: Local co-op
Average Playtime: 1 hour, 30 minutes
Ikaruga's release timeline extended across several years before it finally arrived on the PlayStation in 2018.
The game was initially published as an arcade game in 2001 in Japan and has since been released on Dreamcast, GameCube, Xbox 360, and Windows PCs before PlayStation and Nintendo Switch owners could get a look in.
If you ask fans of the game, they will tell you that it was well worth the wait though because this game is quite popularly considered to be one of the best bullet hell games on PS5.
Starting off with the story, your character is a rebel pilot named Shinra. Shinra owns a fighter called the titular Ikaruga, and he uses this to battle an enemy nation.
In terms of gameplay, one thing that stands out in this game is the black-and-white switches. All the bullets and enemies in this game come in black or white, and your success with Ikaruga will depend heavily on how quickly you can differentiate between these in the middle of frantic attacks.
Why, you ask? Bullets that are the same color as your character have no negative impact on you, but others will kill you. It sounds straightforward enough, but try separating these two colors when the bullets are coming at you hard and fast.
Ikaruga also has one of the best soundtracks of any bullet-hell game out there, and it is one of the most original takes on the genre that you'll ever see.
Risk of Rain 2
Genre: Roguelike, Shooter
Developers: Hopoo Games
Release Date: August 11, 2020
Platforms: Windows, Xbox, Stadia, PlayStation, Nintendo Switch
Multiplayer: Online co-op
Average Playtime: 10 hours, 30 minutes
Here's another roguelike game with bullet-hell gameplay. Risk of Rain 2 is a roguelike third-person shooter from the stables of Hoppo Games.
The game was published by Gearbox Publishing as a sequel to 2013's Risk of Rain, which was generally well-received by critics and gamers.
The story is centered around a character stranded on an alien planet. We find out that this character is a survivor of some sort of crash, and now they have to find their way around the strange environment, fighting off monsters and looting items that help to develop weapons and defensive abilities.
The more you progress in Risk of Rain 2, the tougher it gets. Enemies become increasingly hard to kill, to the point where "bullet hell" starts to feel like an understatement as these enemies seem to soak up the bullets with ease.
However, if you're used to roguelikes, then you should be well-adjusted to a high level of frustration from the multiple deaths that your character is likely to suffer through before you finish one playthrough.
You can also play Risk of Rain 2 in online multiplayer mode with up to three other players, so you don't have to suffer alone at least. You know what they say: misery loves company.
Neon Abyss
Genre: Run and gun, Roguelike
Developers: Veewo Games
Release Date: July 14, 2020
Platforms: Windows, Nintendo Switch, Xbox, PlayStation
Multiplayer: No
Average Playtime: 11 hours, 30 minutes
If you're looking for the best bullet hell games on PS5 with a bit of extra depth to their story, then you should check out Neon Abyss.
This game was published by Team17, and it is yet another roguelike run-and-gun shooter with frantic bullet-hell gameplay.
Regarding the aforementioned story, the premise of Neon Abyss contains some Greek mythology. The story is centered around the gods of Olympus, the Titans, humans, and the New Gods.
Your character is one of the members of a group called the "Grim Squad". This squad was formed by a character that identifies as Hades, the Greek god of the Underworld.
You decide which one of the characters you want to represent, as each one has its own unique characteristics and skillset. There's a rogue, a swordsman, a hitman, and a man with mind powers.
When you make a choice, you and the rest of your squad have to descend a neon-lit abyss, moving through several procedurally generated levels in search of the New Gods.
As you progress, you will encounter waves of enemies trying to stop you, and you can fight them off with an assortment of guns and other unique weapons.
Neon Abyss is played from a side-scrolling perspective, and it looks really bright and colorful. The neon theme really makes the game shine despite its overall retro feel, making this one of the better-looking 2D bullet hell games out there.
Away from the visual credits though, this is genuinely one of the best bullet hell games on PS5.
Nuclear Throne
Genre: Shoot 'em up, Roguelike
Developers: Vlambeer
Release Date: December 5, 2015
Platforms: PC, PlayStation, Nintendo Switch, Xbox
Multiplayer: Local co-op
Average Playtime: 16 hours, 30 minutes
I'll admit, games such as Nuclear Throne and the next one on the list, Enter The Gungeon made me adjust the parameters for selection.
I was going to restrict my selection of games that were released at most three years before the PS5 launched just to keep things relatively fresh enough, but I couldn't leave this one out – it's that good.
Yes, it is another roguelike game, but it is also a fast-paced top-down shooter that has everything you want from a bullet hell experience.
It is pretty easy to learn the controls, but putting them to good enough use to survive is another matter entirely. But then, you're not expected to survive in a roguelike.
You start out controlling one of two characters, but as you progress, you'll unlock ten more to make a total of 12 characters. There are also 2 more characters that you can only unlock by completing special situations during play.
Like Neon Abyss, each character here has a unique ability, so the character you play with will affect your playstyle. I think this is also great for replay value because even if you complete the game with one character, there is the motivation to go again just to see how another character would've fared.
The levels are set up in a linear structure up till the point where you meet the final boss, the titular Nuclear Throne. By that point, your weapons should be upgraded enough to give you a fighting chance but if you die, the game resets. Brutal.
Enter the Gungeon
Genre: Roguelike, Shooter
Developers: Dodge Roll
Release Date: April 5, 2016
Platforms: PC, Xbox, Stadia, Nintendo Switch, PlayStation
Multiplayer: Local co-op
Average Playtime: 22 hours, 30 minutes
If you were to bring a bunch of bullet-hell game lovers together and ask them for recommendations, nine times out of ten, Enter the Gungeon would pop up.
Visually, this is a pixel-art game. It's not the most advanced approach to creating an aesthetically pleasing modern experience even for a 2016 game, but that's not what Enter the Gungeon is about.
What it is about is guaranteeing some of the best bullet hell sequences that you'll see in any game, years after release and in comparisons with much newer titles.
The game was developed by Dodge Roll and published by Devolver Digital of OlliOlli and Death's Door fame, and it provides more testimony to the fact that a good chunk of excellent gaming experiences is conceptualized within the doors of indie studios.
Enter the Gungeon can be played in single-player or multiplayer mode. It follows the adventure of four characters that descend into a firearms-themed Gungeon in search of a gun that can be used to kill their past.
The things I would do to lay my hands on a weapon like that.
Anyway, you also move through procedurally generated levels here, and all the other standard bullet hell stuff of fighting enemies and acquiring new weapons are in there too.
Enter the Gungeon's fast-paced action is best enjoyed in co-op mode, but the single-player mode offers enough entertainment too.
Your base weapons are good enough, but you will probably have to call on your "blanks" at times to negate bullets when they're coming at you too fast. Those are limited though, so use them wisely.
This game teaches you to use your resources wisely, and as far as bullet hell games go, it provides some of the most rewarding satisfaction from clearing levels.
Jamestown+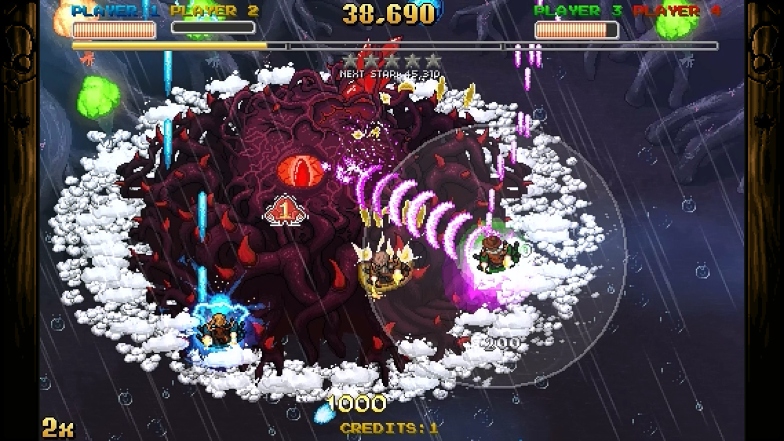 Genre: Action, Arcade, Shooter
Developers: Final Form Games
Release Date: March 17, 2015
Platforms: PC, PlayStation, Nintendo Switch
Multiplayer: Local co-op
Average Playtime: 2 hours, 30 minutes
Jamestown has been available on PCs since 2011, but it is one of those games that console gamers had to wait a while for.
The game was finally published by Final Form Games in 2015 for the PS4, and it has enjoyed a very good reception since then.
Jamestown+ is one of the games that does pretty well because it does not take itself too seriously. There's no real attempt to build a story or world with characters that have depth here – it's pure entertainment of the bullet-hell type.
The game is played in a vertical scrolling perspective, and it looks somewhat like those old arcade shooters with projectiles coming at you and enemies blocking your path.
However, Jamestown sets itself apart. First with the sheer amount of customization with your ship and weapons, and then with the fact that you can adjust the difficulty levels across five different levels, which is perfect for players that want a casual experience.
The easiest level is called "Normal", (probably so you don't feel like too much of a noob selecting it) and the toughest level is called "Divine". To be fair, if you can finish the game in a single playthrough at that level, you're a divine player.
If you do start off with Normal difficulty, there will be certain aspects of the game that you will not have access to. This means that you can enjoy the casual gameplay at the easiest level, but you can only complete Jamestown+ by playing at one of the higher difficulty levels.
Furi
Genre: Action, shoot 'em up, Hack and slash
Developers: The Game Bakers
Release Date: May 2022
Platforms: PlayStation, Xbox, Windows, Nintendo Switch
Multiplayer: No
Average Playtime: 5 hours, 30 minutes
If you're looking for a bullet hell game that straight-up pits you against bosses, then Furi is the one for you. The game was initially published on the PS4 by The Game Bakers in 2016, and it has a pretty decent cult following from lovers of the genre.
Expectedly, there were many happy campers among that cult when a native PS5 upgrade was published in 2022.
Furi does not try to hold your hand at any point during the experience. Your HP bar does not grow, and your weapons do not improve, so you must.
The bullet hell bits are actually sections of the gameplay rather than the overall thing, but they're as frantic as it gets. You can hack and slash your way through the early stages of each fight, but they'll usually end with intense bullet-hell sections.
Your character is called The Stranger (and later on, Rider), and he has to fight a host of bosses to escape a prison made up of floating islands.
Each island has a guardian which is the boss you have to face, and the choices that you make during the game directly affect the ending that you get. There are three possible endings.
With some practice, you can complete Furi at the normal difficulty (called Furi difficulty), but if you want to take things up a notch, try the Furier difficulty level.
Furi is one of the best bullet hell games on PS5, despite its age, and the fact that it is also a boss rush game with other types of combat just gives the game that extra bit of uniqueness.