Sandbox games are for people who love freedom and adventure in worlds that welcome player exploration.
While the sandbox genre includes open-world types of games, the category is wider than just the simple definition of exploring an open environment across vast maps. A key difference between sandbox games and regular open-world games is the level of control that the player's actions have over the environment in the former.
Well-developed sandbox games can offer some of the greatest surprises to reward your curiosity. These games can come in different forms — from sci-fi planetary exploration like No Man's Sky to a sprawling epic like GTA V.
In this guide, I present the results of my research into the best sandbox games for PS5 in no particular rank.
Minecraft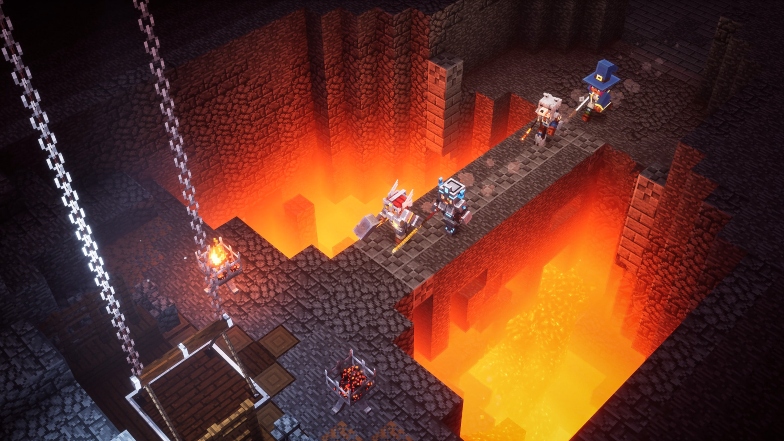 Since its original release in 2011, Minecraft has remained one of the best-selling video games, with almost 140 million users and over 235 million copies sold as of 2021.
This 3D sandbox game doesn't require you to accomplish any goals — you're free to choose how you want to play. However, the PS port has an achievement system (trophies).
As of 2022, Minecraft does not have a PS5 version. Wondering why this nostalgic game is on this list of the best PS5 sandbox games then?
PS5 features backward compatibility, allowing you to enjoy PS4 games on the console, though you might miss some PS4 features. With backward compatibility, Minecraft on the PS5 features 1080p resolution at 60 frames per second with no HDR support.
Minecraft redefined gaming in several ways by offering unique scenarios to play through, forcing your creative juices to flow while you attempt to conquer everything. You'll explore vast landscapes in a world that's constantly evolving with new improvements to the overall gaming experience.
You can also set up regular local matches on the Multiplayer servers with minigames. The survival mode requires you to survive each day's challenges using your wits. It's certainly nice to know that this game performs excellently on the PS5 console platform, otherwise there would be a lot of unhappy customers.
The game has always been the ideal canvas for letting you engage with your artistic side — it's instantly accessible but brilliantly enabled for advanced experimentation. That's what makes Minecraft a timeless classic.
GTA V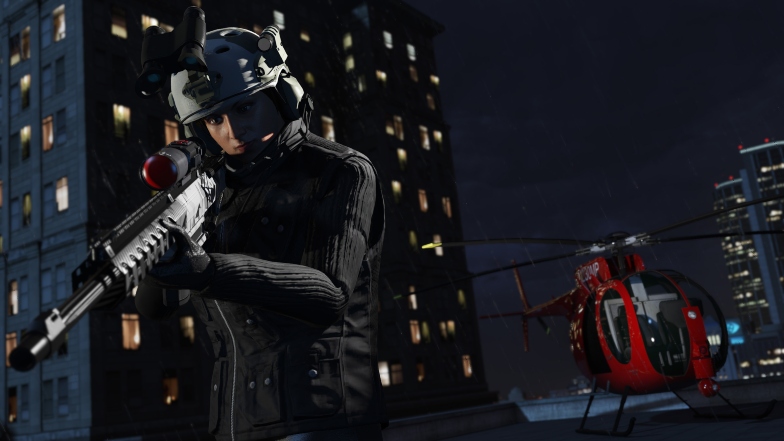 This action-adventure game is the fifteenth installment of the GTA series. The game is set in San Andreas, a fictional state in Southern California. 
The story is about three protagonists who attempt to undertake heists while being pressured by powerful criminals and a corrupt government organization. The open-world design allows you to freely roam Los Santos' fictional city and the open countryside.
While you're standing in traffic, NPCs will honk their horn, stop, and yell at you. Some might curse at you while attempting to steer around, while others looking to beat the rush will drive through you.
There are significant differences when playing GTA on PS5 compared to the PS4 version — great improvement in the image quality, about 4k resolution, and high performance up to 60 FPS. You'll get the chance to choose between raw image quality and refresh rate.
The graphics configurations deliver dazzling visuals and smooth performance. You'll enjoy an improved flow in the gameplay with super-fast loading times — down to six seconds — but Rockstar has done nothing to modernize their overreliance on stodgy acceleration and animations.
The improvements to frame rate and image quality rejuvenate this sunny sandbox's life, reliving several memorable missions for old players. While the learning curve may be steep for new players, nothing compares to the crime caper that GTA V offers after overcoming its idiosyncrasies.
Cities: Skylines Remastered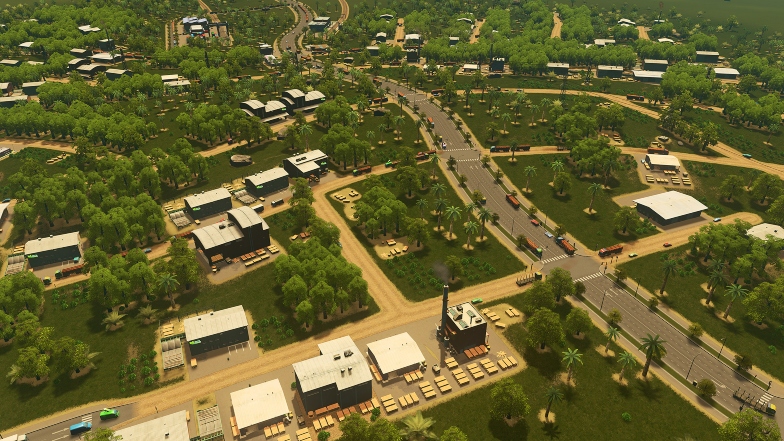 Cities: Skylines is among the best city-building games for PS5 on the market. It was originally published on PS4 by Paradox Interactive in 2017, but you can enjoy the newer PS5 version of this impressively-detailed simulation for extra features. 
That's why I had to include Cities: Skylines on this list of the best PS5 sandbox games. This single-player open-world simulation requires you to supervise urban planning activities by controlling zoning, taxation, public transportation, public services, and road placement of an area.
You'll also manage different elements in the city, including employment, pollution levels, health, and budget. Maintaining a city in the sandbox mode provides freedom for more creativity.
You'll begin with a small piece of land (one plot) using a given amount of money (unfortunately, it's only in-game). Then, you can proceed to include roads and industrial, commercial, and residential zones and basic amenities like sewage, water, and power, to encourage others to move in.
The accessible gameplay, in-depth details, and simple controls all ensure that this urban planning game is a challenging yet fun experience. Personally, I think the feeling of ironing out problems and running a fine-tuned city is pretty fun.
No Man's Sky
The PS4 version of this game that launched in 2016 did not exactly light up the gaming world, but countless additions and improvements over the course of four years after that have made it worth the while.
Hello Games published the PlayStation 5 version of No Man's Sky in 2020, hitting home with another substantial update.
The core experience still feels the same as you're still upgrading equipment, mining resources, and traveling across different star systems to survive procedurally generated planets. However, the developers added awesome improvements — freighter ships, character customization, mech suits, ground-based vehicles, optional missions, multiplayer, base building, and more varied fauna and flora.
Like in Minecraft, the result you get in this game is equivalent to your input. The regular mode is a slow burn — gradually upgrade your multitool, ship, and suit. It offers immersive survival gameplay as you spend most of your time mining colorful crystals, crafting better stuff, and scanning planets.
In the alternative mode, you can either eliminate the challenge or up it. The permadeath mode is tougher as your save is erased if you die. The creative mode gives you countless resources to do whatever you want — faff about with friends, travel across the galaxy or build crazy structures. 
No Man's Sky looks better on PS5, with more detailed colors and environments in 4K HDR. You'll also enjoy high-speed performance (up to 60 FPS) and reduced load times, offering both newcomers and existing players a stellar overall experience. 
Crusader Kings 3
I bet you could lose days or even weeks to Crusader Kings III once you really dig your fingers into the ridiculously in-depth strategy system. This kind of game is not the most popular, but Paradox Interactive has done an excellent job of making it playable and fun on the PS5.
While some of the menus might be hard to navigate, Crusader Kings III is a well-designed game. In it, you'll establish, rule over, and expand your kingdom.
Crusader Kings III is set on a large map divided into several Middle Ages countries, each with its religious beliefs, dreams of conquest, and laws. This impressive creation is capable of presenting storytelling opportunities worth centuries in-game.
You'll dabble in lots of menus and if you aren't ready to sit for up to an hour to watch the tutorial and learn how it works, you'll be lost playing the game. Crusader Kings III is complex and deep yet accessible, and bringing it to consoles made it the fastest-loading and most beginner-friendly version of the series yet. 
Without denying its roots, Crusader Kings III easily sublimates the franchise, so it had to be on this list of the best sandbox games for PS5.
Red Dead Redemption 2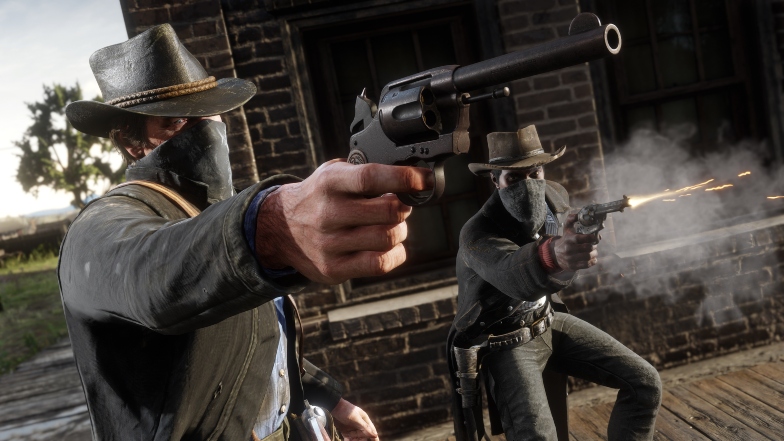 If you need an enthralling action-adventure game, you can't go wrong with Red Dead Redemption 2. It feels like six seasons' worth of the finest adult-oriented TV you can imagine packed into one game, with award-winning performances and emotional writing.
The story is about the adventures of Arthur Morgan, a member of an outlaw gang (van der Linde). Arthur must handle the decline in the Wild West while attempting to withstand pressure from rival gangs, the government, and other adversaries.
Although Red Dead Redemption II might not measure up to GTA V in terms of sandbox tools, it makes up for that with its breathing and living ecosystem. Besides the pedestrians, the numerous animals roaming the dusty plains are also believable.
From eagles swooping down to capture fish from the lakes, to cows sleeping at night, dogs shaking off rainwater from their furs, carrion meticulously tearing apart corpses, and bucks fighting to the death, this game allows you to be completely real with nature. You can shoot and skin anything that moves for money.
This is one of the most interactive stories you can find on Sony's consoles. No other open-world games on the PS4 are as immersive as Red Dead Redemption 2, and that's some high praise considering the existence of the likes of Assassin's Creed Odyssey and The Witcher III: Wild Hunt.
Subnautica: Below Zero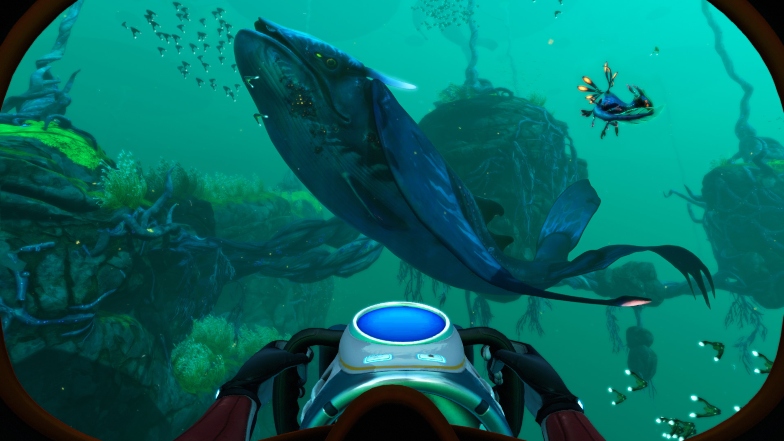 If you love the underwater vibe, Subnautica: Below Zero is the ideal sandbox game for you. Published by Unknown Worlds Entertainment as a sequel to Subnautica, this game plunges you into a frozen alien planet as you investigate the cause of your sister's mysterious death. 
Your goal is to scavenge for supplies and dodge the denizens of this planet. You'll find several abandoned research stations scattered throughout the environment and you need to figure out what's happening while surviving with limited resources.
The game is set in uncharted biomes full of basins, caverns, and several other aquatic environments. One of the main survival twists in the sequel is mentioned in its title — the freezing temperatures.
Almost all your actions throughout this over-35-hour adventure play a role in your overall objective of surviving longer in hazardous and deep waters. Manage your vitals by drinking filtered water, cooking seafood, and breathing oxygen.
The game targets up to 60 FPS by default on the PlayStation 5, though it occasionally falls below that. It's easy to get lost as there are no landmarks, and the story isn't too interesting — but if building a base underwater appeals to you, Subnautica: Below Zero undoubtedly has solid foundations!
Riders Republic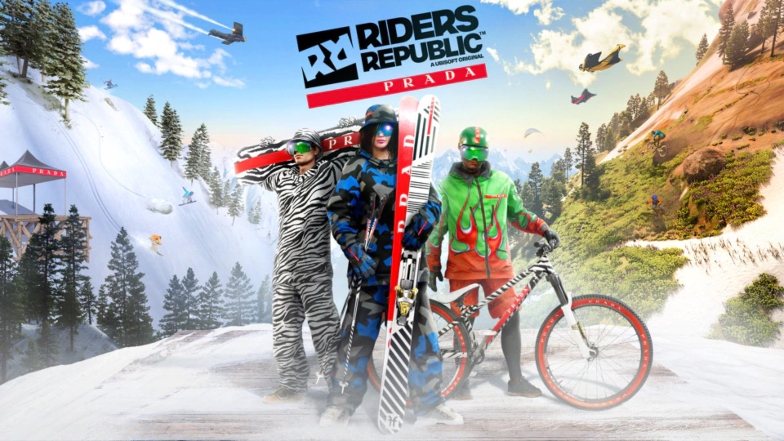 Here's an extreme sports game set in a sandbox environment. Rider's Republic was released by Ubisoft and features four sports: snowboarding, skiing, wingsuit flying, and biking. You can compete concurrently against other players in all these four sports. 
Riders Republic is a racing game that doesn't require motorbikes or cars. You'll find yourself in an open world based on a hotchpotch of American national parks where you're allowed to do what you love — any of the sports available.
Riders Republic features a 'tricks battle arena,' where you need to perform as many tricks as you can to achieve maximum points. Unlock new equipment and events as you progress, with Ubisoft adding fresh content over time, such as contemporary design.
The PlayStation 5 version allows up to 64 players to compete at once, switching between different vehicles while on the move: bicycles to rocket suits to snowboards to bicycles again. The collision between players can be annoying, but the sheer view of so many competitors on the starting grid simultaneously is quite impressive.
This extreme sports game offers excellent social hooks, lots of variety, and thrilling challenges to chase. Even if all the objectives and goals in Riders Republic are absent, you'd still enjoy the pleasurable drive around which you can do in the Zen mode.
Saints Row III: Remastered
Saints Row III: Remastered brings a classic touch to the original game, remodeling it for new-gen consoles with a facelift and key performance improvements.
The PS5 version published by TBH features improved framerates, reduced load times, and 4k resolution, offering you the best way to enjoy the fictional world of Steelport. 
The game keeps its essence intact with visual and graphic touches to stay in touch with the times. There are several islands with hundreds of side quests and mini-games, rival gang members waiting at every corner, and several vehicles available.
Saints Row III: Remastered tasks you with leading a gang – the Third Street Saints – to explore an unrestricted area and outsmart its rival gangs. Matters are further complicated when the government summons the STAG (Special Tactical Anti-Gang) unit to suppress both organizations.
The Saints Row series features similar gameplay to Grand Theft Auto. If you're looking to zone out for a couple of hours and abandon your brain cells, try Saints Row III: Remastered.
Saints Row III: Remastered is utterly preoccupied with ensuring you have fun in seemingly countless ways. And that's awesome as long as you don't think too much about what you're doing.
Watch Dogs: Legion Bloodline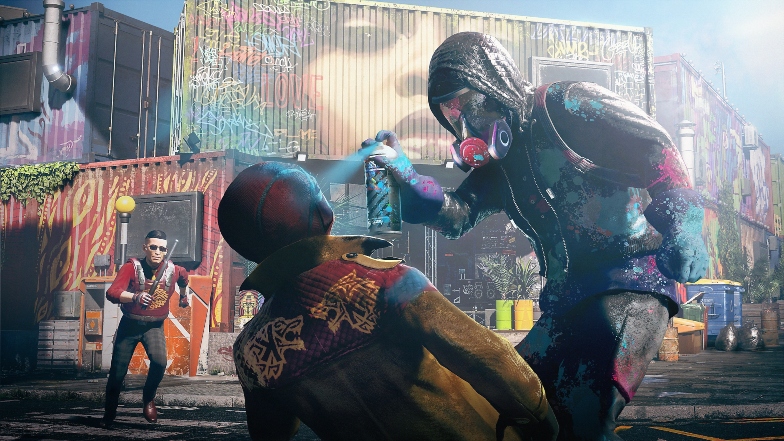 Watch Dogs: Legion didn't live up to the expectations of sandbox fans after its PS5 debut. But Ubisoft went to work and came back with Bloodline, sporting meaningful improvements such as a responsive 60 FPS and a better storyline. 
Bloodline connects Legion with WatchDog I and WatchDog II, bringing back Wrench and Aiden Pearce as playable characters, though they're now in London. 
Both characters add new fun to the existing game. Watch Dogs: Legion Bloodline has a unique path of upgrades and side-missions, fleshing out a comprehensive package that keeps you in London for about ten hours.
The gameplay is similar to that of other entries in the series, but missions are approachable in diverse ways, with combat and stealth augmented by your hack abilities.
Wrench and Aiden are more distinctive operatives with unique skills, making them more fun. For instance, Wrench possesses a firearm that triggers hacks in any nearby surroundings. Both also possess active reload, so you can use overpowered weapons for a while by timing a button correctly.
Bringing together these two fan-favorite characters feels nostalgic and genius, with their personalities poles apart, they still manage to get along with each other.
Maneater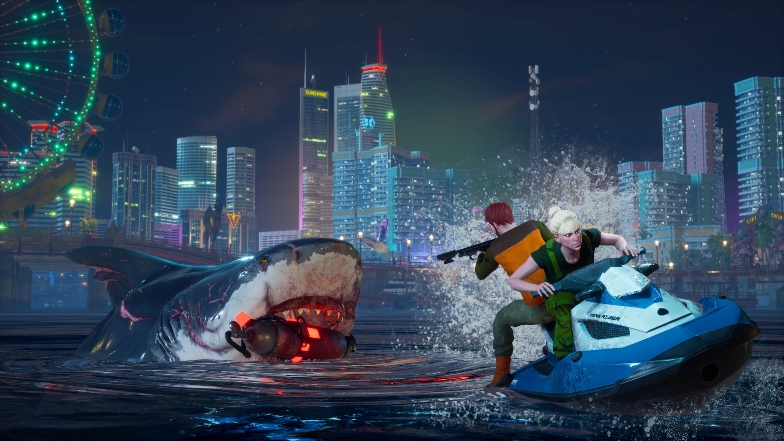 If you need a game with some real teeth, the fierce Maneater is the ideal title for you. This open-world "SharkPG" puts you in a large ocean to start as a young player hunting for your mother's killer.
As you progress in this game, you'll grow stronger and larger, gradually becoming the apex predator by eating other fishes, aquatic reptiles and mammals, predators, and humans. 
You'll have numerous basic attacks — silo out of the water, whip enemies with your tail, and charge at enemies. You can also use elements around you for combat advantages like using swordfishes as spears. 
You can get customization options and advanced upgrades, such as electromagnetic spikes, external bone plates, and shadow armor to further enhance your combat abilities. Complete side objectives and discover hidden landmarks. Each region has large predators that can also kill the shark. Defeat the predators to earn more special skills.
It's a reactive world — the more havoc you create, the more human bounty hunters are dispatched to hunt you down. If you manage to kill all ten lead hunters, you'll get additional rewards. Keep eating, exploring, and evolving! 
A huge part of the appeal of sandbox games is the freedom of exploration and actions that you have. On that note, you'll also find many games that offer you a similar level of freedom among the best open-world games, so check that guide out as well.