The best golf games can be a lot of fun for golf enthusiasts and casuals alike. They can be solid options for passing time alone, or for competitive gaming among friends.
Similar to other game genres, there are different approaches from developers of golf games. Some developers build a game that tries to simulate reality, while others focus on the entertainment factor.
This short guide discusses four of the best golf games on PS5, including one title in particular that stands out from the rest.
Everybody's Golf
Genre: Sports
Developers: Clap Hanz
PlayStation Release Date: August 2017
Buy from: PlayStation, Amazon
Multiplayer: Local multiplayer
Average Playtime (Main Story/Objectives): 15 hours, 30 minutes
Everybody's Golf is a nice arcade-inspired golf game that offers a challenging-enough experience to provide a nice balance between fun and competition.
I say this because, while the game is not on par with the level of simulation offered by a bigger title such as PGA Tour, it is also realistic enough to be rated ahead of outlandish alternatives such as Mario Golf on that scale.
Everybody's Golf is part of the Hot Shots Golf series that has been published by Sony Entertainment for the PlayStation since 1997, and the 2017 version being reviewed in this guide is the seventh installment of the series.
Similar to previous versions, this version of Everybody's Golf features a selection of cartoonish characters with unique physical appearances and personalities.
In addition to these preset characters, you can add four more unique characters of your own creation if you'd rather do that.
There are six courses offered from the start here, and each course has four tees that you can play from. If you purchase DLC courses for an additional fee, you can take that number up to 11.
More often than not, the gameplay is fast-paced, so expect to complete each round in about ten minutes.
In terms of the available game modes, the most enjoyable options are the online multiplayer and career modes.
The former gives you a chance to compete with friends online, while the latter gives you the opportunity to build a golfing career from scratch for the character that you have created.
Everybody's Golf does not have a dedicated PS5 upgrade, but there is a significant improvement in how the game runs on the PS4 compared to the new-gen console.
On the PS4, the game runs at 1080p resolution and 30fps, while the PS5 offers 2160p resolution and locked 30fps which, to be fair, is the same as the PS4 Pro.
Regardless of the fact that there are no recent updates for this particular version of the popular golfing series, it is still one of the best golf games on PS5.
Golf With Your Friends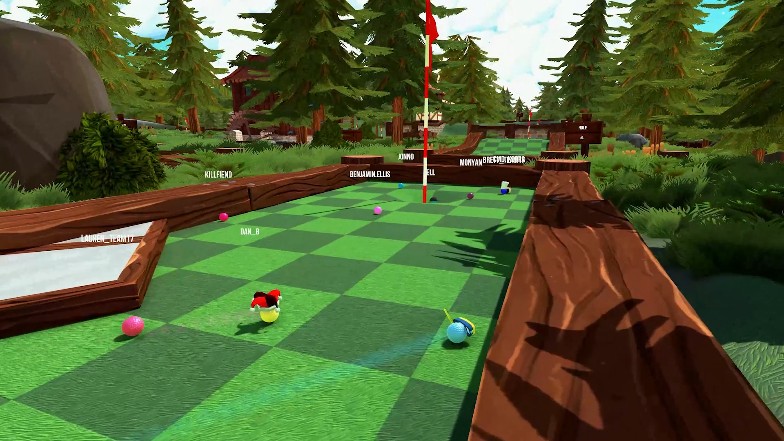 Genre: Casual, Sports
Developers: Blacklight Interactive
PlayStation Release Date: May 19, 2020
Buy from: PlayStation
Multiplayer: Local/Online multiplayer
Average Playtime (Main Story/Objectives): 5 hours, 30 minutes
It's all in the name, really. If you're looking for a nice golf game for PS5 that you can enjoy with a group of friends, locally or online, Golf With Your Friends is one of the best options that you have.
The game was developed by the Australian company, Blacklight Interactive and published by the same in mid-2020, a full four years after it was first made available through early access on Steam.
Golf With Your Friends allows you to play against 11 other golfers across 13 levels. Each level contains 18 holes, which brings the total number of holes up to 234. It's a pretty decent number for long stretches of golfing sessions, to put it mildly.
Considering the fact that this is a newer release than Everybody's Golf, Golf With Your Friends has a few advantages.
Firstly, the visuals – while still not the best – are more polished and sharper. Also, you have to consider the fact that there is a higher risk of getting the servers shut down on Everybody's Golf, which would remove the option to play online.
When it comes to gameplay mechanics, this game gives you a variety of ways to control the movement of the ball.
After setting up the direction that you want the ball to go in, you can also control the amount of power generated to propel it forward, and then add some spin to it as you're about to hit the ball.
The courses can be pretty unforgiving, so you should prepare for heartbreaks, such as when the ball lands in water or a slight miscalculation leads to an exaggerated failure with your ball ending up miles off the target.
One of the main issues with Golf With Your Friends on the PS4 was the loading times. The issue is not completely gone, but it is noticeably better on the PS5, which is a good reason to grab the game now even if you weren't convinced when it first launched.
As far as the "party game experience" goes, Golf With Your Friends is one of the best golf games on PS5.
Golf Club: Wasteland
Genre: Sports
Developers: Demagog Studio
PlayStation Release Date: September 3, 2021
Buy from: PlayStation
Multiplayer: No
Average Playtime (Main Story/Objectives): 2 hours
If the golfing experience in Golf Club: Wasteland won't make you stick around, then the premise of the game might.
The game was published by Untold Tales in 2018. At the time, it was only a mobile game available on Android and iOS devices.
Due to the success of Golf Club: Wasteland on these platforms, the parties involved in creating the game decided to launch it across Windows PCs and eighth-generation consoles in 2021.
In reference to the "story" that I mentioned, it is not often that you see a sports game try to be more by adding elements of adventure in the way that Demagog Studio has here.
There is a plot, and it follows golfers that have come from Tesla City on Mars, where humans now reside in the futuristic setting of the game, back to a desolate, post-apocalyptic planet Earth.
Presumably, the ruins of the planet we once called home have been turned into a golf course, and the course is special enough to warrant interplanetary travel.
For some reason, the events that wiped out a large portion of the human race did not affect the extremely wealthy, and that explains, to some extent, how these golfers are able to travel across planets so casually.
It's a laudable attempt to do things differently and as you know, I'm a big fan of innovation.
It's not just the story that stands out too. The art style and sound selection in Golf Club: Wasteland also combine pretty well for a unique experience that easily makes this one of the best golf games on PS5.
PGA Tour 2K23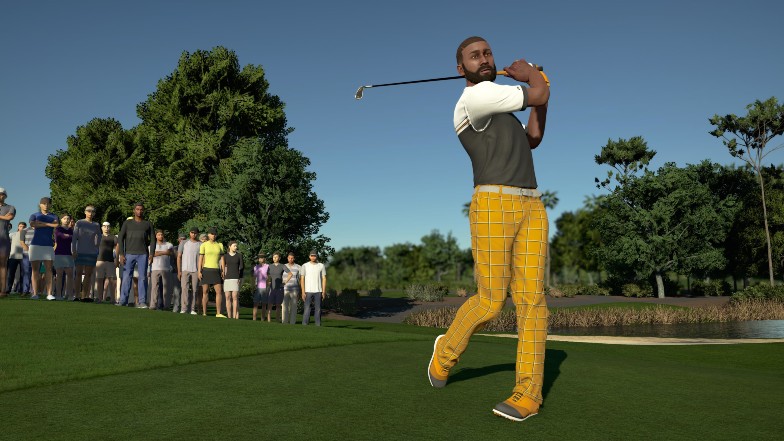 Genre: Sports
Developers: HB Studios
PlayStation Release Date: October 14, 2022
Buy from: PlayStation, Amazon
Multiplayer: Local/Online co-op & multiplayer
Average Playtime (Main Story/Objectives): 16 hours
The PGA Tour 2K series (formerly known as The Golf Club) is the flagship series for golf games on the PlayStation.
The first version of The Golf Club was launched in 2014, and the series has really grown and improved since then to the point where it's miles ahead of the competition as an overall package.
For instance, the length of the journey in Career mode is unrivaled. The game contains 20 real courses, so there is plenty of golf action here.
You can even customize your own course with a brilliant course designer that's included in the game – it's pretty neat.
From time, one of the best parts of The Golf Club series has been the gameplay, and the game's developers have remained consistent in that aspect over the years. It's pretty easy to grasp even without prior experience playing golf.
In terms of graphics on the PS5, PGA Tour 2K23 runs at 1620p resolution with a locked framerate of 60fps. This is a step up compared to the 1620p resolution with 30 fps offered by the PS4 Pro, and 1080p with 30fps available on the regular PS4.
As an overall package, there are certain aspects that can be improved upon in PGA Tour 2K23. I mean, it is a pretty solid golf game, but it would be nice to have more licensed golfers and perhaps more impressive graphics.
However, I think this is a case of being too comfortable at the top, not too dissimilar from what 2K Games is enjoying with the WWE 2K titles. Maybe if more developers worked hard to overthrow 2K Sports, we'd see the improvements that we want.
Final Words
To be honest, I'm not a huge fan of golf games, although I enjoy watching the sport in my spare time. There just aren't enough great options.
I do think that it deserves more attention in the gaming industry. But, if these options are not enough, I recommend checking out other sports games as well.