In the past, consoles barely featured in conversations about city-building simulation games. The genre has been somewhat married to PCs because running a city-building game is complex – it requires precise clicks and complex controls, which weren't always the most compatible with a controller.
However, Sony's most recent console provides gamers with absolute pleasure when playing city-building games, and that experience is further enhanced on the PS5.
On the PS4, city-building games hardly reached 60fps. On the PS5, most of these games comfortably reached 60fps and thus run smoother.
The PlayStation Store is home to a long list of city-building games. Luckily, this guide provides you with a concise list of the seven best city-building games for PS5. Each of these games should keep you glued to your screen for hours, so let's get into it!
Cities: Skylines Remastered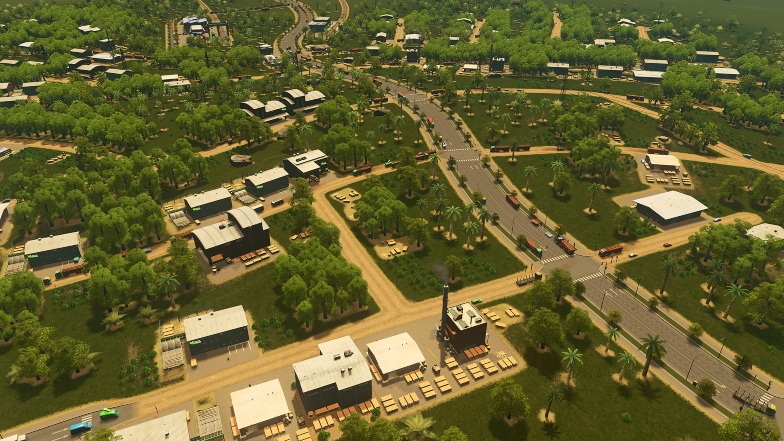 Cities: Skylines was originally released in 2020, but the remastered edition for PS5 was released in 2023. It is one of the most popular sandbox games and city builders in the world.
One of the major problems city-building games had on consoles was their control schemes – Players found it very hard to cope with complex controls by using just a controller compared to keys on the PC. 
Luckily, the developers at Colossal Order did a pretty good job at designing a flexible control scheme that's simple to operate while still performing seamlessly.
Players have the liberty to choose between a variety of cities to build. If you're urban folk, you can choose to build a city bustling with people. No matter which type of city you decide to build, you're in charge of building and maintaining the entire space.
Managing buildings is pretty easy. All you have to do is select a particular building with your controller and decide whether you want it to be a commercial, industrial, or residential building.
On the bottom side of your screen, you get a complete overview of your city. Everything from police stations, houses, and dumpster tips can all be accessed from your toolbar. You're also in charge of managing your city's finances – if your city were to run bankrupt, it'd be totally your fault.
Speaking of the graphics, the only notable improvement from the PS4 version was the ability to consistently hit 60fps. Overall, Cities: Skylines is a fun but challenging sim game with simple controls and exciting gameplay.
Frostpunk
Frostpunk like Cities: Skylines was released for Microsoft Windows in 2018 by 11 bit studios, before coming to consoles a year later.
Frostpunk is unlike most games on our list. The game combines survival, city-building, and captivating storylines to deliver one of the most exciting city-building experiences on the PS5. While many fans of city-building games usually prefer playing on PC for various reasons, Frostpunk is good enough on the PS5 to change your mind.
The controls here aren't the simplest to learn, but with a little bit of practice, you'll get the hang of it.
There's a lot to discover when playing Frostpunk, but as you progress throughout the game, the intuitive game design gradually points you in the right direction.
The story begins in the late 1800s – a time when humanity was completely devastated by climate change, leaving only a few survivors to scour the Earth seeking out the few resources left as they attempt to rebuild the Earth.
Because the Earth is almost completely devoid of life, you're appointed as the leader of a small community of people, helping them scour for supplies or any work needed to help keep the community members alive.
At first glance, Frostpunk may seem like a walk in the park but gradually, you run out of supplies, people fall sick, and some of them may die because of working out in the cold. To prevent your workforce from dying, you have to manage your resources optimally.
If you're a fan of strategic survival games coupled with a hint of city-building, Frostpunk is the game for you.
Surviving Mars
Another excellent survival city-building game for the PS5 is Surviving Mars.
The game was originally released for the PS4 console, but due to backward compatibility, it is available to play on Sony's latest PS5 console.
Surviving Mars was published by Paradox Interactive. Because the game is running on PS4 backward compatibility mode, an increased resolution to 60fps is not currently possible even on the PS5 – however, the gameplay is still very good.
Unlike most of the games on this list, Surviving Mars doesn't kick off with a traditional storyline to guide you throughout the game – rather, the game periodically presents you with intuitive text-based hints to get you through each stage, leaving you to figure out your next move.
Each player gets the chance to head their colony in space – Mars specifically. Even though you're the head of your own colony, the game doesn't have a central plot. Your main purpose is to ensure the survival of your Martian colony by laying the base for a habitable environment.
Once you start the game, you have access to several building options to set up your habitation, but certain options are locked until your colony grows to a certain level – so you'll need to get a couple of buddies settled in to progress. You'll need oxygen, power, and water to expand your colony.
In a way, this game is similar to Frostpunk in the sense that it introduces the element of survival, and the fact that it is set on a foreign planet adds that bit of extra flair.
Tropico 6: Next Gen Edition
The Tropico titles have been around for quite a while, but the latest release on the PS5 featured a number of improvements from the previous releases on the PS4. The game was originally released in 2019, but the next-gen edition did not arrive until 2022.
Tropico 6: Next Edition focused mainly on a political storyline. Trust me, if you'd like to dabble a little in politics, this game is an excellent way to rule your mini virtual country.
For players who are unfamiliar with the Tropico series, the game usually places players in the role of a dictator on a little island. However, even though the Tropico series is meant to be a Dictator-style game, you choose whether you want to be an evil leader or a relatively good one.
As a player, you're not just building homes, bridges, or constructing tunnels like most city-building games. Rather, you're in charge of managing multiple islands at the same time while tackling new challenges.
You can build tourist centers to attract visitors, aerial cable cars, provide transport utility for your citizens and also make limitless promises to your citizens that you can't possibly keep.
A major update in the Tropico 6: Next-Gen Edition release is the inclusion of two bonus DLC packs – The Llama of Wall Street and the El Prez DLC pack with additional missions, buildings, and several interior decor options for your Dictator Palace.
The PS5 release also features some gameplay enhancements such as 4K resolution with no performance loss, and a rebranded research system that gives you some political hints on how to become the world's greatest dictator.
The Colonists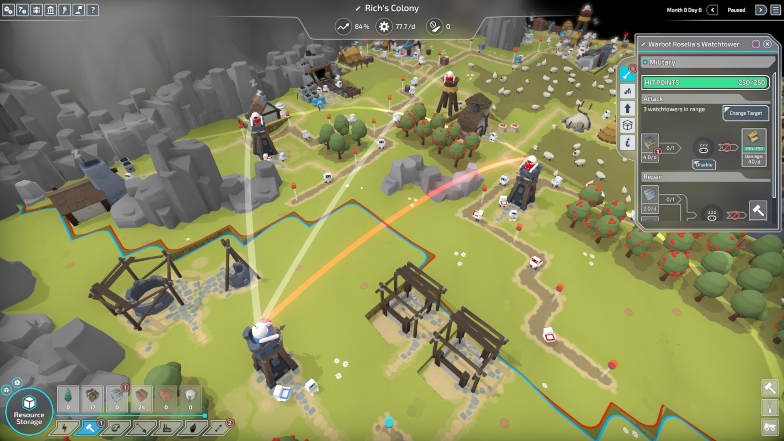 The Colonists is a bot-themed settlement-building game with gameplay inspired by legendary games like Anno and the Settlers.
This might not be your typical city-building game, but it still does its bit well enough to be considered one of the best city-building games for PS5.
The plot of The Colonists is based on a little world builder featuring a lot of fancy robots. Players are typically the head of a bot-run colonist civilization that constantly evolves and expands in territory and population.
The Colonists features traditional city-building gameplay that is easy to understand by following the step-by-step text-based tutorials you'll see throughout the game. Like any city-building game, you'd need to build a shelter – this time in the form of wooden huts – cultivate food, and dig basic water wells to ensure your civilization's survival.
The food and water you gather throughout the game are used as battle energy to empower your robotized minions. As your minions grow, the demand for resources like food and water will increase, and you'll need to scout new territories and cultivate new lands to grow your civilization.
There's plenty of work to do as the game has a 14-mission campaign that requires you to conquer different locations, while the Sandbox mode throws you a series of maps to choose from while also allowing you to customize your gameplay. 
Airborne Kingdom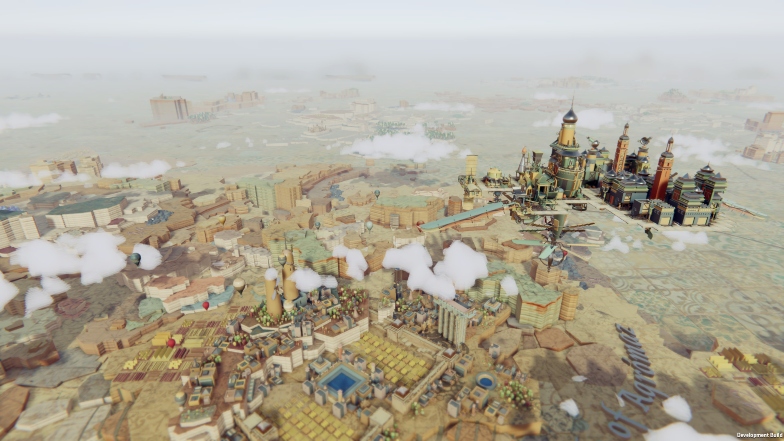 Airborne Kingdom is an excellent city-builder released for PC in 2020 before the console version arrived in 2021. As the name suggests, the city you're building is airborne – leaving you with a broad landscape to build your floating empire.
Even if you're a city-building veteran, you'd still have a slight learning curve to pass through if this is your first encounter with the Airborne Kingdom title.
As you float among the clouds, you nurture and grow your town across a vast landscape while maintaining law and order in the world below.
The storyline is actually very catchy – it's based on an ancient long-lost Utopian city that once governed and united all the kingdoms in the land. This Utopian city becomes lost, driving all the kingdoms far apart as they become increasingly impoverished. What's left is the prophecy which hints at the return of the Airborne Kingdom.
Your job is to rediscover several ancient technologies that you'll use to reunite the warring kingdoms and restore peace and prosperity to the world. Aside from the captivating backstory, players will also need to manage their resources optimally to ensure the survival of their city.
The core gameplay focuses on constant open-world travel while completing several quests as you grow your kingdom. Airborne Kingdom isn't your typical city-building game but it is definitely one of the best.
Planet Coaster
When you speak of simulation games, Planet Coaster is one with a very impressive series list. The game was previously developed for PCs, but the team at Frontier Developments released a PS5 console version in 2020.
Planet Coaster has one major focus – make money, and then make a lot more because you'll be spending big bucks as you build your perfect city. You'll have to clear your city's debt, build eco-friendly parks, and basically complete a series of challenges that will make the cash run out quicker than you can say "Coaster".
The sandbox experience provides you with unlimited cash to grow your empire, while the traditional option starts you off with small cash to grow your city over time.
The game is finance-focused, and that focus is seen in a particular challenge where you have to rebuild a business's fortunes with large loans to repay and a very unreliable profit margin. As you progress, you will unlock even harder challenges, so it's far from a walk in the park.
The controls are a bit clunky; actions like tweaking prices or drawing coasters are pretty difficult to do with a pad. Nevertheless, Planet Coaster remains an excellent game for city-building fans.
For players who are a bit new to city-building games, the Frontier Workshop allows you to download other players' designs to drop into your parks. Hopefully, this should ease the headache of customizing your own city designs.
If you enjoy construction simulation games such as this one, then you might enjoy other types of simulation games as well. Check out our linked guide to the best of them on PS5 and expand your wishlist!