I understand the point of view that first-person games can appear to be more immersive because the field of view is closer to the body of the character you're playing. However, there are some really solid arguments for the third-person view too.
For instance, that "immersive" view in first-person games is also a bit limiting in the sense that you're restricted to what the character can see.
The field of view in third-person mode is much wider, as you can usually see what's around you more easily.
Or, you know, it's not even that deep for some people. Maybe you just think the third-person view looks nicer and that's all there is to it, which is okay too.
Anyway, if you're a fan of third-person games, or you've just decided to try them out, then this guide to the best third-person games for PS5 should be useful for you. It's a fairly lengthy read, so strap in!
Fortnite
Fortnite is more than a game at this point, it's a culture. If you're not familiar with it at this point…well, you know what that means.
Anyway, the game, as fun as it was already, took things to the next level on the PS5. Put simply, this is one of the most visually stunning third-person shooters on the new-gen console.
Fortnite uses PS5-specific functions such as the haptic feedback and adaptive triggers of the DualSense controller to make the Battle Royale even more immersive and fun. You can literally feel the difference between your weapons as you fire them, which is especially great in Save the World mode.
In Battle Royale, it's still a nice addition for immersion and realism, but the use of the adaptive triggers, in particular, is a bit less justifiable because of how fast-paced the mode is.
I mean, you don't want to be caught wasting time trying to fire a shotgun when your opponent is inches away from turning your character into a statistic.
Let's talk about those visuals for a bit – absolutely gorgeous. At the moment, it doesn't get much better than 4K resolution which is fantastic, but the option to enable 120fps is next-level stuff.
Fortnite is one of the best third-person games for PS5 out there, and if you love a good shooter and Battle Royale modes, then this one is for you.
Warframe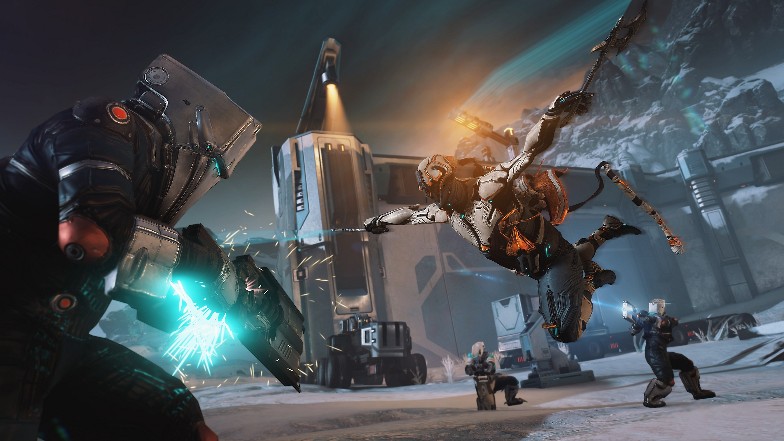 Warframe is an action role-playing, third-person shooter that was initially published by Digital Extremes for the PlayStation 4 and other consoles in 2013.
Since then, the game has received up to eleven expansions and an update for the PS5 that arrived in late 2020. That update has been well-received.
There's a nice blend of various elements from various genres in Warframe that make for an almost unique gaming experience. There is a bit from shooters, stealth, and from RPGs.
In the beginning, the main character is an anthropomorphous biomechanical combat unit named "Warframe" with an assortment of special abilities that pretty much make it a mechanical superhero.
Warframe is kept pretty busy throughout the game with various missions that include fighting powerful bosses, freeing hostages, playing a one-man-army against hordes of enemies, and destroying enemy ships.
Apart from all that fun, there are enough side tasks to keep things nicely varied if you need a break from the intensity of the main story. You can fish, play space dogfights, fool around with hoverboards, and do other generic stuff.
This thing was released all the way back in 2013, so it's perfectly normal to question how it holds up against games that were released much more recently, even though it did get a PS5 update.
You'll be happy to know that Warframe does not show its age at all. The open-world looks beautiful and very detailed – down to the shadows – and the game runs smoothly at 60fps.
The developers did not quite manage to find a good use for the DualSense controller's features, but that's not a big deal for this game in my opinion.
If you need something that's a bit different from the regular big-budget titles, but has enough content to keep you busy for a long time, then Warframe should be on your shortlist.
Rogue Company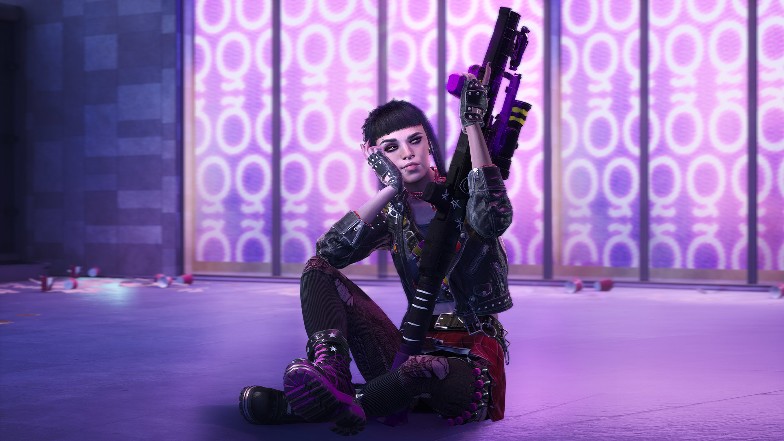 I promise it's not all third-person shooters on this list, but Rogue Company is. The game was initially published by Hi-Rez Studios for the PS4 and other 8th generation consoles, but it has since received a PS5 upgrade.
The game is multiplayer-only, and you're provided with a range of playable characters to choose from, each with unique strengths. These characters are called "Rogues", and there are over 20 of them to choose from.
Rogue Company matches consist of two teams going at each other to see who can complete the specified objectives first. Money is earned for completing these objectives and that money is useful for upgrading weapons and equipment.
There are up to four game modes – Extraction, Strikeout, Demolition, and Wingman.
In Extraction, two teams of four players each are split into attacking vs defending roles, and the game is decided either when the attacking team hacks the given objective or all the players on either team are eliminated.
Strikeout is pretty much the same format as Extraction, except players can respawn a number of times after being eliminated. Whichever team eliminated all the players on the other team to the point where there are no respawns left wins the game.
Demolition is a straightforward 4v4 mode where each team tries to plant a bomb within the given time Iimit.
Wingman is a 2v2 version of Strikeout but with only two teams, and even a smaller number of respawns for each team.
The only drawback that Rogue Company has is the fact that there is no real depth or story to follow, just a matchmaking contest with lots of ammo and gunplay. However, there are situations when that's all you're looking for, so I guess it's all good.
Control Ultimate Edition
Control was originally published by 505 Games for the PS4, Windows PCs, and the Xbox One in August 2019. Following the release of the PS5, the game turned out to be one of the lucky ones to get a dedicated update for the new-gen console.
Quick note, you can only upgrade to the PS5 version of Control Ultimate Edition for free if you bought the original Ultimate Edition and not the base game.
The PS5 update was released in early 2021, and with it came some aesthetically pleasing boosts.
First of all, you can select your preferred display mode, and this directly affects how smooth the game runs and how detailed the pictures are.
It's a common theme in many games that have received PS5 upgrades, so it's not exactly ground-breaking stuff, but it's nice nonetheless.
Playing the game in performance mode lets you play the game at the maximum of 60fps which is pretty smooth but is pretty much the standard for PS5 games. If you're more concerned about seeing any form of stuttering in your game than anything else, then this mode is what you need.
Playing in Graphics mode, on the other hand, is for people that want to see every tiny bit of detail, down to their reflection in the drop of sweat running down the neck of the character in third-person view.
I'm exaggerating a little bit but yeah, the Graphics mode focuses on the sharpness and depth of details. It's more visually appealing but you'll have to sacrifice performance and run the game at only 30fps.
Story-wise, Control has a really compelling plot. It follows the story of the main character, Jess Faden, the Director of the Federal Bureau of Control.
The FBC is in charge of containing and studying paranormal phenomena, and Jesse has a neat set of paranormal abilities to help her carry out her duties in the role of Director.
However, her existence is thrown into turmoil when her brother Dylan gets kidnapped, and then she finds the remains of an FBC employee at the company's headquarters.
With the new-gen update, Control: Ultimate Edition now has all the ingredients to remain one of the best third-person games for PS5 – good graphics, a compelling story, and immersive gameplay.
Outriders
Considering the fact that Outriders was published by Square Enix, the reception that it got at launch was more underwhelming than anything else.
It might have had something to do with the fact that the game's servers crashed on the day, but you know what they say about first impressions.
However, enough time has passed for the developers, People Can Fly, to make adjustments where needed, and now the third-person looter shooter is well-rounded enough to earn a place on my list of the best third-person PS5 games.
Compared to other games of the same genre, Outriders is a lot less demanding in terms of hounding the player with time-sensitive quests for measly returns. You can play the whole thing in single-player mode, at your own pace, and still, have a really good time with it.
This does not mean that there's not a lot to do. There are loads of side missions to keep you busy if you want, but the whole point is doing it at your own pace.
Admittedly, it's not the most compelling game story-wise, and they've barely taken advantage of the PS5's next-gen features here, which is a bit disappointing.
However, it has everything else you might want from a casual looter shooter – special abilities, looting (duh), extensive weaponry, challenging combat against hordes of enemies…it's still a pretty good game and I think it has not enjoyed the attention it deserves.
Outriders might have surprised everyone with a stinker launch, but I think it's worth giving it another chance to surprise again – this time in a good way.
Returnal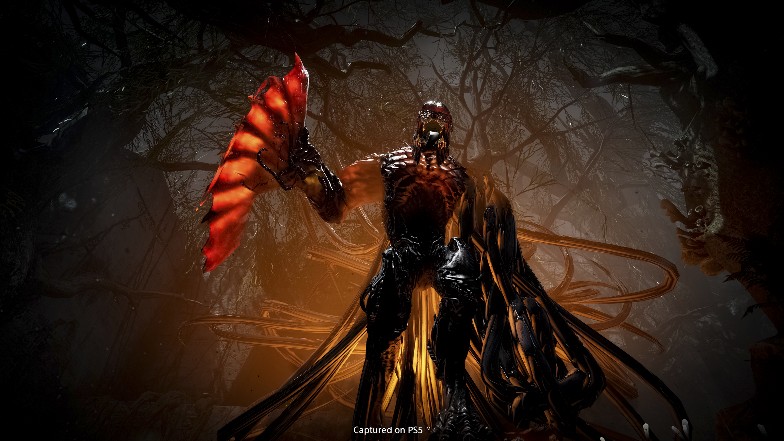 Returnal has been talked about so much since its release in April 2021. Gamer forums literally went wild with rave reviews when the title first dropped, with people talking about everything from the stunning graphics to the fantastic gameplay.
It is one of the best third-person games for PS5, one of the best-looking games, and has made the cut in a number of my round-ups to date.
In fact, Returnal is one of the best games that have been released for the console so far, period.
If you're looking for a game that has everything and is also a brilliant audition for the features of the new-gen PlayStation 5, then Returnal is a good place to look.
Remnant: From the Ashes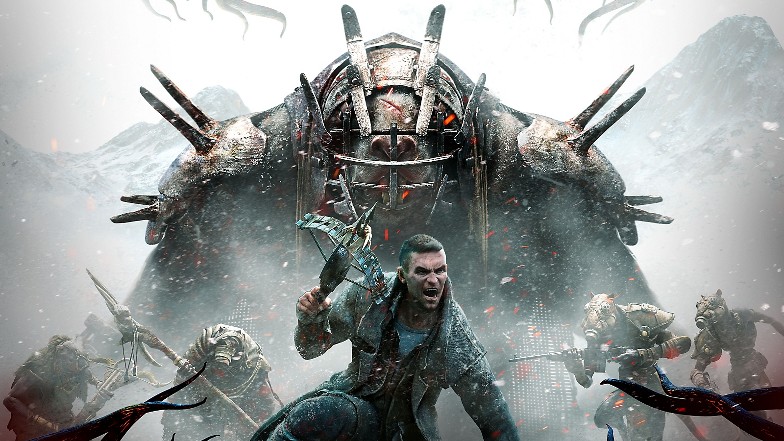 Remnant: From the Ashes provides a nice blend of two popular genres – souls like and shooter, and the best thing about it is that it focuses on the things that are expected from games of its nature and does them really well.
Also, if you're looking for a third-person PS5 game that has fantastic multiplayer gameplay, Remnant is one of the best options that you'll get – hats off to Gunfire Games.
There's a story here, and it follows a dystopian Earth that has been taken over by a strange, evil presence. Predictably, it is up to you (and your friends?) to rid the world of this evil and restore some semblance of normalcy, or at least, as normal as a post-apocalyptic planet can be.
It's not the most creative of plots, but it does the job. For what it lacks in that department, it more than makes up the difference in gameplay.
Full disclaimer, if you don't enjoy games that get so difficult that you're almost moved to tears from frustration, then Remnant is not for you. But don't take my word for it, maybe you're a pro and this will be light work for you.
I mentioned the co-op gameplay earlier and it really makes the game even more enjoyable. There are some really cruel bosses and the satisfaction of taking them down as a group is the stuff that long-lasting friendships are made of.
As of May 2021, an upgrade patch for the PS5 was launched, and with it came 4K resolution vs 60fps performance modes. What this means is that you can play the game at 4K resolution and 30fps, or 1080p resolution at 60fps.
It's not a native upgrade, so you don't really get the full extent of the PS5's features, but it's a nice little visual update regardless for an already-solid third-person PS5 game.
World War Z: Aftermath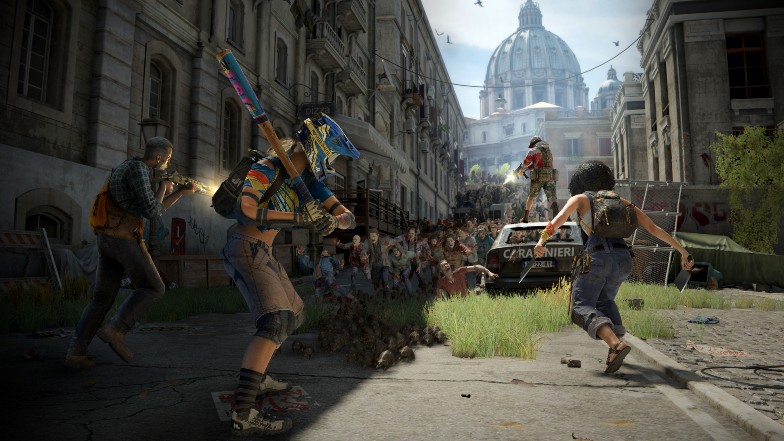 In my opinion, there are two types of people. Those that really enjoyed the World War Z movie, and those that have poor taste.
It feels like I've been waiting forever for the sequel that seems not to be happening anymore, but I'm happy to wipe my tears with compensation in the form of Mad Dog Games' World War Z: Aftermath.
Aftermath was published in 2021, and it is technically a sequel to the original World War Z game that was published in 2019.
The update includes new characters, a new melee system, an optional first-person mode, and new locations. Who doesn't love trying out new ways to unleash terror on a horde of undead "flesh and bone"?
In reality, Aftermath does not really act like a sequel. The new content and gameplay changes are enough to make it feel like a standalone.
Add to that 4K support and 60fps and it's easy to see why I think this is one of the best third-person PS5 games, even if I'm a little biased.
Mass Effect: Legendary Edition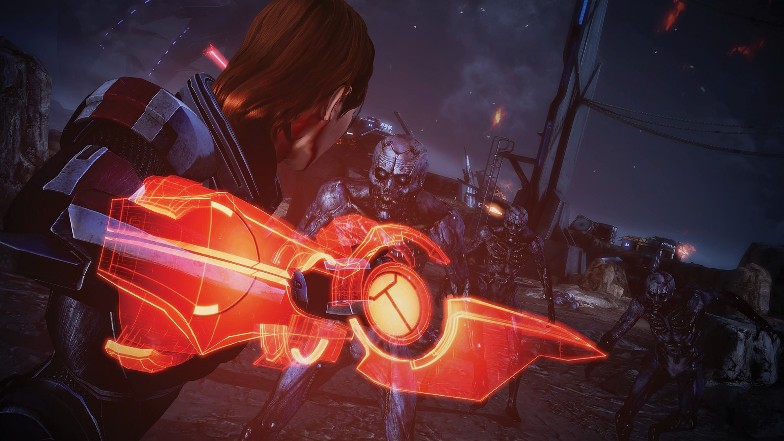 You simply don't get a cult following by being basic.
Mass Effect: Legendary Edition takes those words to heart by joining a lineup of seriously impressive games from a series that has been running since '07.
I guess it doesn't hurt when you're backed with big bucks from a company as huge as Electronic Arts, but having resources does not always translate into using them effectively. I'll restrain myself from calling anyone out here (maybe do it for me, please?).
Mass Effect: Legendary Edition is a glorious remaster of the trilogy with all the updates and DLC included, 4K graphics, and 120fps on the PS5 (!)
If you're familiar with the older versions, you're going to absolutely love these updates and if you're not, this is going to fit right in with the rest of your recently released titles.
It does not look out of place, at all. I mean, as of 2022, many games don't even support 120fps yet.
It is also a credit to the developers that despite how old this game is (technically), the gameplay still holds up. It is much harder to change aspects of gameplay without making a remake, but they've really not had to do that because it is still so good.
Commander Shepard, here I come!
Saints Row 3 Remastered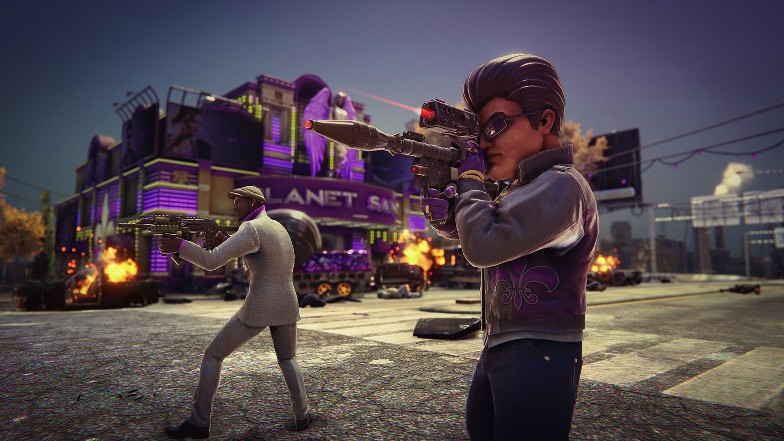 There seems to be a popular opinion that Volition and Quicksilver should've remastered either one of the first two Saints Row games instead, but I think this Saints Row 3 Remastered edition is actually a solid piece of work, especially on the PS5.
On the PS4, you could only play the game in 1080p resolution at 30 frames per second, whereas the PS5 supports up to 4K dynamic resolution and it runs at smoother 60fps.
That's already a significant difference, and it further enhances the visual appeal of a game that was already adjusted for better graphics o the PS4.
Another welcome addition to this remastered edition is the option to unlock new abilities once you can afford to. However, some of these upgrades are overpowered and can do more harm than good to the overall experience, so go easy on them.
As usual, the premise of the game is centered around your customizable character, the boss of the "Saints", and your escapades trying to take over the city while checking off other side missions.
In all honesty, the biggest appeal for me to seriously consider Saints Row 3 Remastered as one of the best third-person games for PS5 was the graphical updates.
We can complain all we want about better choices for a remaster, but as long as this is the one that has PS5-worthy visual features, it stays.
Horizon Forbidden West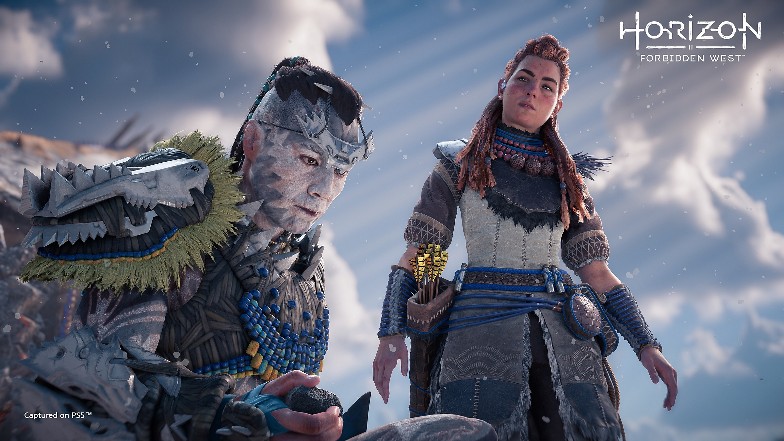 A lot has been said of Returnal and how it is one of the best-looking games for PS5. Well, Horizon Forbidden West may have an even bigger claim to the throne.
The previous game from the series, Horizon Zero Dawn, was very well received and it was a really good game with a dash of hunting and sprinkling of top-notch graphics.
It would've been okay if Guerilla Games had just followed the same template for the next one, but they've gone one step further with Forbidden West, not just in terms of graphics but also overall gameplay.
In fact, the developers are still regularly adding more features to the game lowkey. In early April 2022, they quietly added the option to disable pickup animations.
It is a very welcome change in my opinion, and it is that sort of dedication to improving the overall experience of playing the game, even with the tiniest changes to details, that makes me respect Guerilla Games so much.
The main character is still Aloy, and the premise is still pretty much the same, but you'll have to play the game to really enjoy the full extent of subtler changes that have been made to the gameplay.
Marvel's Guardians of the Galaxy
Marvel's Guardian of the Galaxy also made my list of the best adventure games for PS5 and for good reason.
It is often the case with superhero-inspired games that there is no real depth to the story, but that is not the situation here.
Square Enix took the feedback from their less-than-stellar Avengers game and put the knowledge to good use in working with the developers for Guardians of the Galaxy.
Now, there's a cohesive story to follow involving all the key players in the team – Gamora, Rocket, Drax, Groot, and your character, the Star-Lord – as they traverse the galaxy saving people and getting in a load of trouble in the process.
This is also one of those games where you can choose between Performance mode or Graphics mode. Personally, I think for the type of gameplay that is present here, Performance mode is the way to go.
It's all up to you though!
Tom Clancy's The Division 2
Even before the game got a next-gen upgrade, Tom Clancy's The Division 2 was already a pretty good game. It launched with really good graphics, a fitting selection of music, and excellent gameplay.
With the next-gen upgrade, the game has leveled up to compete favorably with competitors that were released more recently, as it now plays in dynamic 4K resolution at a smooth framerate of 60fps.
Loading times are also much shorter on the PS5, and it is a noticeable difference.
There's no real change to the story. You still start out as an "Agent" that receives a call from the White House following the outbreak of a viral contagion in the United States of America.
In hindsight, it feels like a peek into the future because this was just before the coronavirus epidemic started in real life. It's not as if virus outbreaks are a new concept though so I'm probably just reaching.
Anyway, just as was the case when coronavirus hit, the fantasy world in Division 2 is also thrown into chaos as you fight your way through the streets of America to take back important landmarks that have been invaded.
Of course, the only way to bring order after chaos is to cause more…chaos? The string of bodies that you'll leave in your wake certainly suggests so.
The premise of Tom Clancy's Division 2 seems quite simplistic, but don't be fooled, this game is content-heavy, especially with all the extra content that's been added on since the initial launch. You won't get bored too quickly.
Assassin's Creed: Valhalla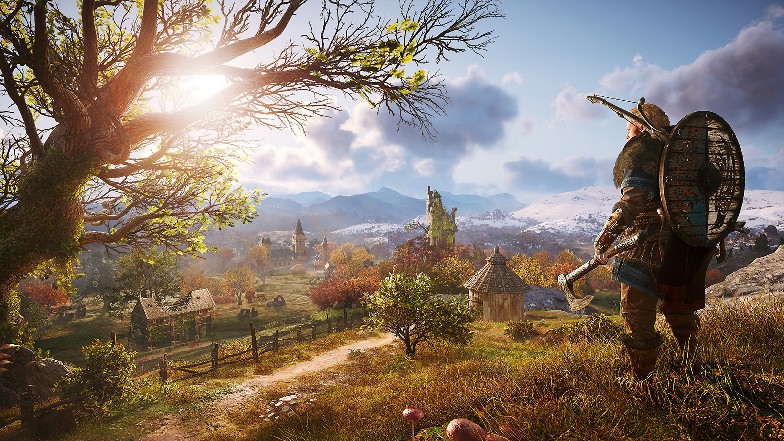 Here's another offering from the stables of Ubisoft – Assassin's Creed Valhalla.
Assassin's Creed is another franchise that has been around for a long time now, but there's more to the series than just a dedicated fanbase for the quiet hooded assassin that became a staple of the main character's persona over the years.
Admittedly, that "more" does not come to the fore in Valhalla, as it appears to be your typical RPG/hack and slash third-person adventure game.
However, what it does offer is a fantastically large open world with mythical elements that make for a very interesting experience if you're into games with a good amount of crafting and exploration.
The combat is a love it or hate it situation, and I know that begs the question of why I included the game in a list of the best third-person games for PS5, but hear me out.
There's a huge fanbase for hack and slash games, and the reason for that is why I also think a good number of people enjoy Assassin's Creed: Valhalla.
Sometimes, you just want to swing and hit without paying too much attention to the mechanics of how you're turning your enemies into statistics. It's just more…relaxing, at times.
Anyway, I think I'm making too much of a case for it, so I'll just stand by my decision and leave the judgment to you.
God of War
Speaking of games of the hack and slash mould, there is a very small number of games with as much or more clout than God of War, in the genre and in console gaming as a whole.
Sony's Santa Monica Studio has mastered the requirements and nobody's taking that away.
I mean, this is one of the top-selling video games of its generation, an achievement that has been steady since the launch of the series on the PlayStation 2 back in '05.
So, this particular review is for the PS5 update of the 2018 God of War title. It follows the story of Kratos trying to come to terms with the relationship between himself and his son, Atreus.
This connection and interaction between the two breathe new life into the persona of the otherwise stoic, hard-headed God of War and shines a completely new light on how grounded and "almost human" he can be.
With the PS5 update, you can play the game at 4K resolution with a framerate of 60fps, and expectedly, it looks really good.
I think the studio did this to pacify the fans waiting for the launch of God of War: Ragnarok, and it worked a treat.
Uncharted: Legacy of Thieves Collection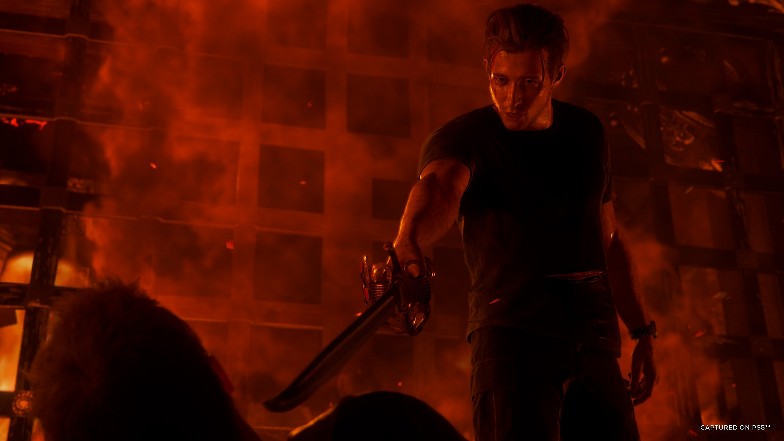 If you've played and enjoyed any one of the titles from the Uncharted collection, then you'll absolutely love Uncharted: Legacy of Thieves Collection.
The collection is a bundle of Uncharted 4: A Thief's End and Uncharted: The Lost Legacy. Alongside that bundle, you also get new graphics modes, faster load times, and properly-engaged DualSense features on the PS5.
The new additions completely refresh the two games that are included, considering the fact that they are both getting on in age now.
You can easily get over 20 hours of gameplay from the collection, and the diverse storytelling of two different plots ensures that there is a low chance of getting bored along the way.
With the performance of the game on the PS5, the good-looking environments look even more stunning now, and flawless 60fps gives you a smoother experience than ever before.
The characters have some depth too, so you actually begin to develop a form of attachment as you go deeper into the story.
These were two of the best games on the PlayStation when they were originally released, and the merger+refresh combo ensures that it remains so on the PS5.
The Witcher 3: Wild Hunt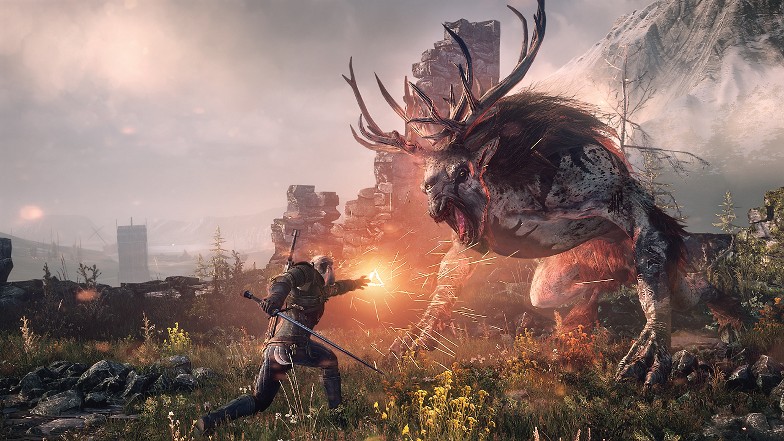 This is another one of the best hunting games for the PS5, and it is also one of the best third-person games of any genre.
In that third-person perspective, you control Geralt, the protagonist of the series on an adventure that sees him face off against some of the strangest monsters you'll see on any video game – even their names are strange!
The open world is vast, so there is a lot of space for exploration away from the madness of magical combat. That combat is also so varied that it may be a lot to take in at once, so you'll need to go through a learning phase just to get accustomed to the best moves for each weapon.
It's a nice change of pace from the hack and slash nature of many other RPGs of a similar ilk, but it also means that this isn't a game that you can play with your brain turned off. You actually have to pay attention to what's going on, or you'll be monster fodder in minutes.
Visually, Wild Hunt is a really good-looking game, but I imagine that things would go up a notch in that department with a genuine PS5 upgrade. At the time of writing this review, that next-gen upgrade is delayed.
However, even without the extra perks of next-gen features to bring The Witcher 3 up to the same speed as the latest releases, it is still one of the best third-person games for PS5.
Elden Ring
Oh, Elden Ring, where do I even begin?
First off, you know that you're getting a masterpiece when the Lord of fantasy worlds himself, George R. R. Martin, helps to craft the setting of your fantasy game.
The expectation was massive, and the wait was long, but when the game was finally published by Bandai Namco Entertainment in early 2022, it did not disappoint.
In the wildly unlikely scenario that this is the first that you're hearing (or reading) about Elden Ring, the basic information that you need is that this is one of the best and most exciting action RPGs out there on any console at the moment.
Marvel's Spiderman: Miles Morales
I feel like this list contains only adventure games, shooters, or a blend of the two. It's expected, considering the fact that I'm reviewing third-person games, but it's interesting to note.
Anyway, the Marvel games appear to be doing well on the PS5, and Spiderman joins Guardians of the Galaxy in the relatively short list of superhero games that do not underwhelm.
I mean, we've all been playing Spiderman games for what feels like eons now, and there's only so much that the developers can do with the character and the premise, right? Wrong.
Just as the movie based on Miles Morales took a different approach to tell the story of your friendly neighborhood Spiderman, the game toes the same path by starting off with a training session with Peter Parker before unleashing Miles into a, quite frankly, visually stunning New York.
It's not the most loaded game content-wise, and you may find yourself done with the title within a relatively short period of time, but it's still a lot of fun while it lasts, and that's good enough for my list.
Plus, the graphics on the PS5 are just brilliant.
Ghost of Tsushima: Director's Cut
So, this is clearly a randomized list. I wasn't "saving the best for last", it just happens to be here.
That's not an attack on the quality that Ghost of Tsushima offers as a game at all. In fact, it could easily be the favorite game of a lot of people. I'm just saying there's no real order to my list.
That said, Ghost of Tsushima is an action-packed game, and the updated Director's Cut adds even more content in the form of a new island, storyline, and PS5-specific visual upgrades.
The game is set on Tsushima Island, during the period of an invasion of Japan. Your character, Jin Sakai, is a samurai on a mission to attain freedom for his people from the Mongol forces.
To do so, you will need to enlist the help of different characters from different factions. Some of them genuinely want to help, and some of them are disguising.
The result of that fact is that you will be working with people that really don't share your interests. You can take a wild guess how that plays out.
I can imagine how strong the temptation must have been to make this a hack and slash, considering the fact that it involves samurai, and you only really get one weapon – the Sakai Storm Katana sword.
However, you won't get far by smashing random buttons in Ghost of Tsushima. The combat requires patience, planning, and a bit of luck to get you over the line.
In fact, it is often best practice to wait for the enemy to strike first so that you can counter-attack while their defenses are down.
On the PS5, the game boasts faster load times and 4K graphics at 60fps, regardless of which mode you choose to play in. In reality, it's not a massive difference from the previous version, but any form of improvement is progress.
Overall, this is a really solid title and I would easily recommend it to anyone looking for the best third-person games for PS5.
Final Words
I did say it is a fairly long read. To be honest, I could've gone on for longer (let me know if you wouldn't mind) because there are still a number of solid third-person games for PS5 that only just missed the cut.
Anyway, these are, in my opinion, the best of the lot, and I hope I've not just made the selection process more difficult for you.
If unsure where to start, I'd recommend picking it up from the last game on the list and slowly working your way up. Be sure to give each game enough time to make an impression though – some of them are a slow burn.