Getting video games that are suitable for young gamers has become a major challenge for parents and caregivers.
Kids' games have to walk the fine line between being educational, sporty, and entertaining, and yet at the same time, have enough of an edge to keep restless youngsters hooked. This is no mean feat to achieve as lots of failed publishers have found out.
In this guide, I've compiled a pretty thorough list of the best kids' games on PS5.
The list runs across all the popular genres, from RPGs to action, adventure, platformers, and multiplayer online sims.
Astro's Playroom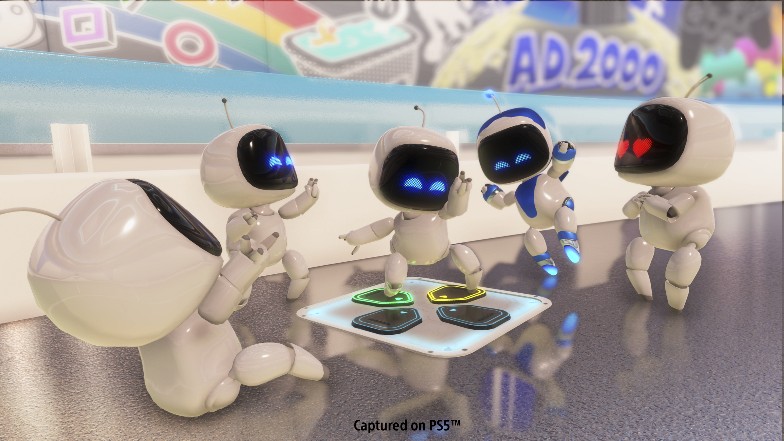 Astro's Playroom on PS5 is a pre-installed, 3D animated-fantasy-themed workout and pretty much an advert for the PS5's new DualSense controller. And what an ad it is!
This single-player platformer expertly mixes the exuberance of Mario with the performance of PlayStation, and there is no doubt that it is one of the PS5's top games for kids.
Published by Sony Interactive Entertainment, the game is a sequel to Astro bot: The Rescue Mission but goes over and beyond the original.
As Astro, the delightful white and blue robot, you gambol this world formed from PlayStation parts through history, collecting over 100 possible artifacts, and having the time of your life with fun bot friends in tow.
Astro's Playroom's four worlds with four levels each can provide a solid 6 hours of entertainment and are easily playable by 7 to 14-year-olds.
Gameplay-wise, the game's basic controls include hovering, jumping, and punching. What gives Astro's Playroom its kick, though, is the real-time tactile feedback you get from the new DualSense controller.
Old features are well-known from the DualShock controller. However, features like the gyroscope and the touchpad are spanking new.
What they do in Astro's Playroom is enhance a real-time sense experience that allows you to live everything our cute bot is going through. From grass under your feet to the pitter-patter of rain on the auto-activated umbrella.
Kids will love this game long after they've gotten a sense of the DualSense controller- for one reason. Astro's Playroom plays like a fun party. And what kid doesn't like a party?
Just Dance 2022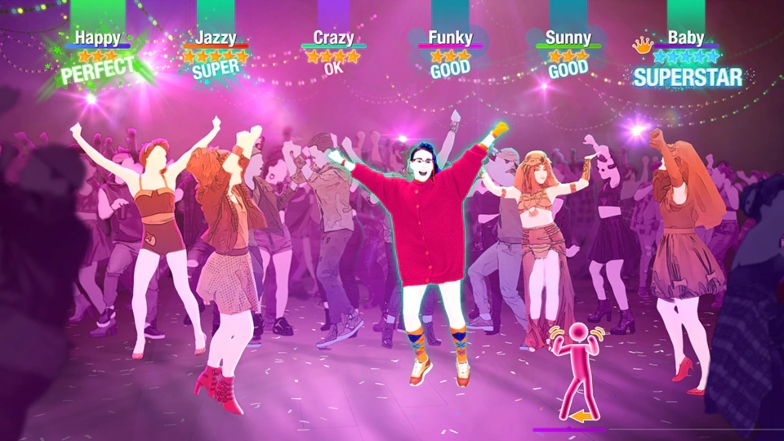 The best kid games on PS5 just got rhythm. If you've ever danced to catchy tunes from animated movies such as Moana and Frozen, then Just Dance 2022 is just for you.
This version is the 13th in a series of Rhythm games published by Ubisoft, and it comes with some surprises.
That doesn't mean it's not still all fun though, especially when playing in Kid Mode. Kid Mode allows kids, and in fact, people of all ages, to mimic some of their favorite Disney characters' choreography, as well as do jaunty singalongs with them.
If you're familiar with past iterations of the game then the controls remain the same. but even newbies soon have themselves dancing and sweating in no time. You pick a song and a body and start dancing, leveling up when you improve.
Sadly, the 2022 version doesn't come with HD camera support. Also, if you try to download the PS4 version on PS5, you won't find it listed.
To beat this, you can use your phone camera with the Just Dance 2022 app, and secondly, you could access your App or PlayStore on your browser and download the PS4 version. Thereafter, it will be available on your PS5 with camera support.
Since all you need to do is shake your controller and get points anyway, it's suitable for the physically challenged too. The devs obviously thought of everyone.
Puyo Puyo Tetris 2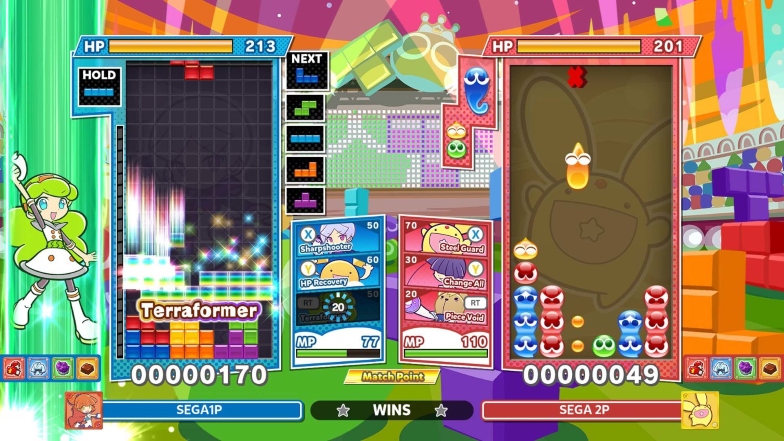 What kid doesn't love Tetris, adore puzzles, or go gaga over RPG gaming? SEGA said the three magic three words, and up popped Puyo Puyo Tetris 2, a mix of the Puyo Puyo puzzle game and the classic Tetris block game, enhanced by RPG capabilities.
How could this not make the list of best kids' games on PS5?
Never mind that this is the sequel to the original 2017 Puyo Puyo Tetris, the 2020 version of the puzzle video game published by Sega retains the uniqueness of the first while sliding in one or two new pieces of its own.
What's new here? Well, first, permit a mention of all the old features still there.
There's the option of playing Puyo Puyo or Tetrix separately, or you can choose to mash them up for higher levels in Fusion Mode.
Modes still include Party Mode, Lesson Mode, and Big Bang Mode. Gameplay goes the gamut of single-player, 4-player multiplayer, competition, or ranked online matches.
Among new features, a big one is the Skill Battle Mode which sets you and your team of three bizarre characters against an opposing team of three, RPG battle style, in the equally new Adventure Mode.
All this, of course, is done in the new improved universe of Adventure Mode. Skill Battle Mode is also greatly enhanced by RPG-style stats as well as enhancement items.
Whether you are matching Puyo blobs or lining up Tetromino blocks, hours later you may still find yourself deep in the intricacy of the Tetris-Puyo universe.
Sackboy: A Big Adventure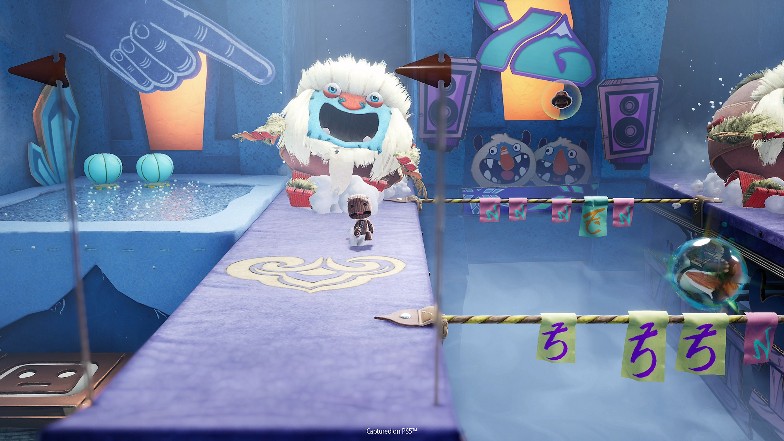 Some have called this game the PS5's Super Mario, and they may just have nailed it in one metaphor.
Sackboy: A Big Adventure, which accompanied the PS5 launch in 2020 is rambunctious fun, an artsy-crafty platformer, and a rollicking adventure in one rollercoaster of a 3D platform game. And it's exclusively for kids – and the young at heart.
It's a multiplayer game (up to four players at once), and you will need to partner up with a comrade to operate certain switches, and even lever each other onto some platforms.
Publisher Sony Interactive Entertainment and developer Sumo Digital also get one other thing right in Sackboy: A Big Adventure. That's treating kids like the intelligent individuals they are. So, the game is simple without being simplified. There's a difference, developers!
The storyline is basic. Vex is kidnapping sack folk to finish his infernal machine. You, as Sack boy, need to save Craftworld, defeat Vex, and free all the Sack people.
Oh, and you need to dress them up in pretty costumes while you are at it.
To succeed, Sackboy will traverse 47 primary levels out of 90. 43 side levels include Remix Races, Optional Flash Forward and Backward Stages, Multiplayer Levels, and others.
Not to forget, this game is a spin-off of the successful LittleBigPlanet series. At the end of the day though, Sackboy: A Big Adventure is definitely its own platformer, and sits comfortably among the best kids' games for PS5.
Ayo the Clown
First things first. don't let Ayo the Clown fool you with its cute game graphics and even cuter clown main character. This is one 2D platformer that takes more than it gives.
For a game deservedly in this group of top kids' games on PS5, its difficulty level is a tad above the average kid's. That's not to say kids won't have a great time with it though.
Published by Cloud M1, and EastAsiaSoft, Ayo the Clown is something of a departure from the usual 2D platformer; with the tradition being for the characters to explore the 2D world without difficulty.
In the case of this single-player, I'll just say it takes more than cuteness to succeed. Ayo's reason to venture out of his comfort zone is his missing best friend and dog, Bo. The little clown has to dare the dangers of eight separate Worlds to save Bo.
The gameplay allows Ayo to jump, fly helicopters, drive tanks, discover hidden enemies, and do pretty much anything it takes to find Bo.
The game's mechanics do not always help in this. There is a degree of difficulty in precision control of the jumps, double jumps, wall jumps, and other physical exertions.
That said, how you get new abilities in this game is refreshing. They don't come automatically at the beginning of the game, rather you have to earn them as you progress in your journey.
Watch out for little side quests that give you not just collectibles but unlock these abilities, as well as cues that let you know when to leave the main path.
Alba: A Wildlife Adventure
Mix up Dora the adventurer, vacationing, and good old-fashioned planet-saving, and you will get Alba: A Wildlife Adventure. This adventure game is perfect for kids aged 5 to 14, and even adults can get a real thrill wandering around Pinar del Mar.
Alba: A Wildlife Adventure chronicles pre-teen Alba on holiday at her Grandpa's in Pinar del Mar, a Mediterranean island paradise.
While there, she must save the wildlife, clean up the environment, and stop the mayor from building another trashy 5-star resort, and Alba has just days to accomplish this before she goes back home.
Gameplay is easy. At the start of this open-world adventure, you get a notebook, map, checklist, and phone. The phone is important because you will need to photograph all the animals you save using its camera.
From La Roqueta, where you save your first Dolphin, you go around the island getting 50 signatures to stop the Mayor from building the resort. Haptic feedback from the DualSense controllers as you explore the beautiful World helps the immersive experience.
Every animal you clean up, save, snap and catalog ultimately attracts tourists and adds another signature to you. Oh, and also you have to keep a sharp ear out for the cries of animals in distress.
Alba: A Wildlife Adventure is a fun educational game that young gamers will definitely enjoy on PS5.
Hot Wheels Unleashed
It's not a fluke that Hot Wheels Unleashed was nominated for the Game Award for Best Sports/Racing Game. And it's no accident either that it graces this list of best kids' games on PS5.
In this game, the competition does not just end with other drivers. You'll be racing against physics itself as gravity-defying stunts are the course of this game.
A choice of 60 detailed car miniatures drives you through the most challenging racetracks. Tired of the cars and tracks? Use the Livery Editor to modify your car or build your own race track in your Basement.
Your 3 starting cars can be modified with special boosters. 4 hours of playtime give you a new choice from five new cars. Blind boxes, which you win or purchase with in-game currency get you additional cars.
All kinds of player configurations exist in Hot Wheels Unleashed. 2-Player Mode pits you against another player and is fully online. Online, also, race against as many as 12 players in an international race.
Race in a third-person perspective through construction sites, campuses, and skating rinks on tracks with loops, twists, and jumps. You might find yourself hanging upside down as you drive through the many levels.
Races include Standard Races and Time Attacks using Air controls that allow you to fly over the competition, or cheat with a well-timed shortcut.
If your kid is a true speedster when it comes to games, they will spend hours in the mad rush of Hot Wheels Unleashed.
Mr. Driller DrillLand
Derived from a decade-old franchise, Mr. Driller Drill Land is a strategy action puzzle video game With a supernatural twist great for all ages.
This means kids will get a blast from this multiplayer (up to 4 players) adventure that is a top PS5 kids' game.
Initially released on the GameCube in December 2002 by publishers BNE Entertainment, Namco, and Namco Bandai Games America Inc., this game used to be available in only Asia and Europe.
However, the game was refreshed for PlayStation 5 in 2021.
As Mr. Driller, also called Susumu Hori, you drill deep underground with your crew through colored blocks in 5 attractions with three levels each, to reveal some pretty scary enemies including ghosts and other-worldly characters.
You also have to reach a certain depth before you run out of air.
The game's 5 attractions include Horror Night House, Drindy Adventure, and The Hole of Druaga, among others.
In Drill Land, you contend with ghosts that can only be defeated by holy water, archaeological pits with hazards, and intertwined mazes that you need to figure your way past. There are also a lot of collectibles and cards.
Each attraction has different gameplay challenges and three levels each, of which only one must be completed. Casual mode allows a relaxed dig without the time pressure. In-game currency helps you buy protective gear as well as extra health.
The 4-player multiplayer feature is sadly only available with PS Plus, but kids and adults will have an hour or more of quite satisfactory pleasure digging.
Be sure to watch out for Druaga the evil!
The Touryst
The Touryst is exactly the kind of game that any kid would love to play. This puzzle platform game with an action-adventure slant is published by Shin'en Multimedia.
In The Touryst, you're, well, a tourist (what'd you expect?), and you laze around some islands on a vacation.
But that's where the fun part comes in. You get to explore dark dungeons called Monuments, solve puzzles and engage in tame battle encounters with non-scary bosses.
This totally sounds like a game I'd let my 6-year-old nephew dig into, but don't think there isn't a lot going on in there for the older kids and even adults too.
Some pretty frustrating moments are possible in this game courtesy of a balance between the game's mechanics and its gameplay. But this is totally a plus as is also the open cliffhanger ending.
Things get infinitely more interesting as you unlock other islands to explore. Each Island comes with mini-games and a special theme. There's also the main mystery that ties all the monuments together for you to solve.
One phrase that would describe the game is 'harmless, casual meandering'. Many players spend hours just discovering the voxel-graphics world of the islands.
Summarily, The Touryst is a casual platform adventure puzzle that should tickle the fancy of any young gamer.
Nickelodeon All-Star Brawl
If mindless slugging is your thing, you will love Nickelodeon All-Star Brawl. And if you're a Nickelodeon fan to boot (which kid isn't these days) then this multiplayer fighting game published by GameMill Entertainment and Maximum Games was made for you.
The chief attraction of Nickelodeon All-Star Brawl is that it's a gang-up of the greatest Nickelodeon characters over the past decades, except they are not singing or dancing. Rather, they engage in some of the most comical battles since Super Smash Bros.
Favorites such as Invader Zim, SpongeBob, and Patrick Star, as well as Aang from Avatar exchange speedy combos in a bid to become the Nickelodeon brawler champ.
Each of the 20 characters brings their own fighting styles based on inherent character quirks. They also have their own stages, numbering 20 stages, all told
Stages include Showdown at Teeter-Totter Gulch, Powdered Toast Trouble, and Rooftop Rumble.
It's yet undecided whether all characters and stages available from the start are a plus or a minus, and as far as gameplay is concerned, there aren't so many modes. Sports Mode, Arcade, Offline and Online multiplayer just about sum it up.
Nickelodeon All-Star Brawl more than makes up for all its drawbacks by being the quirkiest and probably most comical fighting platformer out there.
For many kid gamers looking for casual fun, that is music to the ears.
Bugsnax
First off, it needs to be said that Bugsnax seems to want to recreate for Gen Z the whimsical appeal that E.T. had for millennial kids. That it so admirably succeeds is the reason why it proudly sits on this list of best kids' games on PS5.
Released in November 2020 by Young Horses and Fangamer, this is a boisterous romp disguised as an adventure single-player video game.
It does that very well, too.
In an open-world setting, a journalist (you) gets to roam Snaktooth Island in the first-person perspective, hunting down the bizarre new creatures that are part creepy crawlies, part snack, called Bugsnax. You need them to find your friend who invited you.
This game is very much about food. In order to get a lead on where Elizabeth is you have to catch and feed the grumpuses with all the Bugsnax you can find.
The grumpuses are the weird neighbors of your friend Elizabeth Megafig, who discovered the bugs in the first place.
You'll have to catch them first though, and getting a hand on these wily grubs is no picnic.
Tricking them, laying traps, and plain stalking them are just a few methods used.
Gameplay-wise on PS5, the game enjoys shorter loading times and gets a big immersion boost with DualSense controller support.
There is also a main mystery that you have to solve while you're at this with enough twists to make it resemble the Bugsnax themselves.
It takes an average of seven hours to finish this game, and it will be considered time well spent.
Fall Guys Ultimate Knockout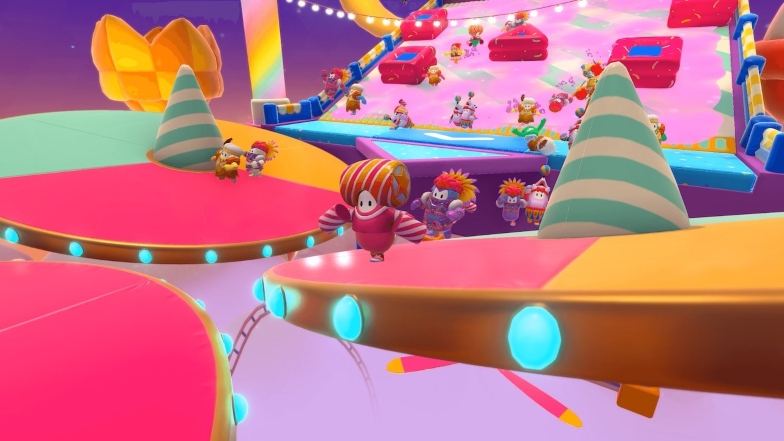 Publishers Devolver Digital and Epic Games released Fall Guys: Ultimate Knockout on the PS5 in June 2022.
It is a multiplayer platform game that pits as many as 60 online players battling against each other in several mini-contests.
This Battle Royale formula gives this sports video and simulation game comfortable seating among the best kids' games on PS5.
As a Fall Guy, you compete as a bean against 59 other online player-beans in a massive epic struggle broken into mini-tournaments of survival, hunting, jumping, and racing.
After 3 to 5 rounds, the winner is rewarded with crowns which can be spent in the in-game shop on customization.
Be careful though, as crowns don't really get you all the assets you need to customize your bean. For that, you'll need Show Bucks, the alternate in-game currency, which is a higher currency and lets you purchase in-demand assets such as costumes.
You need to buy Show Bucks though. You can compete as a single player or as part of a team in a cooperative effort with other players. Since it's online, this is very easily achievable.
You can compete equally in multiplayer Battle Royales or in cooperative challenges. In this latter mode, all in the losing team suffer elimination.
One more good thing about this game is its comic possibilities. You'll get a good laugh seeing yourself and the rest of the competition tumbling through obstacles impeded by physics all the way.
I imagine any kid would spend several happy hours frolicking with this fun game.
Overcooked! All You Can Eat
If you've ever enjoyed a chaotic family cookout, then that's exactly what you'll be doing digitally with Overcooked! All You Can Eat, the 2020 version of the Overcooked series.
This cooperative game is not just for kids but for the entire family. And the visuals are so good you can practically taste them. It certainly has a place in PS5's top kids' games.
Publisher Team17 re-released the game series in November 2020.
In Overcooked! All You Can Eat, you begin your life in the game as a budding chef who is faced with a food monster. The first version of the game has a spaghetti contraption and in the second version, it's some kind of doughy giant called the Unbreaded.
The game consists of you going back in time to train and sharpen your culinary skills in order to beat the monster. That means cooperating with a possible three others in kitchens with increasing difficulty levels.
You will have to serve up intricate dishes on the fly while avoiding obstacles all the way. Boil, chop, fry, and stir-fry your way to newer levels.
The gameplay has you working with three buttons most of the time. You'll need your left stick also. DualSense support is so-so at best. Apart from Co-op levels, competitive levels also exist if you want more difficult challenges.
Of course, I can't do without mentioning the stunning visuals at 4K with 60fps support. Now that's a dish any kid should want to sink their teeth into.
Minecraft Dungeons
Minecraft Dungeons exemplifies the best thrills that video adventure games are meant to provide. This blend of Legos, Dungeons and Dragons, and the Minecraft series is a top contender for best kids' games on PS5.
The multiplayer dungeon crawler was published by Xbox Game Studios in May 2020.
As a player, you are on a quest to save the villagers from the villain Illager, And while you are at it you will explore deep, dark dungeons, unearth hidden treasures, grab DLC, and get into some of the best Kid friendly RPG battles with nasty bosses on PS5.
Minecraft Dungeons is perfect for kids because, unlike most dungeon crawlers, it doesn't go overly deep into the sometimes-morbid mysteries of the dungeons genre. Rather it leans mostly towards the playful fun of Minecraft.
Now, some have complained about repetition in the 9 levels, battles, and weapons of Minecraft Dungeons. So, sure some tropes are overused.
For instance, there is Enderman, a riff on Slenderman, who appears on virtually all levels.
But, where some see repetition, kids might see consistency. And that's what this game offers. That's a consistent G-rated action adventure suitable for kids in a game world where there's often too much gore, violence, and other adult-rated stuff.
And if you ask me, springboards, rotating blades, and slamming doors make up for the so-called monotony.
The bottom line is: will your kid enjoy the four to five hours it takes to complete this game? If you ask me, the answer to that question is a definite yes.
Crash Bandicoot 4: It's About Time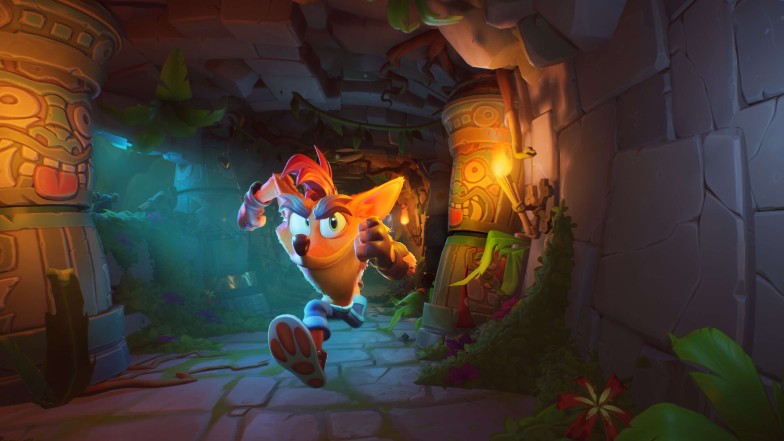 A revamping of the previous version of the same game, Crash Bandicoot 4: It's About Time is a timely adventure of its own, as the marsupial heroes travel distinctly separate worlds with you in tow to save the Multiverse.
Crash Bandicoot and his chums go multiverse hopping as they seek to stop NeoCortex and N. Tropy from messing up all universes. The heroes do that by bringing together the four Quantum Masks.
The new version of this game has more playable characters, new abilities, and, of course, new worlds. And, oh, let's not forget that great sauce.
On PS5, this game runs like a perfect clock at 60fps on 4K, and loading times are exceptional. Activity Cards allow you to decide where you want to be at any time, whether in the next world or at the next time trial.
Though minimal, you will still get some thrills from the adaptive triggers of the DualSense controller. You can't count on any haptic feedback, unfortunately.
You need to be extra calculative with your jumps because you do not always hit the target even after long preparation.
Of particular note, you should watch out for the tricky Triple Spin Power-Up, the Blue Gem Challenge, as well as the Colored Gem Gauntlets.
All said and done, kid gamers are bound to have a great time with this platformer title.
LEGO Star Wars: The Skywalker Saga
The force was definitely with developers Traveler's Tales, TT Games, and publishers Warner Bros. Interactive Entertainment when they dreamed up the immersive open-world virtual experience that is Lego Star Wars: The Skywalker Saga.
This is a must-have in the PlayStation's best games for kids catalog.
Published in 2022 by Warner Bros. Interactive Entertainment, this space adventure/action game continues the saga of Star Wars: The Force Awakens, the 2016 game also developed thematically with Lego.
There is no story as such in this Legos-themed Space Adventure. Or rather, I should say you make up your story as you go along. The nonlinear approach to storytelling lets you assume control of whichever character you desire, and travel where you will.
Go on an adventure across the open world along known Star Wars story arcs. Leave the storyline and come back to it whenever you want. Have a good time in between, doing some space explorations of your own.
Gameplay-wise you need to start off at any specific point in any trilogy. This multiplayer game boasts hundreds of playable characters, ships, collectibles, and star systems.
Planets are divided into sandboxes containing even more collectibles. Be careful though as you need to exert some effort in finding them.
Studs and other collectibles can be your reward for the successful completion of a mission, but may also be locked behind a pretty difficult puzzle.
Enough said here. Lego Star Wars: The Skywalker Saga is a solid platformer and a worthy successor to both the Legos as well as the Star Wars franchises.
TemTem
If Pokémon had a kid sister who could hold her own reasonably well in a fight, that kid sister would be Temtem. And that's a good enough reason for the multiplayer game to be counted among the top contenders for PS5's best kids' games.
This role-playing game was published by Humble Bundle in January 2020, and its online features allow for massive numbers of players.
At the heart of Temtem is a team building for a creature collection odyssey. Thereafter, you can grab some action, running with your squad of Temtems in an archipelago.
Players can customize houses, engage with a friend in a multiplayer adventure via the co-op feature, and also go one-on-one with various other tamers.
One hundred Temtems are up for grabs, And apart from the main story, you're also allowed to go on little side quests of your own.
There's room for improvement in this game, but following an act like the world-famous Pokemon has to be applauded, even if just for the attempt alone. Where many have crashed and burned, the consensus is that Temtem holds its own quite well in this regard.
Some complaints include hard-to-access menus, the necessity to sometimes run twice from a bottle, and the sometimes less-than-intuitive user interface (UI).
Regardless, this monster-bashing, creature-collecting, fun RPG with no pretense is one of the best kids' games on PS5 out there.
Spyro Reignited Trilogy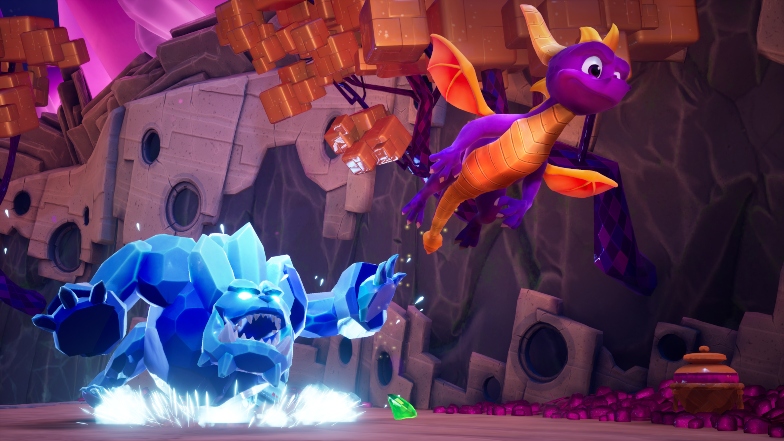 Three times lucky will be the inevitable Swan Song for kid gamers that encounter the magic of this re-engineered Adventure game from a two-decade-old favorite.
The Spyro Reignited Trilogy doesn't, of course, invent the Dragon adventure sub-genre but it does do a good job of adding to it.
Activision, the game's publisher, followed the trend of rehashing old Masters by releasing this in November 2018.
Naturally, the source material for this game is the original game trilogy: Spyro the Dragon, Spyro 2: Ripto's Rage! and lastly, Spyro: Year of the Dragon.
While popular opinion has mostly focused on how well this remastered edition echoes the original, there is some concern that this may have been done too slavishly.
The trilogy is every bit the equal of its forebear albeit with better overall performances courtesy now of the PS5's superior tech.
One thing that needs to be said though, is that the aged Mechanics of the game should have been the one thing left firmly in the past. Game mechanics evolved over time for solid reasons, e.g., fans' feedback.
The mechanics of Spyro Reignited Trilogy hardly do more than evoke nostalgia for older fans but could leave younger kid gamers clueless about its weirdness.
Characters, the world, and the environment have not suffered this same fate, thankfully. They are firmly in the 2020s and look even more glorious on a 4K display.
In-game guides could do with a tune-up and many gamers have found themselves lost after a level. Final verdict? It is worth playing but will take some adapting.
TMNT: Shredder's Revenge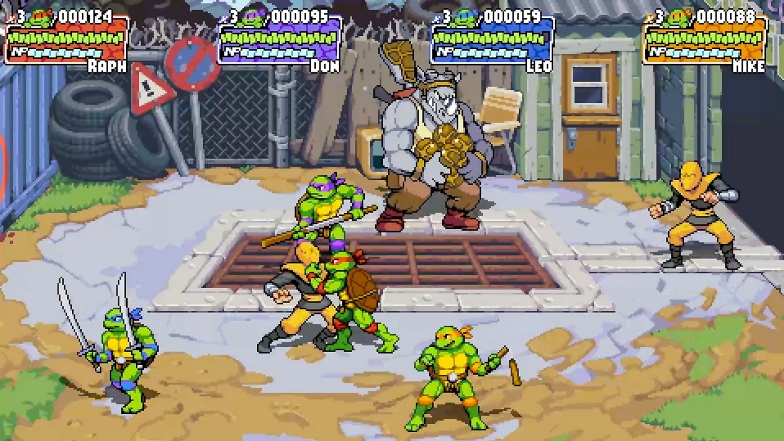 Who hasn't loved these rambunctious Teenage Mutant Ninja Turtles for years? When publishers DotEmu and Gamera Games released this reliving of the first arcade game by Konami in 2022, it was certain to draw wide and appreciative attention.
Perhaps the most correct way to categorize this game is as a beat 'em up. And truth be told, what else would these named-for-artists Ninja Turtles be doing on any given day?
The 6-player multiplayer online capability allows for 'the more Turtles, the merrier' scenarios.
Story-wise, there isn't really much going on, Krang and Shredder are involved, of course, and the four turtle friends have to crawl out of their shells (er, no, they actually carrying them everywhere) and somersault about New York to stop these not so lovable villains again.
Who would have thought that '90s pixel art could look so good? But the resulting interface has strong, clean lines and vibrant colors, without being over-the-top.
Modes include Arcade mode and Story mode, which is a new feature, and allows players to HP up, or discover new combat moves.
It's interesting that Tribute Games, the developers, infused each of the four turtles with different moves. The same goes for bosses and the actual beat 'em up encounters. Though it's the same old slugging ninja style, it never feels too repetitive.
TMNT: Shredder's Revenge will certainly retain old fans and make new ones.
Slime Rancher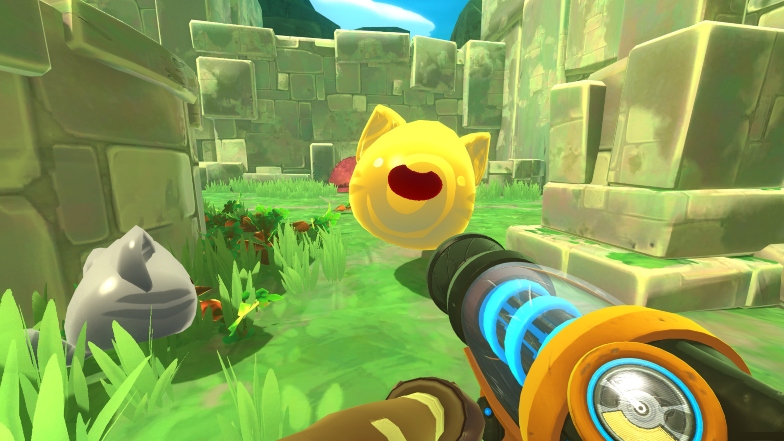 A fun incarnation of the slime craze is this adorable first-person shooter and single-player video game, Slime Rancher. Does it deserve to be on PS5's best kids games list? Some would argue that it should top the list.
This game was published by Monomi Park and was first released in 2017. Award nominations include the BAFTA Games Award for Debut Game as well as The Game Award for Best Debut Indie Game.
Cutting to brass tacks, it's an adventure sim video game that has a fabulous stack of collectibles, a great environment, and decent storytelling.
Issues like the FPS drops observed in the PS4 are easily done away with in the better-performing PS5 console.
The story follows the main character, Beatrix LeBeau. As Beatrix, you have to succeed in your new farming venture in the far reaches of the Galaxy – it's slime ranching.
Money can be made from catching the slimes, feeding them, and then selling their … er, poop. It does help that the slimes are so cute.
You'll be caught up experimenting with slimes as you wait to see what gorgons they morph into later. Slimes include Honey, Hunter, Phosphor, and Mosaic. Combinations of slime are also fun to arrange.
As you unlock more areas the game world increases in scope and becomes infinitely more interesting. Challenges, new abilities, and opportunities for customizations are also to be looked out for.
One word that is constant while playing Slime Rancher is 'fun', and this is why kids will love this game.