As humans, there are several activities we can't partake in due to certain limitations like time, resources, and even skill. For instance, how do you travel to space when you don't have Bezos money? Well, that's where simulation games come in!
Simulation games make it possible for you to get away from life a bit and jump into another world of real-life activities you never thought you would be involved with in your wildest dreams.
Step into the shoes of a professional train driver or see how it feels to own your own Disneyland. You can even experience the thrill of flying an aircraft! Whatever it is, there's something for nearly everyone.
The best part is that this formerly PC-only genre is now mainstream on gaming consoles too, and the PS5 has enough options to offer! To make selection easier for you, I've done my best to create a list of the 12 best simulation games for PS5. Enjoy!
Farming Simulator 22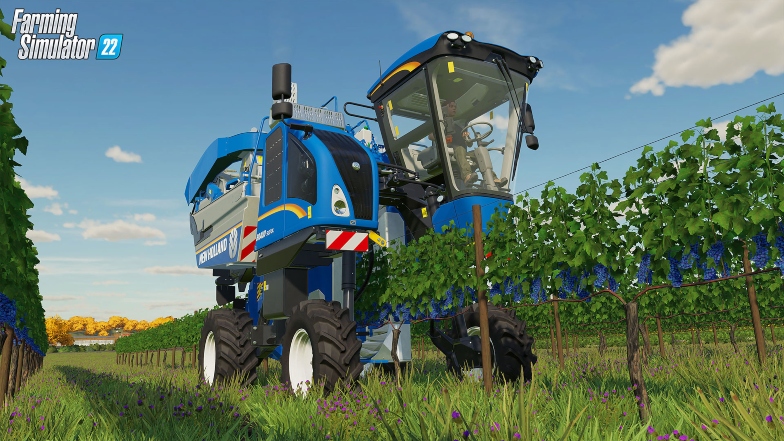 Farming Simulator 22 is a farming simulation game with simplified economic and agricultural features based on real-world applications. It belongs to the Farming Simulator game series created by the German developer studio, GIANTS Software.
The game presents a large number of activities like planting and fertilizing seeds, cultivating lands, and preparing them for sowing, forestry, and crop harvesting. Each activity has its own equipment and vehicles, and there are times when you'll have to sell your crops, especially when it's the crop's season or there is high demand for it.
At the beginning of the game, you'll customize your character however you want it to look, of course, depending on the available options.
You have three regions to choose from for your farming operations: a blissful American town, a Swiss-style highland, and a simple French village. If that's not enough, you can buy more land to carry out your activities.
Farming Simulator 22 gives you the freedom to play however you want to while offering you everything you need on a farm. Do you want to work on other people's farms and get paid? Go for it! Would you rather be a lumberjack selling lumber? Knock yourself out!
Car Mechanic Simulator 21
Car Mechanic Simulator is the fourth segment from the series Car Mechanic Simulator. It was published by PlayWay in 2021.
The gameplay here is similar to the title's predecessors. Basically, you're tasked with running your own car repair business where you take on jobs that may require you to take apart a car to find out what the problem is. You can also rebuild junk cars or upgrade old models and sell them, consequently earning cash that you can use for developing your garage.
Now, the garage development in this game is on another level – I'm talking paint shops, car wash equipment, a car track where you can test out a car when you're done working on it, and many more. Car enthusiasts also have something to look forward to with the available DLC packs that allow you to work on vehicles like Nissans and electric cars.
This new version of the Car Mechanic game series comes with much more diverse and realistic gameplay. Its improved graphics, new mechanics, and fresh-faced inclusions make for a fantastic game for both newcomers and fans of the series.
Train Sim World 2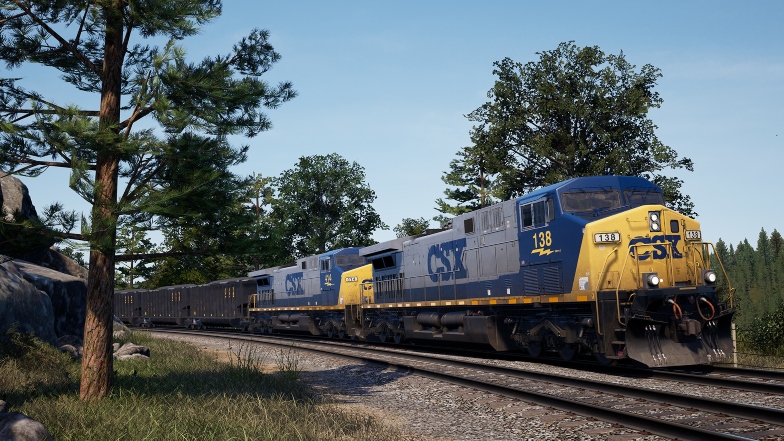 Train Sim World 2 is a game that exhibits a calm and relaxing gaming experience. It is the sequel to Train Sim World 2020 and the fifth installment in the Train Sim World (TSW) simulation game series.
TSW 2 features some of the most famous trains globally, like the legendary London Underground 1972 stock.
Your task is to control iconic locomotives like the DB BR 442 Talent 2 and DB ICE 3M through famous routes like London's Bakerloo line and Germany's Köln–Aachen. Sand Patch Grade, the first route in the series, also returns with a few upgrades.
An interesting new feature in TSW 2 is the livery editor that allows you to customize the appearance of the trains to your preference. The only downside to this is that you can't show off your designs to other people. There are also extensive tools that you can use to build your own scenarios.
This Dovetail Games simulation has lots of activities to keep you busy, not to mention the side-quests and DLC packs. Whether you're a train enthusiast or not, you're bound to have some serious fun playing this game.
Ravenous Devils
Ravenous Devils is a pretty unusual game set in a macabre atmosphere where a psycho couple will do anything to get rich. It is a horror cooking simulator with a very vile secret ingredient.
The story follows a serial killer tailor, Percival, and his chef wife, Hildred, and how they run their businesses in the most bizarre way possible. Hildred's restaurant business is well known for its exotic and tasty seasoned meat made from human corpses. Meanwhile, Percival is the food supplier who kills his customers and tosses their lifeless bodies into the basement for chopping.
The two must work hard to keep their businesses going, and as the player, you'll be jumping in between tasks, from one business to another, ensuring you satisfy customers on both ends. As you get more money, you can upgrade your establishments with new tools, which in turn increases cash flow. Meanwhile, there's a secret admirer who knows everything the couple is up to.
Ravenous Devils takes you to a dark, twisted world of serial killing madness. It's unlike anything you've seen before, and although it might be a bit disturbing, it provides a fun narrative journey that is carefully fleshed out.
Kerbal Space Program: Enhanced Edition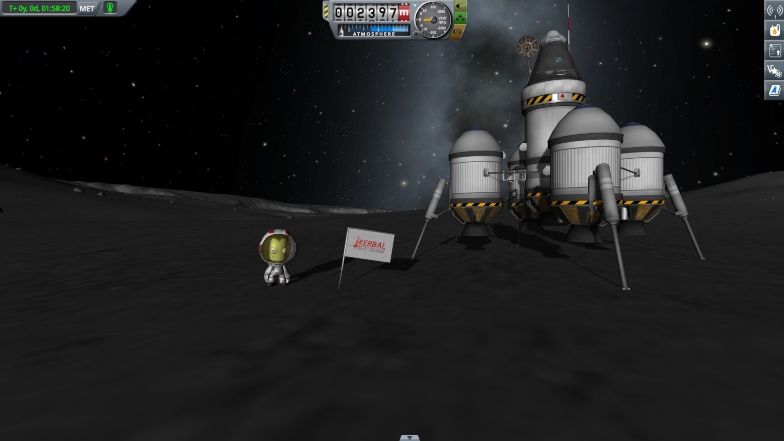 Kerbal Space Program is a space flight simulator published by Private Division in 2015, four years after its initial digital release on Steam early access.
A PS4 version was then published in 2016, with the enhanced edition arriving two years after that. Then, the PS5 version finally came to the PlayStation store in 2021. This game is the debut title of the Mexican developer Squad.
In Kerbal Space Program, you control a group of humanoid aliens called Kerbals. The Kerbals own the Kerbal Space Center, a space center on their home planet, and their job is to build spacecraft like rockets, spaceplanes, rovers, etc., on this space center using different components provided.
When you've successfully built a craft, you can launch it on the runway and use it to travel to other celestial bodies, provided you monitor the fuel available and maintain the right amount of thrust.
You can experiment with the settings of the spacecraft, and there are a series of missions for you to go on. Some of these include escaping the atmosphere, visiting other planetary bodies, saving helpless Kerbals, building space stations and bases, catching asteroids, and hiring and training astronauts.
You have three game modes (science, career, and sandbox) to choose from, and with the game's realistic orbital engine, you get to experience real-life orbital mechanics and maneuvers like the orbital rendezvous. If your dream is to one day go to space, this game is an excellent place to start.
Hunting Simulator 2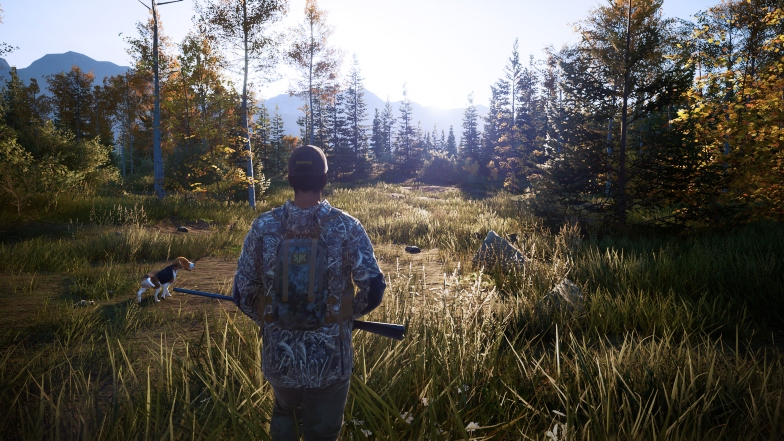 Hunting Simulator 2 is a first-person hunting simulation shooter that requires more meditation than shooting. It was published as the second installation in the Hunting Simulator game series.
As I stated earlier, this game requires meditation as well as patience and dedication. It's less of carrying a gun, running into the forest, and shooting the nearest antelope and more of prepping properly for a hunt, selecting the right gun caliber, and doing the required hunting paperwork.
Tracking your prey is in a completely different ballpark. You have two options – do the tracking yourself or send out one of your three dogs to do it for you. You can choose among a German Shorthaired Pointer, a Beagle, or a Labrador Retriever – each having its own unique hunting skills.
Hunting Simulator 2 offers you the ultimate hunting experience. You get to explore Europe's forests, Colorado's plains, and Texas' desert with over 160 hunting equipment for your use and thirty-three different animal species to hunt. There's also the option of just strolling around and admiring the beautiful environments while listening to the soothing sounds of nature.
Bassmaster Fishing 2022
Bassmaster Fishing 2022 is the closest to real-life fishing you will ever get from your bedroom or living room or wherever your PS5 is, as long as it's nowhere near a river.
This simulator gives you access to ten real-life elite pro anglers like Hank Cherry, a consecutive Bassmaster Classic champion, or Scott Martin, the cover star of the game. You also have eight different real-world fishing venues to choose from, including the famous Lake Hamilton.
With the few distinct game modes, you can never get bored – it all boils down to what you feel like doing. There's a career mode where you take part in different tournaments and gain fame by working your way up the ladder through these events.
The more open Venue mode is perfect for taking a break from the competitive tournaments and fishing wherever, whenever, and however, you want. Multiplayer mode is also available for you to compete against other players.
Bassmaster Fishing 2022 comes with stunning graphics, very realistic gameplay, and picturesque environments. All these combine to create one of the best fishing experiences in the gaming world.
Mech Warrior 5: Mercenaries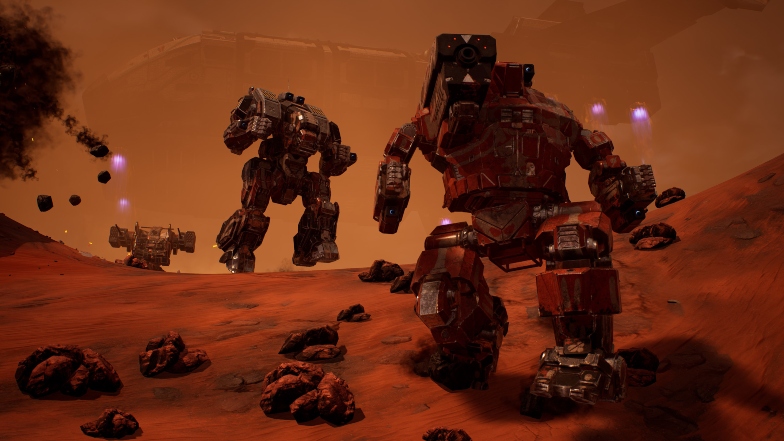 The availability of Mech Warrior 5: Mercenaries on PlayStation platforms is a big win for mech fans. For over 20 years, the Mech Warrior franchise has been inaccessible on any Sony console, but with this release, you can battle all the battlemechs you want on the PS5.
Mech Warrior 5: Mercenaries is a shooter simulation game set in the BattleTech universe.
The game sets off in the year 3015 during the Third Succession War, a war that has been going on for 150 years among feuding factions fighting for control over the planets and their resources. As a player, you play the role of Commander Mason, a young mercenary just starting his journey as a mech pilot.
You take on missions where you get paid, and you can then use the money to upgrade or repair your mech suit or buy a completely new one. Progressing through the game, you become famous and take on harder and higher-paying jobs. Soon you'll be able to afford a whole army of mercenary mech warriors.
Bringing the Mech Warrior to PlayStation, particularly the PS5, was a smart move. With the game's inclusion of the new-gen haptic feedback, ray-tracing, and dual sense controller elements, you'll be able to experience an enhanced premise quite different from those of the previous editions.
Planet Coaster: Console Edition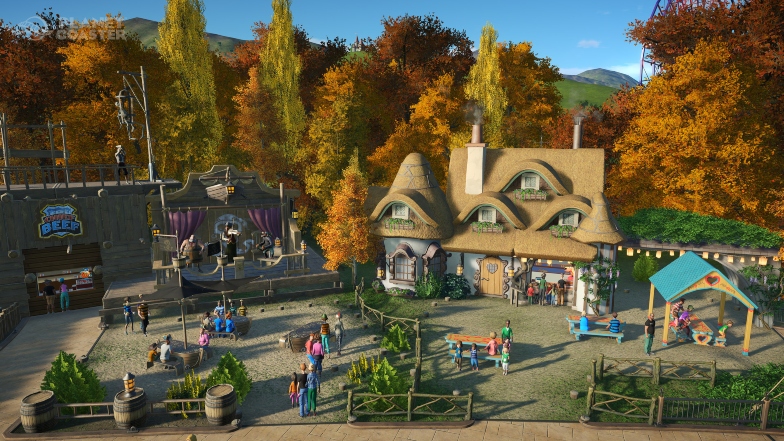 Planet Coaster: Console Edition is a theme park creation and management simulator published by Frontier Developments. The studio is known for other amusement park games like Zoo Tycoon and the Roller Coaster Tycoon game series.
As a player, you are tasked with creating amusement park rides like roller coasters and managing the general operation of a theme park. The tasks you perform depend on the game mode you choose. The experience is pretty much what it would feel like to run your own Disney World.
There are three game modes: Career, Sandbox, Scenario Editor, and Challenge. In Career Mode, you take on the role of an amusement park manager rejuvenating old parks and hiring janitors.
In Sandbox mode, you build your own amusement park from scratch. The Scenario Editor mode is similar to the Career mode, but here you create your own task in the already existing parks. The Challenge mode is identical to the Sandbox mode but with more difficulty – you build from scratch but with limited research and funds.
One lesson you can learn from this game is that running a theme park is not all fun and games.
Crusader Kings 3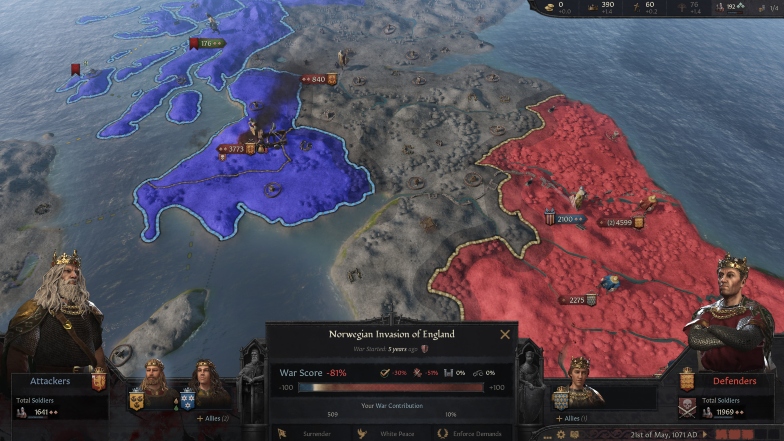 Crusader Kings 3 is a strategy RPG and dynasty simulator published by Paradox Interactive as the third installment in the Crusader Kings games series.
The game is set in the Middle Ages as far back as 867. It features a far more detailed and larger world map than its predecessors, covering Europe, and parts of Asia and Africa.
You are tasked with ruling over and growing your own dynasty. To expand your kingdom, you may have to perform duties like marriages to preserve your bloodline, waging wars on other domains, killing usurpers, influencing your citizens' religion, and establishing beneficial alliances.
The gameplay expresses itself through characters like kings, queens, chiefs, religious heads, etc. Each character has its unique trait, and playing against it will get the character stressed. There is also a genetics system in the game through which characters can transfer their traits to their descendants.
The game's storytelling is dynamic, and this simulator is addictive enough to make you lose days of sleep. It's safe to say that Crusader Kings 3 is a beautifully designed game that makes for a truly absorbing experience.
Overcooked! All You Can Eat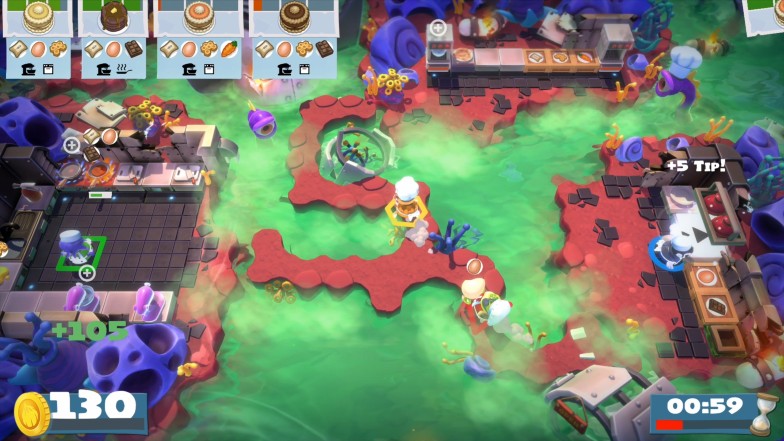 Overcooked! All You Can Eat is a cooking simulation video game from the Overcooked game series. The game combines all the content from its predecessors with additional elements to produce a phenomenal simulator. It was published by Team17.
The gameplay takes place in a world called the Onion Kingdom, governed by the Onion King. In the first part of the game, you face a mighty, ancient creature that can only be stopped by eating it. Then, in the second part, you fight off undead bread to protect the Onion Kingdom.
Perhaps the most notable aspect of this game is its multiplayer mode. You can play with three other players in this mode, competing against or cooperating with them.
Utilizing the PS5's impressive power, Overcooked! All You Can Eat provides fast loading times, remarkable 4K visuals running at 60fps, and cross-platform multiplayer. Overall, this is a great game to enjoy playing with friends online or locally.
Cities: Skylines Remastered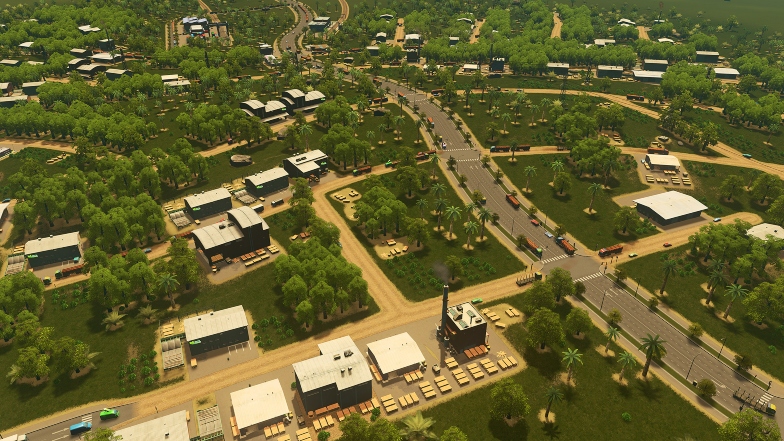 Cities: Skylines was a PC-only game, but its remastered PS5 version is just as great as, if not greater, than the PC version.
This game is one of the most well-known city builder simulators. It was published by Paradox Interactive and is regarded as the successor to SimCity.
Ultimately, as a player in the game, you carry out city planning by controlling taxation, infrastructure development, communications, road placement, transportation, public services, and zoning of a region. Your goal is to build a city, ensure it functions, is adequately maintained, and that its occupants are happy and satisfied.
You start with a plot of land that expands over time. On this land, you will build houses, roads, zones, public transport routes, and public buildings like hospitals, fire departments, police departments, etc.
You will build your way up from a small regional district to a vast metropolis. All of it belongs to you. The power is in your hands to create whatever suits you, and that's one awesome feature of Cities: Skylines – the freedom. It's a super-fun and definitive city-building simulator, one of the best, truly.
Simulation games are a lot of fun, but there is an extra bit of appeal in the fact that you also get to learn new things when playing them. If you like the idea of learning while gaming, check out the best educational games next!