Casual games are quite popular among hobbyist gamers or those that have very little experience with video gaming generally.
Where you'll see hardcore gamers target more specific genres such as action games, platformers, puzzle games, etc. that may require a high level of skill, casual gamers are more particular about simpler rules, shorter sessions, and straightforward gameplay.
If you belong to the latter group, then you're in luck. In this guide, I have put together sixteen of the best casual games on PS5.
These games cut across different genres with wildly varying premises and gameplay, but they all have one thing in common. Yes, they're casual.
Catch and Release
Catch and Release is the true definition of casual. This extremely chill fishing game was published by Metricminds GmbH & Co. KG in 2018.
As a VR-exclusive title, you're going to need the PlayStation VR and Camera to enjoy Catch and Release, but it's a good thing because it really contributes to the overall immersive experience.
You don't need any special tools or skillset to fully enjoy this game. It's just you, your gear, the lake, and the fish in it – just as nature intended.
You may catch a frog jumping from lily to lily on the lake, or a deer or moose strolling by the forest beside the lake, but it's all still part of the natural experience.
When you fire up the game, a brief tutorial is all you get before you're thrown straight into the game proper.
There is a learning curve, but it shouldn't take you long to get the hang of using your gear and baiting fish. After all, even casual gaming will get pretty boring quickly if it's completely void of any form of challenge.
The idea of this fishing simulator is for you to catch as many fish as you can and get paid for them. The "selling" part is done by simply throwing the fish you manage to catch into the icebox that's also on your boat, and the "shmoney" rolls in.
There is a catch though. If you release young fish that is not yet mature, you get rewarded for it. It's a fairly simple system that ensures you pay more attention to the types of fish that you reel in.
You also have a radio as part of your gear, and you can cycle through programs and music stations until you find something you like to set the mood for your hunt.
In summary, Catch and Release does not try too hard to be perfect in its quest to simulate realistic fishing, but it does well enough to hold the attention of gamers that love fishing, or those that are generally just looking for a chill, casual game.
Death Stranding: Director's Cut
One of the most insulting things that I've seen and heard about Death Stranding is that it is just a "walking simulator".
I think it reduces the game to a level that it does not deserve to be, and I think that if those people actually spent enough time with it, they would realize that it is not just a walking simulator, it's also a "carrying stuff" simulator.
Jokes aside though, the aspect of the game that feels like passive activity is probably one of the main reasons why I also think it is one of the best casual games on PS5 if that's what you're looking for.
Death Stranding was backed by the big budget of publishers Sony Interactive Entertainment in 2019.
The original game has since received an update that offers a refined experience on the PS5. That update is referred to as the Director's Cut, a la Ghost of Tsushima, but perhaps more unique and new.
There is a story here, and the main character, Sam Porter Bridges, is not just needlessly traveling across a vast country with minimal contact with human beings for no reason.
He is doing so because America has witnessed a post-apocalyptic event, and inexplicable shadow monsters have taken to roaming the land, making it unsafe for the people left to move freely.
As a result, Sam takes on the role of "delivery boy", carrying and delivering packages across long distances in his own small contribution to helping the shattered country to stay united and recover.
Now, Death Stranding is far from short. The average playtime is about 40 hours, which is far more than a casual gamer will be willing to knock out within an extended session or two.
However, with the way the game is set up, you can play in short sessions as many times as you want without feeling any form of detachment from the progress of the story. This makes it a viable option as one of the best casual games on PS5.
Life is Strange: True Colors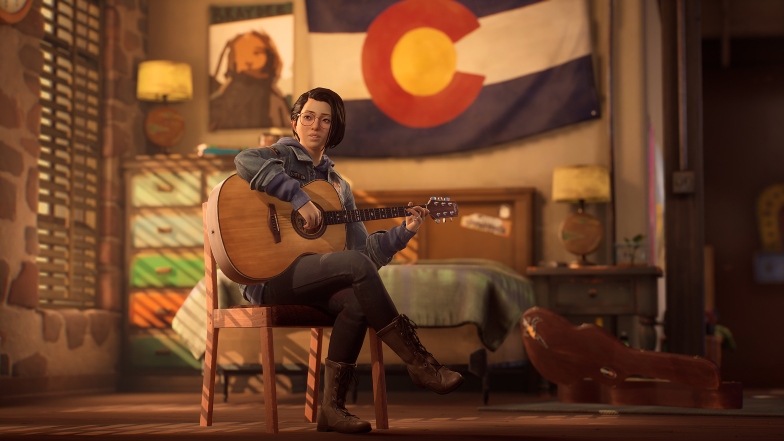 Life is Strange: True Colors is an interactive adventure game published by Square Enix. It is the fifth installment of the Life is Strange series, which started as far back as 2015.
You may need up to 14 hours total to complete the game, but don't worry because this time is broken down into episodes. The game has five episodes and each one averages about 2 to 3 hours which is perfect for a casual session.
Since this is also an interactive story game, you're even less likely to notice how much time has passed because you will be actively involved in the progression of the story, and it does help that the main character has some depth!
Speaking of a story, this one follows Alex Chen, a young girl with an unnatural ability to feel the emotions of people around her as though she was the one experiencing them in real time.
The ability proves to be more of a burden than a gift to her because she's unable to control it.
It causes a sequence of events that ends up with her moving to a new town to move in with her long-estranged brother who she'd lost contact with in between moving around within the foster care system.
As Alex attempts to build a new life in a town where nobody knows about her past, your decisions will determine how the next phase of her life plays out, and if it will be a happy ending or more misery.
The superb pacing of Life Is Strange: True Colors, alongside the perfectly broken-down episodic approach, contributes significantly to making this one of the best casual games on PS5.
Rocket League
If you know of Rocket League, you're probably wondering why a frantic multiplayer sports game like this is on the list of the best casual games. Hear me out though.
As a hobbyist gamer, there are two things that you're likely to consider when you're trying to select a game.
The first is how long it will take to get the hang of the gameplay, and the second is if it's something you can pick up and drop at any time without ruining the experience as it was intended to be.
Rocket League ticks both of these boxes easily. The controls are fairly easy to learn (albeit more difficult to master, but you don't need to), and the sessions can be as short or as long as you want.
If you're not familiar with the game at all, then a quick description is that it is a football game but instead of players, you're kicking the ball around with cars.
Just picture the characters from the Cars movie playing a game of football and you have a pretty good idea of what this is.
It doesn't even matter if you're thinking of soccer or American football, your thoughts are probably close enough regardless depending on which way you choose to look at it!
One more thing that makes Rocket League one of the best casual games on PS5 is the introduction of "Casual" mode as one of two core online gameplay modes.
In this mode, you can play with friends that rank higher than you in Competitive mode, which was previously not possible.
Just Dance 2022
Depending on how well you can bust a move, playing this game can either go really well or really embarrassing. However, you're bound to have a lot of fun regardless!
Just Dance 2022 is a dance rhythm game developed and published by Ubisoft in 2021. As you can probably tell from the title, there have been previous iterations of the game in previous years, so this one is the thirteenth major installment from the series.
Just Dance 2022 should be an attractive proposition for a casual gamer for many reasons.
If you're looking for a chill game where you're not just sitting behind a screen and mashing buttons, Just Dance allows you to be active and escape that sedentary lifestyle for a while.
If you're also looking for casual gaming fun that can be enjoyed with friends, then Just Dance's multiplayer mode would be perfect because you can all laugh at the person with the worst moves, potentially ruining your friendship forever.
The game even has a "Kids Mode" that includes a special playlist of songs that are more suited to…well, kids. This includes a couple of songs from the Just Dance Orchestra.
Fun, simplistic gameplay, accompanied by interesting dance routines and a nice soundtrack should offer all the conviction you may need to pick this one up.
Astro's Playroom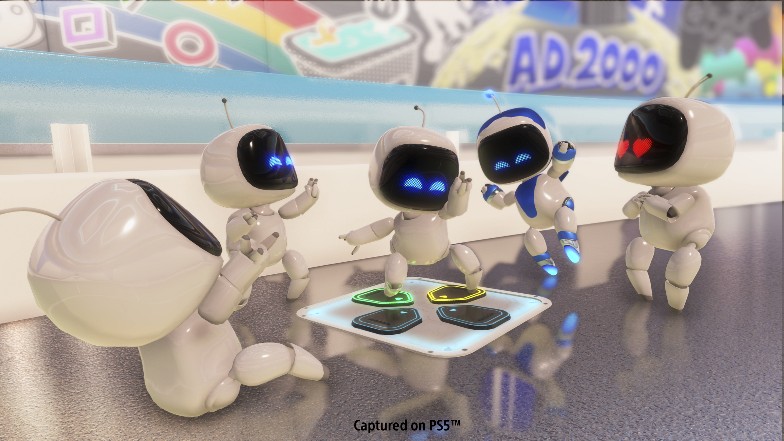 As far as the best casual games on PS5 go, Astro's Playroom is certainly up there.
The shout for being the outright best option is even louder when you consider the fact that this game was pretty much built because of the PS5, to show off the performance and features of the new-gen console.
You just know for a fact that you're getting top quality in that regard, and that must count for something.
Astro's Playroom is a 3D platformer. The game was developed by Japan Studio's Team Asobi division, and it was published by Sony Interactive Entertainment in 2020.
It is a spiritual successor to the PSVR-exclusive, Astro Bot: Rescue Mission.
This is only a 3-hour playthrough on average, which is another feather in the cap in relation to casual gaming. However, if you're gunning for 100% completion, you're likely to need about two more hours.
As mentioned, the game shows off the new features of the PS5, especially in the way that DualSense controller support is implemented.
60fps performance is excellent, but the use of adaptive triggers and haptic feedback immediately sells dreams of fantastic gaming experiences and immersion in action-packed titles.
Even the main character, Astro, is a blue and white robot which is the same color scheme as the PlayStation 5 console.
You can punch stuff, jump, or hover with Astro's jetpack as you navigate the simply built but visually pleasing environment that the game is set in. It's all pretty…casual fun.
Mortal Kombat 11 Ultimate
If we're being very pedantic about it, it's a bit tongue-in-cheek to call Mortal Kombat a "casual" game. The gore alone is far from casual, and this game does not hold back at all when it comes to fierce, intense gameplay.
However, over the years, Mortal Kombat has become a staple for casual gamers that want a fighting game, and this one's no different.
Mortal Kombat 11 Ultimate is the eleventh main installment in the Mortal Kombat series.
The game was developed by NetherRealm Studios and published by Warner Bros. in 2019.
If you ask hardcore gamers in the fighting game community, the overwhelming consensus is that Mortal Kombat is one of the more shallow, casual fighting games out there.
While the game rewards players that go the extra mile to learn combo moves and execute them in organized sequences, you can also get by with button-mashing or by hacking and slashing your way through each round (if your character has a sword, that is).
Obviously, the latter is more suitable for casual gamers especially when your opponent is a fellow casual. If you don't have friends, you can slug it out with AI too, but it's not nearly as fun in my opinion.
Bugsnax
Bugsnax is so good, and the gameplay is so diverse that it would fit right in many "best of" lists. However, at its core, this is an adventure game from the stables of an independent studio called Young Horses.
Bugsnax's minimalistic approach and vibrant world make it a very suitable option not only for casual gamers but gamers of all ages.
The characters are "cute" enough to appeal to the youngest of audiences, and the gameplay is meaningful and intriguing enough to appeal to middle-aged adults looking to kill time too.
Speaking of cute characters, the player's main objective in this game is to find and capture half-bug-half-snack creatures scattered around the island where the game takes place.
It's similar to Pokemon in that regard, but it also introduces enough unique puzzles and other elements to stand out.
Bugsnax belongs to a category of casual games that benefit from the modification of the term in modern gaming history. Previously, casual gamers were seen as people that had no form of commitment to real gaming.
However, since the Covid19 pandemic forced people to stay home, consequently leading to significantly higher console purchases, the "casual gamer" title also applies to gamers that pick up a title that they actually like whenever they have some free time. It does not mean they are any less committed to real gaming anymore.
Put simply, Bugsnax is one of the best casual games on PS5 because of its basic, minimalistic gameplay.
Unpacking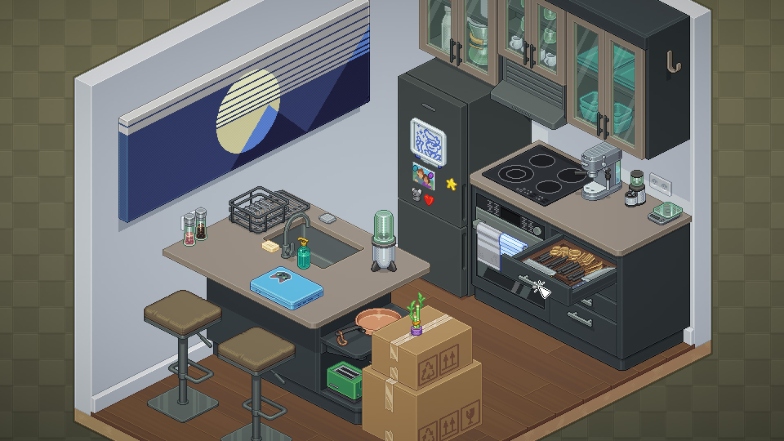 Unpacking is a puzzle video game that was published by Humble Bundle.
The biggest spoiler is in the title itself – this is a game about unpacking stuff, but it actually runs quite deeper than the title suggests.
If you've ever moved houses, then you know that it can be a tedious task. Imagine having to do it several times over the course of a few decades, and you'll have a pretty good idea of what the life of the player in this game is like.
However, there is a story here. What starts out as packing boxes full of a kid's belongings gradually switches up as time passes.
You see the types of possessions you're packing and unpacking change as the kid grows older, reflecting maturity, growth, and the character's mental state of being.
For instance, there is a point where you have to move out from a small room that just looks depressing as h**l, and you can hazard a guess about how the character is doing mentally at that point in their life.
Unpacking is one of the best casual games on PS5 because of how "Zen" the gameplay is. The tasks that you're required to execute are quite simple, but the game uses them to lead you on a meaningful journey that leaves a lasting impression.
Among Us
Among Us at its peak has to be considered one of the most popular casual games of all time.
The game was an absolute social media sensation and the term "imposter" must've been used a billion times in reference to it. It literally became pop culture.
Developers InnerSloth LLC drew inspiration from the Mafia game and the horror film The Thing, but the product of that inspiration was so massive that they deserve as much credit as possible.
The premise of the game is simple. It is a social deduction game, and you participate as part of a team of between 3 to 14 other players (preferably people you actually know to make it more fun).
The players are broken into two groups, and the majority of them will be labeled "crewmates" of the ship you're on. The crewmates will be required to complete small tasks in various locations around the ship.
The other group is the "imposters", and their objective is much more sinister. They are required to kill all the crewmates without arousing suspicion by posing as fellow crewmates.
If the crewmates can figure out who the imposter/s is, then they win. If the imposter/s kills everyone before they are found out, then they win. There are more intricate details involved but this is the general idea of Among Us.
The game is played from a top-down perspective, which is great for the field of view that you'll need to see what's going on and find your way more easily.
I have seen a 3D version that was created by a developer on the web but that's a story for another day.
If there's one thing that the 2020 lockdown showed the world, it is that Among Us is one of the best casual games out there, and that fact still applies years after.
Slime Rancher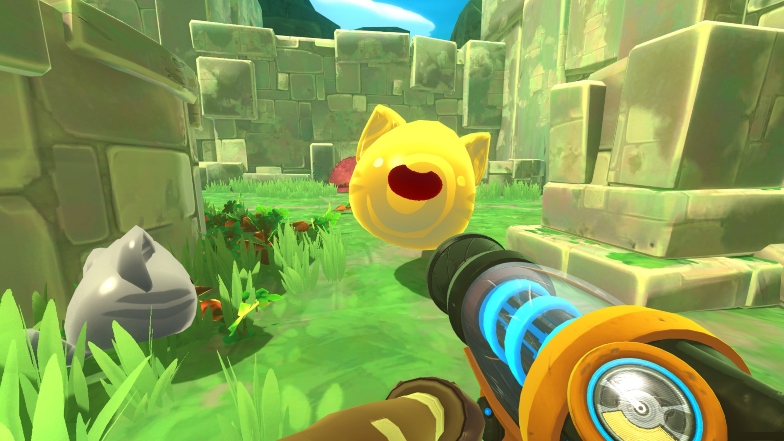 Slime Rancher is an adventure game that was developed by Monomi Park and published Skybound Games on consoles in 2017.
Although it was already available on the Xbox One by then, the game only arrived on PlayStation a year later.
Considering the fact that the sequel, Slime Rancher 2, is not an option for PlayStation gamers, this first installment is still the best bet for PS5 owners that want to give it a go.
However, it runs pretty well on the PS5 with no freezing or lag so you're still getting a solid experience.
Slime Rancher is played from a first-person perspective in an open-world setting called the "Far Far Range". This location is a fictional planet some distance away from Earth, and it's a pretty interesting place to explore.
Your character, Beatrix LeBeau, moves from Earth to the strange planet where there are creatures called "slimes". Each slime has unique characteristics, but they are all gelatinous creatures, and your job is to raise, feed, and breed them.
There are three game modes in Slime Rancher – Adventure Mode, Casual Mode, and Rush Mode.
While Adventure Mode is most suitable if you want the full experience, a casual gamer might find more joy in Casual Mode. It's easier and requires much less skill and grinding to get through.
Slime Rancher first gained popularity through Twitch gamers. The streaming platform introduced the game to many indie and casual game lovers, and it has since gone on to become one of the best casual games on PS5 and other consoles.
Minecraft
It's almost redundant to put a game like Minecraft in a guide like this because it feels like the most obvious inclusion.
This is not only one of the best casual games on PlayStation, but it is also one of the most popular games of all time. Huge careers have been made out of playing Minecraft.
That said, I will say a few words about it still for the one in one million people that don't have the key details.
Minecraft is a sandbox game developed by Mojang and published by the same studio in collaboration with Sony Interactive Entertainment.
The game was initially released worldwide on PCs in 2011, but a PS3 version launched in 2013, and a PS4 version arrived a year after that.
That PS4 copy was upgraded at the end of 2019, so the game still holds up very well on the new-gen PS5 console.
Of all the casual games in this guide, Minecraft offers players the most freedom to do what they want – even for a sandbox game.
You can literally just pick up the game and play with no specific rules or convoluted gameplay, building cool stuff with wildly varying levels of difficulty that are determined by your preference.
There is an end game here, but there is no pressure to get there. That, in my opinion, is what you want from a casual game, and there are not many that do it better than Minecraft.
No Man's Sky
Traversing across seemingly endless, procedurally generated planets within an "open-space" universe might not be your best definition of a casual game, but hear me out.
No Man's Sky works brilliantly for both ends of the scale – it is suitable for hardcore gamers that are particular about extreme levels of detail, and it is also suitable for people that just want a relaxing gaming experience.
The game was originally developed and published by Hello Games in 2016, but it only got really good after several major updates were released.
The feedback on the original release was poor, but Hello Games capitalized on great sales gained through aggressive marketing to rebuild the game into what it was originally intended to be.
Speaking of the hardcore vs casual appeal of this game, here's what you need to know.
Your character has the luxury of exploring a universe containing an endless number of planets, each one with its own ecosystem.
If you're a hardcore gamer, then you'll want to spend a lot of time building bases across these planets, trading, pooling resources for survival, and generally wringing every bit of gameplay out of it.
However, a casual gamer can focus on exploration more than other elements. There is so much to do in No Man's Sky, but there is also so much to look at, and that element is what makes it one of the best casual games on PS5.
GTA V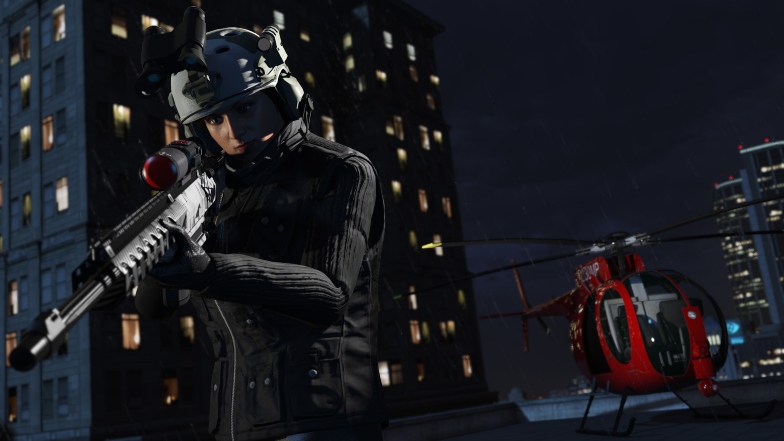 Here's another one that needs no introduction. Grand Theft Auto is one of the most popular gaming franchises of all time, and GTA V is the seventh main entry in the series.
Despite the fact that the game was published by RockStar Games as far back as 2013, it was still the latest entry at the time that the PS5 was released in 2020.
In fact, one may argue that just as many players were still actively playing the game compared to when it originally launched seven years earlier.
That opinion especially applies to the introduction of GTA Online which offered another fun way to experience the fictional city of Lo Santos.
GTA V appeals to casual gamers for a similar reason to Minecraft. It is also a sandbox game so you can do whatever you want, but this time in good-looking 3D with human characters.
Again, there is a story here too, but you can play it at your own pace and choose to unleash mayhem on the city instead. You can drive wherever you want, fly wherever you want, and even kill whoever you want (watch out for that 'Wanted' level though!)
Even for a casual gamer, progressing the story at your own pace is easy enough and you don't have to be ridiculously skilled to do well. Without a doubt, RockStar Games built an absolute gem in this one.
Farming Simulator 22
Farming Simulator is a complex simulator that does exactly what its name suggests – lead you through the process of running and managing a farm.
The game was published by GIANTS Software and is the ninth main installment of the Farming Simulator series.
There's no need for wordy descriptions, if you like the idea of growing plants and using modern farming equipment to develop your farm, then this casual simulator is a great way to kill time.
Some people get the seeds from the farmer's market and actually grow plants in their backyards. Not everyone has that luxury of time or land anyway and that's what games are for.
Farming Simulator 22 features over 400 vehicles and implements, so you can actually learn a lot of things that you probably wouldn't have if you were doing this small scale in your backyard.
You have to follow seasonal cycles and manage production chains for the crops that you harvest and the livestock you own, and you can do all of that without a morbid fear of making a mistake that leads to the death of something for real.
FS22 is not without the occasional bug, but the overall experience is more than solid enough for one of the best casual games on PS5.
Discovery Tour: Viking Age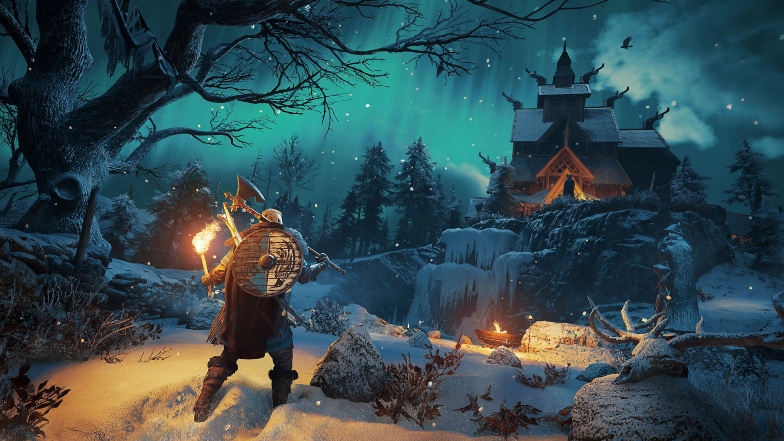 Assassin's Creed is another popular franchise in the gaming industry that's been running for quite a bit of time now. If you're familiar with the regular games, then you'll know they're far from casual.
However, the educational extension from Ubisoft dubbed "Discovery Tour" fits the description of a casual game. The studio has been releasing these extensions to the main game since Discovery Tour: Ancient Egypt in 2018 was attached to Assassin's Creed Origins.
The idea behind these Discovery Tour extensions is to present the research that the teams at Ubisoft carried out in the world-building process for these games in a visual, gamified manner.
This means that in Discovery Tour: Viking Age, you can fully explore the open world with no combat, interacting with the people and experiencing the culture first-hand to know what the lives of the Vikings were like all those years ago.
It's all good research too, so you can learn quite a bit of useful information. If you want a break from the missions and fights in the main game, this is a great way to enjoy a casual Assassin's Creed experience.
Now, if you've read up to this point, and the most interesting option for you was this Assassin's Creed "spin-off", then maybe what you're looking for is not just a casual game.
Maybe you want something that requires very minimal input on your part in terms of gameplay.
If that's the case, then you'll find a handful of good options among the best interactive story games on PS5.
Many of the games on that list play out almost like a movie, and you can simply soak in the essence of the story very…casually.