A side-scroller or side-scrolling video game is a 2D game where the gameplay is presented in side-view, and the player moves laterally from left to right or vice versa.
Sony's ninth-generation console, the PS5, is a fantastic platform to enjoy these games on.
Back in the day, when graphics power was limited, side-scrollers were really big. But as technology evolved, gamers became fascinated by more true-to-life games. However, there's still enough admiration for side-scrollers.
The genre has managed to retain popularity among gamers to this day, and developers have been forced to add more finesse to make these games fit right into modern-day advancements.
This guide provides a rundown of the best side-scrolling games for PS5. I've included something for everyone.
Little Nightmares II: Enhanced Edition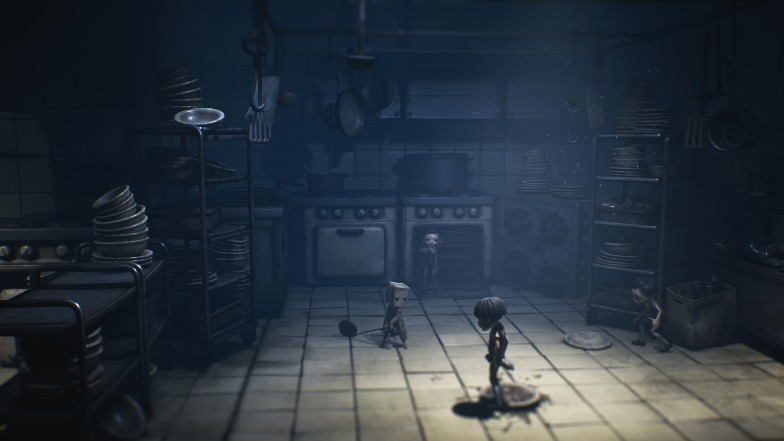 First on the list is Little Nightmares II: Enhanced Edition. This side-scroller was published by Bandai Namco Entertainment as the sequel to the 2017 horror platformer Little Nightmares.
The game introduces a whole new gaming atmosphere with new characters and adventures, maintaining the unique game premise of its predecessor. It is still a platformer at its core and there are a few side-scrollers that offer great platform gaming.
Little Nightmares II involves two main characters – Six, the hero from the previous Little Nightmares, and Mono, the protagonist who must embark on a journey to save Six's life.
Mono must travel to a mysterious nightmare tower known as The Signal Tower, discover its secrets, and prevent the source of evil from spreading further into the lands. With Six's help, they conquer enemies, overcome obstacles and solve tricky puzzles.
The graphics do a good job of giving off ominous vibes with grotesque aesthetics and dense visuals. Meanwhile, the background music and sound effects blend perfectly with the sinister environment. If you're looking for a horror-themed side-scroller, this is the one.
The Artful Escape
Where the rock 'n roll fans at? This one's for you!
The Artful Escape is an artistic indie side-scroller published by Annapurna Interactive in 2021. It is the second game by developer Beethoven & Dinosaur.
Francis Vendetti is a young musician from Calypso trying to escape the shadow of his famous dead uncle while building his own legacy. The game picks off on the eve of Francis' first performance. At this point, he is pressured by the expectations of living up to the reputation of his legendary uncle, Johnson Vendetti.
In order to discover his unique artistic identity, Francis goes on a psychedelic and inter-dimensional adventure, during which he will visit melodic and gorgeous alien worlds.
The Artful Escape has affiliations with various stars like Johnny Galvatron, the game's main designer, and Game of Thrones' very own Lena Headley, who was one of the voice actors. Other celebrities that contributed to the game include Carl Weathers and Mark Strong.
The stylistic blend of art, music, and explosive color of this side-scroller is just phenomenal. And the incorporation of classical sounds from legends like Bob Dylan and David Bowie is exceptional. Surely, this game deserves to be on this list of best PS5 side-scrolling games. 
ANNO: Mutationem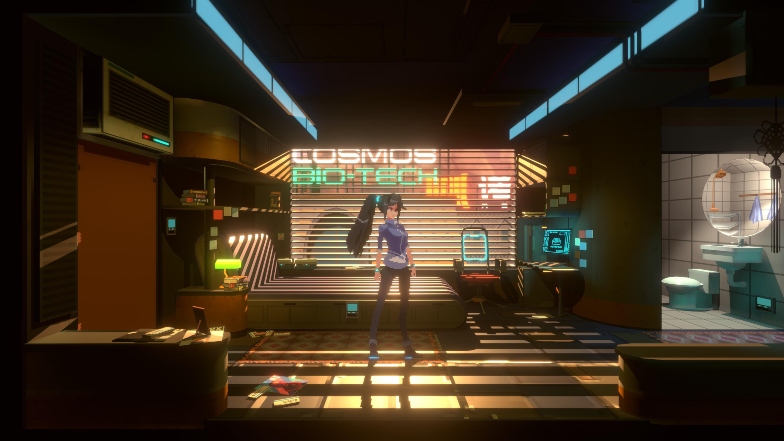 Anno: Mutationem is a successful merger of two genres – 3D adventure and 2D platforming action. I'm sure you're wondering what that looks like. I'll explain.
The game is a 2D-meets-3D action-adventure video game with RPG elements. It was published by Lightning Games.
This side-scrolling game utilizes cyberpunk style and neon-infused aesthetics to create a dark futuristic premise of pixelated characters. Its unique gameplay allows you to switch between 3D adventure and 2D platforming action seamlessly.
In the 3D part of the game, the protagonist Ann interacts with a cyberpunk world and its inhabitants while investigating her brother's mysterious disappearance. Her hacker friend, Ayane, accompanies her, and your goal is to guide Ann as she explores dystopian locations, underground districts, and big cities.
The other part is where all the ass-kicking, obstacle-jumping, sword-swinging, and piston-shooting 2D action occur. Here, you will engage different enemies with various weapons while unlocking new skills and abilities.
The plot of the game is dark and twisted, and the 2D-3D combo is a pretty cool idea. The game premise provides an overall enjoyable experience.
F.I.S.T.: Forged in Shadow Torch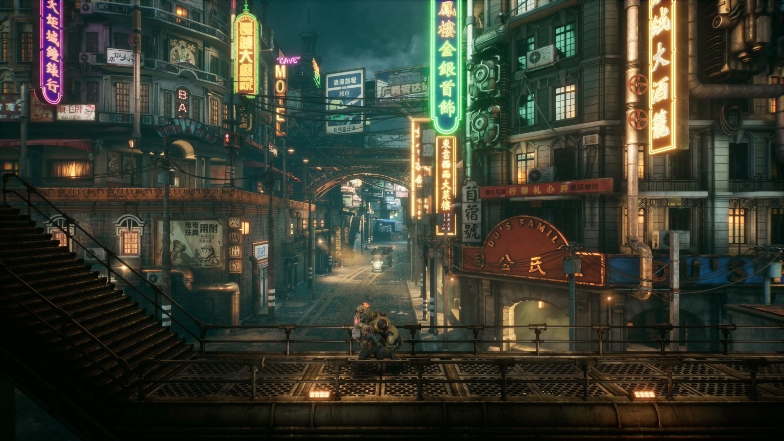 F.I.S.T.: Forged in Shadow Torch is an arcade action side-scroller that belongs to the Metroidvania sub-genre. Its gameplay is set in a dystopian fantasy world known as Torch City, inhabited by anthropomorphic creatures.
The game was developed using Unreal Engine 4 technology, which provides a top-notch visual experience. It was published by Bilibili.
Your character, Rayton, is a retired rebellion humanoid rabbit who must come out of retirement and get back into action one last time if he wants to save his friend from the sinister robotic legion known as the Iron Dogs. With his mechanical fists, Rayton clobbers his way through the Iron Dogs' forces in an attempt to put an end to the evil army of deadly robots.
As with most games, F.I.S.T. starts off easy, but it gets more challenging along the line. Nevertheless, there's a whole world of N.P.C.s, traps, collectible items, rewards, tunnels, chambers, and enemies to explore.
The world of F.I.S.T. is grimy and industrial yet fascinating. It has a very artistic and distinguishing style, and its unique atmosphere doesn't fail to leave a good impression.
Tails of Iron
Tails of Iron is yet another game based on anthropomorphic creatures. But this time, the species involved are narrowed down to two – rodents and amphibians.
Rats vs. frogs – now that's something you don't hear every day or any day for that matter. Published by United Label, Tails of Iron is an RPG action-adventure side-scrolling game of the soulslike genre.
Redgi is the heir to the throne of the rat kingdom, which has been infiltrated by the evil frog clan and their fierce leader, Greenwart. The future rat king must find a way to banish these sinister amphibians if he ever wants to restore his broken kingdom.
The protagonist receives assistance from his three brothers: Dug, Rem-Rem, and Bam-Bam (who the heck came up with these names?!). Dug provides information about upcoming missions; Rem-Rem is basically a cook whose meals can increase your main character's life, and Bam-Bam can create new armor and weapons for future battles.
Although a bit challenging, Tails of Iron delivers a distinctive and unique experience. The storyline is straightforward, the graphics are eye-pleasing, and the narrative voice of Doug Cockle, Geralt from The Witcher game series, adds a nice touch to the game.
FAR: Changing Tides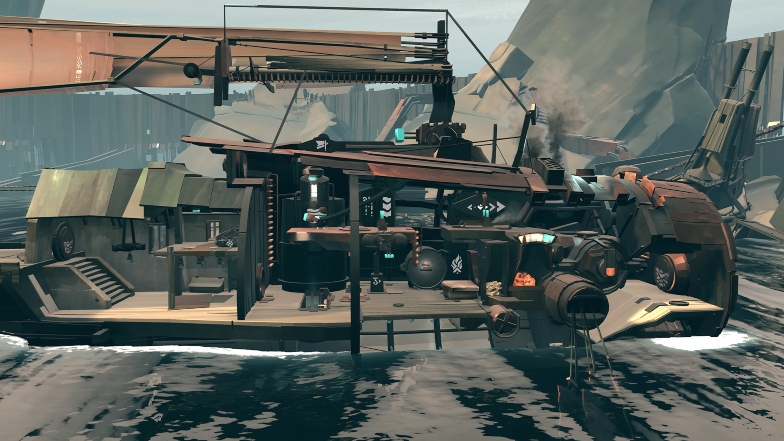 FAR: Changing Tides is the second part of the adventure game series published by Frontier Foundry.
Compared to its predecessor's sunny, dusty atmosphere, this game sets off in a post-apocalyptic flooded world with stormy skies and deep waters. This new and unique atmosphere provides an exciting experience for both old fans of the series and new gamers.
Your job is to guide a young boy named Toe as he sails through ravaged lands and ancient civilization ruins. During this journey, Toe operates all of the ship's equipment himself, and he must carry out regular maintenance of the ship to ensure it functions properly.
FAR: Changing Tides involves deep-diving into the open sea in search of fuel and solving puzzles to clear obstacles encountered while sailing through the ruins of a once great nation. It's packed with many different activities, enough to keep you occupied for hours.
As stated earlier, this is an adventure game, so there's really not much action going on. Most of the time, you're on the ship except when you dive into the water or leave the ship to solve a puzzle. If you're looking for a relaxing albeit challenging side-scroller, you should try this one.
This War of Mine: Final Cut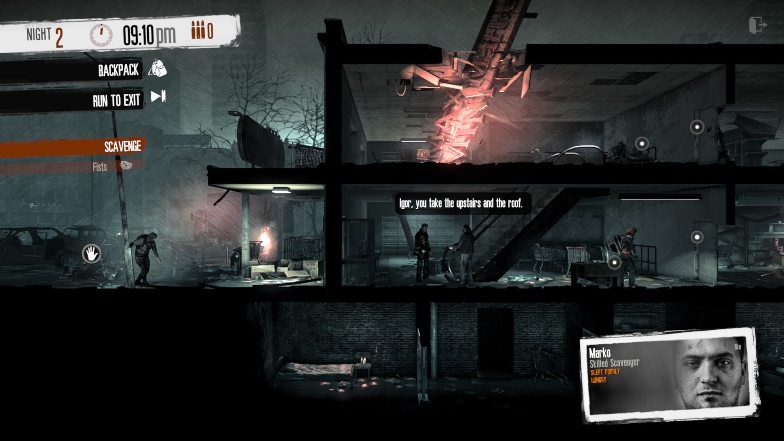 You've probably played war games before where you're controlling a soldier or group of soldiers fighting off enemies to protect their region and civilians. Well, that's not the case here. In This War of Mine: Final Cut, you play the role of a group of civilians struggling to survive the war outbreak in a besieged city.
Published originally by the 11 Bit Studios in 2014, the upgraded "Final Cut" arrived 8 years later, in May 2022. It features a new character, new classic scenarios, quests and locations, remastered maps, 4K UI adjustments, and many other improvements and bug fixes.
The game tells a beautifully poignant tale of war times. Like in actual war, you never know what to expect. There is always that feeling of fear and uncertainty, and this game's dark and grim graphics style emphasizes that kind of atmosphere.
During the day, you focus on fortifying your shelter, providing food for your loved ones, crafting items for trading, and teaching children survival skills. At night, you go scavenging for anything that can aid your survival.
Sometimes you may have to make difficult decisions like sacrificing a civilian for longer-term survival. Crazy, right?
Overall, This War of Mine: Final Cut does an excellent job of highlighting the horrors of war and its toll on innocent civilians. It has rightfully earned its spot on this list of best PS5 side-scrolling games.
OlliOlli World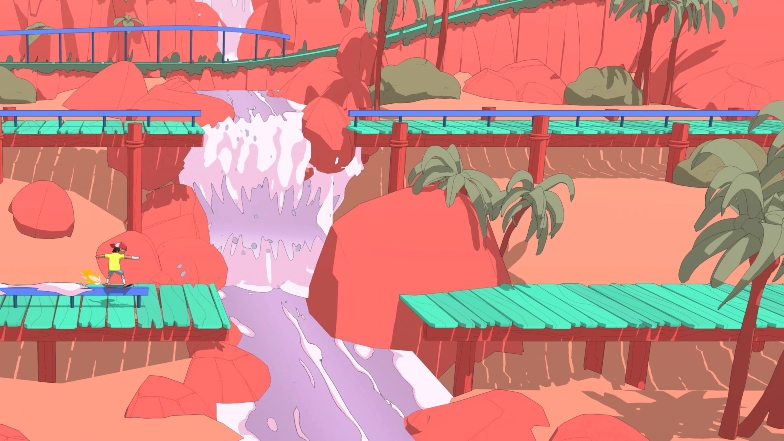 OlliOlli World is a skateboarding action side-scroller published by Private Division. It is the third installment of the critically-acclaimed auto-runner series by independent developer Roll7.
The main character is a young skater passing through a skateboard utopia known as Radlandia. This vibrant and delightful world of colorful, eccentric characters provides you with various quests and challenges where you can show off your best skating moves. You can combine your moves into combos and earn points from them.
You have various game modes to choose from. Single-player sandbox mode offers you various levels in unique locations, while competitive mode allows you to compete with players worldwide.
There are also side missions where you earn cosmetic items that allow you to customize your character's style and looks and unlock special skateboard tricks to add to your list of rad skating moves.
It doesn't matter whether you've played the previous games before – the game is new-player friendly, and you'll be able to get the hang of it in no time. If you loved the other installments of the OlliOlli series, you'd love this game, too, since OlliOlli World was built on the foundations of its predecessors.
Shantae and the Seven Sirens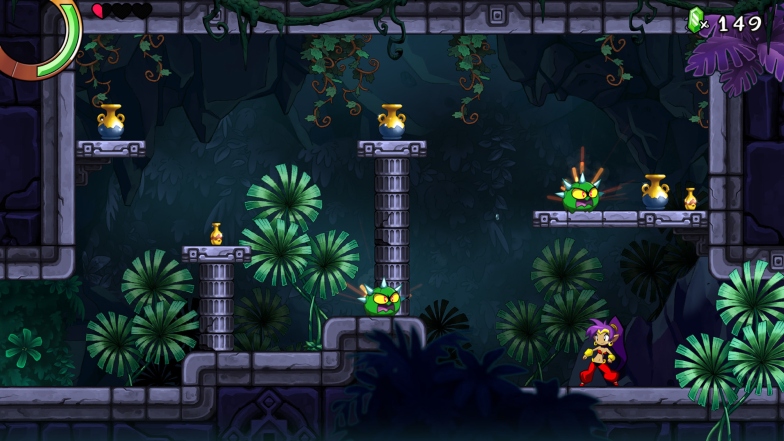 Shantae was first released on GameBoy Color back in 2002. Fast forward 20 years, and it became available on the innovative PlayStation 5 (PS5) – it has truly come a long way.
Shantae and the Seven Stars is a Metroidvania platform game published by WayForward. It is the fifth installment of the Shantae series, entirely developed by WayForward.
The game features a belly-dancing half-genie heroine, Shantae, who travels to Paradise Island for the first-ever Half-Genie Festival. She meets and befriends other fellow half-genies there, but they soon realize there's trouble in paradise, literally.
When Shantae's new friends go missing, it's up to her to explore two worlds and get to the bottom of their disappearance. While exploring an interconnected world, Shantae must use her dance magic and fusion magic transformations to avoid traps, collect items and fight villainous bosses.
With the game's new collectible card system, you can increase Shantae's powers to suit your playing style. Shantae can also transform into different beasts that each have a unique ability that allows players to unlock new locations.
WayForward has succeeded in creating another magnificent game in the Shantae series. The game's intriguing storyline, the beautiful universe, and the unique art style will keep you playing nonstop.
Dawn of the Monsters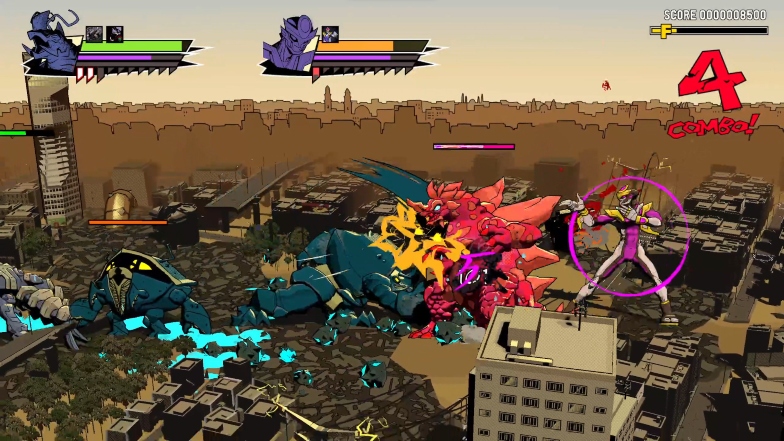 Dawn of Monsters is another impressive release from WayForward.
In this beat 'em up side-scroller, monstrous creatures called Nephelim have invaded earth. The only chance of eliminating these monsters is through the intervention of the Defense Alliance Worldwide Network (DAMN).
After 30 years, DAMN has successfully created their own behemoths – Ganira, Aegis, Prime, Megadon, and Tempest Galahad – to serve as guardians and destroy the Nephelim monsters. Your job, should you choose to accept it, is to control one of these behemoths and smash your way through hordes of monster enemies.
Each guardian has its own unique abilities, finishers, and fighting style. There are D.N.A. "augments" available for combat power-ups, preparing you for more challenging missions like fighting a powerful boss.
You have 35 missions to choose from – all of which take place on different stages inspired by real-world places like Tokyo. You can decide to play alone or team up with a friend to join you in battle. If you're a big fan of brawlers, this game is for you.
Unbound: Worlds Apart
Unbound: Worlds Apart is a challenging albeit stunning Metroidvania side-scroller that offers elegance, quality, and intensity. It was published by Alien Pixel Studios.
In Unbound: Worlds Apart, you play Soli, a young mage from the magical world of Vaiya. Soli has the ability to open portals. Evil forces have invaded Vaiya, and it's up to Soli to save his land since the old mages are too weak to fight.
When you open a portal to another world, you have access to items only available in that world. Still, there's also the risk that one of the evil creatures will pass through the portal and evolve into a more dangerous monster. So you must be watchful whenever opening a portal.
There are many surprises throughout Unbound, especially those related to the portals' mechanics. This supply of new experiences keeps the game interesting and the player eager to finish the game.
The visuals of this game are gorgeously hand-crafted with atmospheric elements that provide vivid detail and seamless transitions. Other fascinating features are the soundtrack and sound effects, which complement the visuals and perfectly blend in with the environment.
Overall, Unbound: Worlds Apart offers a completely polished and atmospheric gaming experience.
Monster Boy and the Cursed Kingdom
Monster Boy and the Cursed Kingdom is an RPG action-adventure game published by F.D.G. Entertainment.
In the game, you control Jin, who is doing all he can to stop his mad Uncle Nabu from turning everyone into animals. To stop this madness, Jin must scale through obstacles, defeat huge bosses, and discover secret passages and powerful tools.
The protagonist can transform into five different animals, each having its skills and abilities. With these unique powers, you can solve puzzles, unlock new locations, defeat enemies, and advance to higher levels.
Although the gameplay is based on classic 2D platform games from the '80s and '90s, it fits modern standards perfectly. If you were fortunate to play Wonder Boy back in the day, you would have an idea of what to expect from Monster Boy and the Cursed Kingdom.
Greak: Memories of Azur
Greak: Memories of Azur was published by Team17. It is a single-player side-scroller with amazing hand-crafted animations.
In the land of Azur lives a race called the Courines who are at war with their rivals, the Urlags. Your duty is to alternate control among three Courine siblings – Greak, Raydel, and Adara – using their unique abilities to solve environmental puzzles, face off enemies and advance further into the game.
At the start of the game, the siblings split from each other. It's up to Greak to find his older siblings and reunite with them. Greak is the first character you'll use, but once the siblings reunite, you'll be able to switch between characters seamlessly.
Although the game gets exhausting with you constantly switching characters, it delivers a solid and memorable gaming experience, especially with its gorgeous visuals, hand-crafted animations, cartoonish style, and vibrant colored environments.
However, it would have been nice if there was a co-op option. That way, three people could play the game and take on the role of each sibling.
Ender Lilies: Quietus of the Knights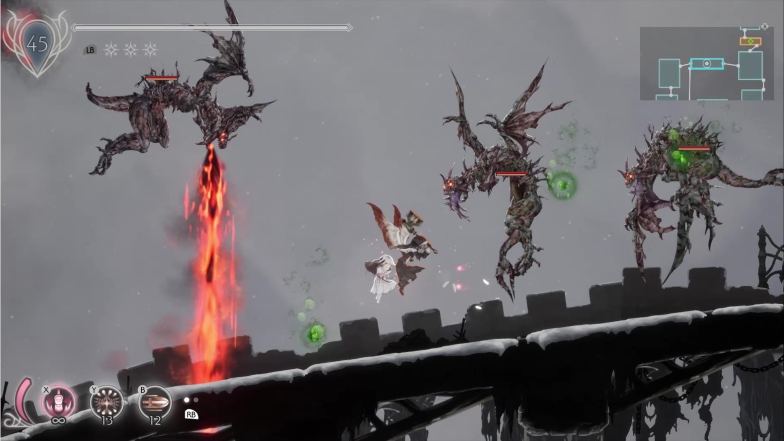 Ender Lilies: Quietus of the Knights is a Metroidvania side-scroller published by Binary Haze Interactive.
The game takes us to a dark and desolate world, Land's End, that has been destroyed by an unforeseen cataclysmic rainfall that transforms people into savage monsters referred to as 'the Blighted.' The only person that can save this kingdom is a young priestess named Lily.
Lily must explore gloomy and grimy locations to unravel the mystery of this endless deadly rainfall. While exploring, she will face many enemies. Although she lacks offensive and defensive abilities, she is accompanied by the Umbral Knight and other powerful spirits who jump into combat at her command.
There are lots of bosses and enemies to fight – you must defeat them and cleanse their spirits from the curse of the disastrous rainfall. Defeating enemies involves not just fast dodges and quick counter-attacks but also smart and decisive moves like using your enemy's weak points to your advantage.
As you progress through the game, you can gain more spirit companions for combat, collect new items and artifacts, and unlock new locations. There's never a dull moment in the game, and with its artistic visuals, you're truly in for a treat – if you should choose to get it.
Fuga: Melodies of Steel
Fuga: Melodies of Steel is a tactical role-playing side-scroller in which you lead an army of children trying to reclaim their homeland from invaders with the help of a gigantic tank. The game was published by CyberConnect2 and is a prequel to Solatorobo: Red the Hunter and Tail Concerto.
Malt, a young shepherd from the Caninu species of the Petit Mona village, together with his sister and other young villagers, manages to escape the Berman Empire which invaded and destroyed their village. They seek shelter in a mountain cave where they find an ancient giant tank weapon called the Taranis. They jump on the tank and set out to rescue their captured families.
Fuga: Melodies of Steel provides endearing interactive moments with the children while still highlighting the horrific and depressing sides of the war. It triggers short cutscene events that familiarize you with the kid characters and admire their relentless optimism for saving their families.
Fuga has side missions to keep the gaming experience feeling fresh at all times. You can also unlock new tank operators that provide dynamic strategies for combat. If you're a fan of classics like Advance Wars, you should give this game a try.
Gunvolt Chronicles: Luminous Avenger iX 2
Gunvolt Chronicles: Luminous Avenger iX 2 is a side-scrolling action video game published by Indi Creates as a sequel to Gunvolt Chronicles: Luminous Avenger iX, released in 2019.
Like its predecessor, Gunvolt Chronicles: Luminous Avenger iX 2 features Copen, a soldier who operates restricted, advanced weapons and technology. The game also features characters from the previous game and new characters to freshen up the atmosphere.
The premise is set in a dark and desolate world with robot inhabitants. Like in most action games, the protagonist scales through successive missions during which he defeats enemies, avoids traps, conquers bosses, and unlocks new weapons.
Gunvolt Chronicles: Luminous Avenger iX 2 offers pixelated graphics, tightly designed game levels, colorful visuals, and snappy controls. All of this combined provides a very enjoyable experience.
Cyber Shadow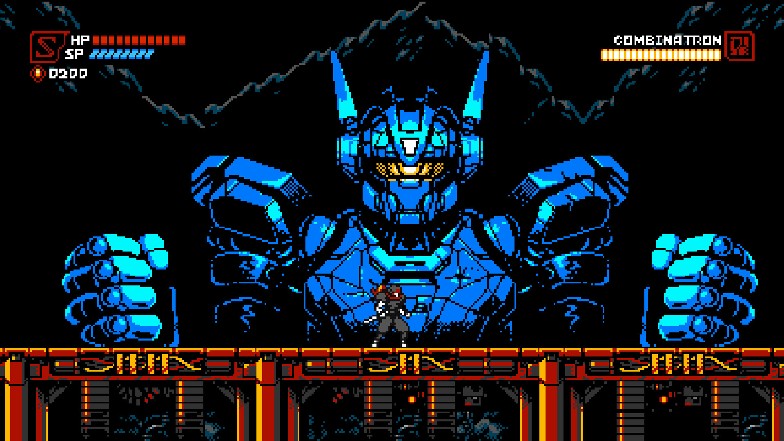 Who doesn't love ninjas? While some people have the fantasy of one day becoming a ninja, others just want to sit down, relax and watch some ninja action or, better still, carry out that action safely in a video game.
Cyber Shadow is a ninja action side-scroller published by Yacht Club Games.
The game takes you to Mekacity, a metropolis that sinister robot lifeforms have invaded. The protagonist, a ninja warrior, named Shadow, sets out in hopes of discovering the cause of the invasion and putting an end to his synthetic enemies.
Your duty is to control Shadow as he journeys to unravel the mystery behind the invasion. During the journey, he sees himself slashing through enemy ninja robots, fighting combat machines, leaping past traps, and rescuing clan members who teach him new skills that make him strong enough to take on more powerful opponents.
Cyber Shadow is an exceptional side-scroller perfect for anyone who loves retro action games. Its authentic display, continuous upgrades, excellently-crafted levels, chiptune soundtrack, and old-school pixelated graphics make the game worth your time.
Overall, this is an exceptional effort from Mechanical Head Studios and Aarne Hunziker, whose exception graft with Cyber Shadow earned the indie title multiple shouts to be considered the best release from an independent studio.
The Pedestrian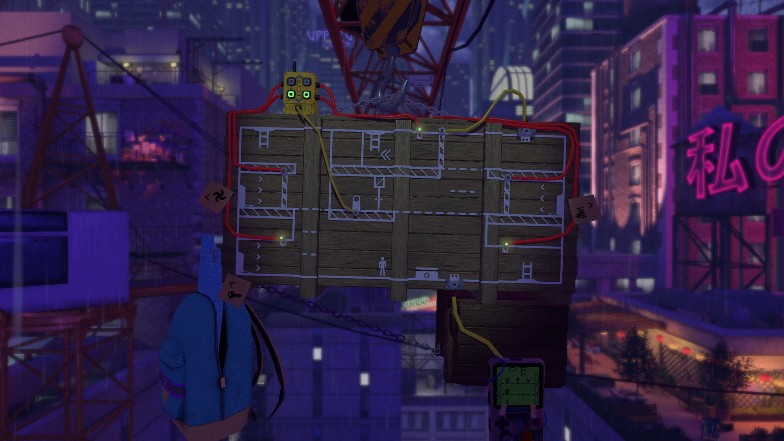 From the title alone, you can guess what this game is all about – road signs, traffic lights, and all that road safety stuff. The Pedestrian was published by Skookum Arts and is undoubtedly one of the best side-scrolling games for PS5.
The protagonist, a stickman, moves within road signs while avoiding obstacles and solving a series of puzzles. Your job is to arrange ladders and connect paths for him to move seamlessly. As you travel through a backdrop of a bustling virtual city filled with road signs and traffic lights, the puzzles become more challenging but never impossible.
An awesome PS5-specific feature of the game is its application of haptic feedback. Every jump made, footstep taken, or ladder aligned is felt through the PS5 dual sense controller, making way for an immersive experience.
The Pedestrian also features a jazzed-up, beautifully produced, and ingenious soundtrack that fits the game premise perfectly. Whether through a road, university, or subway, there's a suitable track that blends in beautifully with the current atmosphere, making your journey through each location spectacular.
Lacuna
Any detectives in the house? There's a murder case here for you to solve!
Lacuna is the debut game of German developer DigiTales Interactive. It is a Sci-Fi noir detective game published by Assemble Entertainment in 2021.
As I already hinted at the beginning, the game revolves around a murder case. In the game, Neil Conrad, a detective, will have to make many difficult choices that come with consequences.
The story takes place in the city of Louville on planet Ghara, a world similar to Earth. The only difference is that Ghara's solar system contains many other habitable planets, which is pretty cool if you ask me – no offense to our dear Mother Earth.
Neil Conrad works for the CDI, Ghara's law enforcement body for investigating major crimes. He has been assigned the murder case of the foreign minister of a neighboring planet, Drovia. What Neil doesn't know is that this investigation will turn the world as he knows it upside down, putting both his life and the solar system in jeopardy.
Lacuna is an exceptional sci-fi noir video game that has received many positive reviews since its release. The game will leave you wanting more with its futuristic vibe, jazzed-up soundtrack, and pixel art style.
HOA
HOA is a puzzle side-scrolling game with adventure game elements, published by PM Studios.
The gameplay takes place in a very picturesque environment. The protagonist, Hoa, travels through a colorful forest where she explores different game levels, solves puzzles, evades traps, and climbs objects.
Along the way, she meets friendly forest creatures that offer her advice and hints. Often, some of these creatures will offer her assistance in challenging situations.
For instance, a snail could offer its shell as a kind of lift for Hoa to get to otherwise unreachable heights. Or a ladybird might offer Hoa a flight trip on its back to reach certain locations faster. There are times when she'll have to face enemies, and since Hoa doesn't know how to fight, she'll have to improvise and find a way out.
If there's one thing to observe about this game, it's the stunning visuals that exhibit breathtaking hand-drawn graphics. Other than that, the soundtrack is very soothing, and its atmosphere is generally calm and relaxing. 
Speaking of stunning graphics, you might be interested to read about our selection of games with the best graphics on PS5. Check it out and you'll find something you like!