Shooter games are awesome! To be honest, there's nothing quite as fulfilling as emptying a magazine on enemies, spraying the undead, or the favorite accomplishment of every shooter gamer – landing a clean headshot.
The first-person shooter (FPS) genre has been around for a while now. Before acclaimed shooters like Halo came out, there were retro classics like DOOM and Quake that served as pioneers and paved the way for the success of FPS games. Over the years, shooter games have evolved, improving immeasurably in every aspect.
With the PS5, you can experience shooter games on a whole new level. The console's state-of-the-art SSD allows for super-fast loading speeds, its DualSense adaptive triggers make guns feel real in your hands and the fact that most games now come in 4K resolution with nothing less than 60fps makes visuals photorealistic.
Whatever your taste is, rest assured there is a shooter game for you – the only problem might be finding it. Not to worry, because this list of best FPS games for PS5 narrows your options down to the cream of the crop so you can make your choice in confidence.
Sniper Ghost Warrior Contracts 2
I'll kick off this list of best FPS games for PS5 with Sniper Ghost Warrior Contracts 2, the sixth entry in the Sniper Ghost Warrior (SGW) game series.
It is a single-player shooter game published by CI Games as the direct sequel to Sniper Ghost Warrior Contracts, one of the best sniper games ever released.
The game's action takes place in the middle east, in the fictional country of Kuamar, containing a mixed culture of Persia and Arabia. The protagonist, Raven, along with his handler, Alex, is tasked with taking down a prevailing and oppressive regime and bringing them to justice.
This shooter stealth game builds on its predecessor's gameplay, involving a blend of stealth, close-combat, and infiltration missions. However, for the first time, the SGW series presents a long-range shooting campaign where you take accurate shots at targets over 1,000 meters away.
Main missions involve completing tasks in various areas and eliminating certain characters. There are also side contracts where you can gain and stack up special rewards and extra points.
Sniper Ghost Warrior Contracts 2 is an incredible game exhibiting highly detailed and realistic sniping mechanics. It also features dynamic action and polished graphics that will make you really dive into the role of a shooter assassin.
Far Cry 6
You can often tell how successful a game series is by its number of entries. This is the case with the popular Far Cry franchise, which has six main entries, with the sixth being Far Cry 6.
Just like in Sniper Ghost Warrior Contracts 2, the goal of the game is to eradicate a tyrannical government. Anton Castillo is a dictator ruling the fictional island of Yara. His only mission is to restore Yara to its former glory at any cost while preparing his son Diego to take his place.
The protagonist, Dani Rojas, is determined to end Castillo's dictatorship and ensure his plans don't come to fruition, using guerrilla warfare and street riots in Yara's metropolis capital Esperanza.
As a player, you have access to a powerful arsenal of weapons that can be upgraded using objects around you. The game offers you the option of navigating on foot or through other means like driving a vehicle or riding a horse.
The game's cast might be a bit familiar since Anton Castillo is played by Giancarlo Esposito, while Anthony Gonzalez plays Castillo's son Diego. The game features top-notch graphics and highly detailed environments. From the lush jungles of Yara to the urban streets of the metropolis Esperanza, you can explore to your heart's content.
Metro Exodus: Gold Edition
Metro Exodus: Gold Edition is the third part of the popular Metro video game series inspired by Dmitry Glukhovsky's novels. It was initially released in 2019 for the PS4 before it was published in 2021 for the PS5.
The game follows the events of its predecessor, Metro: Last Light, and is set in a post-apocalyptic world in the year 2035. Like the previous entries, the player controls Artyom, a survivor who, together with his allies and a group called Spartan Order, is fleeing the tunnels of the Moscow Metro to the east on a railway engine known as the Aurora.
In this game, you embark on a story-driven journey spanning a whole year. You get to explore the vast wilderness of Russia together with a group of survivors, all aboard the Aurora.
Metro Exodus on PS5 comes with significant improvements, such as amped-up sandbox gameplay in 4K 60fps. Thanks to the PS5's super-fast SSD, loading times have also been reduced.
The Gold edition comes with all the season pass content for the game as well.
By utilizing the PS5's features to a reasonable extent, 4A Games has succeeded in creating an ultimately immersive gaming atmosphere filled with exploration, adventure, and combat here, and we love to see it.
Call of Duty: Modern Warfare (2019)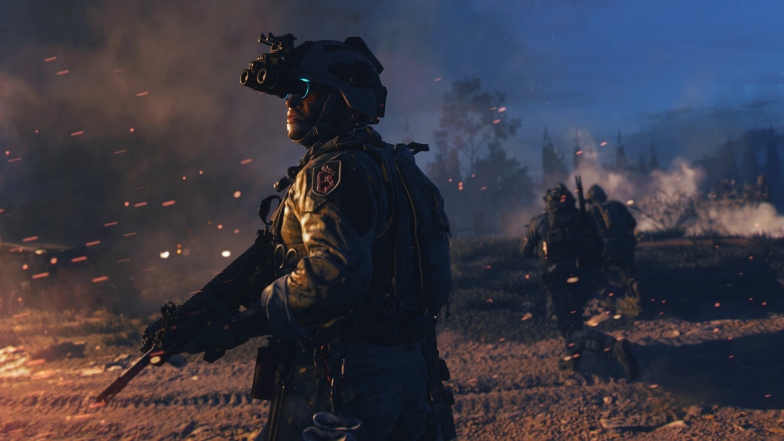 The Call of Duty (COD) series is, without any doubt, one of the greatest and most popular video game franchises of all time. Call of Duty Modern Warfare (2019) is the 16th installment in the series, and it was published by Activision.
This version should not be mixed up with the Modern Warfare games that were released about a decade earlier. Instead, it serves as a reboot that offers a similar experience within a more modern setting and with an updated look and feel.
Your character in the campaign mode is a CIA officer. The story follows the British SAS forces as they work together with the rebels in Urzikstan (not a real country) to fight off the Russian invasion and the Al-Qatala terrorist group.
In Special Ops mode, you can play co-op missions with the same theme and premise as the main campaign, while multiplayer mode offers cross-platform competition. The multiplayer mode in Modern Warfare was a particularly welcome development as the cross-platform support was the first of its kind in the series.
Some Call of Duty games split opinions amongst fans of the series and casuals alike, but Modern Warfare is one of the options that enjoys more praise than criticism. The gameplay, multiplayer mode, and campaign story are all very well put together, and the graphics are very solid too.
Overall, this is an excellent package and easily one of the best FPS games for PS5.
Call of Duty: Black Ops – Cold War
Next on the list is yet another fantastic game from the eminent COD franchise – Call of Duty: Black Ops – Cold War. Unlike Call of Duty Modern Warfare discussed previously, Cold War is part of a sub-series known as Black Ops. The game is the sixth installment of the sub-series and the seventeenth in the main series.
Call of Duty: Black Ops – Cold War was developed by Raven Software and Treyarch, making it the second COD title to be co-developed by two companies. Activision published the game.
Cold War takes you deep into the explosive geopolitical battle of the Cold War in the early 80s. Your goal as CIA agent Bell is to foil the plans of a Soviet spy, Perseus, who is planning on tilting the scale of power towards the Soviet Union. The plot doesn't require you to have knowledge of previous installments, however, the game features some old characters like Woods and Mason.
An interesting fact about Black Ops Cold War is that your choices influence the subsequent course of the game, giving you the power to decide how the game ends. The game also features Campaign, Multiplayer, and Zombie game modes, giving you enough activities and campaigns to participate in.
Borderlands 3
Borderlands 3 is an FPS action game with RPG elements. It is the sequel to Borderlands 2 from 2012 and is the fourth installment in the famous Borderlands series developed by Gearbox Software, which is also responsible for producing the popular Brother in Arms game series.
Set five years after its predecessor's events, the game presents the player with various side missions and quests consisting of gory battles, absurd humor, and slick weaponry. You take on the role of one of four warriors known as vault hunters, each with a unique play style and gimmicks.
There's FL4K, a robotic hunter that can summon one of three deadly monsters; Amara, the Siren with psychic abilities and melee brawling tactics; Zane, the Operative who uses tech gadgets for battles; and Moze, with her mech-powered gunner she can call upon any time. Together, these four must put a stop to the Calypso twins and their evil plot.
The PS5 version of Borderlands 3 has faster load times and better shadows. The game also uses the new-gen console's Dualsense haptic feedback and adaptive triggers to good effect. All these, combined with sharp graphics and varied game environments, produce one of the best shooting and looting gaming experiences.
Deathloop
Ever imagined what it's like to be in a time loop, living through the same day over and over again? Well, that's the life of Protagonist Colt in Deathloop.
Colt is an assassin stuck in a tiresome time loop on a lawless island known as Blackreef. To escape this unending cycle, he must hunt down and eliminate the Visionaries – eight people responsible for the time anomaly – before the end of the day.
While Colt is frustrated with experiencing the same day continuously, Julianna, a fellow assassin, seems to be excited by it. As such, she works with other island inhabitants to prevent Colt from eliminating the Visionaries.
Both Colt and Julianna possess supernatural abilities and a wide arsenal of weapons, as well as their own unique powers. I'll be straight with you – you're going to die … a lot! (I mean your game character, of course!) But with each death, you become more familiar with your surroundings and gain more knowledge about the NPCs which will draw you closer to your goal.
Overall, Deathloop is a great game with stunning environments and retro-futuristic designs. Its gameplay allows you to approach the same atmosphere more effectively, making the game easier along the way.
Destiny 2
Destiny 2 is a multiplayer FPS game published by Activision. It was initially released for the PS4 in 2017 as a pay-for-play game before becoming a free-to-play game for the PS4 in 2019 and the PS5 in 2020. It is a sequel to Destiny, which was released in 2014.
The game follows the previous installment's events and is set in a science fantasy world where you assume the role of one of the Guardians, defenders of the last safe city on Earth. The city has fallen and is now controlled by a powerful, sinister alien army called the Red Legion. It's up to you to reunite the last survivors scattered across the galaxy, form an army and reclaim your home.
Like in the previous installment, you start off by creating your own character. The gameplay involves exploring various destinations, mastering new abilities, acquiring powerful weapons, completing main and side missions, and interacting with NPCs.
The game acquired lots of positive reviews from critics, particularly for its improvements in visuals, activities, and gameplay. It received nominations and won various awards proving to be one of the best FPS games for PS5.
Hell Let Loose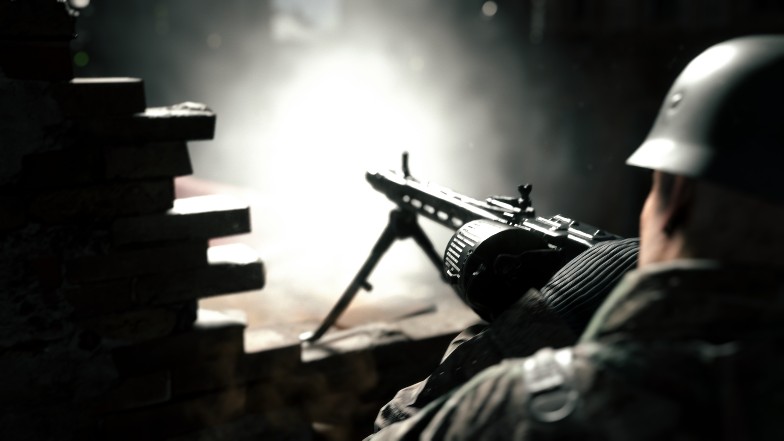 Here's another World War II hit on this list of best PS5 FPS games. Platoon-level iconic battles are the theme of this action-filled war-time shooter.
Hell Let Loose is a multiplayer tactical FPS game published by Team 17. It is the debut project of Black Matter, an independent Australian developer studio.
In Hell Let Loose, strategizing before the battle is as important as the battle itself. Like in the previously discussed game, you begin with creating your character. The main menu's "enlist" button displays various game modes, experiences, and languages. Roles to choose from include rifleman, sniper, and tank commander.
The game is a multiplayer game where you play in a team of 50. But as I mentioned, you'll be playing at the platoon level, so this team will be further divided into smaller units. The goal is to break through enemy lines and gain control points. Each team member plays a vital role that contributes to the success of this goal.
Hell Let Loose uses Unreal Engine 4 to produce realistic and highly detailed graphics. Apart from its visuals, the sound effects are also epic – the sound of a bomber overhead, random gunshots coming from nowhere, or the tanks moving along the open field. These elements combine together to immerse you in a devastating albeit exciting world of war and battles.
Apex Legends
Apex Legends was released for the PS4 in 2019 and the PS5 in 2021.
Similar to Hell Let Loose, Apex Legends is a multiplayer game with no single-player mode. Sixty players are split into 30 two-person teams or 20 three-person trios and carry out activities depending on the game modes.
There are two modes – Battle Royale and Arenas. In the former, players land in a location and begin the ultimate search for tools, supplies, and weapons, preparing for the battle ahead on a gradually shrinking play area. Finding yourself outside the play area is deadly, so you have to keep moving.
Meanwhile, in the Arenas campaign, three-player teams battle each other in a 3v3 deathmatch. The team with 2 points ahead and a minimum of 3 points wins.
Each accessible fighter you control is already predesigned, possessing fatal skills and unique abilities. Some abilities make navigation easier, while others give you healing and attacking attributes.
Not only is Apex Legends one of the best PS5 FPS games around, but it also comes with significant updates on the spectacular game console – 4K resolution gaming at 60 fps with hopes of 120 fps in the near future. Now is the perfect time to give this game a go if you haven't done so already.
Terminator: Resistance – Enhanced Edition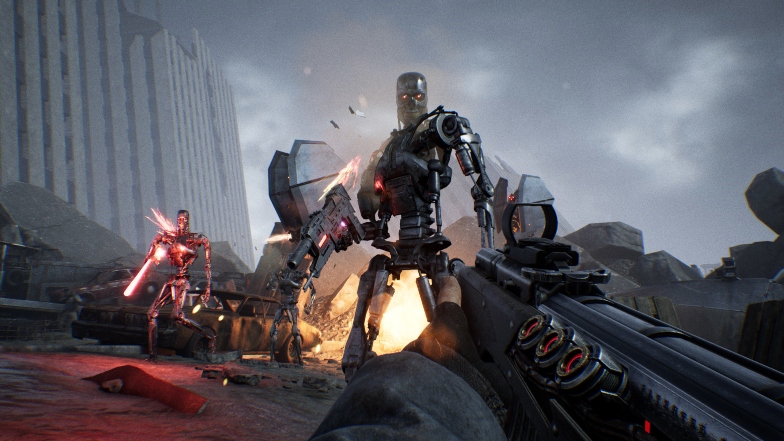 If you've watched the Terminator movies, then you'll have a pretty good idea of what to expect from this game since the games are just as epic as the movies. And if the term "terminator" is new to you, all I can say is you're in for a treat.
The Terminator franchise has been in existence as far back as the 1980s when the first movie came out, starring Arnold Schwarzenegger, who went on to popularize the rest of the series with his phenomenal acting. Since then, the corporation has produced a variety of works, including novels, comics, and video games.
Terminator: Resistance was initially released in 2019 before an enhanced version was released in 2021 for the PS5. It was published by Reef Entertainment.
The protagonist, Jacob Rivers, is a member of a group of rebels led by John Connor to eliminate Skynet's deadly robots. Rivers must team up with Kyle Reese and other survivors to rescue a group of people held hostage by Skynet.
The game's plot has a similar nonlinear element to that of Call of Duty: Black Ops – Cold War, where your actions during the course of the game determine the final outcome.
I'll be honest, this game is not for everyone, and you have a better chance of enjoying it if you're a fan of the Terminator movies. In fact, many critics took a massive dump on the game when it was first released.
However, Terminator: Resistance Enhanced Edition excellently represents its source material and successfully presents a means for players to relish some mindless shooter action. Although the game might feel a bit outdated, it's still one of the best FPS games for PS5.
Tom Clancy's Rainbow Six: Siege
From developer Ubisoft Montreal, Tom Clancy's Rainbow Six Siege is a tactical shooter game that belongs to the Rainbow series and is the replacement for Tom Clancy's Rainbow 6: Patriots. Ubisoft published the game in 2015 for the PS4 and then in 2020 for the PS5.
In the game, players form two teams consisting of five players each, with one squad as attackers and the other as defenders. Attackers are tasked with scouting the area with drones for possible objectives to carry out; meanwhile, defenders fortify their position and prepare for any attacks.
Each squad member has a role to play, from poisoning enemies and raising barricades to distorting enemy communication and breaking down walls and doors. Each member must complement the other since total cooperation and teamwork, as well as tactical strategies, are required to defeat opponents.
Rainbow Six Siege is a worthy successor to Rainbow Six: Patriots. It comes with major improvements that make it one of the best games Ubisoft has created in a long time. Its satisfying graphics and sharp visuals add a bit of spice to the characters, paving the way for a bucket-list-worthy video game.
Deep Rock Galactic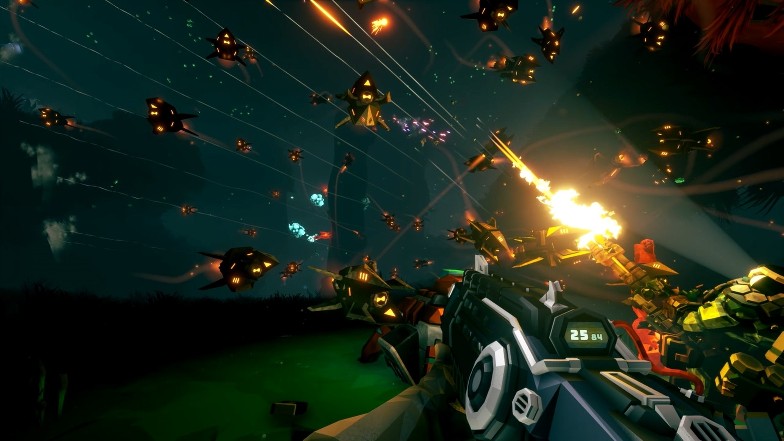 Here, we see another debut game from a developer on this list.
Deep Rock Galactic is set on a dangerous planet called Hoxxes IV, containing various caverns filled with minerals and alien bugs. You control one of four astronaut dwarves who have made it their life's work to explore these procedurally generated caverns despite the dangers that lie within them.
You have four classes to pick from – Gunner, Scout, Engineer, and Driller. The Gunner is a source of firepower and easy navigation; the Scout uses his flare gun and grappling gun to go wherever he wants; the Engineer makes mining easier; the Driller is excellent at digging and creating escape routes.
Deep Rock Galactic offers a smart approach to co-op play – you can either play solo with assistance from an AI drone or play with a complete squad of four miners working together in their respective classes. The latter is more enjoyable.
Although navigating through caves might be frustrating at times, the game offers an addictive co-op experience. Its engaging missions and side activities, the balance of classes, and the humorous characters make for an enjoyable and replayable adventure. I'm sure you can't wait to dig into this game (see what I did there?).
Doom Eternal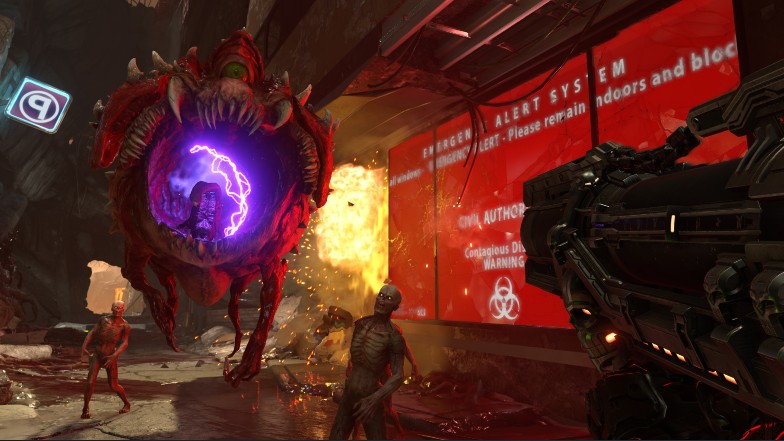 Doom Eternal is the fifth part in the Doom series and is the sequel to the 2016 game Doom.
The protagonist, Doom Slayer, is back from the previous game to eliminate demonic beings once again, using weapons that no one else dares to wield. The Fortress of Doom is his secret hideout and HQ, which he visits between missions. With the severe crisis elevating, he must find a way to end this hostile takeover and prevent the alien, Makyr, from wiping out humanity.
The protagonist engages his enemies in aggressive combat while obtaining ammo, shield, and health in the game. There are also new game modes for you to explore. In multiplayer battle mode, two players controlling demons fight against one player controlling a doom slayer. While in invasion mode, you control a demon in another player's story.
Developer id Software has outdone itself with this game by delivering an epic FPS campaign. This game is for you if you enjoy fast-paced action where you blast demons and engage in unique rhythmic combat. It's the best way to experience hell on earth but in a sensational and gratifying way.
Crysis Remastered Trilogy
Crysis Remastered Trilogy consists of the remastered version of each of the single-player FPS campaigns of the Crysis series.
In Crysis, a North Korean army invades an island and captures a group of archaeologists. In an attempt to rescue the captives, the US government sends in a special squad known as the Raptor Team, which is unfortunately attacked by alien creatures known as the Ceph. With most of the team members gone, it's up to the team's survivors to put an end to this evil alien race.
Crysis 2 takes you to an entirely new location outside of Korea – New York City. Here, you control Alcatraz, a U.S. Marine who must battle CELL mercenaries and put a stop to the Ceph creatures in NYC.
Crysis 3 also takes place in NYC, and this time the protagonist is out for revenge against the CELL after discovering their reason for building huge domes in the city.
This remastered version is perfect for fans who want to replay the experience in better-refined graphics and newcomers eager to embrace the Crysis atmosphere. Thanks to the PS5, you can now enjoy Crysis games in 4K 60fps with ray tracing effects and improved lightning.
There is a downside though, which is the fact that none of the multiplayer components of the original games are present in this remastered trilogy.
Back 4 Blood
From developer Turtle Rock Studios comes the first-person shooter Back 4 Blood(B4B). Published by Warner Bros. Interactive Entertainment, this shooter game features some pretty gory and intense scenes, so it's definitely not for the faint-hearted.
The B4B gameplay takes place in an apocalyptic world where a deadly parasite has wiped out almost all of humanity, leaving just a few survivors. The hosts of the parasites known as the Ridden have assumed a zombie-like nature, wreaking havoc everywhere. Only the Cleaners, a group of survivors, can put a stop to these deadly creatures.
As a player, your character is a member of a four-survivor squad. Depending on the game mode, the other members are either controlled by the game's AI, known as Game Director, or fellow players. You choose your character at the start of the game, picking from eight different survivors with special abilities and weapons.
Back 4 Blood is a great game that is especially fun to play with friends. The Swarm Mode allows you to see both sides of the game, playing either as a Cleaner or one of the Ridden. This game is for you if you love blowing off heads and smashing them with nail-covered baseball bats.
Quake Remastered
Quake Remastered is an updated version of the 1996 original game Quake. It was developed by the creator of the first game, id Software, and published by Bethesda Softworks.
The protagonist, Ranger, is a brave and equipped warrior keen on destroying an ancient evil that poses a threat to Earth. To do this, he must recover four magic runes that will assist him in carrying out his plan.
The single-player mode is split into four episodes, each having at least seven levels. During missions, you explore various locations like dungeons, castles, cathedrals, and military bases. You also have access to multiple weapons and tools to use at your disposal.
Quake Remastered offers both a single-player campaign and multiplayer mode. Thanks to the PS5, this updated work comes with improved lightning and refreshed graphics in 4K resolution at a whopping 120fps. This game retains its originally entertaining nature and delivers an indispensable experience pleasing to a new audience and old fans.
Splitgate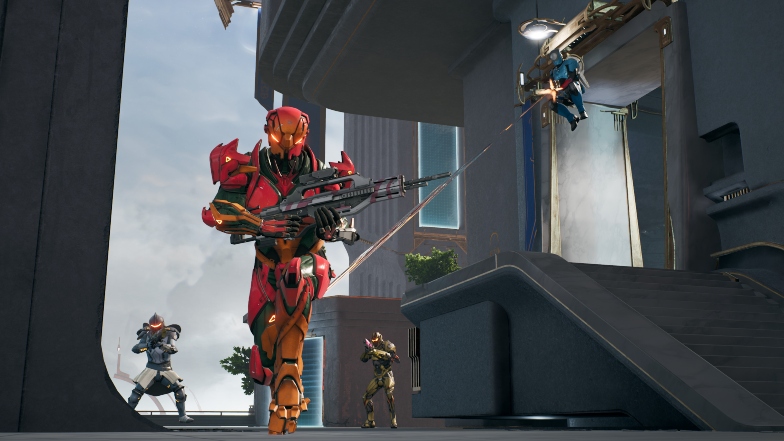 If you've played Halo, you'll love Splitgate. Splitgate is a free-to-play FPS video game that was created and published by American studio 1047 Games – it is its debut project. The game's developers drew inspiration from iconic games like Halo, Portal, and the previously reviewed Quake. The game launched in 2019 for PC, in 2021 for PS4, and in 2022 for PS5.
You participate in battles across different stages in the game, like a space center, a huge mansion, an old temple, and a nightclub. You have access to various weapons like pistols, sniper rifles, plasma rifles, and electromagnetic guns, some of which were modeled after weapons in Halo, like the burst-fire battle rifle.
The game provides portals that make navigation and transportation smoother for you. Apart from more effortless movement, these portals also offer you an advantage on the battlefield, where you can use them to skillfully and tactically maneuver your opponent.
Overall, the game is a masterclass that induces an innovative freshness into the arena shooter genre. The inclusion of portals as a key gameplay element, the slick guns, outstanding mechanics, colorful 3D graphics, and masterfully designed maps make for an incredibly fun gaming experience.
Lemnis Gate
If you're looking for a turn-based, time-looping, combat strategy first-person shooter, you're in the right place.
Lemnis Gate is divided into five 25-second sessions, with each player taking their rounds turn by turn. Within those 25 seconds, you're expected to carry out a specific objective which could be collecting materials, attacking enemies, or taking control of specific regions.
Lemnis Gate is similar to playing chess, but here, you try to counteract your opponent's move before it even happens. The secret to victory is to move ahead, achieving your objectives while simultaneously preventing your opponent from executing theirs. You can influence already-made moves and affect how events pan out.
You have seven operatives to pick from, each having one weapon and one unique ability. As you advance, you can upgrade your character with new taunts and skins, but you may not even want to do any of that with the short time you have.
Lemnis Gate is a complicated and unusual albeit innovative game filled with strategic and brilliant ideas in its gameplay. Regardless of being an online multiplayer-only game, this strategic shooter is still one of the best FPS games for PS5 and is wildly amusing to play with friends.
If you enjoy games like this, then perhaps the idea of them on a larger scale would appeal to you. Check out the best battle royale games for some chaotic multiplayer action!