The PlayStation continued its dominance of the gaming console world with its release of the PS5, featuring a high-speed data streaming hard drive and many other performance and visual upgrades such as 120 FPS gameplay and 4K resolution.
If you have a PS5 at home, you'll enjoy a better gaming experience with the vast catalog of games available — both upgraded versions of PlayStation 4 games and newer PS5 games. One category that offers a wide selection of options and immersive gameplay is anime.
Anime games have a unique set of fans, and for this set of people, finding the ideal match can be daunting because there are just so many options. That's why I compiled this list of the best anime games on PS5, just for you!
Scarlet Nexus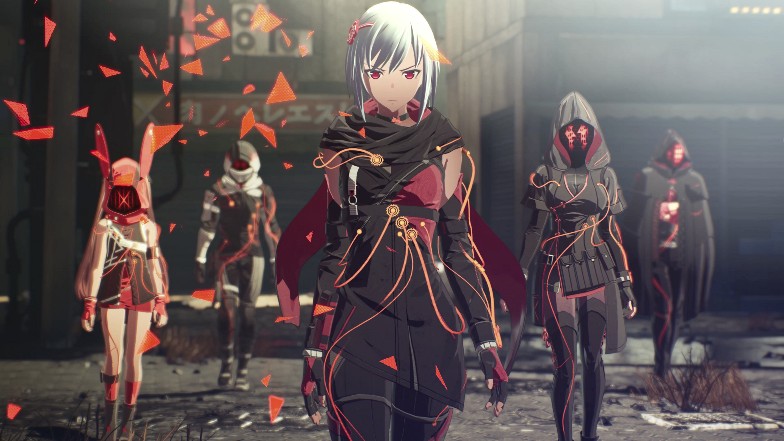 If you're familiar with the plot of the movie Tenet, you'll quickly grasp the story in Scarlet Nexus. It's a unique, polished action RPG published by Bandai Namco Studios. In Scarlet Nexus, you'll have to choose between two roles: Kasane Randall and Yuito Sumeragi, two new recruits for the OPS (Other Oppression Force). 
These well-trained super soldiers have psionic abilities. They must defend humanity from 'Others' (monsters that descend from the Extinction Layer). As you advance through the game's 12 stages, the narrative introduces government conspiracies, civil war, colonization, and time travel.
Depending on your choice of protagonist, you'll encounter different stories that ultimately intertwine with the other protagonist. It adds extra replay value if you wish to uncover every detail.
It feels good to smack weird monsters with concrete slabs. While the fights can be exhausting, it's a great way to master ingenious combat.
On PS5, the game delivers rumbling impacts through the controller's haptic feedback (DualSense). It also adds tension to the R2 and L2 triggers when you lift debris with your mind. There's so much to like about Scarlet Nexus's brain-punk world.
River City Girls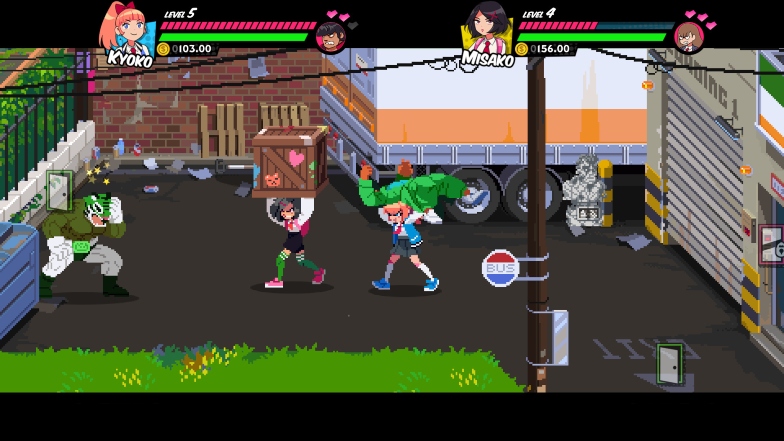 River City Girls is one of the most popular side-scrolling beat 'em up games on PS5. It was initially released by Arc System Works for the Xbox One, PS4, Microsoft Windows, and Nintendo Switch in 2019. A PS5 version was published in 2022.
Think of a duet of Streets of Range and Scott Pilgrim — and you'll have River City Girls. It's a nice callback to the classic style of simple combat fighting gameplay. They simply infused the retro formula with bright and colorful Anime styles.
You'll be in the shoes of two schoolgirls (Misako and Kyoko) fighting across the city to rescue their boyfriends. This beat 'em up features missions, RPG elements, and upgradeable moves. I particularly enjoy listening to the awesome soundtrack while punching baddies.
The desire to get every fighting move for the two girls will have you retrying stages and defeating enemies for extra cash. You'll also get the chance to recruit some enemies to your side and summon them to help fight your battles.
You can upgrade the girls as you play. You can also explore the entire city and face side-quests that you find. If you're looking to enjoy some couch fun with a friend or relive the memories of your experience with beat 'em ups like Streets of Rage and Final Fights, this is the go-to game.
Neo: The World Ends With You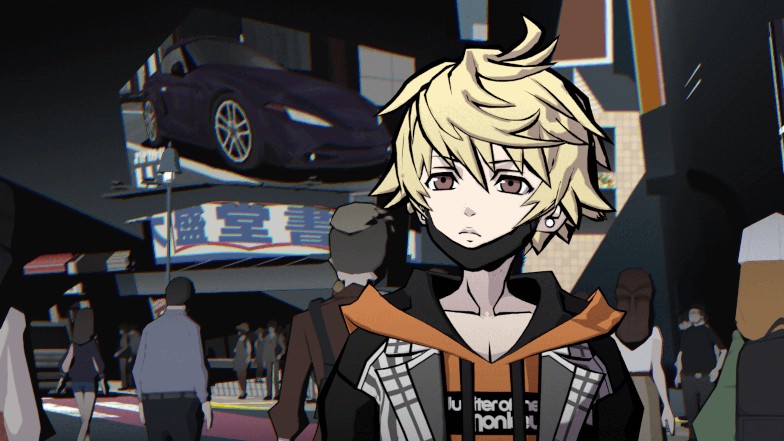 After the release of The World Ends With You on Nintendo DS over a decade ago, Square Enix published a sequel, NEO TWEWY. If you're wondering whether the long wait was worth it, the answer is – yes.
While NEO: The World Ends With You allures as a standalone story, it offers numerous connections and shout-outs to gratify longtime series fans. I admire NEO TWEWY for its wild characterizations and youthful attitude through eccentric personalities, cheesy irreverence, and extravagant character designs.
The gameplay begins with the premature death of teenagers Fret and Rin and thrusts you into the "Reapers Game." The recently departed have previously undertaken a couple of challenges, and the game is set in an alternate world known as UG (underground).
The heroes are surrounded by reapers — the previous winners — and an endless onslaught of monsters known as 'Noise'. Stylistically, NEO TWEWY shares several similarities with Persona 5 and Kingdom Hearts. The urban setting and slick UI aesthetic come from the former, while the characters' crib and combat recall the latter.
While the fashions and themes might have changed after about 15 years, the core ideas initially created by Tatsuya Kando remain relevant. If you're a JRPG enthusiast, particularly Persona's social checklists and urban sprawl, you'll fall in deep love with NEO: The World Ends With You!
Demon Slayer – Kimetsu no Yaiba – The Hinokami Chronicles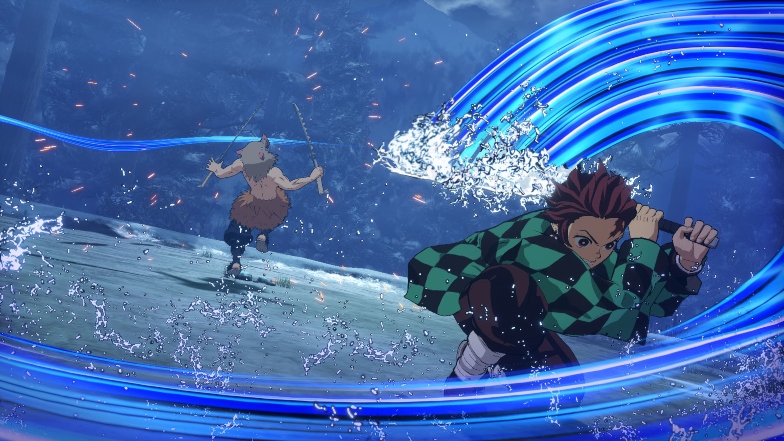 This 3D fighting game was released by Sega (worldwide) and Aniplex (in Japan), and it features some truly outstanding moments of character development and storytelling. 
The story in Demon Slayer: Kimetsu no Yaiba — The Hinokami Chronicles is about Tanjiro Kamado, a young man whose entire world was destroyed by a powerful demon, Muzan Kibutsuji. He returns home to find only Nezuko (his sister) alive, though she's been demonized.
Tanjiro seeks a way to turn Nezuko back into a human and get revenge against Kibutsuji by becoming a demon slayer. He learns this by accepting missions to bring down demons while he gets clues to achieve his goal.
The Hinokami Chronicles brilliantly captures the feel and look of Demon Slayer, even during its slow moments. The stunning cutscenes and bombastic boss fights are enough to magnify the story mode drawbacks, but apart from that, it's a barebones package.
The beautiful 2D cutscenes, open-world areas, quick-time events, competitive battles, massive boss fights, and minigames — so much fun packed in one game! The quick-time events are not overused or intrusive and improve the boss fights with more stakes to destroy the powerful demon.
Demon Slayer: Kimetsu no Yaiba — The Hinokami Chronicles is a must-play for every fan of fighting games and anime on PS5. That's why it's on this list of best anime games on PS5.
Guilty Gear Strive
Guilty Gear Strive is an awesome anime fighter with lots of depth, and it's one of the best anime fighter games available on PlayStation 5. It was published by Arc System Works as the seventh installment (mainline) of the series (Guilty Gear). 
Guilty Gear Strive was designed to be a remodel of the franchise, and it retains the core value of the series. However, it revamps several mechanics and features, except for the erasure of 'the Instant Kill' (the signature mechanic).
The newly introduced 'Wall Break' feature enables stage transitions when you initiate a combo in the arena. The characters in this game are very likable, especially for their flair and individuality as far as the combos and attached animations go. Sol Badguy, in particular, is a popular figure.
If it's your first time playing a fighting game, you need to start with the training mode, as understanding the basic controls will go a long way. The new mechanics and tweaks make for a flashy fighter that's fun to play.
The fast load times and the PS5 upgraded display make the game extra eye-catching, and Guilty Gear Strive deserves its spot on any list of best PS5 anime games that's worth its salt.
Genshin Impact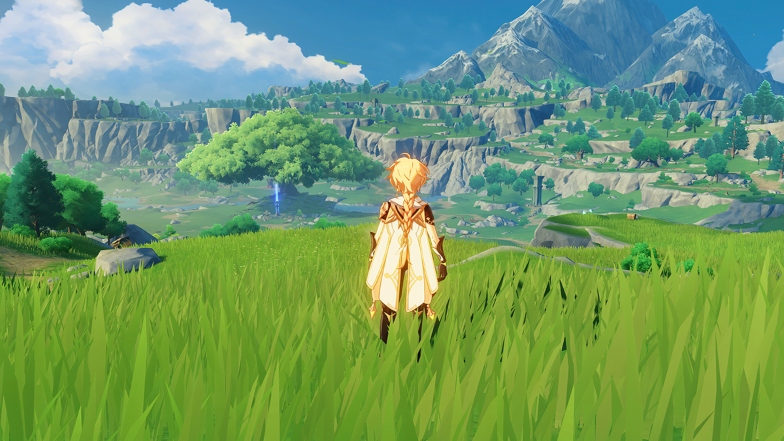 Genshin Impact is a stunning open-world JRPG initially released by miHoYo for PS4, Android, iOS, and Microsoft Windows in 2020 and then the PS5 in 2021.
As soon as you leave the tutorial mode, you'll lose several hours with the open world pulling in all directions. No wonder this game is compared to other games within the same category, most notably Breath of the Wild.
While the development team got inspiration from Breath of the Wild when making Genshin Impact, there are many significant differences. For instance, Genshin Impact allows you to explore the beautiful Teyvat world with friends (up to three), thanks to co-op support and cross-play.
Genshin Impact was heavily influenced by The Legend of Zelda and also borrows elements from JRPGs (Xenoblade Chronicles 2 and Tale of series) and other action RPGs (like Kingdom Hearts).
In this game, you're separated from your twin by an unknown god who casts you into a deep sleep and strips you of your powers. You awake to a different world and start your journey across the wondrous world of Teyvat to find answers.
Prepare to explore and join forces with different characters as you search for your lost sibling and unravel the numerous mysteries that the land holds.
You'll search for chests in enemy camps, cook and craft with different resources, and solve puzzles using environmental abilities. Genshin Impact remains one of the best free-to-play anime games on PS5, so it's a must-play!
Final Fantasy VII: Remake Intergrade
Final Fantasy VII: Remake sold over 3 million copies within 72 hours of its release on PS4 in 2020. The next year, Square Enix published an enhanced version for PS5, Final Fantasy VII Remake Intergrade.
The PS4 version was already an awesome game, so much so that it might have been okay if visual upgrades in the PS5 Graphics Mode were minor.
Well, I'm glad to inform you that they're even much better, and this is one of the best adventure games on next-gen.
However, while Graphics Mode is visually appealing, Performance Mode is arguably the better option. Clocking up to 60 FPS in this mode, Final Fantasy VII Remake Intergrade enhances much smoother combat and movement — a significant distinction from the PS4 version.
For the first-timers, Final Fantasy VII Remake reimagines — and retells, to a great extent — the opening hours of Final Fantasy VII (the original version). It displays the actions of an organization (Avalanche) that repels the tyrannical reign of Shinra — a domineering energy company that literally bleeds the planet dry to sustain its supremacy.
The entire game takes place in Midgar — a large industrial city that harbors Shinra's operations. You'll play the role of Cloud Strife, a former Shinra soldier and an elite fighter with processed power.
The game kicks off with Cloud getting recruited by Avalanche, as the organization takes on its first onslaught on an energy reactor, aiming to blow it up.
Final Fantasy VII: Remake Intergrade offers a memorable and enjoyable adventure that you can't afford to miss.
Person 5: The Royal
While Persona 5 dominated the charts as one of the best JPRGs ever made, the Royal version makes me wonder what else can compete. The new grounds to explore, refined tactical combat, and new twists will make your jaw drop.
Persona 5: The Royal was originally released in Japan in 2019 and worldwide in 2020 by Sega and Atlus (publishers of anime classics like Shin Megami Tensei and Catherine). In 2022, a PS5 upgrade was released.
If you've ever played the original Persona 5, you'll find that Persona 5: The Royal offers a similar experience in the first 100 hours of game time. Although you'll see some new content sprinkled throughout the early stages, the last few hours of the game contain entirely new scenes and plot points.
You'll assume the role of a teenage Japanese boy wrongly accused of a crime. You connect with other children who have been exploited by bad adults. Get the power to fight monsters in the bad adults' brains, causing them to show remorse and confess the crimes.
You spend half of your day studying for exams, building friendships, and doing part-time jobs, and the other part stealing treasure, fighting monsters, and convincing other bizarre creatures and kids to be on your side.
Since its release, this award-winning game has sold more than 5 million copies and offers a superior experience to the original version. I couldn't help but include it among the best PS5 anime games. You should add it to your wishlist too!
Tales of Arise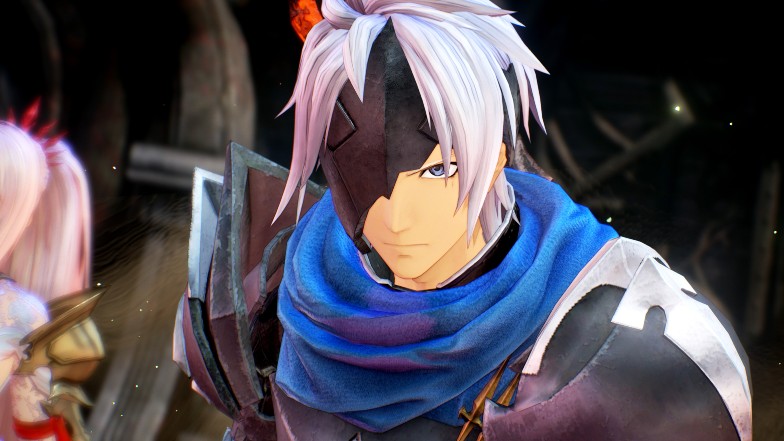 Bandai Namco Entertainment released Tales of Arise in 2021 to celebrate the series' 25th anniversary.
Tales of Arise is a masterpiece with an endearing cast and a deep story that keeps you hooked for countless hours as you battle to free yourself from tyrants. These action-intense battles offer so much fun as you learn how to execute a vast array of moves and attack combos to repel enemies efficiently.
Tales of Arise is a hack-and-slash at its core, and the art direction, setting, and character selection are a real sight for sore anime-lover eyes.
The game is set between Rena (an advanced world) and Dahna (a medieval world). You'll control a party (a group of characters) that takes shape gradually and with members from diverse backgrounds, yet bound together by a common interest — freedom.
Your main mission is to prevent the occurrence of an event (the Crown Contest), where a new lord will be chosen to obtain more power and rule over both worlds.
While the party's common objective is to defeat the competing lords, you'll discover as the game progresses that each character has additional personal reasons sufficiently engaging enough to motivate players forward.
The battle system is quite immersive with a sizable number of unlocked mechanics that become intuitive rapidly. From the onset, there are only three buttons for abilities (known as artes), one to dodge and one to attack.
The exciting battle effects, stylish characters, and beautifully detailed environments are enough to earn this game a spot on this list of best anime games on PS5.
Doki Doki Literature Club Plus
Experience the terrifying world of romance and poetry with Doki Doki Literature Club Plus, a horror game published by Serenity Forge.
For those unfamiliar, this visual novel centers on five characters. The graceful dialogue, the choices you make on which company you want to be in — each of the girls feels unique and interesting to discuss with.
Doki Doki Literature Club feels a little like an otome, focusing on the protagonist being invited to join a literature club by his childhood friend and neighbor, Sayori. After each day, you're assigned to write a poem, which involves choosing 20 words from a list — each word corresponds to a character.
After writing your poem, the character your poem best represents will be with you in a bonus scene the next day. Picking words like 'twirl' and 'vanilla,' for instance, would get you an extra scene with Natsuki.
Doki Doki Literature Club Plus offers an immersive gaming experience, and you'll need to play through the game multiple times to unlock each extra bonus.
Ultimately, the game doesn't actually shine brightest with the poetry minigame or the well-crafted characters. It shines with the hidden horror aspects.
Doki Doki Literature Club game isn't for the faint-hearted though – the horror aspects will grip you from the beginning to the end.
Dragon Ball Z: Kakarot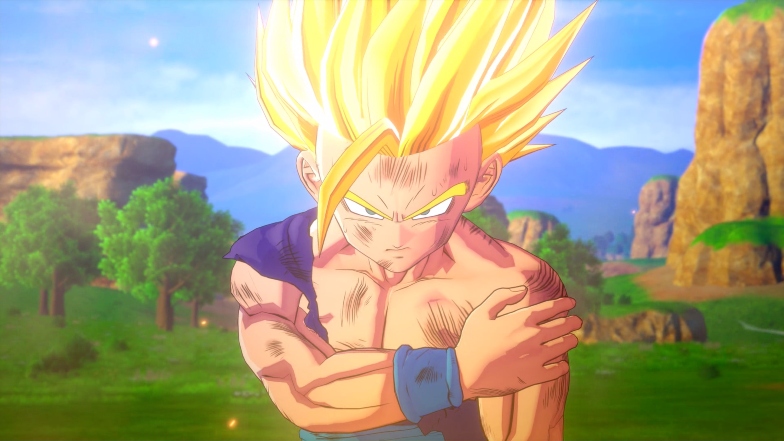 Dragon Ball Z: Kakarot was developed by CyberConnect2 and published by Bandai Namco Entertainment in 2020. A PS5 upgrade arrived in Janurary 2023, making it a viable option for gamers looking for the best anime games on PS5.
Dragon Ball Z is one of the most popular anime of all time, and it has a large-enough cult following to guarantee that the game generated a lot of hype ahead of and during release.
While the appeal of the game for fans of Dragon Ball Z is obvious, this action RPG offers exciting enough gameplay to also appeal to audiences that have no previous affiliation or interest in Dragon Ball Z.
For instance, there are fighting elements in the game that pit players against opponents in battle, and you can also get involved in other activities such as driving and fishing.
The story is understandably linked to the anime series, and the familiar characters (seven playable) further enhance the appeal for existing fans.
You can explore and complete side quests while playing through the story just like any regular RPG, and you can even get your hands on extra DLC if you want more content.
Even if, for whatever reason, you never got into Dragon Ball Z as an anime fan, this game is a great way to experience a portion of the world's premise.
One Piece Odyssey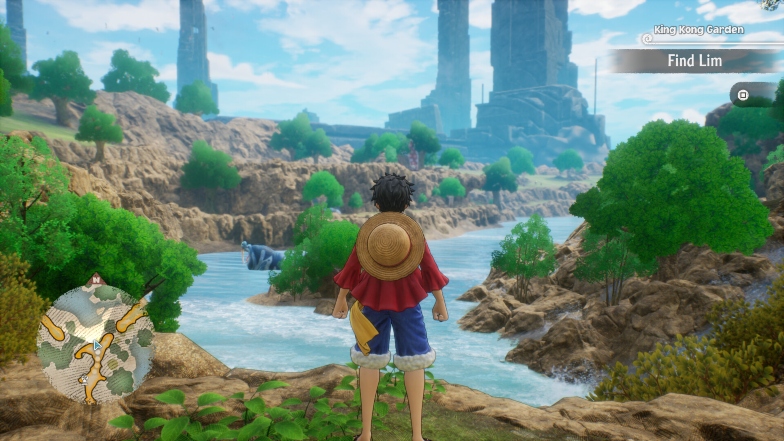 Speaking of anime series that have made a foray into the gaming industry, One Piece Odyssey stands on similar ground as Dragon Ball Z.
Also one of the most popular anime series of all time, One Piece Odyssey is another release from Bandai Namco Entertainment for anime fans all over the world. This time, the publishers worked with developers ILCA to make the game ready for launch in early 2023.
Odyssey is a turn-based RPG that allows you to control multiple playable characters with unique strengths and weaknesses. You will explore, collect items, solve puzzles, and ward off enemies with simple menu commands, but it feels like there is a bit less to this game in comparison to Dragon Ball Z.
Based on that, it is a bit harder to recommend Odyssey for gamers that are not fans of the One Piece anime series, but if you are, then this should be a dream come true for you.
If you'd like to try more anime-style games that also offer RPG elements, you should also check out our guide to PlayStations' best JRPGs.